VIAINVEST review 2023
Check out our VIAINVEST review, and decide if the platform is for you.
VIAINVEST
VIAINVEST review summary:
VIAINVEST is a good platform for P2P lending that allows you to invest in consumer loans. The platform is very user-friendly and makes it easy for beginners to invest. Compared to other platforms, the return on VIAINVEST is also okay. But you should be aware that the share of non-performing loans is a bit high, which is a risk even though the platform offers a buyback guarantee on loans. Overall, VIAINVEST is an excellent option for investors looking for high returns and low investment minimums, but it is not suitable for risk-averse investors.
It's 100% free to open an account
Introduction to our VIAINVEST review
There are a decent number of VIAINVEST reviews lying around on the internet. Even so, we decided to take a closer look at the platform. The result of our efforts resulted in this VIAINVEST.com review.
If you are interested in investing with VIAINVEST, we highly recommend you to continue reading. In this VIAINVEST review, we will go into more detail about what VIAINVEST is, what return you can expect, and whether it is safe to use at all.
However, before delving into the review, we would like to remind you that this VIAINVEST review only reflects our experience with the platform. Therefore, nothing you read on this page should be considered investment advice.
Learn about the following in our VIAINVEST review:
What is VIAINVEST?
VIAINVEST is a Peer-to-Peer marketplace. Here, private lenders can invest in loans that come from the non-banking lender VIA SMS Group and its subsidiaries.
The loans offered at VIAINVEST.com are 100% pre-funded by loan originators. But the loan originator must keep at least 5% of the loan itself.
It's possible to both invest in consumer loans and business loans on VIAINVEST.

VIAINVEST is a part of the VIA SMS group. Since its founding in 2008, VIA SMS group has expanded operations to 7 countries and has grown into one of the leading European consumer lenders.
VIAINVEST's headquarters are located in Riga, Latvia.
On a group level, the company currently employs 200 people around the world.
Since the launch of VIAINVEST in late 2016, over 30,000 investors have registered on the platform. At the time of writing, the average deposit from these investors was €3,131.
With as little as €10, you can start investing via the platform.
VIAINVEST statistics:
| | |
| --- | --- |
| Launched: | 2016 |
| Investors: | 30,000 + |
| Interest rate: | 8 – 12 % |
| Loan period: | 1 – 24 months |
| Loan type: | Consumer |
| Loans funded: | € 100,000,000 + |
| Min. investment: | € 10 |
| Max. investment: | Unlimited |
VIAINVEST FAQ:
VIAINVEST Trustpilot reviews:
VIAINVEST is doing okay on Trustpilot. Currently, the platform is rated at 2.8/5 stars on Trustpilot.
Compared to some of the best P2P lending sites, VIAINVEST's rating on Trustpilot is a bit low.
Some of the bad VIAINVEST reviews are due to the platform sometimes lagging available loans, slow support, and the fact that the loan originators can extend loans an unlimited number of times.
With an average rating based on 25 reviews, VIAINVEST could still be worth considering.
Main features
In the following part of this VIAINVEST review, you can learn about the different important features you can find on the P2P platform:
1. VIAINVEST auto-invest
VIAINVEST has an auto-invest feature. Since there is not much difference between the loans you can invest in with VIAINVEST, it may actually be a good idea to use. By setting up a VIAINVEST auto-invest strategy you will save a lot of time in selecting the loans.
Below you can see a screenshot from the VIAINVEST auto-invest creator: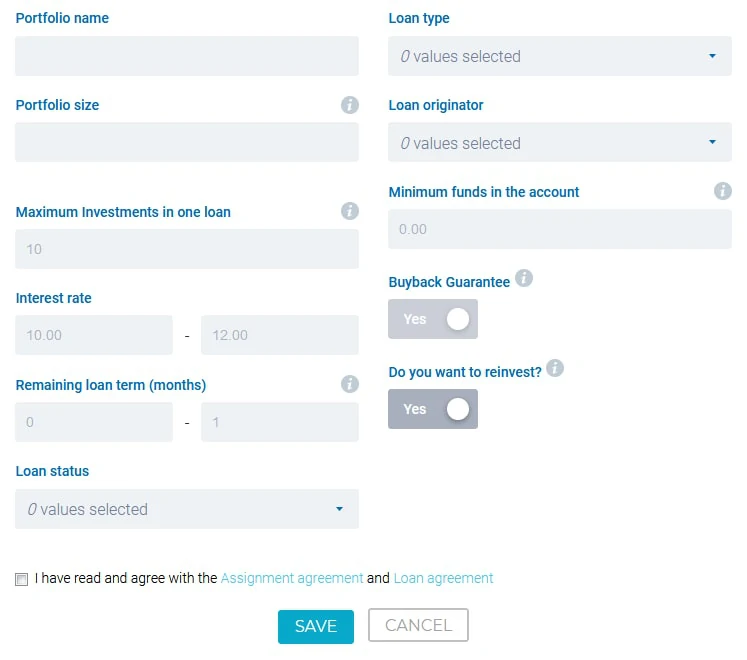 2. VIAINVEST Buyback Guarantee
The VIAINVEST Buyback Guarantee protects investors against non-performing loans.
If a loan is not being paid back by the borrower, the VIAINVEST Buyback Guarantee obligates the loan originator to repurchase the loan if it's delayed by more than 30 days.
All the loans that are protected by the guarantee are marked by a Buyback Guarantee icon.
3. VIAINVEST app for Android and iOS
VIAINVEST has released an app that makes it easy for investors to check their portfolios and invest on the go:
What rate of return can you expect?
If you look at the average interest rate on the VIAINVEST platform since its launch in 2016, it's right around 11%.
However, due to a change starting from June 2019, all new loans will have an 11.00% interest rate.
The change means that the return you are going to get from VIAINVEST is VERY stable. We see it as a huge plus.
But at other similar P2P lending companies, you will find a higher, but more unstable return. Among others, both PeerBerry, Mintos, and Robocash offer a higher return than what is to be found at VIAINVEST.
Who can invest via VIAINVEST?
Both individuals and companies can invest with VIAINVEST. However, the platform is currently only open to European and Swiss investors. To invest through VIAINVEST, you must meet the following requirements:
Requirements:
Minimum age of 18
Tax residency in Europe or Switzerland
If you meet these few requirements, you can probably start investing with VIAINVEST. Simply follow this process:
Add funds to your account
Start investing
When you create your account, you must provide personal information including your passport number. Information is matched with information from the money transfer you make to VIAINVEST. Therefore, make sure to send money from your own bank account. If the information matches, your account is activated, and you can start investing.
Are you ready to become a VIAINVEST investor? Then press the button below to sign up. It's probably the fastest way from reading this VIAINVEST review to investing yourself:
Is VIAINVEST safe to use?
One of our biggest concerns when dealing with Peer-to-Peer lending companies is whether they are safe for investors or not. This has therefore rightly been given some of our attention in this VIAINVEST review. Below you can learn more about non-performing loans, the VIAINVEST buyback guarantee, and the company health:
Non-performing loans
Non-performing loans are expected when dealing with consumer loans.
At VIAINVEST this rate of non-performing loans is around 26%. So out of the total amount of loans issued, 26% end up being late or in default.
Please keep in mind that this is for the whole portfolio of VIA SMS Group, which includes loan originators that are not yet listed on VIAINVEST. Previously, the percentage of non-performing loans has been a lot lower than 26%.
VIAINVEST Buyback Guarantee
To protect against non-performing loans, VIAINVEST offers Buyback Guarantee on their loans.
With the VIAINVEST Buyback Guarantee, the loan originator must repurchase any loan contract you invest in if it is delayed over 30 days.
All the loan contracts that are protected via the guarantee are marked with a Buyback Guarantee icon.
Company health
Since a guarantee is only as secure as the one issuing it, we have had a closer look at VIA SMS Group, the company behind VIAINVEST. Specifically, we have examined whether they as a group are profitable. In addition, we have looked into whether they will be able to pay for the guarantees they issue in the event that the number of non-performing loans increases.
Via the audited consolidated and separate financial statements for the year 2020, we found that VIA SMS Group became unprofitable in 2020. This could be due to COVID-19, as they were profitable in the years prior. But it's something to be aware of.
Can I get a VIAINVEST promo code?
Unfortunately, there is no active VIAINVEST promo code at the moment.
From time to time, VIAINVEST makes promotional offers. Here you can get and enter a referral code in the "promo code" field upon signing up to get a bonus.
We will keep you posted if a new VIAINVEST referral code arrives or if you can get a cashback bonus.
Do you want to sign up as a VIAINVEST investor? Then simply press the button below to create an account. From here, you can quickly get started investing:
Best VIAINVEST alternatives
Are you unsure if VIAINVEST is the right platform for you, after reading this VIAINVEST review?
There are hundreds of P2P platforms out there, which can make it hard to determine if you have found the best platform or if you should look for other VIAINVEST alternatives.
The main categories for P2P platforms are consumer loans, real estate, and business loans.
Here are the best VIAINVEST alternatives right now:
There are many reasons why you should consider a VIAINVEST alternative.
First and foremost, you might not find that VIAINVEST suits your investment needs. When it comes to P2P lending platforms, every P2P investor has different needs. It's therefore crucial that you understand your main investment criteria and find a platform that matches.
It can also be a good idea to consider VIAINVEST alternatives to simply diversify your investments across more than one platform and reduce your overall platform risk. This can also be done with different types of platforms like the ones you can see above.
Conclusion of our VIAINVEST review
VIAINVEST is a great and user-friendly platform that makes it possible for you to invest in consumer loans.
The return on VIAINVEST at around 11%. Compared to platforms like Swaper and Lendermarket, this return is a bit lower.
VIA SMS Group, the company behind VIAINVEST, has gone in and out of profitability during Covid-19. But overall the company seems in decent shape.
Investors considering VIAINVEST should be aware that the number of non-performing loans on the platform is quite high. This means you will rely on the buyback guarantee for your investments.
Regarding the buyback guarantee, you'll have to wait 120 days after the investment is made to be able to initialize a buyback manually. After waiting 120 days, you can make an early exit from a particular loan at VIAINVEST by clicking the "Initialize Buyback" button which appears on your loan profile.
The platform is excellent for investors seeking larger returns than those provided by traditional financial institutions.
There are several drawbacks to VIAINVEST that investors should be aware of, including the fact that the platform is only available in Europe and that it has many non-performing loans.
Overall, VIAINVEST is a decent P2P lending platform that is suitable for investors who are looking for higher returns and who are willing to take on some additional risk.
Would you like to invest in the platform after reading this VIAINVEST review? Then simply click the button below. This will take you to VIAINVEST.com, where you can sign up and get started investing: