Swaper review 2023
Read this Swaper review to learn if the platform is for you.
Swaper
Swaper review summary:
Swaper is one of the better European P2P lending platforms for short-term lending. On the platform, you can invest in pre-funded short-term consumer loans from Poland, Denmark, and Spain. All loans in the marketplace start at 14% annual interest. But if you invest over €5,000, you will get an additional +2% on your investments. Compared to other platforms, this return is extraordinary. With a buyback guarantee on loans and a profitable company, Swaper is quite safe for investors, but not without risks. Overall, Swaper is an excellent option for investors looking for high returns and low investment minimums, but it is not suitable for risk-averse investors.
It's 100% free to open an account
Introduction to our Swaper review
There are numerous Swaper reviews available on the internet. Still, we decided to research the platform and share our opinion about it. You can read the results of our investigations in this Swaper.com review.
So if you are currently considering investing through Swaper, we encourage you to read the review carefully. We explain in-depth both the benefits and drawbacks of Swaper. In addition, we also share which alternatives are worth considering.
If you just want to find information about a specific topic, please use the navigation below. You can of course also choose to read the entire review.
Please be aware that the review only expresses our own opinion and investigations. You should not consider anything in this Swaper review as financial advice.
Learn about the following in our Swaper review:
What is Swaper?
Swaper is a European P2P loan marketplace that enables you to invest in pre-funded short-term consumer loans from Poland, Denmark, and Spain.
The loans you can invest in on the platform originate from Wandoo Finance Group.
The platform was launched in October 2016 in Latvia. Since then, a very large number of loans have been issued on the platform:

The platform has continued to grow, and today there are around 5,600 active investors on Swaper.
If you want to try out the platform, it doesn't require much capital. With just €10, you can join the other investors and start investing on the platform over at www.swaper.com.
If you invest over €5,000, you will get an additional +2% loyalty bonus on your investments.
Swaper statistics:
| | |
| --- | --- |
| Launched: | 2016 |
| Investors: | 5,600 + |
| Interest rate: | 14 – 16% |
| Loan period: | 1 – 2 months |
| Loan type: | Consumer |
| Loans funded: | € 333,000,000 + |
| Min. investment: | € 10 |
| Max. investment: | Unlimited |
Swaper fees:
There are no fees on Swaper. Both opening an investment account, adding funds and withdrawing funds are free of charge. It is currently also free to sell loans on the secondary market.

But as you can see above, the sale of loans on the secondary market is a subject that may change in the future.
Swaper FAQ:
Swaper Trustpilot reviews:
Swaper is doing okay on Trustpilot. Currently, the platform is rated at 3.4/5 stars on Trustpilot.
Compared to some of the best P2P lending websites, Swaper's rating on Trustpilot is a bit low.
Some of the bad Swaper reviews are due to investors having trouble getting all their funds invested, which leads to a lower real return at around 10%, instead of the advertised 14%.
With an average rating based on 18 reviews, Swaper could still be worth considering.
Main features
In the following part of this Swaper review, we will go over some of the most important features, and why they are important to you as an investor
1. Swaper auto-invest
A great thing about Swaper is its easy-to-use auto-invest portfolio maker.
By using this function, you can easily make an auto-invest strategy, which gives you the opportunity to invest in loans, without having to spend time cherry-picking loans on an ongoing basis.
To set up an auto-invest portfolio at Swaper, follow the steps below:
Make sure you have signed in
Click "Overview"
Click "Create Portfolio"
Then you should end up with a screen like this: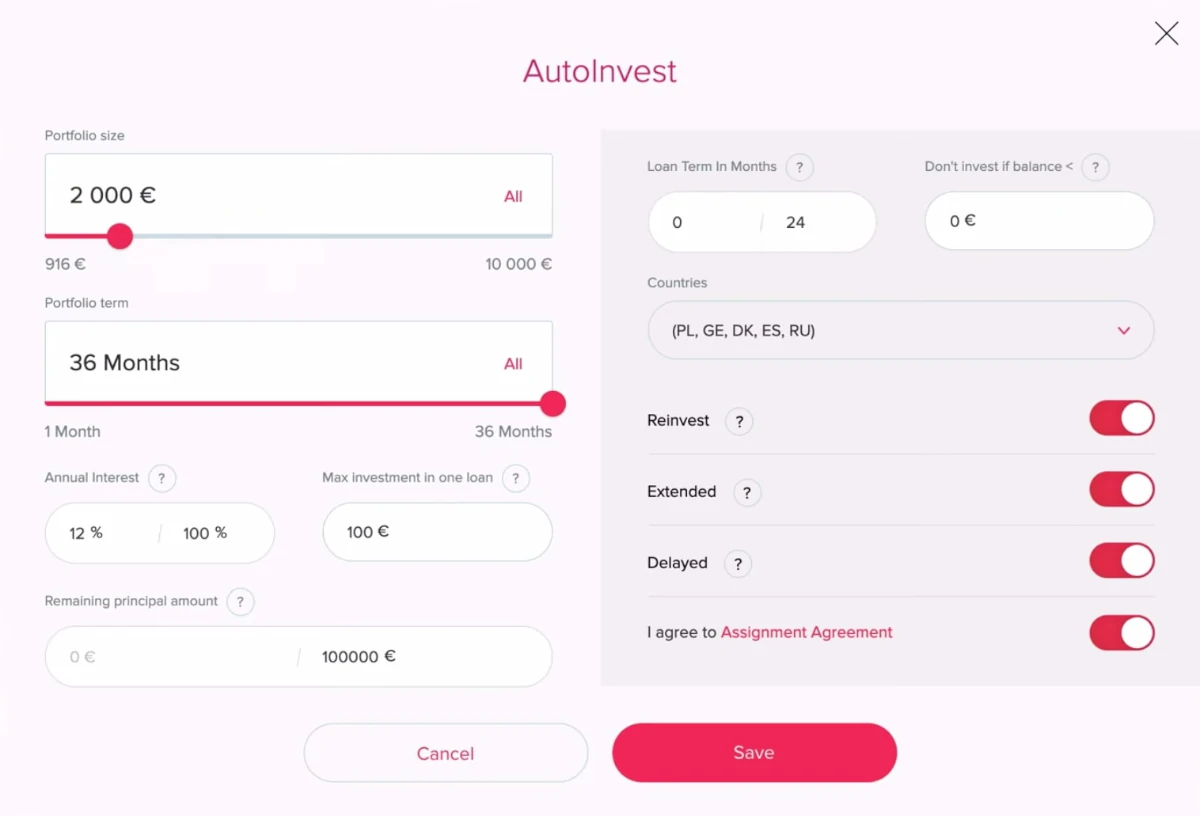 When setting up your auto-invest portfolio, you can make different settings so that you only get investments that fit your wishes. It could, for example, be how big your auto-invest portfolio should be and how long the loan term should be for the loans.
One relevant point you should consider carefully is the maximum investment in one loan. If you set it low, you may not be able to get all your money invested. If you set it too high, you may risk getting too low loan diversification. You might want to try to set it low to start and then see if you can get all your money invested. If you can't, try setting it up or consider investing through multiple P2P lending websites.
If you are unsure what the settings in the auto-invest portfolio maker mean, you can click on the question mark for an explanation.
Do you want to know more about Swaper auto-invest? Then learn more on the website.
2. Swaper BuyBack guarantee
The loans on Swaper are protected by a 30-day BuyBack guarantee.
This means that in the event that a borrower is over 30 days late with a repayment, the loan will be bought back from you.
The BuyBack guarantee compensates you for both the amount of money you invested initially, as well as the interest you would otherwise have received from the borrower.
3. Swaper app
Swaper has created a mobile app that is both available for Android and iPhone: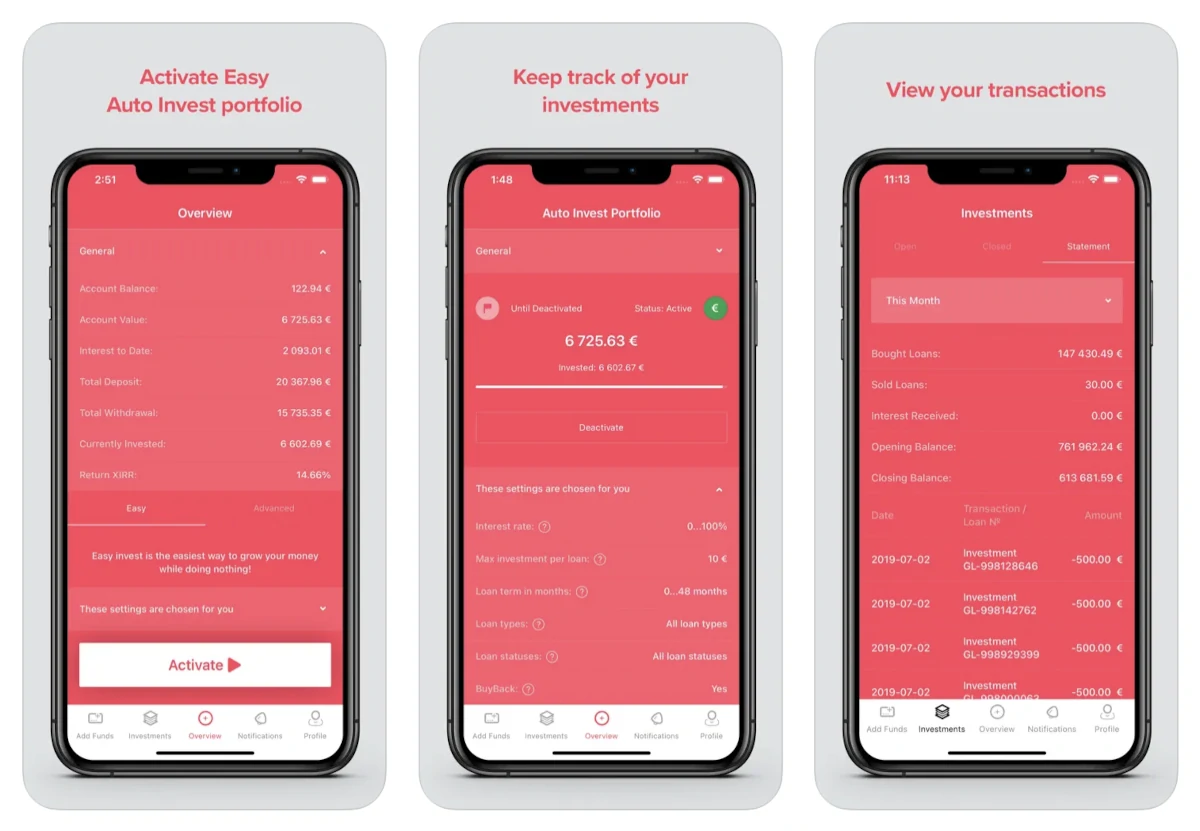 On this app, you can easily manage your investments on the go. Among other things you can:
Keep track of your investments
Create new auto-invest portfolios
View your transactions
Adjust account settings
Receive push notifications
The Swaper app also features a dark mode.
The app is used by over 5,000 investors. Many of these have reviewed the Swaper app. This has resulted in a very high rating of 3.5/5 stars.

Most of the negative reviews and ratings of the Swaper app happened in 2019 and 2020. Here investors experienced trouble with opening the app and logging in. Since then, Swaper has updated the app numerous times.
Even though the app is really good, the website still provides an overall better user experience.
4. Swaper loyalty bonus for VIP investors
Swaper has decided to give the large VIP investors on the platform a loyalty bonus.
In order to qualify for the Swaper loyalty bonus, you will need to invest over €5,000 on the platform for over 3 months.
If you invest over €5,000 on the platform for 3 months, you can get an additional +2% return on all your investments.
5. Swaper secondary market
On Swaper, you can easily sell your loans on the secondary market. In order to do this, simply login to your account. Then go to "My Investments".
From here, you can select the loan you want to sell, and you will then be met with the following screen: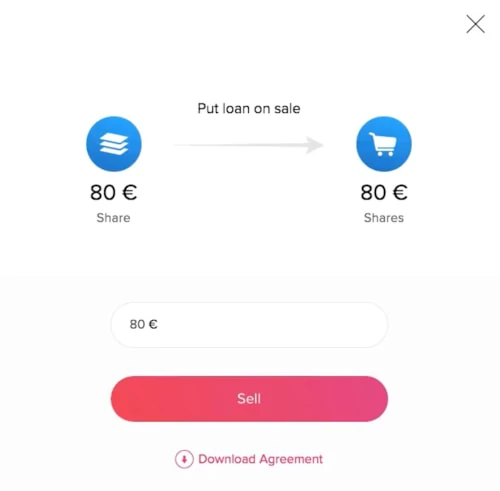 You can choose to sell all of the loans or just a small fraction of them. Simply enter the amount you want to sell and click "Sell".
If one of the borrowers has decided to make an early payment, the loan will be locked for a short period. When this period ends, you can then sell the loan.
Currently, there are no fees for selling loans on Swaper.
6. Swaper tax statement
Swaper doesn't automatically file your taxes. This means that it is your responsibility to make sure that you report your earnings to your local tax authorities.
Swaper has made it quite easy to file your taxes with the income statement you can find on your account.
Find your Swaper income statement:
Log in to your account
Go to "My Profile"
Select "Income Statement"
You will then be met with the following overview where you can download your income statement.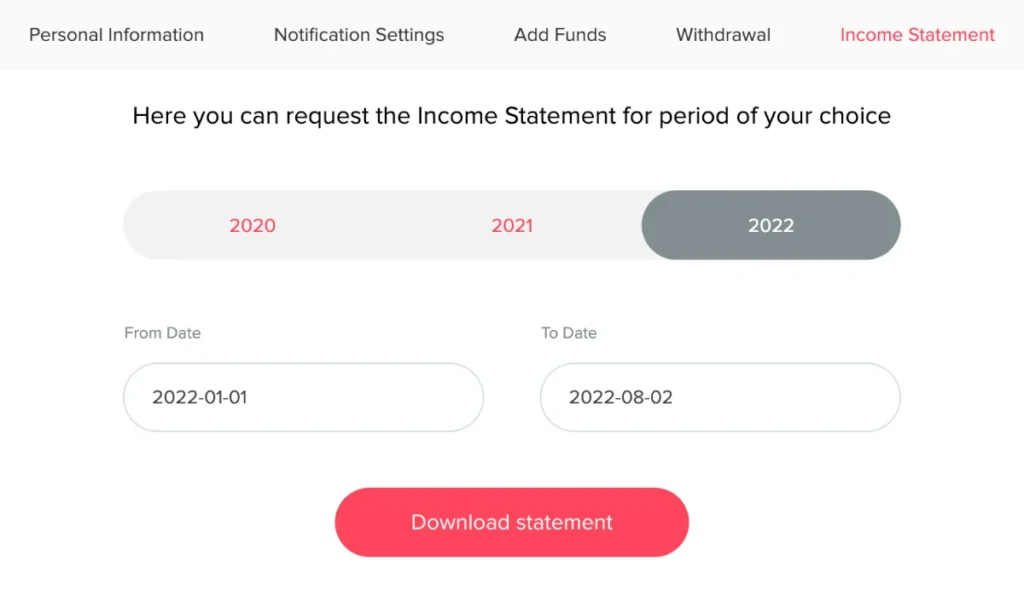 Once you have downloaded your income statement, you can easily use it to file your taxes with your local tax authorities.
What rate of return can you expect?
At Swaper, your return depends on how much you choose to invest.
If you invest under €5,000 on the platform, your return will be around 14% annually.
On the other hand, if you choose to invest €5,000 or more, you can get a loyalty bonus of 2%. This means that your return will be about 16% annually.
If your portfolio is under €5,000, the return is a bit higher than what you can get on Robocash, which is one of Swaper's most similar competitors. However, based on return, Swaper has a clear advantage for all portfolios above €5,000.
A few investors on Trustpilot have reported that their real return was more like 10% as they were unable to stay fully invested at all times. This can make it attractive to have a look at other high-yield platforms like Esketit and Nibble Finance.
Who can invest via Swaper?
To be able to invest with Swaper, it is a requirement that you are a resident of a country in the European Union, European Economic Area (EEA), Switzerland or United Kingdom (UK). You will be considered a resident if you are a citizen, have a residence permit, or pay taxes in one of these countries.
In addition, your bank must also be from an EEA country, and you are required to be at least 18 years old.
If you meet the requirements above, it is possible for you to invest through the platform.
At the time of writing, there are investors on Swaper from the countries marked in red on the map below: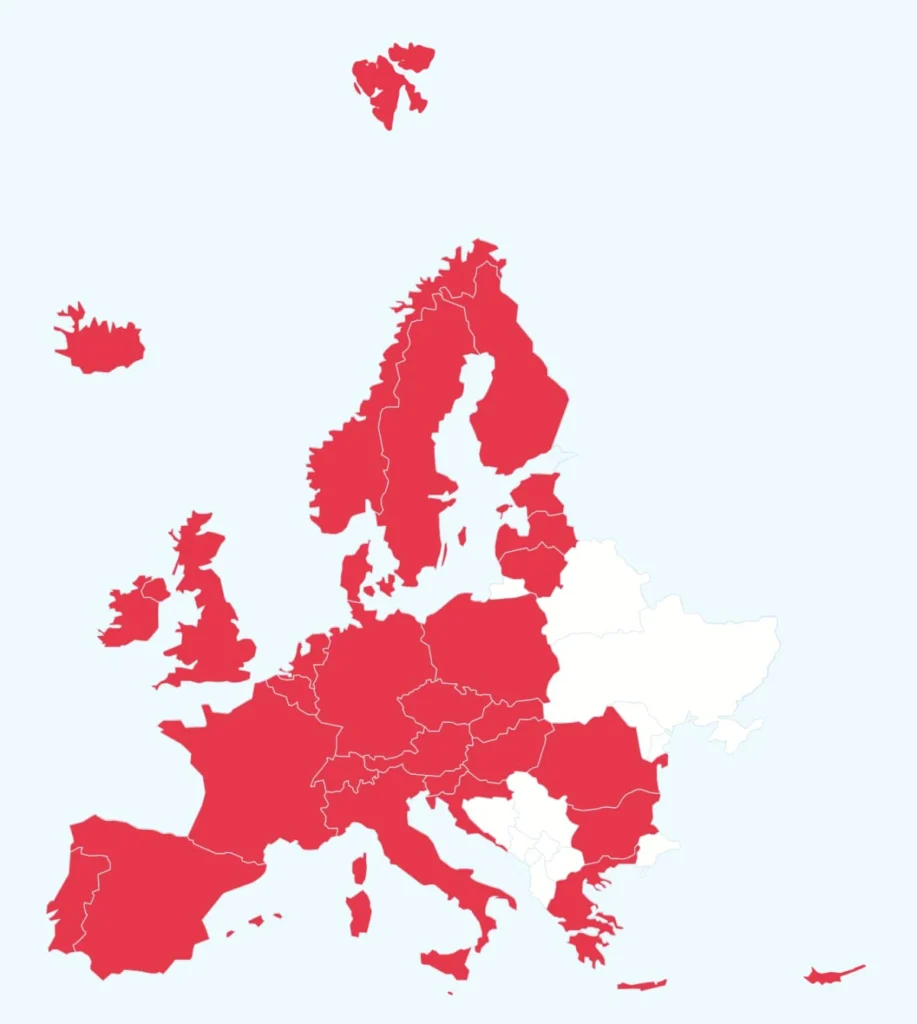 If you are looking for other platforms that are available outside of Europe, you should check out Bondster or Lendermarket instead.
Would you like to invest through Swaper? Then press the button below. It will lead you directly to the Swaper website. From here you can learn more about the platform, and also create an account. That way, also you can enjoy the high return loans with buyback guarantees on their platform:
How safe is Swaper?
Security is a very important thing when investing your money through online platforms. In this Swaper review, we have therefore taken a look at what the company offers of security to its users.
No external loan originators
Swaper only offers loans that come from Wandoo Finance Group. They do this to ensure that they have full insight into the loans that are on the platform. At the same time, it is easier for the company to manage the risks.
Swaper has no plans to offer loans from other loan originators – something other platforms like PeerBerry and Mintos do.
Buyback guarantee
Although Swaper has good control of risk management, there is always a risk of loan defaults with short-term loans. To meet this risk, Swaper has a buyback guarantee on their loan.
So, in the event that the borrowers are over 30 days late, Swaper repurchases the loan from the investor. Swaper compensates for both the invested principal and the accrued interest.
You must always keep in mind that a buyback guarantee is only as secure as the one offering it. So let's take a closer look at how robust Swaper is.
How solid is the company
After being unprofitable for the first years of the platform's operations, Swaper Platform OÜ became profitable in 2019.
The same goes for Wandoo Finance Group, according to the CEO.
Swaper is still a profitable company. According to this financial report, Swaper managed to make a net profit of €88,979 in 2020.
By the end of 2021, Swaper had earned a net profit of €114,478, which represented a 28% increase from the previous year.
What happens if Swaper Platform OÜ folds?
In case Swaper Platform OÜ has to throw the towel in the ring, a procedure has been made for this.
Here, a bankruptcy administrator will get all the information about which transactions have taken place on the platform.
From here, they will manage the loan repayment process of outstanding loans.
Generally speaking, it is very much in line with the security measures that are offered on other platforms to secure your investments in the event of bankruptcy.
Best Swaper alternatives
Are you unsure if Swaper is the right platform for you, after reading this Swaper review?
There are hundreds of P2P platforms out there, which can make it hard to determine if you have found the best platform or if you should look for other Swaper alternatives.
The main categories for P2P platforms are consumer loans, real estate, and business loans.
Here are the best Swaper alternatives right now:
There are many reasons why you should consider a Swaper alternative.
First and foremost, you might not find that Swaper suits your investment needs. When it comes to P2P lending platforms, every P2P investor has different needs. It's therefore crucial that you understand your main investment criteria and find a platform that matches.
It can also be a good idea to consider Swaper alternatives to simply diversify your investments across more than one platform and reduce your overall platform risk. This can also be done with different types of platforms like the ones you can see above.
Conclusion of our Swaper review
Swaper is a good platform that offers investors to invest in loans with an average annual return of 14-16%. Compared to other P2P lending platforms this return is very high and investors won't find many alternatives with a similar return.
Unfortunately, some investors have experienced trouble getting all their funds invested on the platform in different periods. In some cases, the real annual return has been 10% due to uninvested funds.
Swaper is a profitable company and continuously publishes its annual reports on its website for transparency. This makes the investments feel safer.
Swaper is overall a well-designed and easy-to-use platform that makes investing really simple. The platform is used by over 5,600 investors and is considered one of the best P2P platforms on the market right now.
If you choose to use the platform, we recommend that you consider investing over €5,000. If you do, you will get +2% on your return due to the Swaper loyalty bonus. However, this is not something you need to do, as you can easily try to invest on the platform with as little as €10.
With investments starting at just €10, Swaper is suitable for both novice and experienced investors. The platform offers a wide range of loans from Wandoo Finance Group and high returns, making it a great option for those looking to maximize their earnings.
However, Swaper does only have one loan originator, meaning that the investor has more loan originator risk than on some other P2P lending platforms.
Overall, Swaper is a great option for those looking for high returns and low investment minimums, but it is not suitable for risk-averse investors.