Crowdestor review 2023
Read this Crowdestor review to learn if the platform is for you.
Crowdestor
Crowdestor review summary:
Crowdestor is a fine candidate for a P2P lending platform within the real estate and business segment. Generally speaking, there is a very large return on the platform and the team behind has done its best to secure its investors. However, the platform lacks a bit in terms of diversification possibilities. But with returns in some cases up to 36%, we understand that people choose to use Crowdestor.
It's 100% free to open an account
Introduction to our Crowdestor review
Having its first project in 2018, Crowdestor is still a quite new P2P lending platform.
Therefore, we decided to look into how safe investing via Crowdestor really is. The result of our investigations turned into this Crowdestor review.
We strongly advise you to read this review if you have considered investing through the platform but have not yet decided. In this Crowdestor review, we will take a closer look at the safety of their platform. Furthermore, we will also consider what purpose the platform best serves you as an investor.
As you read this Crowdestor review, you should be aware that it contains only our own opinion of the platform, and that the information should not be considered financial advice.
You are of course welcome to read the review from one end to the other, but if you are just looking for something specific, you can use the navigation below to get to a specific point in our Crowdestor review.
Learn about the following in our Crowdestor review:
What is Crowdestor?
Crowdestor is a crowdfunding platform specializing in businesses.
Their first project was launched in February 2018, and since then a myriad of projects, like the one shown below, has been funded on the platform: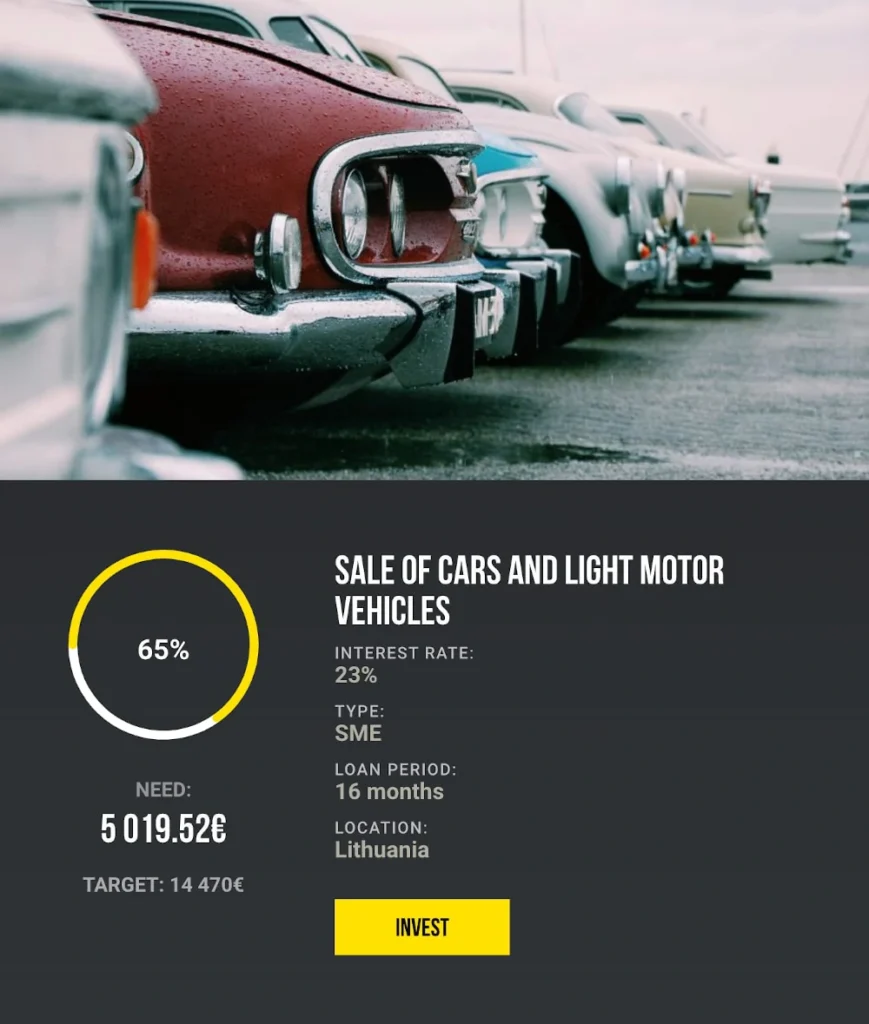 On the platform, you can invest in high-yielding businesses, transport, real estate, and startup projects.
Crowdestor has raised over €57,200,000 with the help of the 26,200 + investors on the platform.
With a minimum investment of €50, you can join the platform at https://crowdestor.com/.
Crowdestor statistics:
| | |
| --- | --- |
| Launched: | 2018 |
| Investors: | 26,200 + |
| Interest rate: | 10 – 36 % |
| Loan period: | 1 – 24 months |
| Loan type: | Business |
| Loans funded: | € 57,200,000 + |
| Min. investment: | € 50 |
| Max. investment: | Unlimited |
How Crowdestor works
Crowdestor is a platform that allows investors to lend money to project owners.
The project owners on the platform benefit from this, as they can get funding for their projects. This gives them a better opportunity to lead their projects into real life.
As an investor, you can in return achieve a pretty solid investment return from this.
There are zero investment fees on the platform, as the fees are paid by the project owners: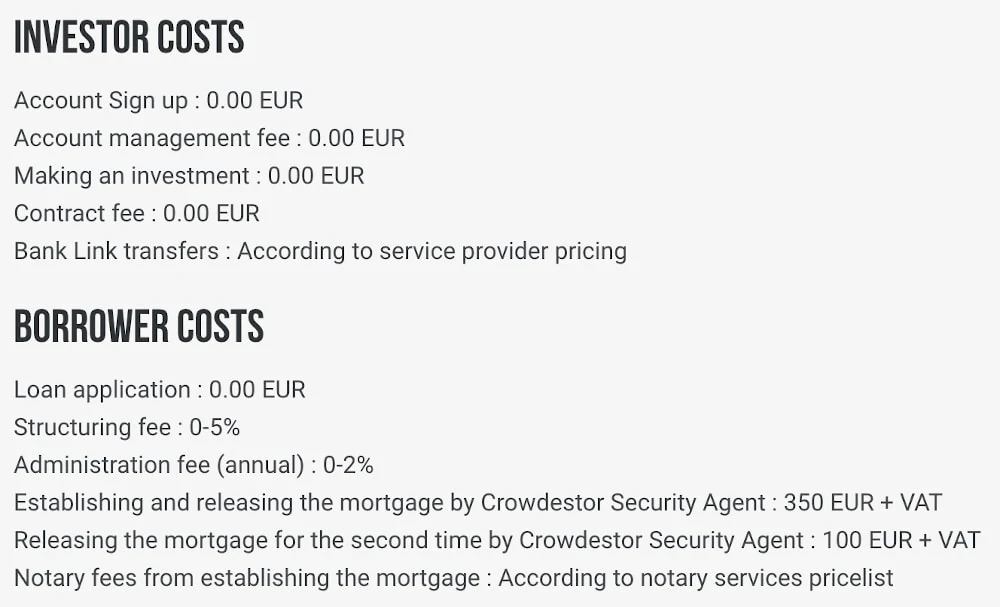 The founders of Crowdestor
Crowdestor was founded in 2018 by the CEO Jānis Timma and COO Gunars Udris: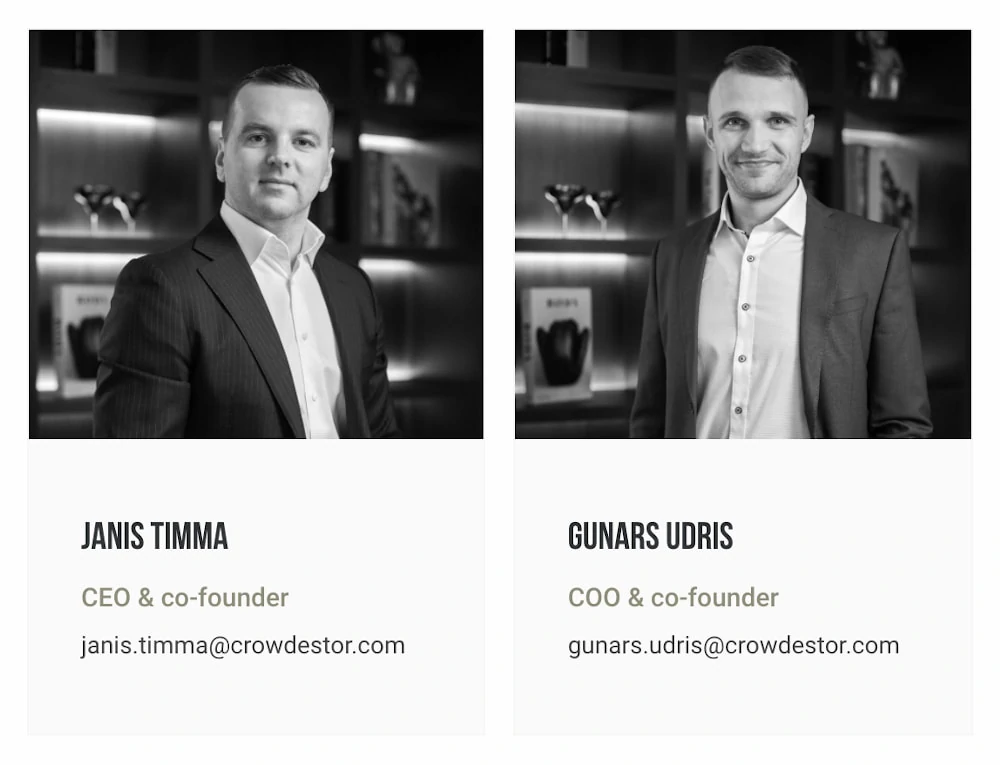 Judging by their LinkedIn accounts they have had some previous experience in the sectors they are focused on with Crowdestor.
Therefore, they should have some industry insights and know some of the pain points of sectors like the energy sector. This is a good sign.
They work from Crowdestors headquarters in Riga, Latvia, where the daily operations take place. However, the company itself is incorporated in Estonia.
Crowdestor FAQ:
Crowdestor Trustpilot reviews
Most Crowdestor reviews on Trustpilot are left with a 1-star rating. This has meant that Crowdestor has ended up with a poor Trustpilot score of 2.1 stars based on 154 reviews.
This is much lower than some of the best-rated platforms which you can find on this website.
After taking a closer look at many of the positive ratings and reviews on Trustpilot, only a few of them seemed without bias. The others were simply posting links to reviews of Crowdestor on their blog and links for them to make money from new investors signing up.
Without the biased comments on Trustpilot, Crowdestor would probably have an even worse rating.
Many investors are not satisfied. You should be careful before you sign up for Crowdestor.
Consider platforms with better Trustpilot ratings like Esketit, Lendermarket, or Robocash instead.
Main features
In the following, we will walk you through some of the main features of the platform, and why they matter to you as an investor.
1. Crowdestor BuyBack Guarantee Fund
In 2019, Crowdestor introduced a new program called "BuyBack Guarantee Fund". This fund was created in order to safeguard investors against the potential default of the borrowers.

Since March of 2019, Crowdestor has devoted a commission of 1-2% to the fund from all the projects funded on the platform.
In the case that a borrower defaults, investors will be compensated with a proportionate amount of their contributions to the particular project.
As of April 2022, the BuyBack Fund had a size of €442,554 (check the current fund size).
2. Crowdestor secondary market
In October 2020, Crowdestor announced its secondary market. This feature makes it possible for investors to make an early exit from the platform.
The secondary market on Crowdestor allows you to either sell your investments at a discount or a premium.
So if you are unsure whether or not you want to keep your funds invested for the whole period, the secondary market offers you a way to sell and withdraw your money before the investment is finished.
3. Earn a bonus with your Crowdestor referral code
As an investor on the platform, you can earn a bonus by inviting your friends with a Crowdestor referral code.
Your friends will get a sign-up bonus from this and you can get a Crowdestor cashback to boost your portfolio.
What rate of return can you expect?
On Crowdestor, the average annual return is 19.65%.
Investors on Crowdestor are oftentimes investing in just a few individual projects where the return varies greatly from 9% to over 30%. Therefore, the return you will receive from investing via Crowdestor will probably vary from the average return.
If you go for high-return projects alone, your return will obviously be higher than for a more conservative investor.
Since there are generally few, but large projects on Crowdestor, it can sometimes be difficult to diversify properly. Especially when the investments are high risk, you can thus benefit from spreading your risk to other P2P lending sites than just Crowdestor.
Who can invest via Crowdestor?
In order to be able to invest via Crowdestor you must meet the following requirements:
Be at least 18 years old
Have an active bank account
If you meet these requirements, simply follow this registration process:
Go to https://crowdestor.com/
Complete the registration process
Wait up to 48 hours for approval of your account
Invest projects on Crowdestor
If you have any questions regarding the registration or wonder if you can invest, you can simply contact Crowdestor with the information found at the bottom of this page.
It is possible to send funds to your account with TransferWise and bank transfer. But when withdrawing money from the platform, you can only use bank transfer.
Would you like to invest through Crowdestor? Then press the button below to be taken directly to their website. Here you can sign up as an investor:
Is Crowdestor safe to use?
When you invest your money there is always a risk associated with it.
Typically, this risk also follows the return you get. So when your return is high, the risk will typically be correspondingly high. The high return that can be obtained from Crowdestor, will, in general, also be described as high risk.
Are you wondering what specific risks are associated with investing through Crowdestor? In the following part of our Crowdestor review, we take a look at some of the biggest risks you face on the platform. We also take a look at what Crowdestor has done to minimize them.
The main risk
The biggest risk with P2P platforms with high returns is typically the investments themselves.
The same goes for Crowdestor.
If the projects you invest in through Crowdestor end up failing, then you can lose the entire amount you have invested in the given project.
However, you can of course not lose more than what you have actually chosen to invest in a given project.
Investment risk management
In order to minimize the risk that you take as an investor, Crowdestor has also made some additional measures to protect you.
Among other things, they carefully review every possible borrower before they arrive on their platform. Both reputations, financial background, and current commitments are examined.
In addition, the project owner's business plan, financial reporting, and loan security are evaluated by Crowdestor's expert team.
However, it doesn't stop here. Because in every project offered on the platform, Crowdestor takes part as co-financiers and/or co-developers. Therefore their interest is aligned with their investors.
What happens if Crowdestor goes out of business?
A large part of assessing how secure a platform is is looking at the worst-case scenario. In Crowdestor's case, this will probably be if they go out of business. Therefore, we have also chosen to take a look at what happens if Crowdestor ends up folding.
One of the most important steps Crowdestor has taken to protect you as an investor is by keeping its assets separate from your own.
They do this by keeping your investments in CROWDESTOR SECURITY AGENT OÜ, which is a separate company. So if Crowdestor goes down with the flag, your investments don't.
Best Crowdestor alternatives
Are you unsure if Crowdestor is the right platform for you, after reading this Crowdestor review?
There are hundreds of P2P platforms out there, which can make it hard to determine if you have found the best platform or if you should look for other Crowdestor alternatives.
The main categories for P2P platforms are consumer loans, real estate, and business loans.
Here are the best Crowdestor alternatives right now:
There are many reasons why you should consider a Crowdestor alternative.
First and foremost, you might not find that Crowdestor suits your investment needs. When it comes to P2P lending platforms, every P2P investor has different needs. It's therefore crucial that you understand your main investment criteria and find a platform that matches.
It can also be a good idea to consider Crowdestor alternatives to simply diversify your investments across more than one platform and reduce your overall platform risk. This can also be done with different types of platforms like the ones you can see above.
Conclusion of our Crowdestor review
Crowdestor is one of the highest-yielding business / real estate crowdfunding platforms on the market. This certainly comes with some risk.
But if you are able to sleep well knowing that you are investing in high-risk projects, Crowdestor might be the platform for you.
You are not totally unprotected on Crowdestor, as the company has created a Buyback guarantee fund that helps protect investors against the default of borrowers.
Since the introduction of the BuyBack Fund, the fund has kept growing in size, which is a positive sign for investors.
One of the things we dislike about Crowdestor is the fact that there usually are very few available investment opportunities at a time.
Therefore, it can be difficult for you to diversify your portfolio properly and get a favorable risk diversification.
With many bad Trustpilot reviews, Crowdestor is not a recommended platform right now. Check out other alternatives like HeavyFinance or Max Crowdfund instead.
Would you like to invest via the platform after reading our Crowdestor review? Then you can press the button to be taken directly to their website. Here you can create an investment account and start investing in the projects on their platform. In this way, you can start benefiting from the high yield that can be achieved at Crowdestor: