PeerBerry review 2023
In this PeerBerry review, you can examine the P2P lending platform's features, advantages, and potential downsides. Dive deep into our full analysis of PeerBerry's offering or see a summary of the primary findings in the box below:
PeerBerry
PeerBerry review summary:
PeerBerry is one of the best platforms for short-term investment right now. Most investments only take around 30 days. This means that you can withdraw your money from PeerBerry within a month, unless you have delayed loans. Investments are protected by a 60-day buyback guarantee, which means that delayed loans will be bought back by PeerBerry after 60 days. The platform is one of the best in the industry.
It's 100% free to open an account
Introduction to our PeerBerry review
PeerBerry is one of the best P2P lending sites for investors.
But how good is the platform, and how does it compare to other P2P platforms? We decided to investigate.
So if you are considering using the platform, we recommend that you read this PeerBerry review. By doing so you will quickly find out what we like and dislike about the platform.
Please be aware that the content of this review is 100% based on our own opinion. Nothing in this PeerBerry review should be considered investment advice.
To quickly learn more about a particular topic, please use the navigation below. You can, of course, also choose to read our entire PeerBerry.com review.
With that out of the way, let's take a look at PeerBerry.
Learn about the following in our PeerBerry review:
What is PeerBerry?
PeerBerry is a Peer-to-Peer lending platform mainly focused on short-term consumer loans.
But you will also be able to find loans that are more business-oriented on the platform.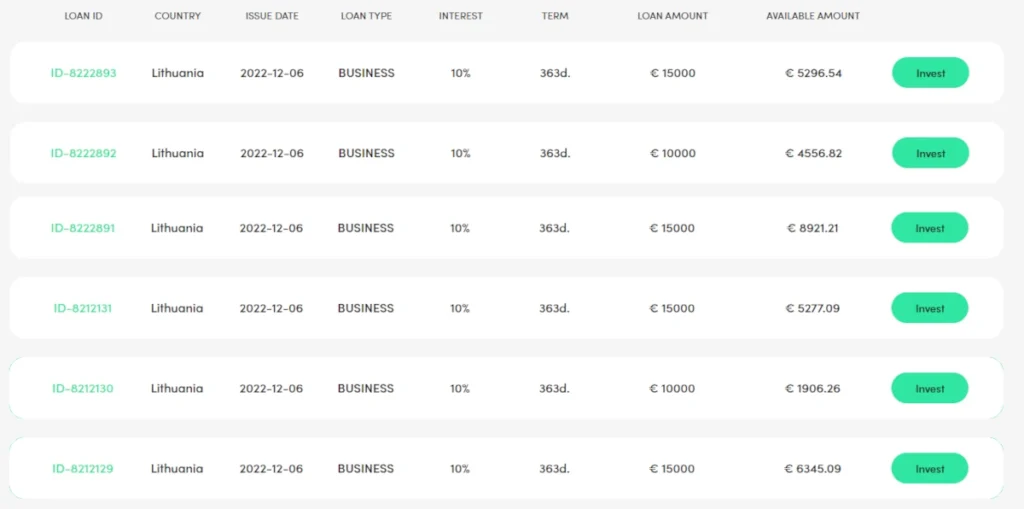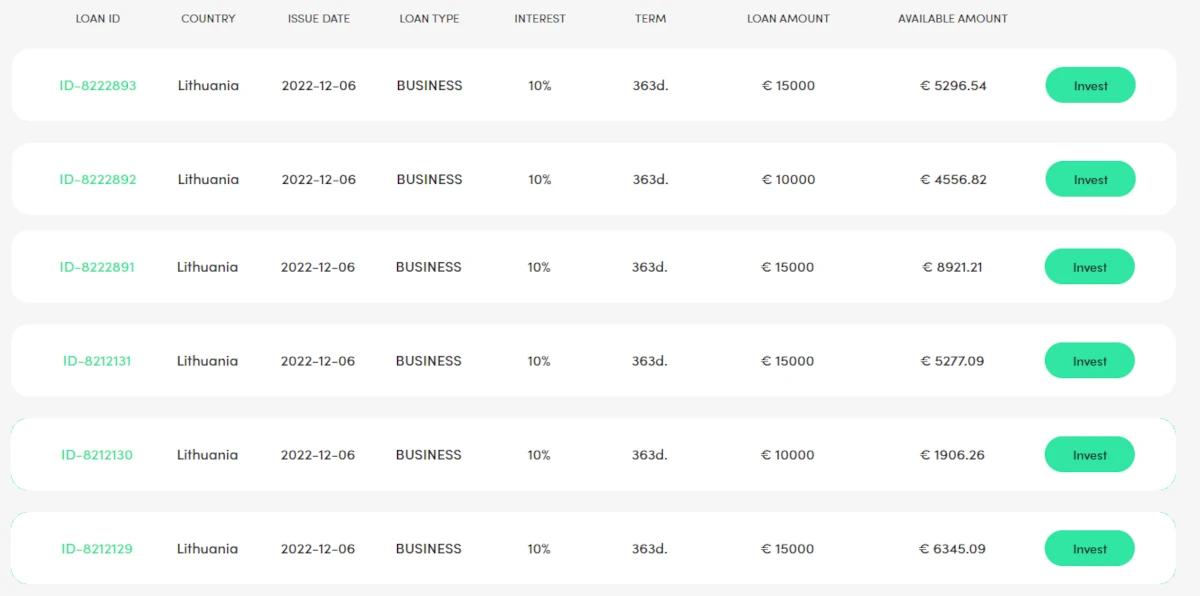 Like a lot of other P2P platforms, PeerBerry is based in Riga, Latvia. They launched their crowdlending platform on November 1st, 2017.
Since then, PeerBerry has grown its investor base to over 62,000 investors. But as they have a relatively new platform, they are still one of the smaller P2P lending sites for investors out there.
PeerBerry is a product of Aventus Group, a mature lending company operating in multiple European countries. Originally, Aventus Group used Mintos in order to attain liquidity for more loans. They did so for a few months back in 2016. However, the company quickly decided to create its own P2P lending platform.
With a minimum investment of €10, you can start investing on the platform.
PeerBerry statistics:
| | |
| --- | --- |
| Launched: | 2017 |
| Investors: | 62,000 + |
| Interest rate: | 9 – 14 % |
| Loan period: | 1 – 60 months |
| Loan type: | Consumer |
| Loans funded: | € 1,447,000,000 + |
| Min. investment: | € 10 |
| Max. investment: | Unlimited |
How PeerBerry works:
PeerBerry loan originators are mainly from the Aventus Group, Gofingo, and Lithome connected to its platform.
The loans are mostly short-term loans, but also include leasing, business, real estate, and long-term loans: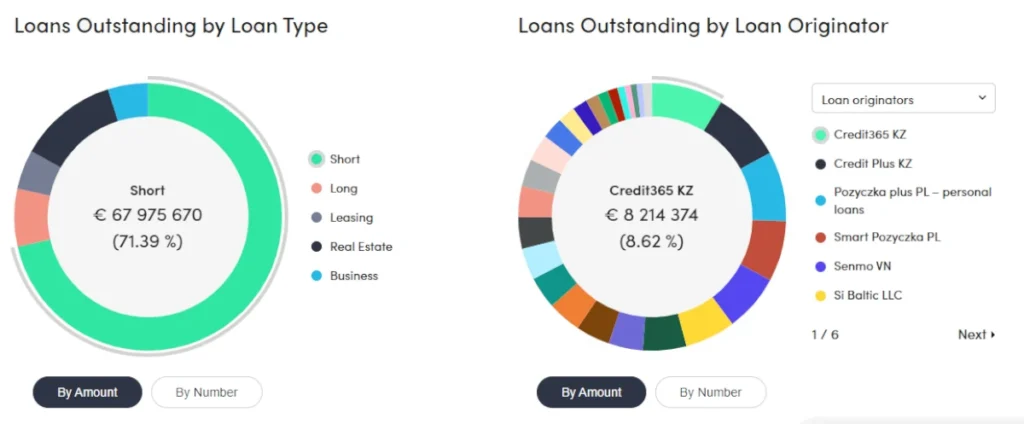 These PeerBerry loan originators can make loans they have issued to consumers, available for investment on their website.
Here, investors like you can then invest in the loans and earn a return on your investment.
When investors invest in loans via PeerBerry, the lending companies then get more liquidity. This means that they can now go out and issue more loans and thereby growing their business.
PeerBerry excels by being one of the P2P platforms that have the most current loans with 0 defaults: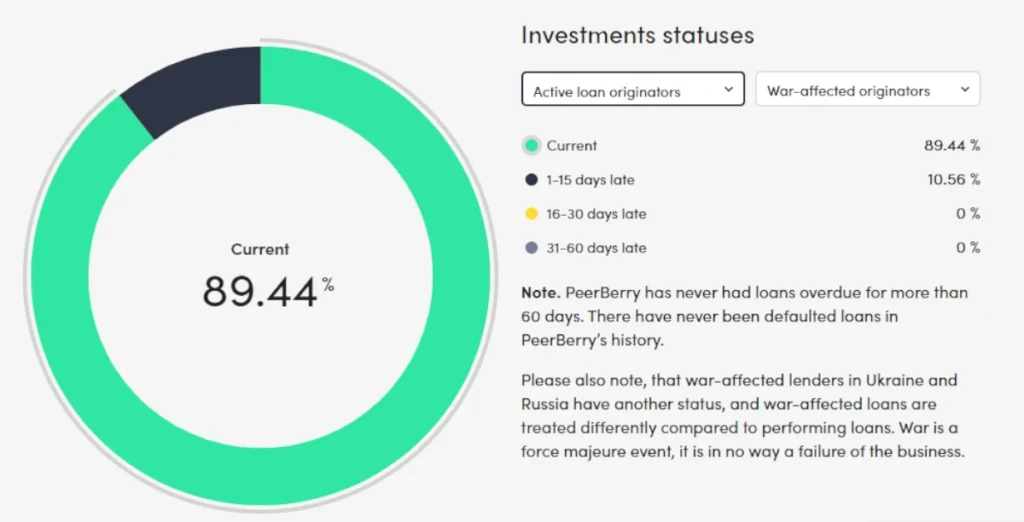 You might wonder how lending companies make money by letting you invest in the loans. But generally, they do so by letting you invest at a lower rate than what they are actually getting.
The loans you can find on PeerBerry's website originate from countries like Denmark, Poland, Ukraine, Kazakhstan, and many more.
PeerBerry FAQ:
PeerBerry Trustpilot reviews:
PeerBerry is one of the top-rated P2P lending platforms on Trustpilot. Currently, the platform is rated at 4.0/5 stars on Trustpilot.
Compared to other crowdlending platforms in Europe, PeerBerry's rating on Trustpilot is very high.
Many investors confirm that they are experiencing returns similar to the advertised return by the platform. PeerBerry is also endorsed by investors for its management of effects on loans due to Covid-19, the war in Ukraine, and more. A lot of investors state that PeerBerry is their favorite platform.
With over 150 great reviews, the platform is definitely worth considering.
Main features
In the following part of this PeerBerry review, we will go over some of the main features and functionalities of the platform.
1. PeerBerry buyback guarantee
All the loans listed on PeerBerry are secured with a buyback guarantee – which is an obligation for the loan originator to buy back a loan if it doesn't get repaid by the borrower.
On PeerBerry, the buyback guarantee is activated if the borrower is more than 60 days late on the repayment schedule.
Here, the lending company behind the loan will have to buy back the loan from you, including paying for all the accrued interest you would have gotten from the investment.
Even though there is a buyback guarantee on loans, it doesn't mean that the investments are 100% safe.
As the buyback guarantee is provided by the loan originators, the PeerBerry buyback guarantee is only really useful as long as the lending company stays in business.
So if an individual loan originator goes bankrupt, your buyback guarantee is essentially gone.
2. PeerBerry group guarantee
In addition to the buyback guarantee, most loans are covered by an additional group guarantee.
This guarantee protects you against the financial difficulties some of the loan originators will inevitably run into.
Basically, the group guarantee is a guarantee that forces other PeerBerry loan originators in the group to help a struggling loan originator.
So let's say that a loan originator in the Aventus Group is facing difficulties. Then the other lending companies within the group will have to help the struggling loan originator.
The additional group guarantee won't be helpful to you if the whole group is struggling.
3. Detailed loan descriptions
On the platform, you will find detailed information about the loans from the loan originators themselves: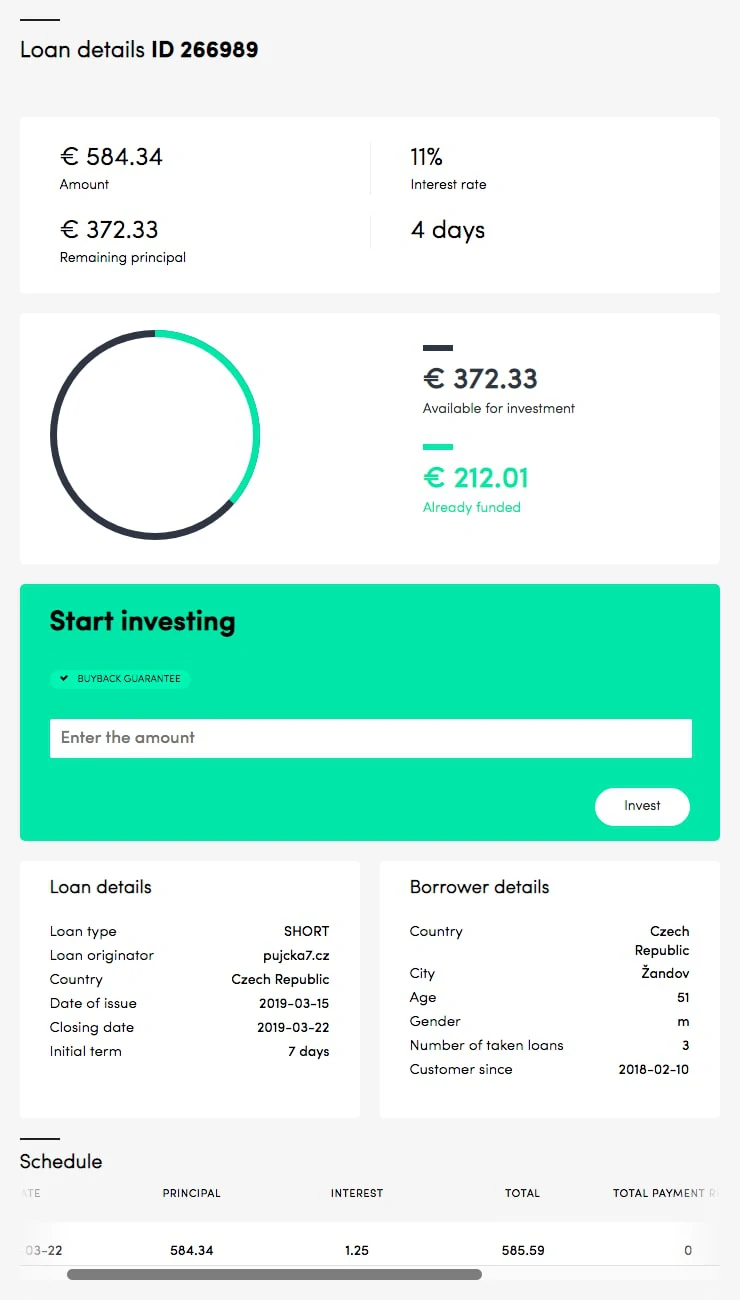 You can use the information provided to make your investment decisions. Alternatively, you can also use their auto-invest. This way, you can automate your investments completely.
4. PeerBerry auto-invest
Although it is possible to invest manually on PeerBerry, you have the option to set up auto-invest.
In this way, you can invest more in a passive way.
As most loans are short-term loans, using auto-invest is recommended on PeerBerry. Investing manually will simply become too time-consuming.
To create an auto-invest strategy, tap "Auto-Invest" in the navigation bar over at their website. Then press "Create new Auto Invest Portfolio" to get started.
You will then be greeted by this screen, where you can get started making your automatic investment portfolio: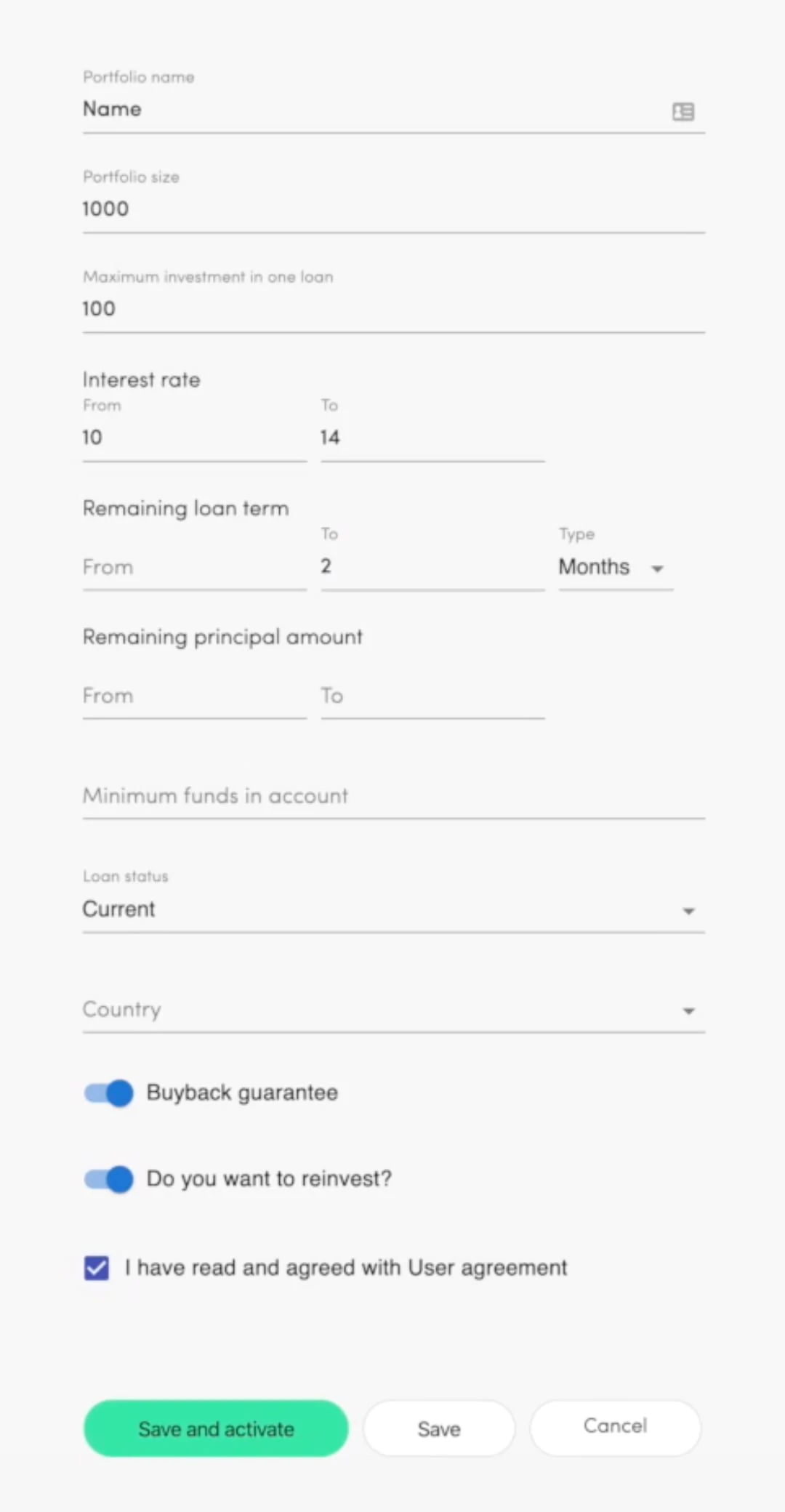 When you set up your auto-invest strategy, you can change the following things:
Portfolio size
Maximum investment in one loan
Minimum and maximum interest rate
Remaining loan term and principal amount
Loan status
Geographies you are investing in

Buyback guarantee on loans

If you want to automatically reinvest (recommended)
5. PeerBerry loyalty program
A thing that sets PeerBerry aside from many other platforms is the fact that they have a loyalty program set in place.
The PeerBerry loyalty program rewards investors that invest a lot of capital via the platform for longer periods of time.
In order to be eligible for the base level of the loyalty program, you will have to do the following:
Be a member of PeerBerry for 90 days
Have at least €10,000 on the platform
The bonus you can get from the loyalty program ranges from 0.5-1.0% and is dependent on which loyalty level you are on.
There are three levels of PeerBerry's loyalty program; silver, gold, and platinum:
Loyalty levels
Silver: If you invest a minimum of €10,000, you will get an additional +0.5% on your investments.
Gold: If you invest a minimum of €25,000, you will get an additional +0.75% on your investments.
Platinum: If you invest a minimum of €40,000, you will get an additional +1% on your investments.
5. Tax report for easy taxes
PeerBerry doesn't deduct taxes on your investments.
This means that you are responsible for filing taxes with your local tax authorities based on the income you have on the platform.
PeerBerry makes filing your taxes easy with its tax report. The tax report can be found on your account.
6. PeerBerry mobile app
PeerBerry launched a mobile app in 2021.
The PeerBerry mobile app is one of the best in the industry as it allows investors to do exactly the same as on the desktop version with a great user experience.
The app is used by over 10,000 investors. Many of these have reviewed the PeerBerry app. This has resulted in a decent rating of 3.6/5.

Some of the bad ratings and reviews of the PeerBerry app are made by investors experiencing smaller bugs. But the app is very often updated in order to fix bugs and improve the user experience. This means that some of these PeerBerry app reviews are now irrelevant.
The PeerBerry mobile app is both available for Android and iOS.
7. PeerBerry referral bonus
If you are looking for a platform with a bonus for signing up, PeerBerry could very well be the right choice.
If you click one of our affiliate links before you sign up on the platform, you will get a +0.5% cashback bonus on your investments for the first 3 months.
Simply click the button below to get the PeerBerry refer-a-friend bonus (no promo or referral code needed):
What rate of return can you expect?
At PeerBerry, investors get an average return of 11.1%. As this is the average return, you will probably get a return very close to this.
The return you can get from PeerBerry is a bit higher than competitors like Robocash, TWINO, and FAST INVEST which have similar investment offerings.
Returns like these are never without any risks. We will go more into detail with this later in this review.
Who can invest via PeerBerry?
At PeerBerry it is both possible for individuals and companies to invest. If you want to invest via the platform, you must meet the following requirement:
Minimum age of 18 years
You are not a citizen of a country included in the Financial Action Task Force anti-money laundering (FATF AML) list, and high-risk jurisdictions list of the EU
If you fit this requirement, you can probably invest via PeerBerry (visit the website).
Available countries
Initially, PeerBerry was only available to European investors. But they are now increasingly available for international investors as well – in fact, they have investors from over 70 countries.
You can see some of the countries where investors on PeerBerry are from marked in green on the map below: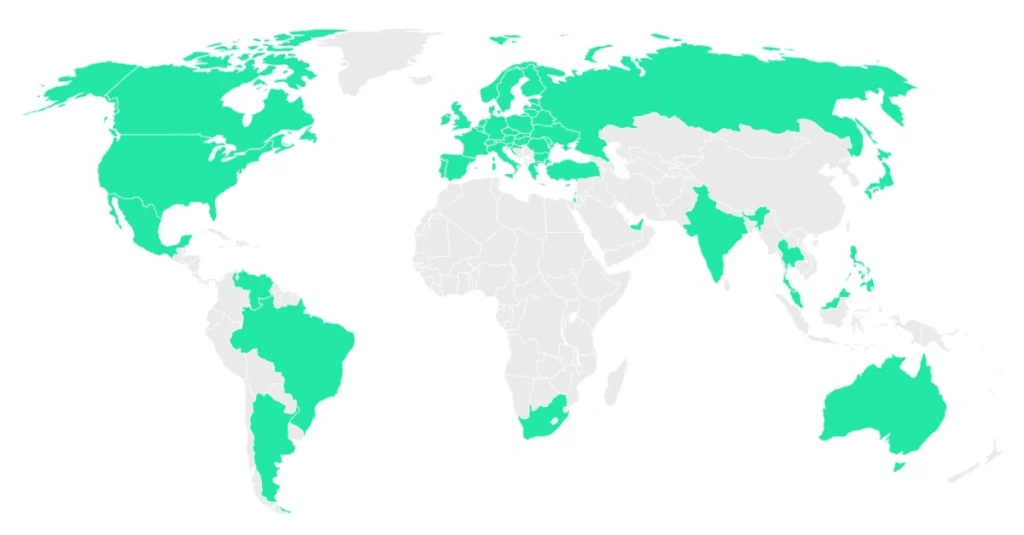 Due to the fact that the platform is from Europe and investments are made in EUR, most investors are from within the EU.
However, the platform is also gaining traction in places like the United States, Canada, Australia, South Africa, and the UK.
If you are not from one of the countries marked in green, it doesn't mean that you can't invest with PeerBerry.
To join the PeerBerry P2P platform, check if your country is not part of the Financial Action Task Force anti-money laundering (FATF AML) list, and high-risk jurisdictions list of the EU.
Are you in doubt about whether you can invest via PeerBerry? Simply reach out to the team with the contact information found here.
PeerBerry investor statistics
While PeerBerry is available in a lot of countries worldwide, the platform is most popular in Germany, Spain, The Netherlands, Portugal, France, Bulgaria, Denmark, Italy, The United Kingdom, and Lithuania: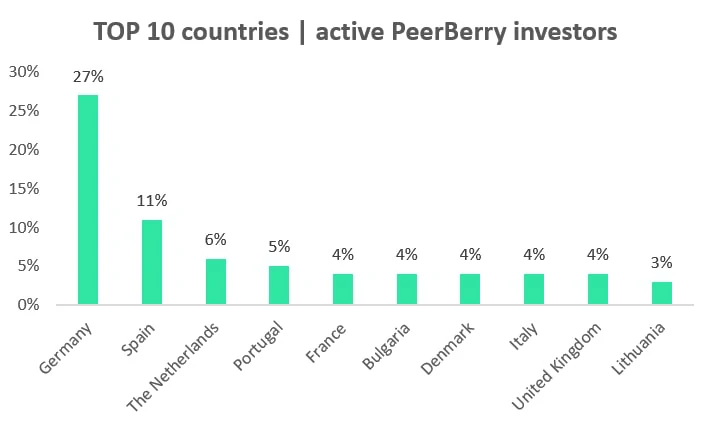 Most of the investors on the platform are within the age range of 25-50: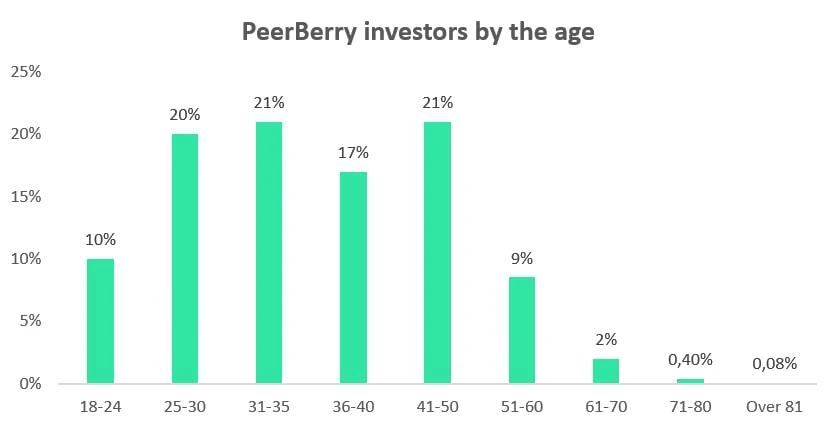 And even though the PeerBerry platform is very beginner-friendly, most investors on the platform are actually investing substantial amounts of money: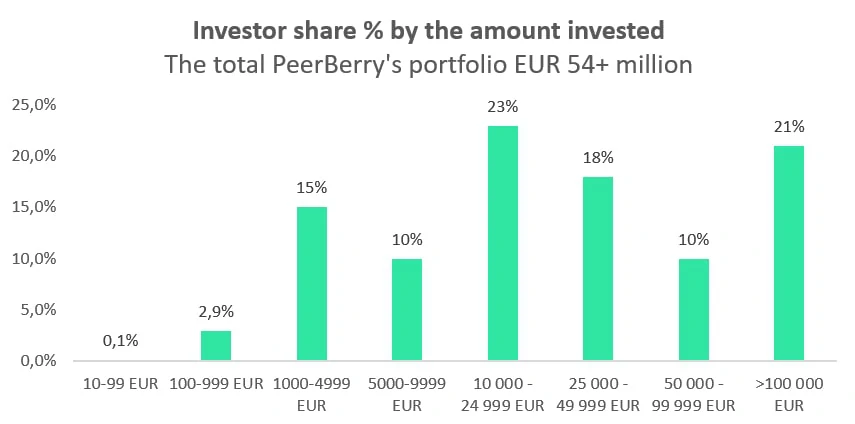 Opening an account
Opening an account with PeerBerry is really easy. In just 3-4 minutes, your account is set up and ready to go.
Then you can simply transfer money to your investment account. You can do that with TransferWise, or with more traditional methods like a SEPA transfer.
From here, you can set up an auto-invest strategy, or choose to invest manually in the loans you desire.
Step-by-step process:
Add funds to your account
Select loans and invest
As you can see, there are only a few requirements for investing at PeerBerry. Furthermore, it's really simple to start investing.
When your account is ready to go, and you have invested your funds, you can also track your investment portfolio and returns.
Do you meet the requirements for creating an account? Simply click the button below, and sign up today. That way, you will get from reading this PeerBerry review to actually investing yourself:
PeerBerry fees
PeerBerry does not apply any service, deposit, or withdrawal fee. There is no limit for a deposit.
Funds withdrawal can be made to the bank account from which the deposit was made. The minimum withdrawal amount should be not less than 1 Eur.
Is PeerBerry safe to use?
When investing your money through an online platform, it's important that you are protected. In this PeerBerry.com review, we have therefore looked at some of the safety features that the platform offers its users.
Buyback guarantee
When dealing with loans, there is always a likelihood that the borrower cannot repay. It does not matter if you lend out the money yourself, or if you take over an existing loan, as you do on PeerBerry's platform.
In order to counter this problem, there is a buyback guarantee on the loans on PeerBerry.
A buyback guarantee is basically a guarantee that the original issuer of the loan will repurchase the loan from you if the borrower cannot repay the loan.
The guarantee comes into effect in the case that a borrower is over 60 days late on repayment of the loan.
On PeerBerry's website, you can see which loans have the guarantee, and then invest accordingly.
If you want to invest passively, you can also set auto-invest to invest only in loans with a buyback guarantee.
War affected loans
Due to the Ukraine war, PeerBerry decided to suspend loans from Ukraine and Russia.
This means you can no longer invest in loans from these countries on PeerBerry.
But investors that invested in loans from Ukraine and Russia before the war are now experiencing delayed repayment due to this force major situation.
Fortunately, PeerBerry and its business partners are slowly but surely in the process of repaying loans to investors. Here is the status of Aventus Group: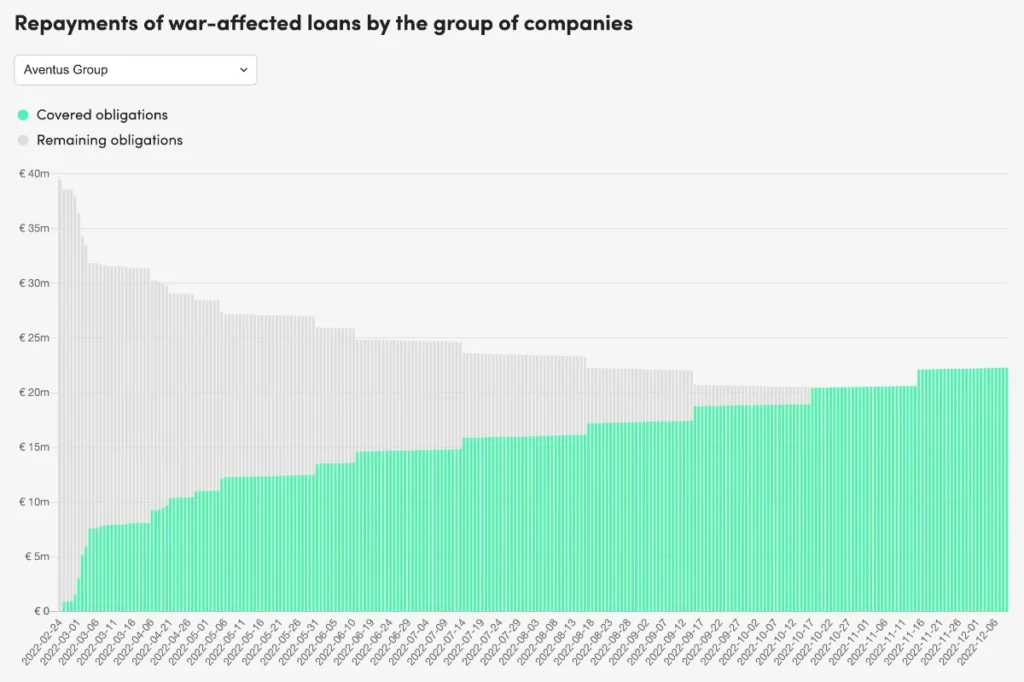 According to this FAQ, it is forecasted that the war-affected loans are fully paid back in 2024.
How solid is PeerBerry?
PeerBerry is owned by Lithuanian-based payday lender Aventus Group, which has been profitable since its first year of operations in 2009.
Going forward to today, the group has seen growing numbers on their financial statements as well as in the markets they operate within.
All in all, it is a pretty solid company standing behind PeerBerry.
PeerBerry itself also seems like a very trustworthy platform. All things needed are properly disclosed on their platform.
In 2021, the net profit nearly doubled to €254,301 according to the latest annual report. On many other metrics, PeerBerry also improved and became a more solid P2P lending platform.
Best PeerBerry alternatives
Are you unsure if PeerBerry is the right platform for you, after reading this PeerBerry review?
There are hundreds of P2P platforms out there, which can make it hard to determine if you have found the best platform or if you should look for other PeerBerry alternatives.
The main categories for P2P platforms are consumer loans, real estate, and business loans.
Here are the best PeerBerry alternatives right now:
There are many reasons why you should consider a PeerBerry alternative.
First and foremost, you might not find that PeerBerry suits your investment needs. When it comes to P2P lending platforms, every P2P investor has different needs. It's therefore crucial that you understand your main investment criteria and find a platform that matches.
It can also be a good idea to consider PeerBerry alternatives to simply diversify your investments across more than one platform and reduce your overall platform risk. This can also be done with different types of platforms like the ones you can see above.
Conclusion of our PeerBerry review
PeerBerry is one of the best P2P lending platforms for short-term investing right now.
Most investments on the platform take around 30 days. This means that you can withdraw your capital from PeerBerry within a month – unless you have delayed loans. Loans are protected by a 60-day buyback guarantee, which means that delayed loans will be repurchased by PeerBerry after 60 days.
PeerBerry has one of the fastest-growing P2P lending platforms in the industry and is used by over 60,000 investors. The returns on PeerBerry are quite high and stable compared to other platforms. The average return is around 11.1%.
The platform has reputable loan originators, a great team, a pretty solid company behind the platform, and a platform that works like a charm. This is probably one of the reasons why PeerBerry is highly rated on Trustpilot with mostly 5-star reviews.
PeerBerry does have some cons for investors to be aware of, including the fact that the platform has no secondary market. But since most loans on PeerBerry are short-term loans, this shouldn't be a problem for most investors.
Overall, PeerBerry is a solid P2P lending platform that is suitable for investors who are looking for higher returns and who are willing to take on some additional risk.
Have you decided to invest after reading this PeerBerry.com review? Then simply click the button below to get to their site. From here, you can sign up as an investor in just a few moments and start investing on the PeerBerry platform: