Mintos review 2023
Read this Mintos review to learn if the platform is for you.
Mintos
Mintos review summary:
Mintos is currently experiencing a lot of loans in recovery due to loan originators going into default in the aftermath of Covid-19. This has resulted in investors being unable to sell their investments and withdraw funds from Mintos. The funds can be in recovery for years. If you are considering investing via Mintos you should proceed with caution. Alternatives like PeerBerry and EstateGuru are worth considering instead as they have experienced fewer defaults.
It's 100% free to open an account
Introduction to our Mintos review
Over the past few years, there has been a lot of buzz around the European P2P lending platform Mintos. But is Mintos safe to use? We decided to investigate just that.
So if you are considering investing through the platform, we highly recommend that you read this Mintos review carefully. Because in the review, we will make our best assessment of how good the platform is, as well as include some tips and tricks for using Mintos.
We have invested through the platform for an extended period of time, in order to make the best review possible.
This Mintos.com review ended up being quite long. But if you are in a hurry, you can simply use the navigation below to find answers to what you want to know more about. Of course, you can also choose to read the review from A-Z.
As you read, please be aware that this Mintos review is solely based on our own Mintos experience, and should not be considered financial advice. Everything we have written is only an expression of our own opinion about the platform.
Learn about the following in our Mintos review:
What is Mintos?
Mintos is the largest platform for investing in loans in Europe. You can use the P2P lending platform to invest in different types of loans from across the world.
At the time of writing, Mintos have over 502,600 registered investors from 62 countries. They have offices on several continents, creating jobs for more than 140 employees.
In 2020, Mintos came out with the news that it was crowdfunding, which meant that investors could now also become partial owners of the platform.
The crowdfunding campaign took place on Crowdcube and Mintos raised €6,550,006 from 6147 investors at a pre-money valuation of €68,000,000. It is thus clear that Mintos is a very legit and valuable company.
With a minimum investment of €50, you can easily try out the platform at www.mintos.com.
Mintos statistics:
| | |
| --- | --- |
| Launched: | 2015 |
| Investors: | 502,600 + |
| Interest rate: | 5 – 30 % |
| Loan period: | 1 – 80 months |
| Loan type: | Consumer |
| Loans funded: | € 8,500,000,000 + |
| Min. investment: | € 50 |
| Max. investment: | Unlimited |
How Mintos works:
Mintos is a marketplace that connects lending companies and investors. This makes it easy for them to scale, as they are not issuing the loans themselves.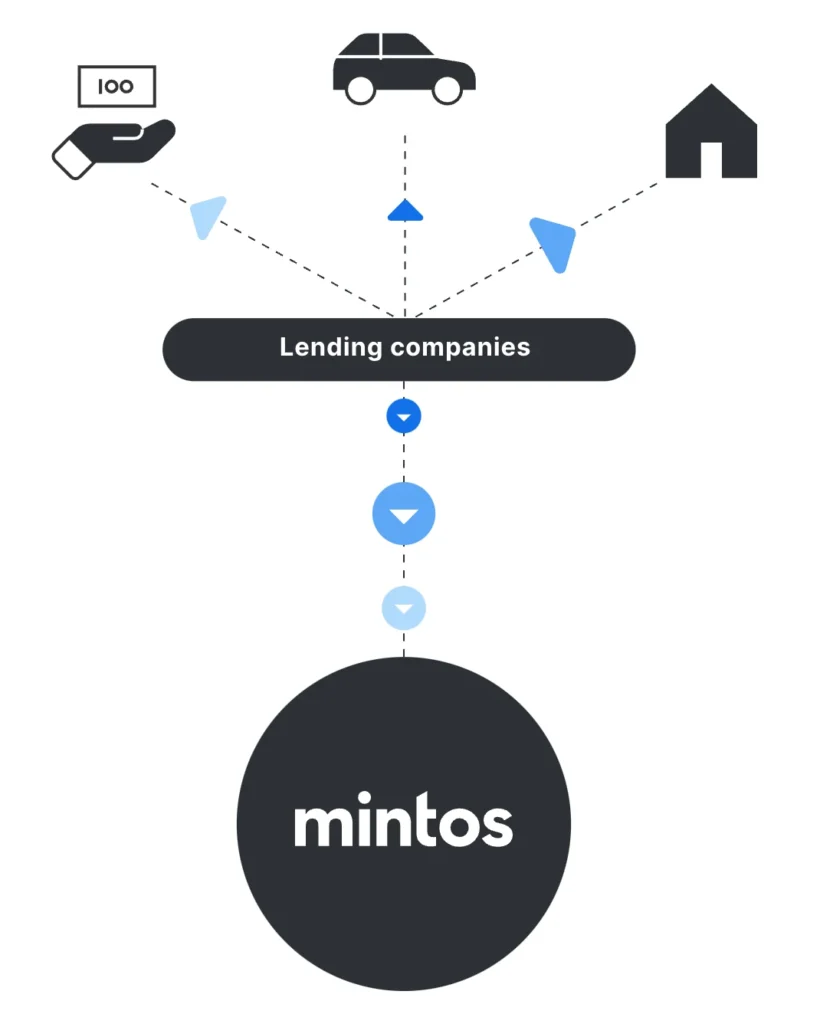 The fact that Mintos is a marketplace for lending companies has its advantages and disadvantages.
On the positive side, it makes it easier for Mintos to scale to investor demand for loans and never run dry of investment opportunities.
The main disadvantage of being a marketplace is that Mintos is not in control of the financial situation of the loan originators. This disadvantage has become more visible in recent years when many lending companies on Mintos have defaulted.
Explanation of how the Mintos marketplace works
A borrower sends an application to a lending company
If the borrower is deemed creditworthy, the lending company issues a loan to the borrower
The loan originator put the loans up for investment on Mintos' website.
Investors like you invest in the loans and earn interest on your investment
The lending companies benefit from gaining more liquidity to issue more loans, investors benefit from earning interest on investments, and Mintos benefit from fees.
Great P2P lending platform for diversification:
The fact that Mintos uses a wide range of loan originators instead of issuing the loans themselves means that they can offer many different types of loans, in many geographical locations, issued in different currencies, from many different loan providers.
Mintos offers loans in the following areas:
Car loans
Mortgage loans
Forward flow
Personal loans
Short-term loans
Invoice finance
Business loans
Agricultural loans
This means that on the platform you get a unique opportunity to diversify your portfolio as broadly as you want within the loan space.
Mintos is one of the best platforms for broad diversification.
If you are looking for a platform that makes it possible to diversify your investments between many different loan types and loan originators, Mintos could be a good option.
Mintos FAQ:
Mintos Trustpilot reviews:
Mintos is doing okay on Trustpilot. Currently, the platform is rated at 2.8/5 stars on Trustpilot.
Compared to some of the best P2P lending sites, Mintos' rating on Trustpilot is a bit low.
A lot of the bad Mintos reviews are due to investors having many defaulted loans in recovery. This can sometimes take years to resolve. Many of the loan originators ended up in default in the aftermath of Covid-19.
If this is a concern to you, it might be worth considering PeerBerry or Debitum instead.
With an average rating based on over 2,000 reviews, Mintos could still be worth considering.
Main features
In the following part of our Mintos review, you can learn about some of the main features of the P2P lending platform and why they are important for investors.
1. Mintos buyback obligation
One of the great things about Mintos is the 60-day buyback obligation (previously known as the "buyback guarantee"). Essentially, the buyback obligation is a guarantee issued by the loan originators to the investors.
Through the guarantee, the lending companies on Mintos promise to buy back a particular loan – if the borrower is more than 60 days late with payments. Here you will be paid both the nominal value of the outstanding principal as well as the accrued interest.
However, not all P2P loans on Mintos are protected by a buyback guarantee.
On the individual loan, you will be able to see if it is protected by a buyback obligation by looking for a shield. Loans marked with a shield on the loan list are protected.
If you go to the Mintos website, you will be able to check out how this looks.
Please be aware that the different lending companies on Mintos can have different terms. For example, it is not certain that all the lending companies are paying interest on delayed payments.
By visiting the primary or secondary marketplace on Mintos.com, you will get a better idea of how the buyback obligation works for individual loans. You can visit the website here.
2. Mintos auto-invest
Mintos has one of the best auto-invest tools in the industry.
You can use this feature to create a Mintos auto-invest strategy, which allows you to invest in loans without spending time selecting loans on a daily basis.
Our advice: Set up a Mintos auto-invest strategy to select loans instead of cherry-picking loans on either the primary or secondary market. Your time is probably better spent elsewhere instead of not auto-investing.
You can either use one of the predefined Mintos investment strategies or make a custom one for yourself. The default Mintos investment strategies include:
Diversified
Conservative
High-yield
You can use the Mintos auto-invest feature to invest in the secondary market in the same way as you can in their primary market. In our opinion, this only makes sense if you can get some better deals on the loans on the secondary market.
3. Mintos secondary market
Mintos was one of the very first P2P platforms in Europe to introduce a secondary market to its investors.
This enabled investors who invest in Mintos loans to sell loans ahead of maturity.
The feature quickly became very popular, and a lot of other crowdfunding platforms later implemented similar features.
However, to this day Mintos still have one of the best secondary markets in the industry.
Some investors have been able to sell millions of euros worth of loans in just a few days on the secondary market. So if you want to sell a smaller portfolio of loans then it should not take long.
The fact that you can sell such large quantities of loans in such a small amount of time is something that is fairly unseen on many other crowdlending platforms in Europe – which is why we couldn't make this Mintos review without mentioning it.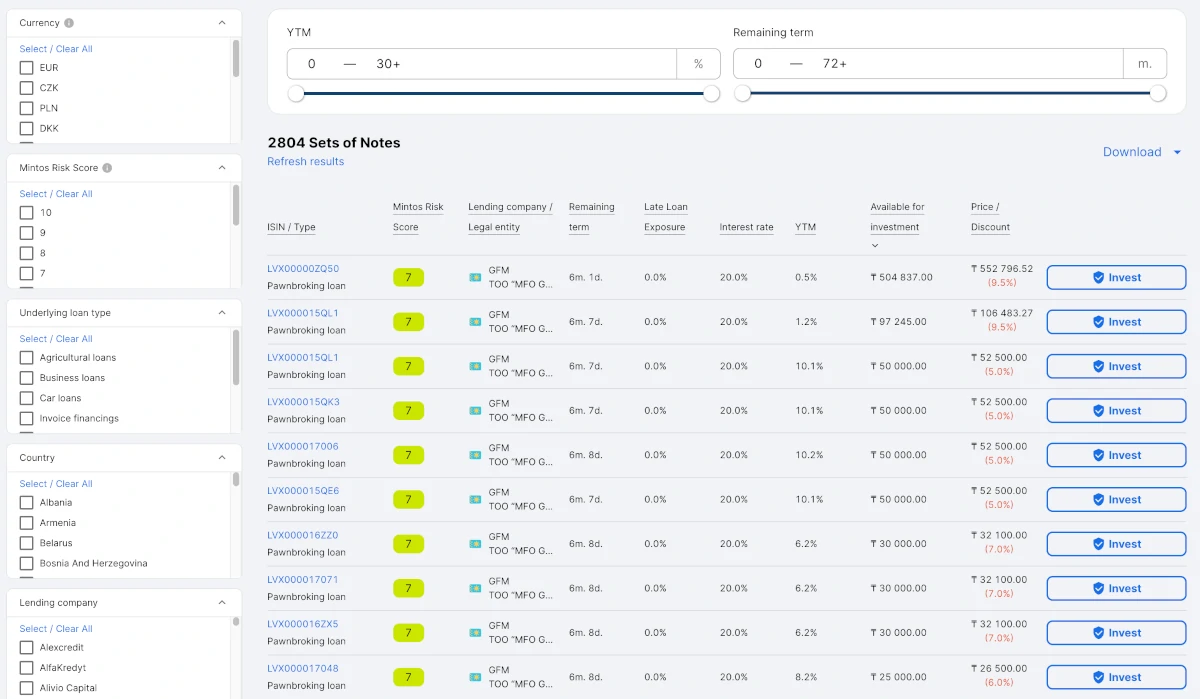 It is really easy to buy and sell loans in the secondary market. If you would like to buy a loan there, you can find the secondary market as shown above on Mintos website. Through various filters, you can find exactly the loans you want to buy.
Some investors try to find good deals in the secondary marketplace, but we do not recommend that you do it manually as it can be a very time-consuming process – unless you use auto-invest.
If you want to sell your loans, then the secondary market is a great tool. Here you can sell the loans you own in a very short time. You can either choose to sell individual loans or sell all your loans at once.
You should be aware that there is a 0.85% selling fee on the secondary market. The fee only applies if you are a seller and not if you are a buyer.
Selling loans with a discount or a premium:
If you need cash quickly, you may want to consider selling your loans at a small discount. Then they will be picked up more quickly by investors looking for a bargain.
At Mintos, it is possible to sell and buy loans with discounts, at par value, or with a premium on the secondary marketplace. Below you can see how the loans are typically distributed:

As you can see, most loans in the secondary marketplace are sold at a discount. That's because investors who want to sell their investments often sell them at a discount to get cash more quickly. However, you can use this to your advantage by picking up a lot of bargains.
4. Mintos app
In March 2019, the platform established a dedicated Mintos team containing 11 people to develop an app for investors.
With the release of a mobile application, Mintos aims to make it easier than ever to invest in loans from its marketplace.
At this point in time, not all features you can find on the website are yet available on the mobile application. However, Mintos is currently working towards implementing more of the web features on the app.
But at the time being, many investment features are not available for mobile. And even if you want to use the Mintos mobile app, you will still have to sign up via the website first.
The app is used by over 100,000 investors. Many of these have reviewed the Mintos app on Google Play and App Store. This has resulted in a very high rating of 3.8/5.
Some of the bad ratings and reviews of the Mintos app are made by investors experiencing smaller bugs. But the app is very often updated in order to fix bugs and improve the user experience. This means that some of these Mintos app reviews are no longer relevant.
The Mintos app is available for both iOS and Android.
5. Mintos Risk Score
Another feature we think should be mentioned in this Mintos review is the risk scoring on the platform. In 2018, Mintos became the first P2P lending platform in Europe to introduce loan originator credit ratings. A few years later, in 2020, they decided to upgrade the rating systems and Mintos Ratings became Mintos Risk Score.
So whether you deal with loans on the primary market, the secondary, or when you are making use of the auto-invest features on the platform, you will quickly notice a Risk Score connected to the loan originator of the respective P2P loan.
The risk score ranges from 1 to 10. The loan originators with some of the highest scores (8-10) are the ones with the lowest risk. The highest risk is for those loan originators with the lowest scores (1-4). Below you can see a visualization of the score scale: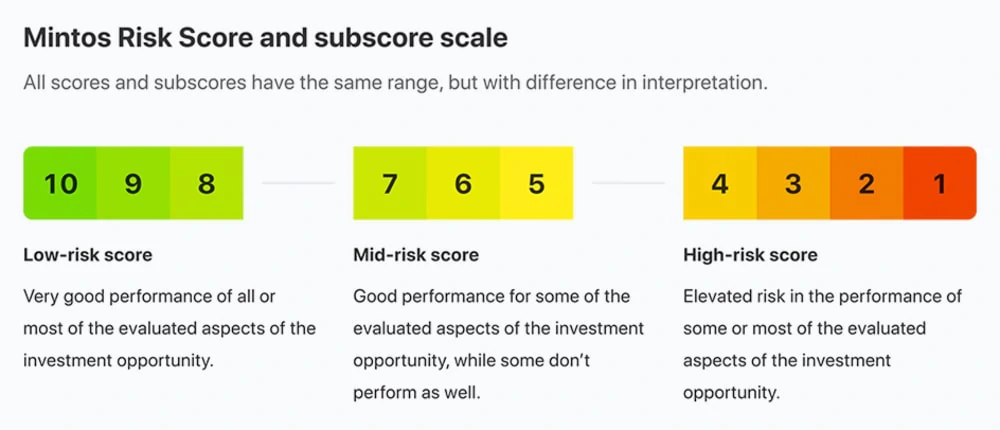 The Mintos Risk Score is based on 4 subscores that are weighted as follows:
40% loan portfolio performance
25% loan servicer efficiency
25% buyback strength
10% cooperation structure
In a case where a company has received the Risk Score of 8, the subscores could look like the following:

Updates to the scores are made 4 times a year on a quarterly basis.
According to the Mintos Risk Score, roughly speaking, loans with low risk (8-10) should be safer than loans with moderate risk (5-7), which should be safer than loans with high risk (1-4).
So before you start investing in P2P loans with high risk on the platform, we highly recommend that you think about your own risk tolerance. You might benefit from looking at the images above before making various investments and auto-invest strategies on the platform.
6. Mintos tax report
As the old saying goes, there are only two certainties in life; death and taxes. In the following part of this review, we will touch a bit on the latter in regard to Mintos.
One of the main concerns of investors wanting to do P2P lending is how difficult it really is to do taxes on the returns. When first starting out, we couldn't find any resources on this and it was a bit messy to handle.
But in early 2018, Mintos actually made it quite easy to do taxes as they released the tax reports feature. This made it possible to do taxes very quickly and we were able to do them in just under 20 minutes!
We can't advise you on how much you will have to pay in taxes on the income you generate on Mintos – this is all depending on your country's taxation rules.
But we can show you how easily a tax report can be created. Here are the steps:
Access your account with your Mintos login
Click your name at the top right corner
Click "My Account"
Select "Tax detail"
From here, you can send a request for your Mintos tax statement: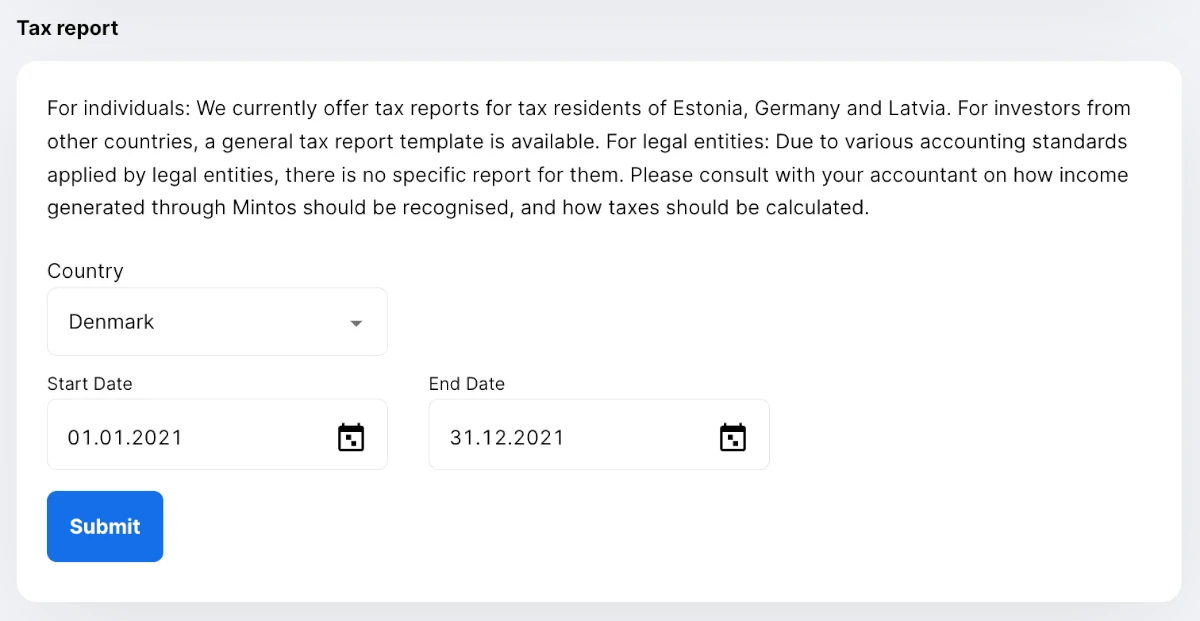 By clicking "Submit" you will be shown the following message:

In our experience, it takes a few minutes before the Mintos tax report is actually sent to the email. In the tax report, you will get an overview of the following:
Interest income
Capital gain
Campaign bonuses and rewards
When you have received the email, it is your responsibility to actually file the taxes. On Mintos, the standard withholding tax rate is 20%.
7. Mintos Premium – Get perks for investing over €50,000
A not very commonly known fact about Mintos is that if you invest over €50,000, you will be considered a pro-investor and obtain VIP status on the platform.
This feature, for investors with a larger portfolio size, was introduced at the end of 2018. So if you invest over €50,000 in Mintos, you will get some perks that are not available to other investors.
For example, a personal Investor Service Associate will be connected to your account. With that person, you can discuss questions about the platform and much more over the phone or email. You will also be able to get priority customer support.
The benefits of being a premium investor include:
Early access to new features on Mintos
Get top priority at Mintos customer support
The option to request custom-made investment rapports
Discuss things with your personal Investor Service Associate
To become a pro-investor, you will have to add €50,000 or more to your investment account after you sign up on the platform.
8. Mintos strategies aka. Mintos invest and access
Mintos strategies are 3 new automated investment strategies launched in August 2020. These strategies are the next generation of what was formerly known as Mintos Invest & Access.
The three Mintos investment strategies are:
Diversified (the old Mintos Invest & Access strategy)
Conservative
High-yield
In the following, you can see how the 3 Mintos investment strategies (on the left-hand side) compare to making a custom strategy on Mintos: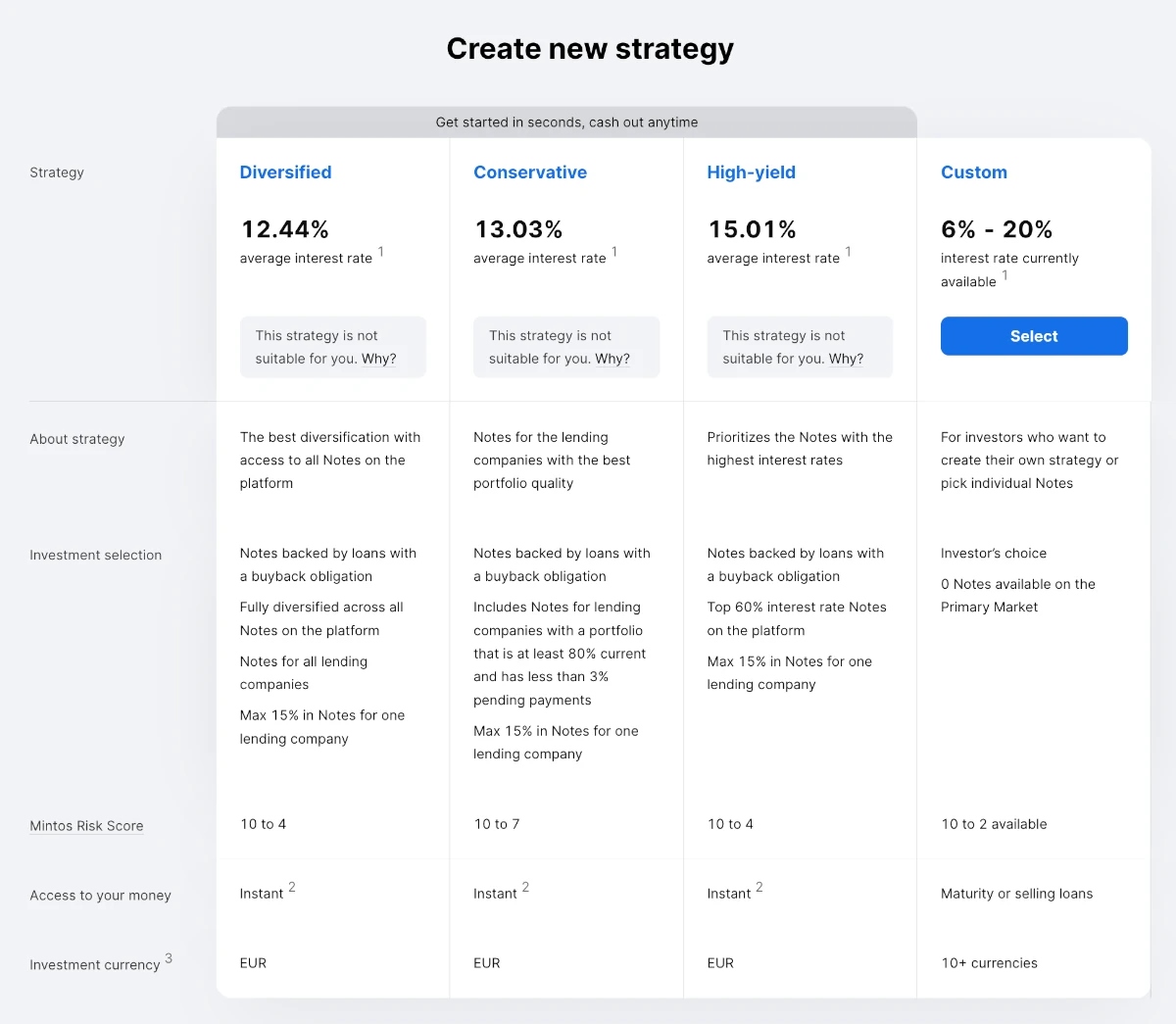 A huge advantage of using one of the three strategies instead of making a custom strategy is the fact that you won't have to continuously add new loan originators to your auto-invest settings as they are connected to the marketplace.
This makes the Mintos investment strategies an excellent choice if you want the most hands-off investment experience.
The biggest drawback of using Mintos strategies, instead of a custom auto-investment strategy, is that you won't be able to tailor the investment strategy as much. However, this has improved tremendously since Mintos Invest & Access, as you now have three different strategies to choose from instead of one.
With that said, going with a Mintos strategy is probably the best choice for new investors that are not certain that they want to have their money tied up on the platform yet. This is due to the very fast access to your money if you want to sell your investments.
Would you like to try out Mintos investment strategies? Then click the button below to visit Mintos and create an account. From here, you can easily go from reading this Mintos review to start using the strategies for your investment portfolio:
What rate of return can you expect?
The average net annual return for investors on the platform is currently around 12.62%. Since this is what investors receive on average, you can reasonably expect the same return rate.
But that's just the average. If you have a higher risk appetite, it is also possible to choose loans in different local currencies with the possibility of higher returns.
Historically the return on Mintos has been very high. But you should expect down periods when the economy struggles.

But in 2020, the net return ended up very low due to lending companies' ending up in default and being suspended from the platform.
The return on Mintos is much lower than on competing platforms like Esketit, Swaper, and Lendermarket. If you are looking for a high-yield platform, Mintos is not your best option.
Mintos compound interest calculator:
If you want to see how much this account will yield in the long term, you should try out the Mintos interest calculator: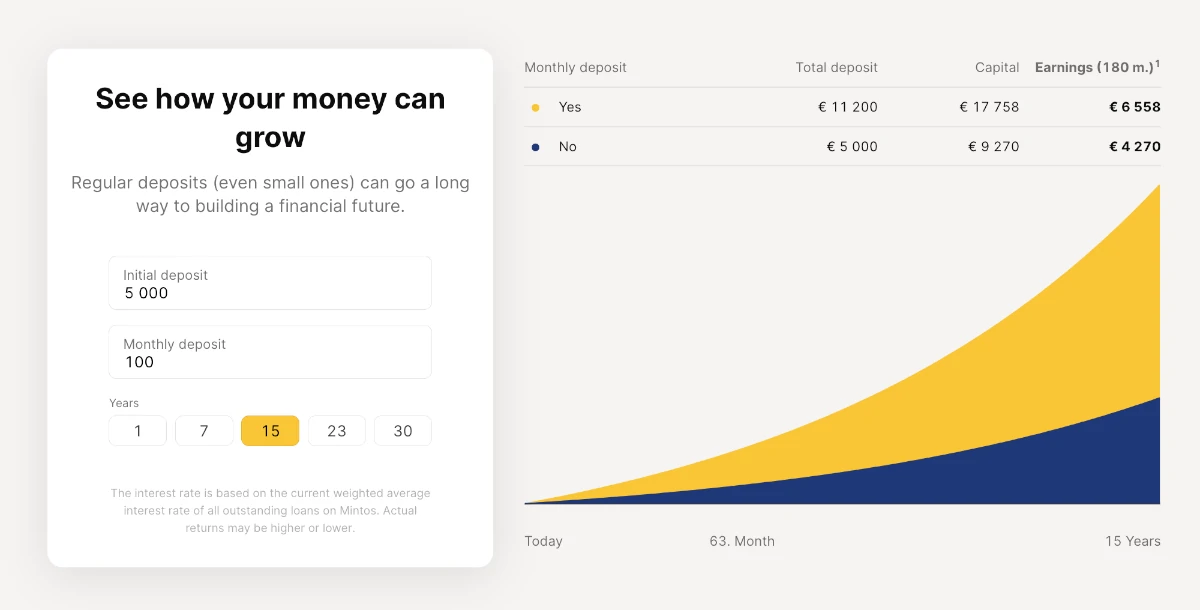 The Mintos profit calculator is not easily accessed and if you are on a phone, you won't be able to use it.
But if you are on a computer, you can access the investment calculator by clicking the button below and scrolling down a bit on the landing page:
Who can invest via Mintos?
It is both possible for individuals and companies to invest with Mintos. This makes the platform an obvious choice whatever the structure of your economy is.
Individuals
As an individual, there are a few, but clear rules for what it takes to enable you to invest through the platform:
Minimum age of 18 years
Bank with AML / CFT equivalent to the EU
Agree with the Mintos user agreement
Successfully verified your identity by Mintos
If you live up to the above requirements as an individual, you can invest through the platform.
Companies
If you would like to invest as a company, this is also possible. To open a Mintos business account, it is also required that you have a bank account in the European Union and that your company is registered in the EU or third countries that have AML / CFT systems similar to those found in the EU.
Who can invest in Mintos?
Nearly everyone can invest in Mintos as there are only very few requirements to be allowed to invest through the platform.
Below you can see a map of which countries the current investors are from. This will give you a good indication of whether or not it's possible for you as well: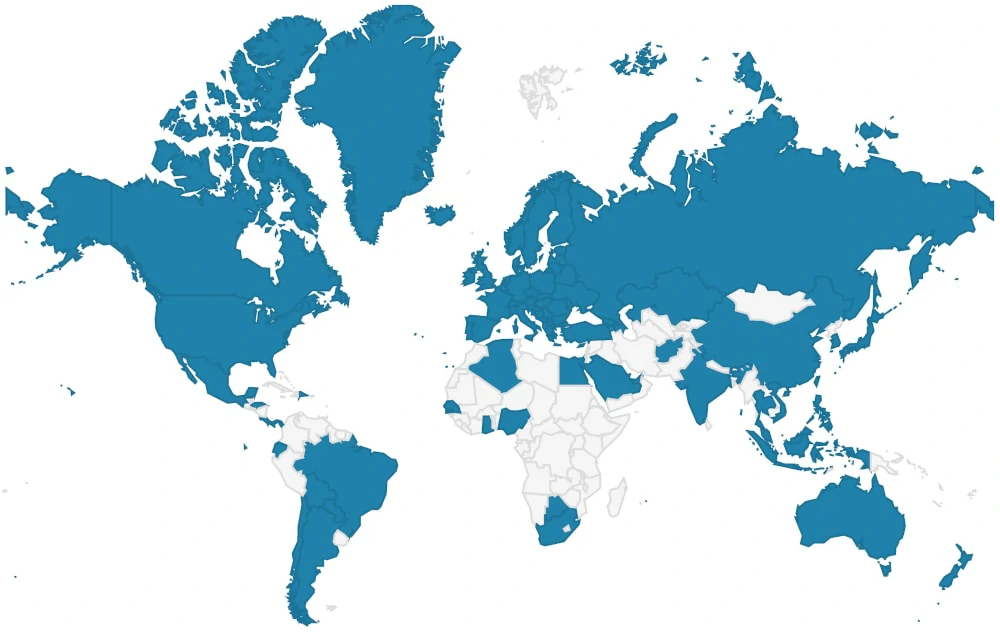 As you can see, Mintos is an almost worldwide platform with users spread all over the world. So most likely, also you can reap the benefits of using Mintos.
But investors from the USA as well as UK investors can experience more requirements to register on Mintos due to different regulations in these countries
If the map is not marked with investors in your country, it does not necessarily mean that it is not possible for you to invest through the platform.
If you are in doubt about whether or not it's possible for investors from your country to invest, you can contact Mintos on their website – maybe you will even be the first investor from your country.
Would you like to sign up as a Mintos investor? Then click the button below to go from reading this Mintos review to actually investing on their platform:
How to deposit and withdraw funds on Mintos?
In the following, we will share how you can deposit and withdraw money to and from your account.
Depositing money:
One of the first things you need to do when you start investing in Mintos is how you go about depositing money into your account.
This can be done using a lot of different methods, which are dependent on what country you are from.
Among others, you can transfer money to your Mintos account with SEPA bank transfers, Trustly and Transferwise.
When you for the first time start the depositing process, you will be asked to verify your identity with a national identity card (EU only) or passport. When you have finished doing so, you will be able to select your desired method of depositing funds to Mintos.
Withdrawing money:
Before you can withdraw any money from Mintos, you must make sure that none of the money you want to withdraw is currently invested.
If you have some money you want to withdraw invested in P2P loans, you must first sell them on Mintos secondary marketplace. You should be able to sell any loans within a short amount of time due to the high number of active investors on the secondary market. When you no longer have your money invested on Mintos, you can easily withdraw it.
To begin withdrawing money from the peer-to-peer lending platform, you must head to your account and click "Deposit / Withdraw / FX" and then click "Withdraw".
You can only transfer money to accounts that are connected to your Mintos account. All accounts which you have previously used to transfer money to Mintos are ready for you to withdraw to.
If you want to make a withdrawal to another account than the one you deposited your money with, it's recommended that you transfer at least 1 EUR from the new account to your Mintos account. This will connect that account to your Mintos account.
Withdrawing money from Mintos usually takes 1-3 days. You won't be charged any fees from Mintos by doing so. However, your bank or money service provider might charge a fee.
Is Mintos safe to use?
Whether Mintos is safe to use depends primarily on 4 things: How safe the platform is, how safe the investments are, how safe the Mintos loan originators are, and how safe the company is.
In the following we will take a look at what measures have been taken to protect you as an investor:
How safe is the Mintos crowdlending platform?
As the first security-related thing in this Mintos review, we have taken a good hard look at how secure your account really is.
Two-factor authentication
We have looked at whether or not it's possible for you to activate two-factor authentication on your account. Here we found that you can use the Google Authenticator app or other apps that are compatible with Google Authenticator.
Two-factor authentication can help to protect your account against unauthorized access to your account, phishing attacks, and many other cybercrimes. When you have activated two-factor authentication, people who could have your password must also have access to your phone in order to log in.
The two-factor authentication security of your account is not mandatory. This means that it's up to you to decide how easily you, but also potential intruders, should be able to access your account. We highly recommend activating two-factor authentication on your account for maximum security. If you activate two-factor authentication on your account, we believe that your account is fairly safe.
To activate two-factor authentication on your Mintos account, you should just go to your account's security settings. Here you can choose to enable two-factor authentication. The process is described clearly so it's actually easily done.
How safe are the investments on Mintos?
In this Mintos marketplace review, we also want to address what measures the company has made, in order to protect you as an investor, in regards to the alternative investments you can make on the platform.
Mintos loan originators
Loan originators carry a potential risk for investors if their company lacks in management, finance, etc.
Therefore the Mintos risk management team always performs a complete risk assessment of any loan originator wanting to join their platform.
In their due diligence process of the loan originators, they perform a thorough analysis of the management quality, credit scoring, underwriting policies, financial statements, etc.
Even if the loan originator gets accepted by Mintos, the loan originator will continuously be evaluated.
The loan originator risk management isn't, however, bulletproof, as a case with Eurocent proved in 2017. Here Eurocent actually ended up in bankruptcy. It is therefore important for us to address the importance of diversifying between several loan originators.
Since then a smaller amount of the total lending companies on Mintos have been troubled. These include part of Express Credit, GetBucks, Finko, Monego, and more.
In recent years a lot of lending companies on Mintos have defaulted.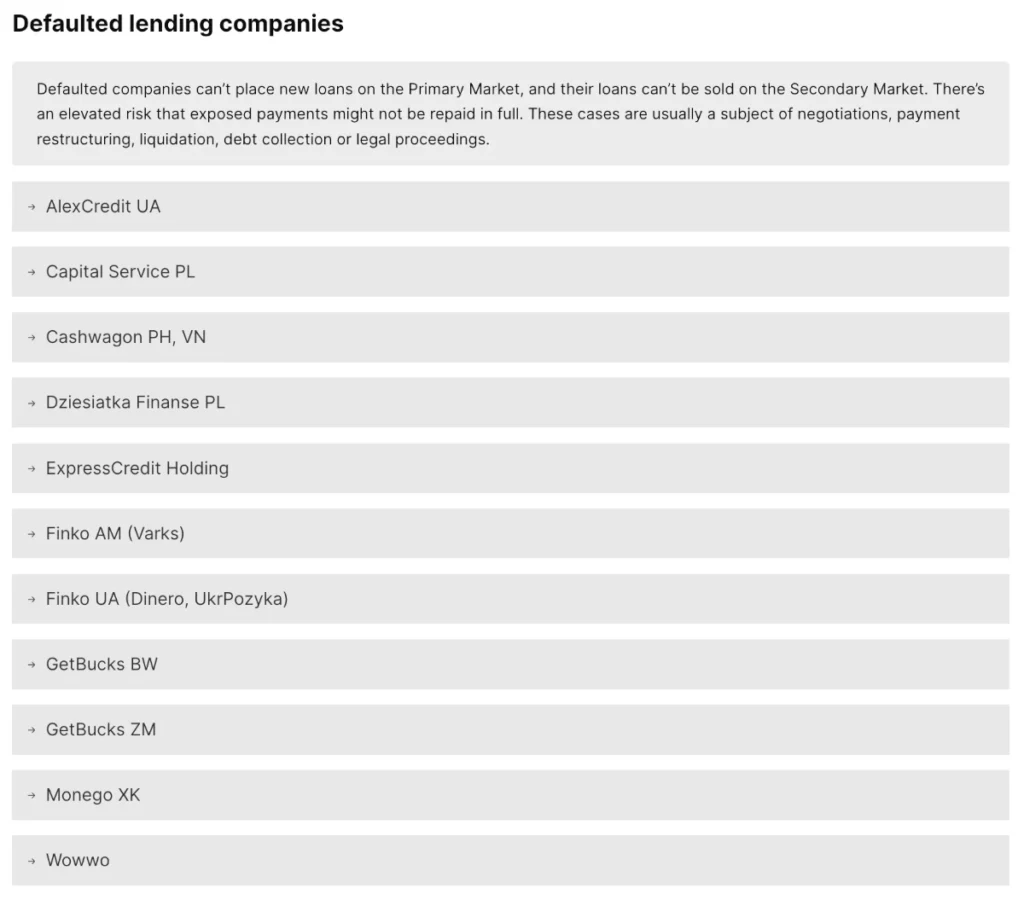 Sometimes Mintos is able to fully recover investors funds, but it is to be expected that Mintos won't be able to recover all funds.
The recovery period can be long and you won't be able to access your funds in the meantime.
Skin in the game
Another thing that Mintos practices to protect its investors is to require every loan originator to have skin in the game.
Usually, the lending companies on Mintos have to keep a 5-10% stake in the loans. However, some loan originators keep as much as 20% skin in the game.
Let's take a look at an example where the loan originator has 10% skin in the game. Here, if a loan originator has a €1,000 loan that they want to issue to investors, they must keep a €100 stake in the loans themselves. This means that they can issue €900 of the loan to investors.
So in case of loan default, the loan originator also stands to lose money. In this way, it is ensured that there is no conflict of interest between the loan originators and investors.
So generally, you would want to look for loan originators with as high skin in the game as possible.
Most lending companies on other competing platforms are required to keep a similar amount of skin in the game as on Mintos.
However, on a platform like Iuvo Group, the skin in the game is generally a lot higher at around 30%. This indicates that Mintos loan originators use a bit more leverage and have less aligned incentives with investors than that one platform.
But compared to the rest of the competition, Mintos is still one of the platforms where you will find the most amount of skin in the game for lending companies.
What happens if a Mintos loan originator goes bankrupt?
It is quite unlikely that all the loan originators will continue to do business without problems. Therefore, it is important that you diversify between them.
Mintos has in recent years added new loan originators at a fast pace. So there should be plenty to choose from.
Our advice: Diversify between a lot of loan originators.
A few years back, Mintos had some problems with a loan originator called Eurocent. The company first encountered problems after just 4 months on the Mintos platform. Since then, Eurocent actually ended up in bankruptcy.
But in spite of the bankruptcy, over half of the invested principal has been recovered for the investors. You can learn more about Eurocent on the blog on Mintos' website.
The case with Eurocent very well illustrates the importance of investing in loans from more than just a provider. It also shows very well that even though there are buyback guarantees on the loans, the guarantee is only as good as the company behind them.
But let's say that you diversify equally between 40 loan originators. Then the maximum loss of one loan originator going bust is 2,5% of your overall portfolio. But in the case of Eurocent, over half of the invested principal was recovered. This means that if you had Eurocent loans amongst the 40 loan originators, your overall portfolio loss would have been around 1,25%.
The difference between the direct and indirect investment structures:
The lending company risk is especially important to consider for loans with an indirect investment structure. As you will both be able to find P2P loans with a direct and indirect investment structure on the platform it is definitely worth paying attention to.
If you are unsure what's the difference between the direct and indirect investment structure, then see below:
Direct investment structure: With this structure, you are buying a loan with a claim directly against the borrower.
Indirect investment structure: With this structure, you are buying a loan with a claim against the lending company.
If you see a loan originator on the marketplace with a bad Mintos Risk Score and you overall consider it risky, then you should probably not invest in loans with an indirect investment structure from that company.
Is Mintos profitable?
Mintos is transparent with its financial situation and is posting annual reports of the company behind the platform, AS Mintos Marketplace, on its website.
In recent years the platform has reported negative results. In 2021, the result was -1,688,352 euro.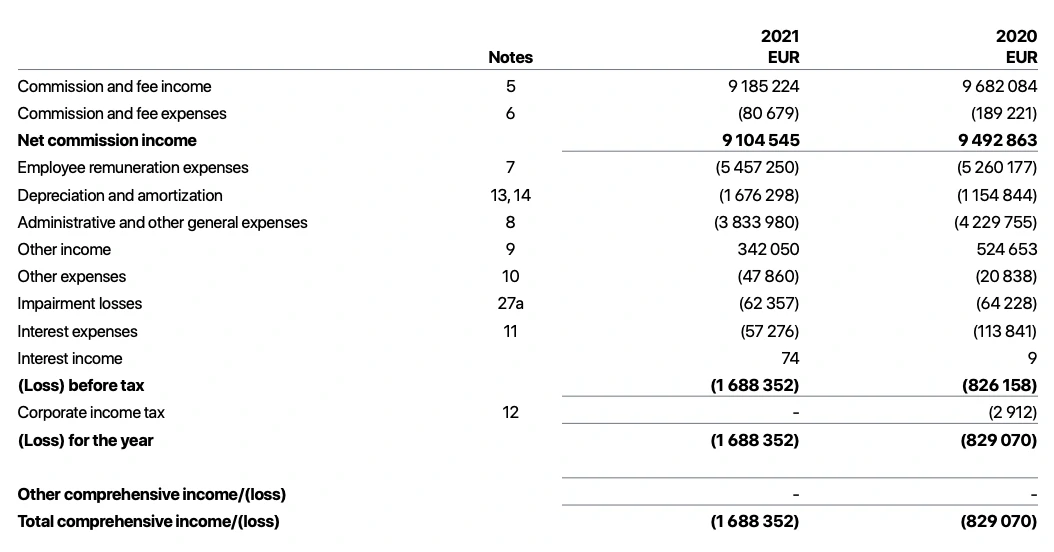 The company actually managed to become profitable after just a few years of operations in 2017 with a profit of the year of €195,749. But in the years after 2017, Mintos went back to being an unprofitable platform.
What happens if AS Mintos Marketplace folds?
If AS Mintos Marketplace goes out of business, investors on the platform will get full insight into which transactions have been made on the P2P lending marketplace.
As a measure, transaction data is sent to the law firm FORT every month.
In the event of bankruptcy from Mintos, this data will then be used to ensure that the loans are being managed properly by a liquidator or administrator.
What you can do to invest safely in P2P loans
Although Mintos has made many efforts to secure its investors, it is also important that you do something yourself.
Here are some things you can do to avoid a single point of failure and to protect yourself as an investor:
Invest in loans with the buyback obligation
Diversify between loan originators
Diversify between loan types
Diversify between loans
In essence, it's a great idea to invest in some of the many loans with a buyback obligation. This means that if the borrower can't repay the loan, the loan originator has to step in and buy back the loan themselves.
Furthermore, you can secure yourself by making fractional investments in several loans from different geographical locations, currencies, and loan types, from many different loan originators.
As you can see, there is plenty to choose from: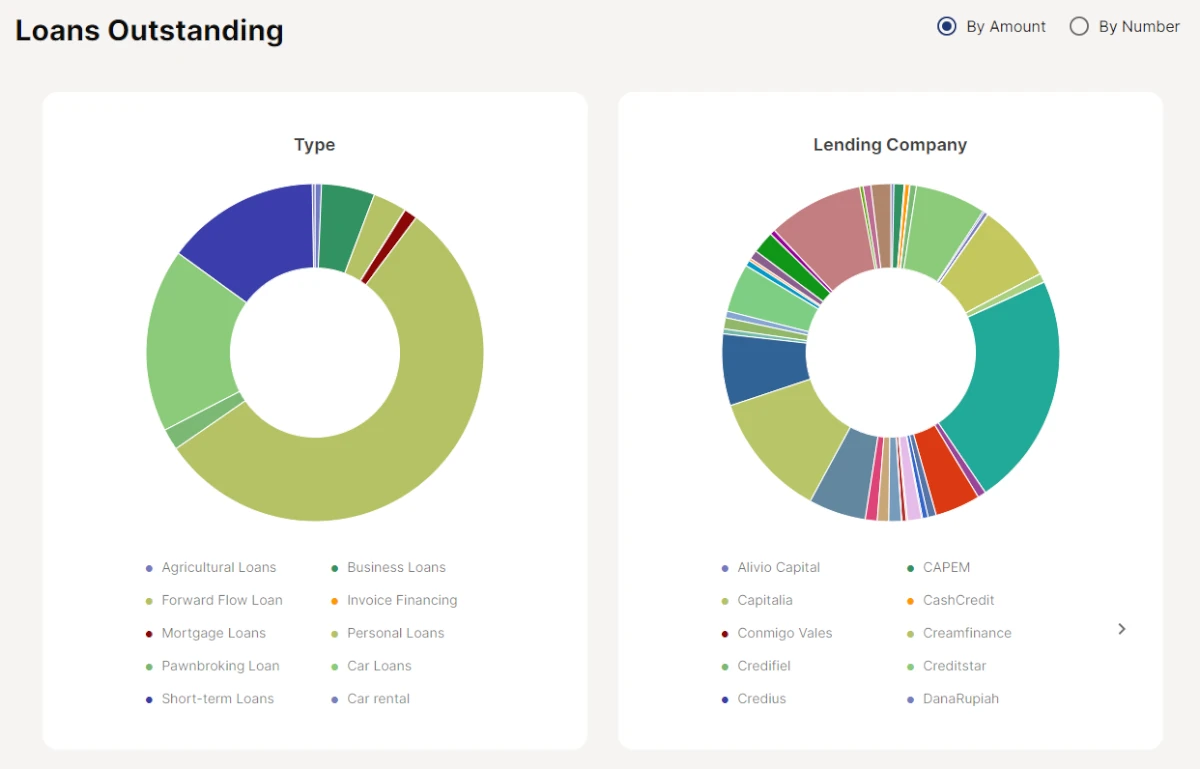 It might sound like a big mouthful to do all that, but the Mintos auto-invest function makes this really easy.
So, depending on how you use the platform, it's relatively safe.
Bonus tip: We tried to switch from one currency to another on the platform. This involved a semi-expensive exchange rate on the Mintos crowdlending platform. It can, therefore, be a good idea to transfer money to the investment platform in the currency that you intend to invest with.
Can I get a Mintos promo code?
At the moment, we can't seem to find a Mintos promo code. However, if you haven't signed up on Mintos yet, you can check for any current sign-up bonus here.
Mintos experience and results
You might wonder how we choose to invest, and what our return using the platform is. Therefore we are going to give you insight in regards to our investment at Mintos.
Firstly we decided to set up a custom Mintos auto-invest strategy. But instead of building the investment strategy from scratch, we actually went with the predefined diversification settings made by Mintos.
We did, however, make some tweaks to the strategy.
For example, we excluded all loans without the buyback obligation, as well as raised the minimum interest rate a bit.
Our Mintos results:
Our investment efforts for making this Mintos investing review resulted in the following numbers: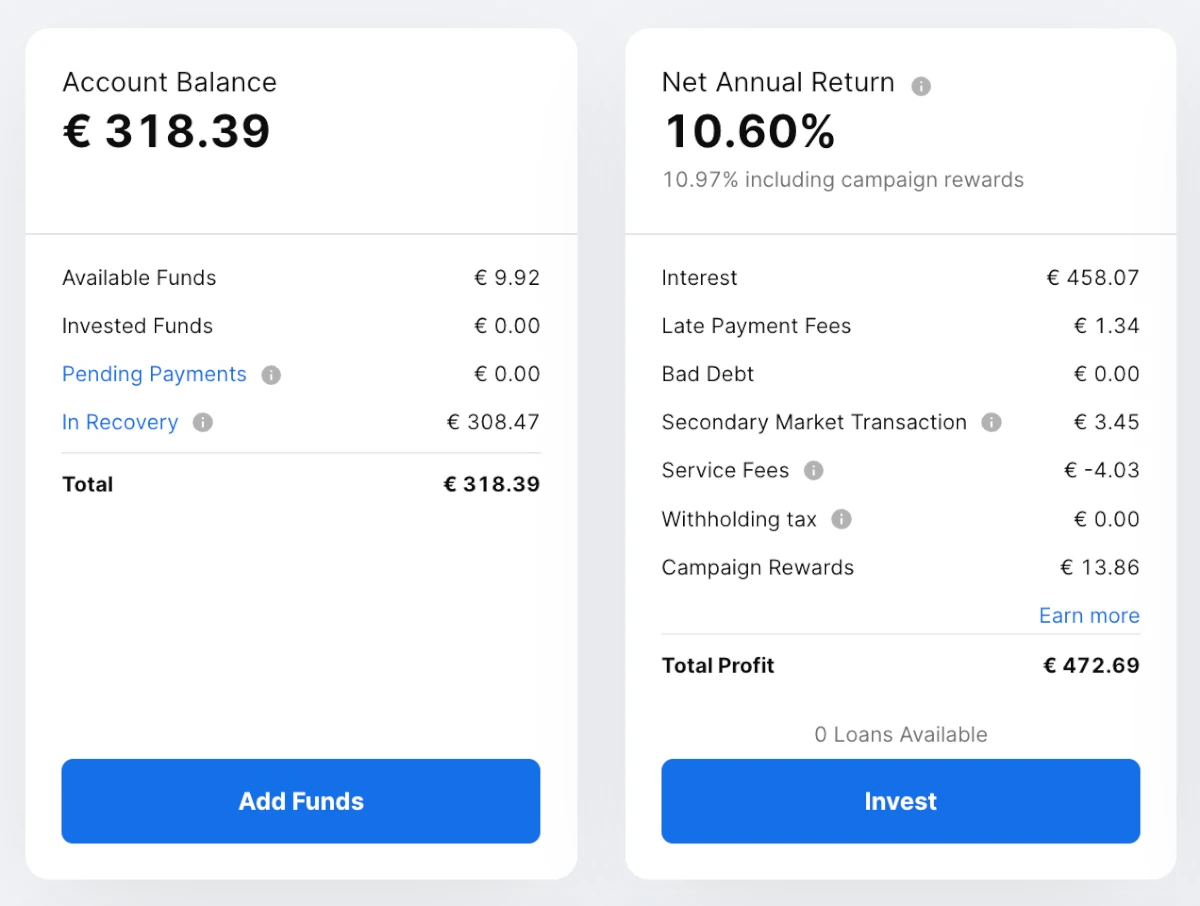 As you can see from our account statement, we managed to get a net annual return of 10.60%.
Unfortunately, we ended up with a lot of loans in recovery, as many of the loans we invested in came from loan originators that ended up in default.
In fact, over 67% of our total profit is now locked in recovery. It can take years before we are able to access these funds again.
This is a risk you should consider before investing.
No cash drag on Mintos:
Where it can actually be a bit difficult to achieve the same return as there is announced on the website on other platforms, we found no issue with this on Mintos.
This is due to the fact that Mintos is the biggest platform with the most loans in Europe. Therefore, there haven't been times when we had funds on our account that couldn't be invested – also called cash drag.
The reason why this can be a problem on other platforms is if there aren't enough loans, you can't get all your funds invested, which means you will experience a lower overall return.
Best Mintos alternatives
Are you unsure if Mintos is the right platform for you, after reading this Mintos review?
There are hundreds of P2P platforms out there, which can make it hard to determine if you have found the best platform or if you should look for other Mintos alternatives.
The main categories for P2P platforms are consumer loans, real estate, and business loans.
Here are the best Mintos alternatives right now:
There are many reasons why you should consider a Mintos alternative.
First and foremost, you might not find that Mintos suits your investment needs. When it comes to P2P lending platforms, every P2P investor has different needs. It's therefore crucial that you understand your main investment criteria and find a platform that matches.
It can also be a good idea to consider Mintos alternatives to simply diversify your investments across more than one platform and reduce your overall platform risk. This can also be done with different types of platforms like the ones you can see above.
Conclusion of our Mintos review
Mintos is one of the best P2P lending platforms when it comes to features like auto-invest, secondary market, and diversification options. And Mintos was, in its early days, a very lucrative place to invest money.
But in the aftermath of Covid-19, a lot of loan originators have ended in default on the platform. This has resulted in investors' money being locked in recovery. And a lot of investors are experiencing lower real returns.
When funds end in recovery it can take years for Mintos to recover the funds for investors, which means that you can't access your funds in the meantime. Here, the buyback guarantee won't help investors as the loan originator are unable to fulfill their obligations.
You have to consider this risk before investing via Mintos.
The fact that Mintos has a lot of loans in recovery right now has left a lot of investors dissatisfied. This shows on Mintos reviews on Trustpilot where Mintos recently fell from an excellent to an average rating.
If you decide to invest via Mintos it is recommended that you invest very conservatively in order to minimize your risk. Make sure to investigate loan originators' financial situation if you decide to invest on the platform.
Is the above concerning to you? Consider other platforms like PeerBerry or EstateGuru instead. These platforms aren't experiencing the same problems with loan originator defaults.
Do you want to invest through the platform after reading our Mintos review? Then click on the button below to get to their website and create an account: