Max Crowdfund review 2023
Read this Max Crowdfund review to learn if you should invest via the platform.
Max Crowdfund
Max Crowdfund review summary:
Max Crowdfund is a great real estate crowdfunding platform for international investors. The platform offers investors a high average return of 10.29%. Compared to other platforms, this return is quite average. All loans on the platform are secured, which makes Max Crowdfund quite safe to use. One of the biggest downsides of the platform is the monthly 0.1% administration fee.
It's 100% free to open an account
Last updated: January 10, 2023
Introduction to our Max Crowdfund review
Max Crowdfund has recently gained popularity among crowdfunding investors. But is using the real estate crowdfunding platform truly worthwhile?
This Max Crowdfund review was created to help investors decide if Max Crowdfund is the best option for them.
You should not regard any of the content of this maxcrowdfund.com review as financial advice. The review is only an expression of our opinion on the platform.
An outline of the topics covered in this Max Crowdfund review can be seen below. Simply click the links below to get to the topic you want to learn more about.
Learn about the following in our Max Crowdfund review:
What is Max Crowdfund?
Max Crowdfund is a crowdfunding platform that allows investors to invest in real estate projects in the Netherlands, Belgium, Germany, and the United Kingdom.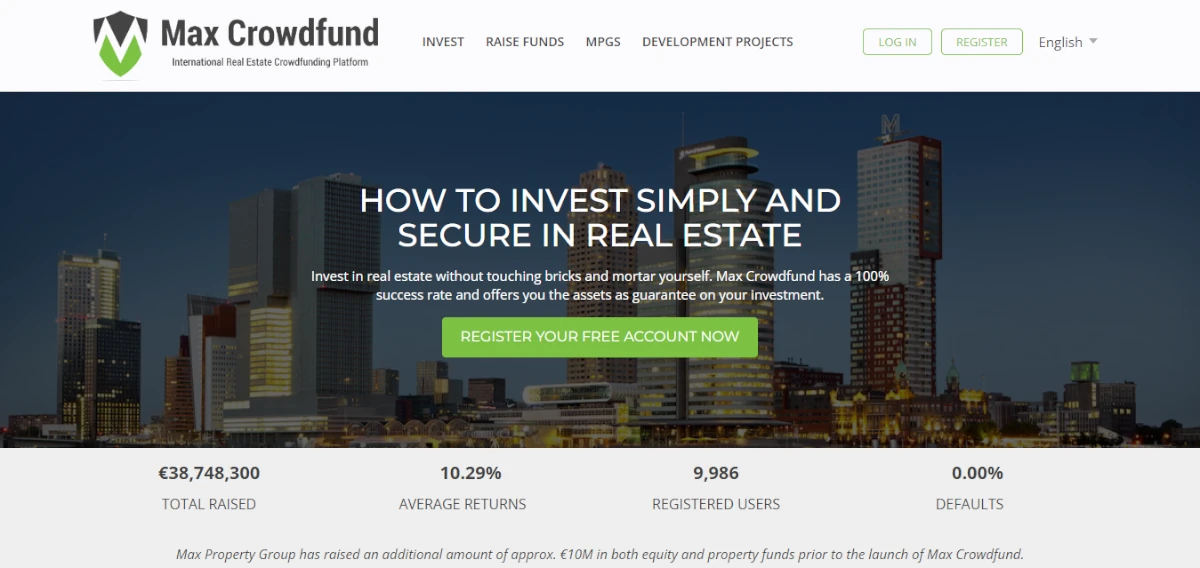 Max Crowdfund is owned by Max Property Group, a multi-national real estate investment firm headquartered in Rotterdam, the Netherlands.
Max Property Group was founded in 2016, and Max Crowdfund in 2019. Max Crowdfund was approved by the Dutch Financial Authorities (AFM) in July 2020 and was added to the crowdfunding platform registry.
Since its launch, Max Crowdfund has become a fast-growing crowdfunding platform. Today, the platform has over 9,900 investors and generates an average yearly return of 10.29%.
On https://maxcrowdfund.com/, you can register an account and begin investing with as little as €100.
Max Crowdfund statistics:
| | |
| --- | --- |
| Launched: | 2020 |
| Investors: | 9,900 + |
| Interest rate: | 7 – 12 % |
| Loan period: | 6 – 120 months |
| Loan type: | Real estate |
| Loans funded: | € 38,700,000 + |
| Min. investment: | € 100 |
| Max. investment: | Unlimited |
Max Crowdfund FAQ:
Max Crowdfund Trustpilot reviews:
Max Crowdfund is doing okay on Trustpilot. Currently, the platform is rated at 2.8/5 stars on Trustpilot.
Compared to some of the best real estate crowdfunding platforms, Max Crowdfund's rating on Trustpilot is a bit low.
Some of the bad Max Crowdfund reviews are due to delayed repayments on loans and the platform being offline due to maintenance.
With an average rating based on 22 reviews, Max Crowdfund could still be worth considering.
Main features
In the following part of our Max Crowdfund review, we will explain some of the main features of the platform and why they are important for you as an investor.
1. Max Crowdfund Risk Rating Model
The Max Crowdfund Risk Rating Model is a key feature. This model allows investors to get a better idea of the correlation between the return and the risk on the platform.

There are five ratings ranging from A to E. A indicates the lowest risk, while E indicates the highest risk. The greater the risk, the greater the reward.
The following table shows how the rating correlates with the amount of interest you will receive:

Background fundraiser, solvency, profitability, LTV, TLC, marketability, cash flow, and investment risks are all factors in the score: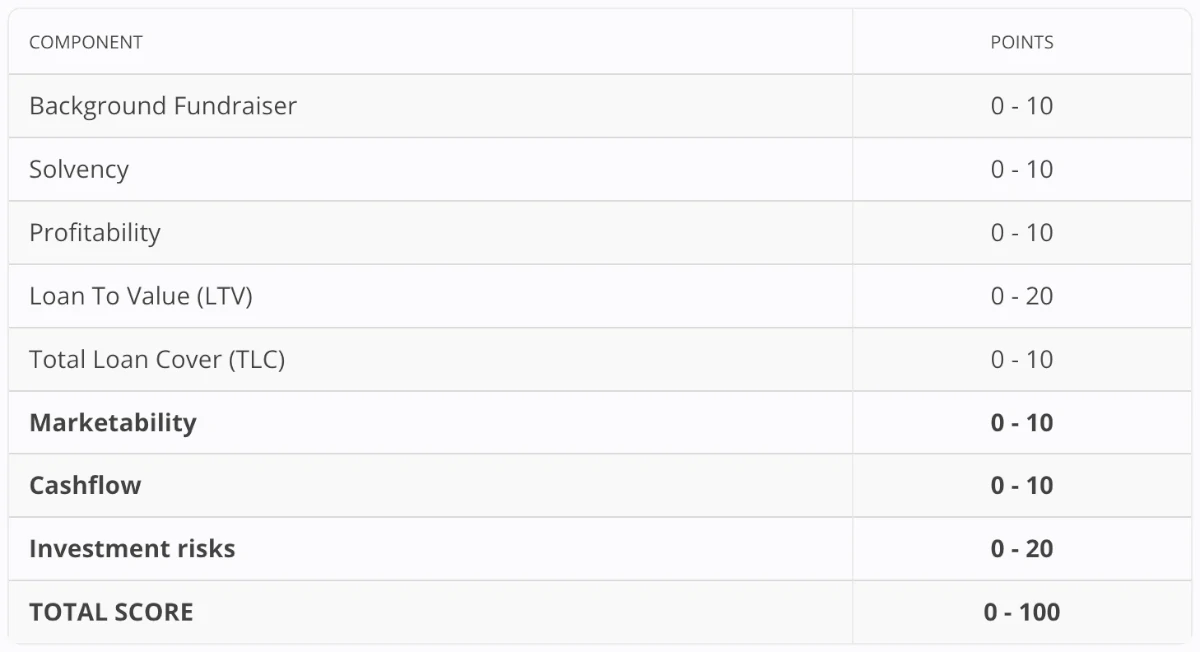 You can use the Max Crowdfund Risk Rating Model to determine the level of risk associated with any project on the platform.
2. Max Crowdfund loyalty program
The Max Crowdfund loyalty program is closely connected to the fee structure of the platform.
On Max Crowdfund you pay a 0.1% monthly administration fee. This means you pay fees totaling 1.2% per year.
If the annual gross interest rate is 10%, the net result is a return of 8.8% per year.
For large and active investors, the Max Crowdfund loyalty program offers up to a 50% fee reduction.
You can save the following on the admin fee depending on how you invest on the platform:

What rate of return can you expect?
Your return depends on how you choose to invest on the platform.
The average annual return on Max Crowdfund is 10.29%. This means that you can reasonably expect a return in that range.
The return on Max Crowdfund is lower than other real estate investment platforms like ReInvest24, EstateGuru, and Bulkestate.
Who can invest via Max Crowdfund?
It is possible for both private individuals and companies to invest via the Max Crowdfund marketplace.
Individuals
To create a user as an individual, you must meet the following requirements:
Be a least 18 years old
Have an active bank account
Comply with KYC
If you meet the above criteria, it is simple to get started at Max Crowdfund. Simply follow the steps below, and you should be up and running in no time:
Add funds to your account
Invest in loans from the loan list
Companies
You can also use Max Crowdfund if you run a business and are looking for funds for real estate projects.
You can apply for funding on the website to get started with crowdfunding your projects.
Available countries
To the best of our knowledge, Max Crowdfund is available in the majority of countries around the world. All European countries are welcome.
Some countries and nationalities may be restricted from using Max Crowdfund in order to prevent tax evasion, money laundering, and other illegal activities.
Do you meet the requirements to sign up as an investor at Max Crowdfund? Then press the button below to get to their website. From here you can quickly create yourself a free account and get started investing:
How safe is Max Crowdfund?
One of the most important considerations when investing your money online through peer-to-peer lending sites is safety. In the following part of this review, we examined the safety of Max Crowdfund. We looked at two things: how safe the investments are and how solid the company is.
How safe are the investments?
The first factor we considered when writing this Max Crowdfunding review was the security of the investments.
Loan default risk
There is always a chance that the borrower won't be able to pay back the mortgage. Your financial situation is at stake here.
Max Crowdfund takes numerous steps to reduce this risk. Let's look at a few examples of it:
Thorough due diligence in accordance with the Max Crowdfund Risk Rating Model is performed before a project is approved.
At a Loan-To-Value (LTV) of no more than 90%, all loans are additionally secured by physical assets.
Additionally, the borrowers must provide a personal or corporate guarantee. The guarantee must at least cover the discrepancy between the loan balance and the assets' execution value.
You can compare Max Crowdfund to some of the best Peer-to-Peer lending sites here.
How solid is the company?
Given that Dutch financial regulators oversee the platform, Max Crowdfund appears to be reasonably safe.
However, the platform is still new and has a limited history. This means that it can be challenging to obtain a complete picture of the platform's safety over a longer time frame.
Max Crowdfund is a platform that is anticipated to prosper in the upcoming years because the investments are secured by collateral and the team behind it has a wealth of knowledge in the industry.
Best Max Crowdfund alternatives
Are you unsure if Max Crowdfund is the right platform for you, after reading this Max Crowdfund review?
There are hundreds of P2P platforms out there, which can make it hard to determine if you have found the best platform or if you should look for other Max Crowdfund alternatives.
The main categories for P2P platforms are consumer loans, real estate, and business loans.
Here are the best Max Crowdfund alternatives right now:
There are many reasons why you should consider a Max Crowdfund alternative.
First and foremost, you might not find that Max Crowdfund suits your investment needs. When it comes to P2P lending platforms, every P2P investor has different needs. It's therefore crucial that you understand your main investment criteria and find a platform that matches.
It can also be a good idea to consider Max Crowdfund alternatives to simply diversify your investments across more than one platform and reduce your overall platform risk. This can also be done with different types of platforms like the ones you can see above.
Conclusion of our Max Crowdfund review
Max Crowdfund is one of the best international real estate crowdfunding platforms right now.
The platform has an annual return of around 10% and is invested in by thousands of investors. This is a little lower than that of other P2P lending websites. However, the risk does appear to be somewhat lower.
The platform is governed by Dutch financial regulations, and all loans are secured.
The Max Crowdfund's team has extensive knowledge of the real estate sector. This is quite encouraging and provides a wonderful perspective for the platform.
A remarkable 0% default rate has been recorded on the platform up to this point. Based on this, Max Crowdfund seems like a safe platform.
One of the biggest drawbacks of Max Crowdfund is the fee structure, where you are charged a monthly fee of 0.1% by the platform. If this is a concern to you, you might want to check out Robocash or VIAINVEST instead.
The platform's absence of an option for auto-investing is also a drawback worth considering. As a result, you cannot automate your investment process. You must choose investments manually in place of this.
Overall, Max Crowdfund is a great option for a real estate investment platform.
Do you want to sign up after reading this Max Crowdfund review? Click the button below to visit the website where you can become an investor: