Monestro review 2023
Read this Monestro review to learn if you should invest.
Monestro
Monestro review summary:
Monestro P2P OŰ is a P2P lending platform for investing in consumer and credit line loans for both retail and institutional investors. At Monestro, you can invest in loans with an interest rate of 9-12%. This platform is for investors who value sustainability and higher quality loans that are less risky. The loans are protected with a buyback obligation, which means that loans that are more than 60 days late will be bought back by the loan originator. What's unique about Monestro is its voluntary reserve which acts as an extra layer of protection in the platform, and its loan originators' Skin in the Game.
It's 100% free to open an account
Introduction to our Monestro review
Are you thinking about making a Monestro investment? Continue reading.
This Monestro review was created to assist investors in deciding if Monestro is the best option for them.
This Monestro.com review should not be taken as financial advice. It is simply our opinion of the platform.
An outline of the topics covered in more detail in this Monestro review may be found below. To get right to the topic you want to learn more about, just click on the links.
Learn about the following in our Monestro review:
What is Monestro?
Monestro P2P OŰ is a P2P lending platform that was founded in 2016 in Tallinn, Estonia. Since then, around 2000 + investors have joined the platform to earn an average return of 12%.
Instead of promising very high returns, Monestro focuses on lower-risk, higher-quality, and more secure investment alternatives in consumer and credit line loans for both retail and institutional investors. This supports their goal to offer a more stable alternative investment vehicle.
Monestro only engages with higher-class consumer Loan Originators, enacting stricter regulations and due diligence procedures for them, and increasing transparency for the investors.
As of now, Monestro works with Loan Originators that welcome investors from all around the European Economic Area as well as those who concentrate on the region.
The loans are secured with a buyback obligation and voluntary reserve – two features that will be explained later in this review.
With as little as €10, you can open an account and start investing at Monestro.com.
Monestro statistics:
| | |
| --- | --- |
| Launched: | 2016 |
| Investors: | 2,000 + |
| Interest rate: | 9 – 12 % |
| Loan period: | 3 – 60 months |
| Loan type: | Consumer |
| Loans funded: | € 500.000 + |
| Min. investment: | € 10 |
| Max. investment: | Unlimited |
How Monestro works:
The Monestro platform works by being the middleman between loan originators and investors seeking to invest in loans.
The platform offers investors access to a portion of the loan portfolios of carefully chosen lending companies. Investors can then invest in the loans and earn a profit.
As a result, lending companies can gain more liquidity to issue more loans and grow their business.
Monestro FAQ:
Monestro Trustpilot reviews:
Monestro currently has an average rating of 3.0/5 stars on Trustpilot, based on 2 reviews.
Main features
In the following part of this Monestro review, we will go over some of the main features and functionalities of its platform.
1. Monestro buyback obligation
All loans on Monestro are covered by a buyback obligation.
If the Loan Originator defaults on its Buyback Obligation, the obligation may become ineffective.
As a result, the following feature is implemented:
2. Monestro voluntary reserve

If any Loan Originator fails to fulfill its buyback obligation, Monestro has established a financial reserve named the Voluntary Reserve to reimburse investors, by purchasing their claims.
There is no assurance that the investor will recover their investment in full or in part from the Reserve. Reimbursements are only to the extent of available funds.
Monestro makes monthly contributions to the Reserve from their own funds, and the amount of those contributions are determined depending on their risk assessment.
Typically, the monthly contribution to the Reserve is 0,35% – 0,55% of the outstanding principal amounts of all Claims.
3. Detailed loan descriptions
What we like about Monestro is that they display on their website, details about their Loan Originators for example,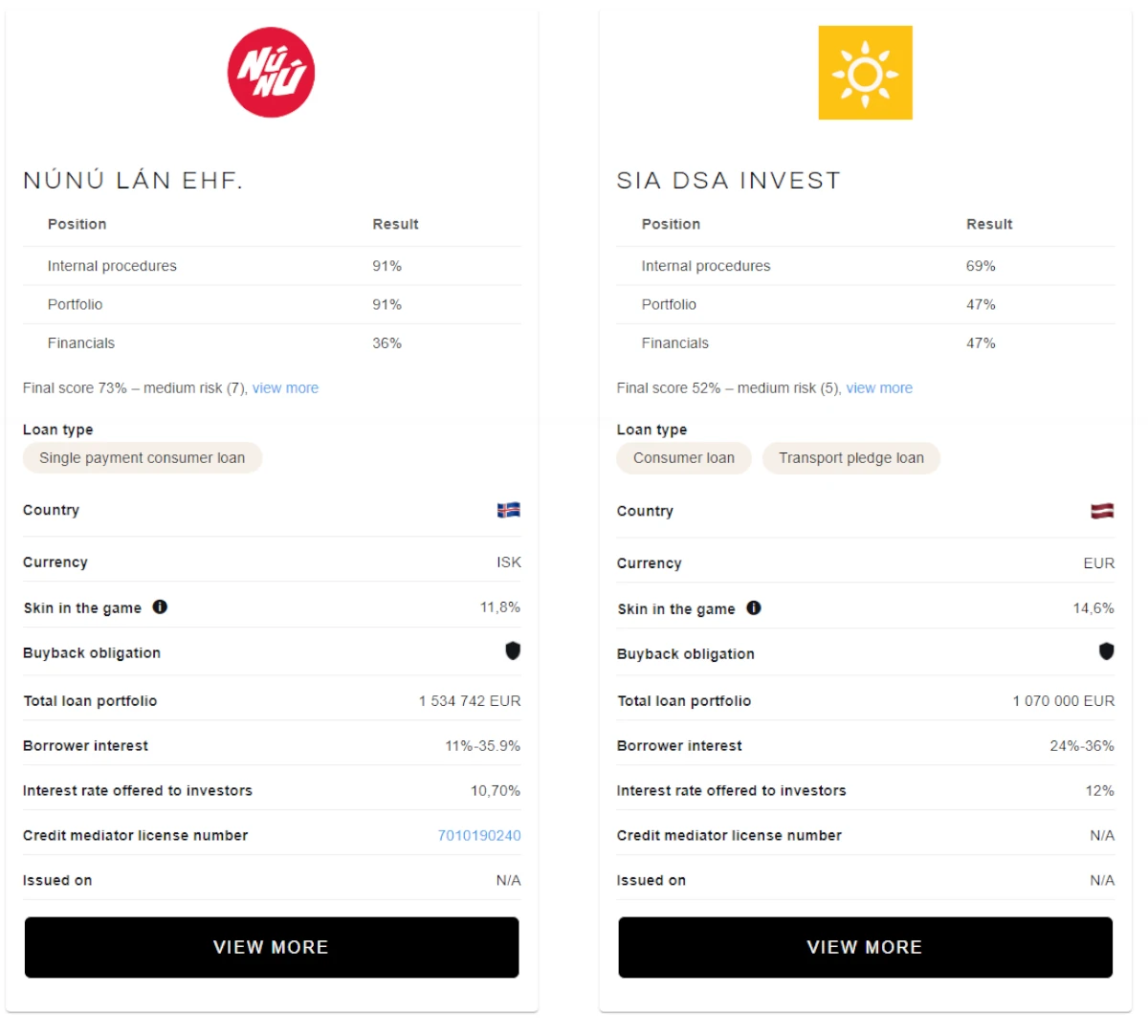 Monestro also shows their Risk Assessment Scoring System for each Loan Originator. This just shows how strictly Monestro conducts its due diligence for Loan Originators.
You can use the information provided to make your investment decisions.
4. Monestro auto-invest
Auto Invest allows investors to save time and ensures efficient allocation of funds.
The minimum amount for investing in one loan using Auto Invest is €10.
You can create an investment portfolio based on a custom set of criteria:
loan term
type
interest rate
investment amount
Loan Originator, etc
After setting up your Auto Invest criteria, the system will automatically filter and invest in loans meeting your requirements.
After you create an Auto Invest portfolio, you will see the "Number of loans matched your criteria for investments".
5. Monestro loyalty program
Monestro currently has no loyalty program compared to other P2P lending platforms.
However, this might change when there are more investors using the platform.
6. Tax report for easy taxes
The income earned through Monestro from investments is usually taxed as capital gains, based on your country of residence.
Monestro doesn't deduct taxes on your investments– the investor is responsible for declaring their income.
To make filing your taxes easy, Investors can download their account statement for from their Monestro investor account ("My profile" – "Account statements").
7. Monestro mobile app
Monestro currently has no mobile app yet
8. Monestro referral bonus
Monestro has a referral program called Refer a Friend Program.
Basically, each investor has a referral link found in the Investor's Portal Account.
When new investors register using this link, they will receive a Registration Bonus of 5 EUR, while referring investors receive a one-time Referral Bonus of 1% of the investments (in maximum amount of 500 EUR) made by the respective referred person.
What rate of return can you expect?
At Monestro, investors get an annual return of 12%.
The return you can get from Monestro is competitive compared to Robocash, TWINO, and FAST INVEST which have similar investment offerings.
Returns like these are never without risk. We will go more into detail about this later.
Who can invest with Monestro?
Monestro is open to both individuals and companies.
Individuals
For individual investors, you must be:
at least 18 years old
citizens or permanent residents of the European Economic Area (European Union, Norway, Iceland or Liechtenstein) or Switzerland
have a bank account in the European Economic Area
have their identity successfully verified by Monestro
Companies
For family trusts, partnerships, limited liability companies and other organisations, they must:
have a bank account
be registered in the European Economic Area or Switzerland
the individual registering the company must have the legal right to represent the company
To comply with AML requirements, Monestro will request additional information from companies, such as:
registration documents,
information about ultimate beneficial owners,
identification of a company representative, and
any other documentation deemed necessary in each case.
If you meet these requirements, you can sign up here.
Available countries
Monestro is available in the European Economic Area (European Union, Iceland, Liechtenstein, and Norway) and Switzerland.
Currently, investors from the UK can't invest via Monestro.
If you are looking for similar platforms that are more widely available, you should take a look at either Bondster or Lendermarket.
Opening an account
Opening an account with Monestro is easy. Registration takes less than 5 minutes.
From here, you can set up an auto-invest strategy, or choose to invest manually in the loans you desire.
Step-by-step process:
Add funds to your account
Select loans and invest
Earn monthly
When your account is ready to go and you have invested your funds, you can also track your investment portfolio and returns.
Do you meet the requirements for creating an account? Simply click the button below, and sign up today. That way, you will get from reading this Monestro review to actually investing yourself:
Monestro fees
Monestro does not apply any service, deposit, or withdrawal fee.
However, a Conversion Fee is applicable according to the valid price list and daily exchange rate of SEB Bank.
Is Monestro safe to use?
In this Monestro review, we have examined the safety features available to ensure the protection of users' money when investing through the online platform.
Buyback obligation
Monestro offers a buyback obligation for all loans that it services.
If a loan is past due for more than 60 days, the Loan Originator is obligated to buy back the investment at its nominal value plus any accumulated interest.
Voluntary Reserve
In the event that a Loan Originator fails to fulfill its buyback obligation, Monestro has set up a Voluntary Reserve to reimburse investors by buying their claims.
Best Monestro alternatives
Are you unsure if Monestro is the right platform for you, after reading this Monestro review?
There are hundreds of P2P platforms out there, which can make it hard to determine if you have found the best platform or if you should look for other Monestro alternatives.
The main categories for P2P platforms are consumer loans, real estate, and business loans.
Here are the best Monestro alternatives right now:
There are many reasons why you should consider a Monestro alternative.
If you don't think Monestro is the right fit for your investment needs when it comes to P2P lending, it is important to identify your main criteria and search for a platform that meets them. That way, you can ensure that you are selecting the best option for you.
It can be beneficial to diversify your investments across multiple platforms and reduce your overall platform risk by considering alternatives to Monestro. This can be done with a variety of platforms, such as the ones listed above.
Conclusion of our Monestro review
Monestro is an emerging P2P lending platform for consumer loans, offering a straightforward user experience though not yet equipped with the more sophisticated features of more established P2P lenders.
It has over 2000 users and the average return is 12%.
Monestro is safeguarding investors by implementing a buyback obligation on loans and establishing a voluntary reserve as an additional safeguard.
Unlike many other platforms, Monestro loan originators have a vested interest in the success of their investments. This is encouraging, as it demonstrates that investors and loan originators are more closely aligned.
Monestro has received an average rating of 3.0/5 stars on Trustpilot, based on 2 reviews. This is understandable given that the platform is relatively new.
Investors should be aware that there are some drawbacks to investing in Monestro, including the lack of a secondary market and the fact that there are no public financial reports available to confirm the company's profitability.
Overall, Monestro is an excellent option for investors who are interested in getting started with P2P investing and are looking for a reliable P2P lending platform.
Have you decided to invest after reading this Monestro.com review? Then simply click the button below to get to their site. From here, you can sign up as an investor in just a few moments and start investing on the Monestro platform: