Crowdestate review 2023
Read this Crowdestate review to learn if the platform is for you.
Crowdestate
Crowdestate review summary:
Crowdestate is a P2P platform that makes it possible for investors to invest in real estate and business loans. But it is not the best real estate platform on the market right now. Most Crowdestate reviews on Trustpilot are bad. There are a lot of delayed loans on the platform, and the returns have fallen drastically over the past years. Some investors have even experienced negative returns on Crowdestate. Before settling for Crowdestate, you should consider platforms like ReInvest24 and Max Crowdfund instead.
It's 100% free to open an account
Introduction to our Crowdestate review
Crowdestate, with its long history, is a platform that is hard to not come across.
But how good are the platform's features, how safe is Crowdestate really, and how does it compare to similar platforms? We decided to investigate.
So if you are considering investing through the platform, we recommend you read this Crowdestate.eu review.
By doing so you will rather quickly learn what we like and dislike about the platform and where we might think competitors are a bit ahead of Crowdestate.
You can, of course, read our full review from A-Z. But if you're just searching for the answer to something specific, you can navigate the review by using the navigation below.
As you read our review, we would like to point out that this Crowdestate review is based on our own opinion, and should not be regarded as financial advice.
Learn about the following in our Crowdestate review:
What is Crowdestate?
Crowdestate is a crowdfunding real estate platform, which allows you to invest in properties for just €100.
This means that you can actually invest in various property projects without having the headache of receiving calls from tenants stating that the toilet does not work.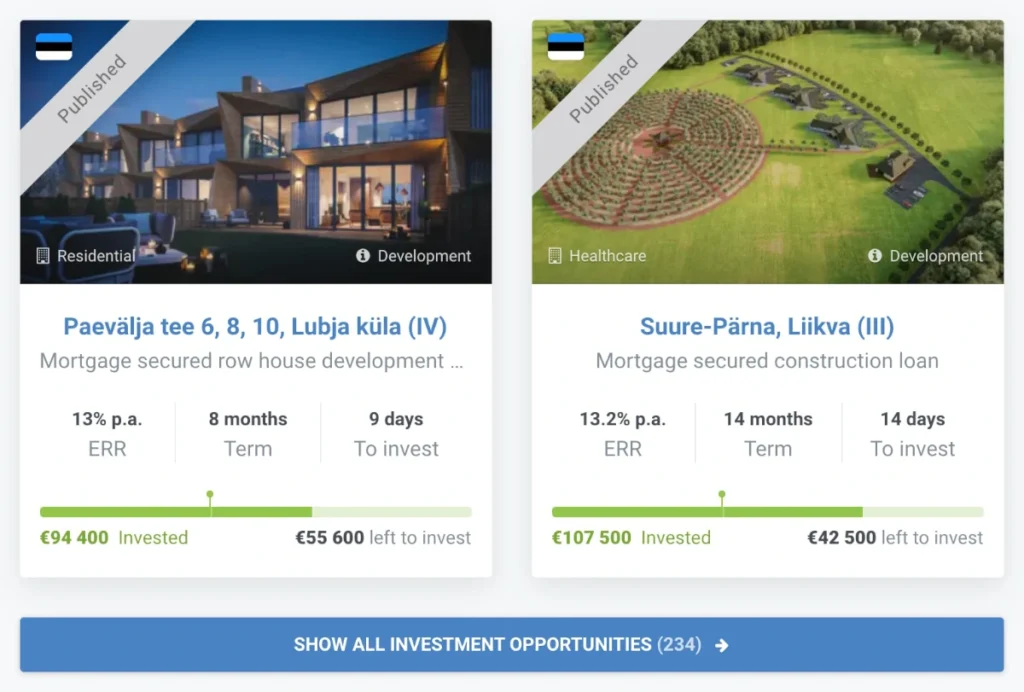 Before listing a real estate project on the platform, Crowdestate performs a preliminary investigation of the project itself.
Together with other investors, you invest in different projects. It also makes it easier for you to spread your risk to more than just one house.
Before you invest, you'll get the chance to read some relevant background information on the projects, including a SWOT analysis.
Crowdestate has been around since 2014, which means that it is a fairly mature platform with a longer track record.
Crowdestate statistics:
| | |
| --- | --- |
| Launched: | 2014 |
| Investors: | 65,000 + |
| Interest rate: | 3 – 43 % |
| Loan period: | 1 – 48 months |
| Loan type: | Real estate |
| Loans funded: | € 126,000,000 + |
| Min. investment: | € 100 |
| Max. investment: | Unlimited |
Crowdestate FAQ:
Crowdestate Trustpilot reviews:
The reviews of Crowdestate are evenly distributed across all the star ratings on Trustpilot. At the time of writing, this means that Crowdestate has ended up with the following score:
This score is not very satisfactory.
If you are looking for a similar alternative with a much better Trustpilot score, you should consider EstateGuru. Check out our EstateGuru review here.
Main features
In the following part of this Crowdestate review, we go through some of the main features of Crowdestate and why they are important to you as an investor.
1. Crowdestate auto-invest
On Crowdestate, you will find an auto-invest feature that makes it possible to invest in the project on the platform on complete autopilot.
The feature was introduced in 2017 and helps investors automatically get exposure to projects before they are fully funded.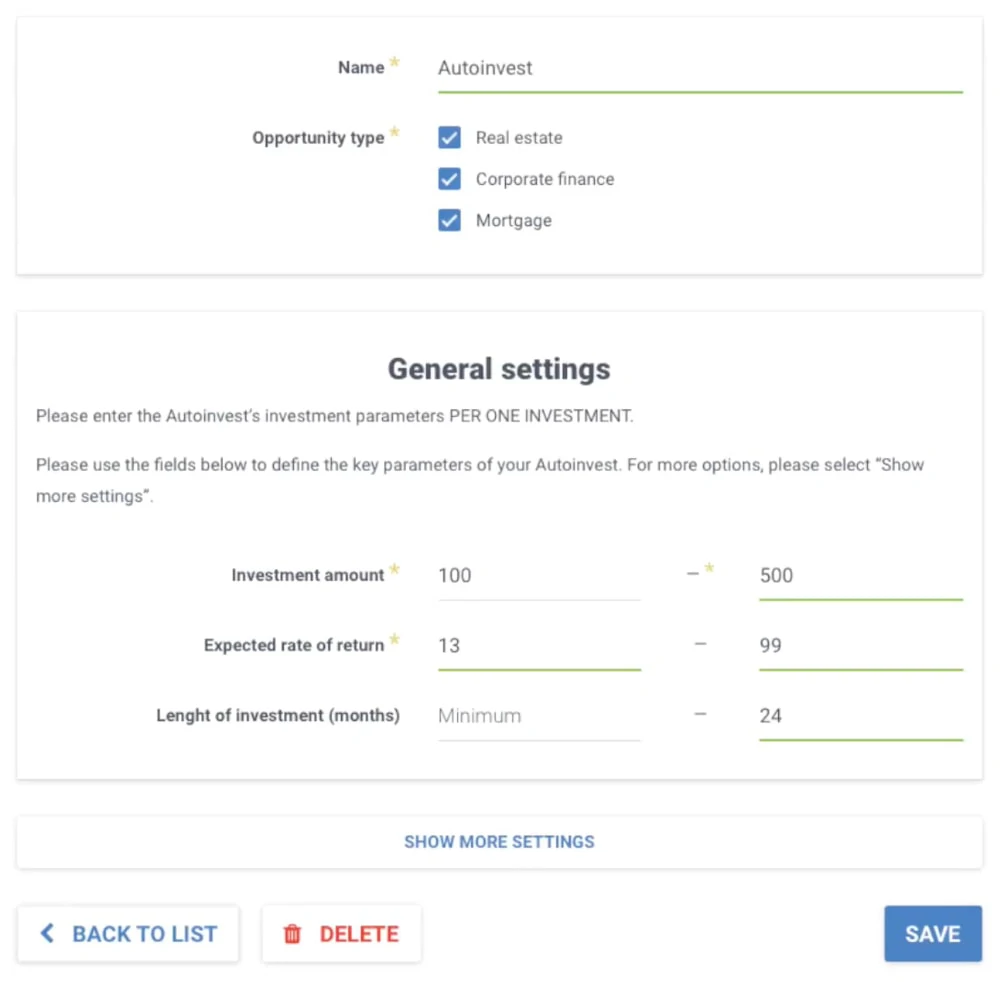 As most of the investments are rather quickly becoming fully funded on the platform, it can be a very good idea to use the Crowdestate auto-invest.
2. Crowdestate secondary market
Another very important feature you will also be able to find on the platform is the Crowdestate secondary market.
A secondary market allows investors to trade investments with each other. So whether you want to get in or out of a deal, you should take a look at the secondary market.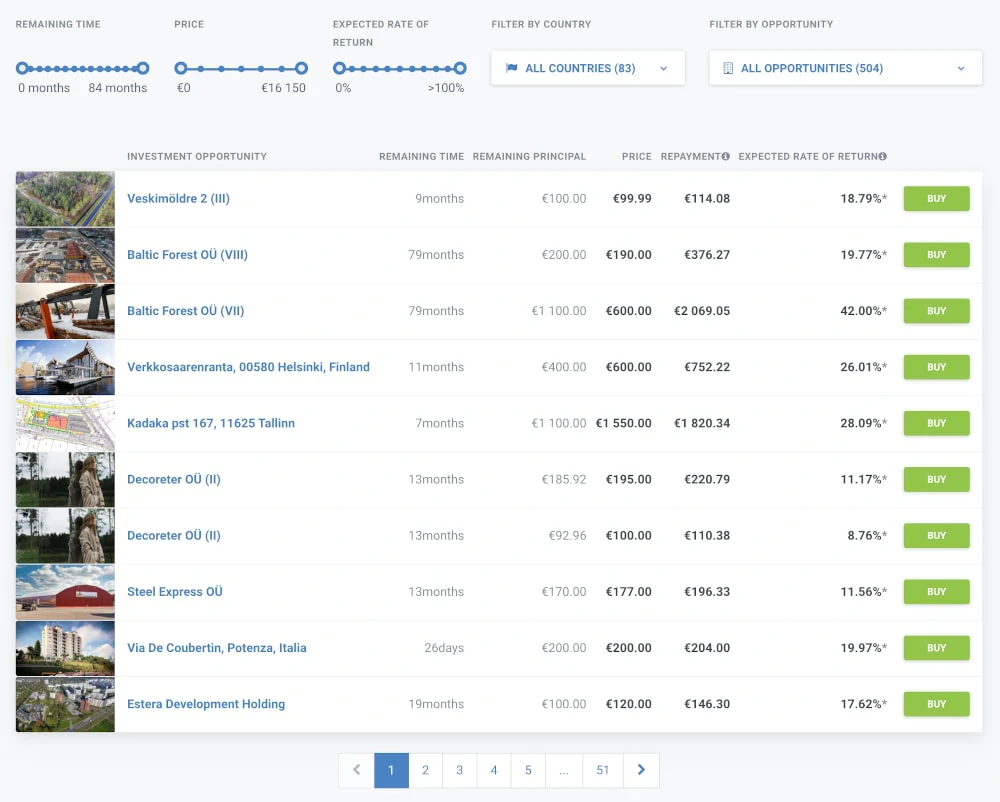 Due to the fact that there oftentimes is a shortage of investment opportunities on the main market, you can actually use the secondary market to get a decent diversification.
Contrary to a lot of other platforms it is actually free to use this market on Crowdestate.
Do you want to see more features? Tap the button below to get to Crowdestate.eu. Here, you can learn more about other features of the platform and easily create an account.
What rate of return can you expect?
The average return on investors on the platform is around 9.42%. So you can probably expect a similar return if you start investing through the platform.
On Crowdestate, you can choose between different projects. It is thus possible for you to invest in projects that suit your particular risk appetite.
Unfortunately, Crowdestate has been a bit of a victim of its own success, as tens of thousands of investors are ready to invest when new projects are posted.
This means that there are always only a few investment opportunities to choose from in the main market (see recent investment opportunities).
While this isn't a problem for smaller investors, as they can easily achieve good diversification via the secondary market – it can be a bit problematic for larger investors that seek proper diversification.
So if you are a larger investor, it may actually be a good idea to combine the use of the platform with other real estate crowdfunding sites.
Who can invest via Crowdestate?
It is both possible to invest as a private person and as a company. However, investing as an individual via Crowdestate requires that you are over 18 years old.
Crowdestate is one of the real estate crowdfunding platforms that are most widely available, and people from the vast majority of countries can invest through the platform.
But due to complex and expensive regulations, it is not possible for investors from the US, and some other countries, to invest via Crowdestate.
If you are unsure whether you can invest, you can find an overview of the FAQ via their site. Here you can check whether it is possible for you.
Would you like to sign up as an investor at Crowdestate? Then press the button below. You will then be taken directly to their website from which you can create your user. In a very short time you will then be able to invest via their platform:
Is Crowdestate safe to use?
When you invest your money at Crowdestate, it's not a secret to anyone that there's a risk associated with it. In general, this is always the case when you invest.
But what are the risks associated with investing in Crowdestate's projects you might wonder? In this part of our Crowdestate review, we take a look at what risks you are facing at Crowdestate and what has been done to minimize them.
The main risk
The main risk when investing via Crowdestate probably lies in the investments themselves. Here you run the risk of the project ending up failing. Here you can lose both your principal and the interest.
However, in the case that a project ends up being insolvent, your maximum loss is the size of your investment plus interest. Thus, you do not run any additional risk than what you invest in the projects.
What happens if Crowdestate AS goes out of business?
As part of assessing how safe it is to invest via Crowdestate, we have in this Crowdestate review taken a look at what happens if they end up folding:
For starters, Crowdestate AS has made the safety measure of legally separating their own assets from your and other investor's assets.
So instead of your investments being held by Crowdestate itself, your investments are held by a so-called Special Purpose Vehicle (SPV). This ensures that your assets will not be lost in the event that Crowdestate goes bankrupt.
Should Crowdestate end up going bankrupt, investments can be transferred to a management company.
So this means that your assets are well secured – even in the event that Crowdestate goes bankrupt.
Best Crowdestate alternatives
Are you unsure if Crowdestate is the right platform for you, after reading this Crowdestate review?
There are hundreds of P2P platforms out there, which can make it hard to determine if you have found the best platform or if you should look for other Crowdestate alternatives.
The main categories for P2P platforms are consumer loans, real estate, and business loans.
Here are the best Crowdestate alternatives right now:
There are many reasons why you should consider a Crowdestate alternative.
First and foremost, you might not find that Crowdestate suits your investment needs. When it comes to P2P lending platforms, every P2P investor has different needs. It's therefore crucial that you understand your main investment criteria and find a platform that matches.
It can also be a good idea to consider Crowdestate alternatives to simply diversify your investments across more than one platform and reduce your overall platform risk. This can also be done with different types of platforms like the ones you can see above.
Conclusion of our Crowdestate review
Crowdestate is a decent P2P platform. But it is not the best real estate platform on the market right now.
Most Crowdestate reviews on Trustpilot are bad. There are a lot of delayed loans on the platform, and the returns have fallen drastically over the past years. Some investors have even experienced negative returns on Crowdestate.
Investors seeking to invest in real estate should consider ReInvest24, Bulkestate, Rendity, and EstateGuru before using Crowdestate.
Do you want to invest in Crowdestate after reading our Crowdestate.eu review? Click the button below to go to the website where you can sign up: