Heavy Finance review 2023
Read this Heavy Finance review to learn if you should invest via the platform.
Heavy Finance
Heavy Finance review summary:
Heavy Finance is one of the best P2B lending platforms for investing in secure agricultural loans. On the site, you can invest in asset-backed loans with an average yearly return of more than 12%. Heavy Finance provides auto-investing, secondary market, and withdrawal options that can make investing more convenient. The platform was founded by an experienced team that has previously built other successful P2P lending platforms. Heavy Finance has an expected default rate of 5%.
It's 100% free to open an account
Introduction to our Heavy Finance review
Heavy Finance has recently gained popularity among P2P investors. But is using the Peer-to-Peer lending platform for agricultural loans truly worthwhile?
This Heavy Finance review was created to help investors decide if Heavy Finance is the best option for them.
You should not regard any of the content of this heavyfinance.com review as financial advice. The review is only an expression of our opinion on the platform.
An outline of the topics covered in this Heavy Finance review can be seen below. Simply click the links below to get to the topic you want to learn more about.
Learn about the following in our Heavy Finance review:
What is Heavy Finance?
Heavy Finance is a Lithuanian crowdfunding platform that allows investors to invest in agricultural loans. HeavyFinance is regulated by the Bank of Lithuania.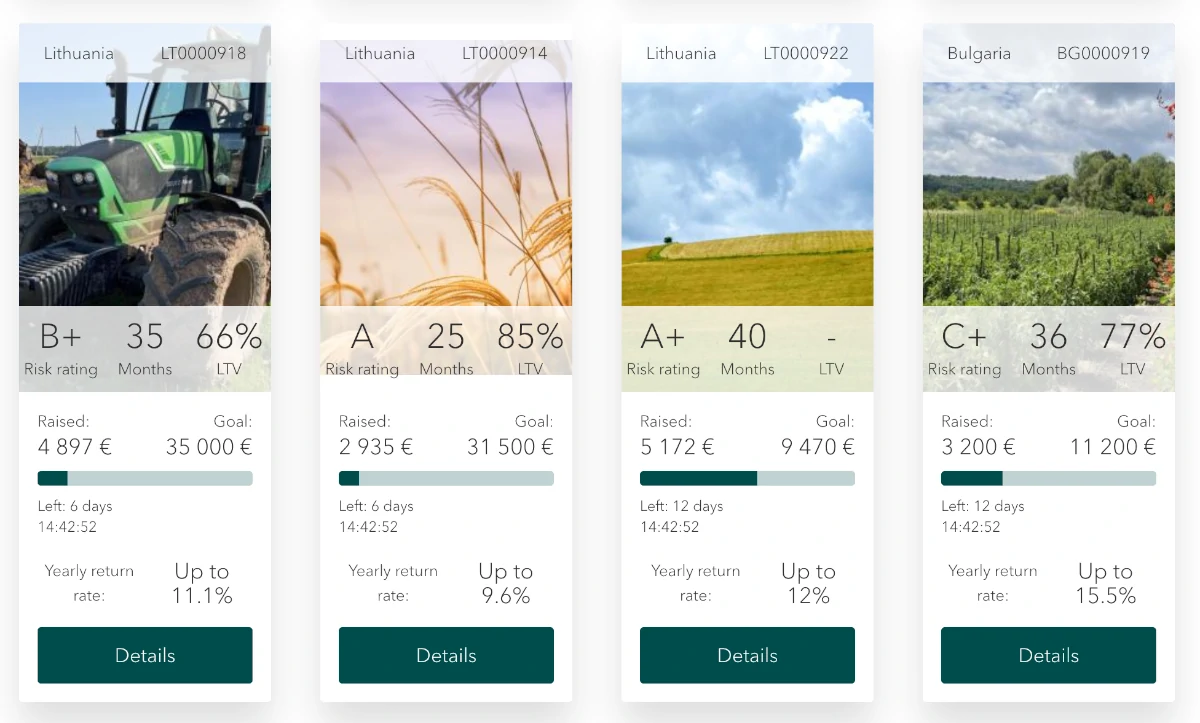 Heavy Finance was co-founded in 2020 by Andrius Liukaitis, Laimonas Noreika, and Darius Verseckas.
Since its launch, Heavy Finance has become one of the fastest-growing agricultural platforms. Today, the platform has over 5,200 investors and earns an average yearly return of 12.16%.
The team has years of experience in the fintech and P2P industry. Among other things, Laimonas was the founder and CEO of another P2P lending platform called FinBee.
On https://heavyfinance.com/, you can register an account and begin investing with as little as €100.
Heavy Finance statistics:
| | |
| --- | --- |
| Launched: | 2020 |
| Investors: | 5,200 + |
| Interest rate: | 10 – 14 % |
| Loan period: | 4 – 48 months |
| Loan type: | Agricultural |
| Loans funded: | € 30,000,000 + |
| Min. investment: | € 100 |
| Max. investment: | Unlimited |
Heavy Finance FAQ:
Heavy Finance Trustpilot reviews:
At the time of writing, there are no Heavy Finance reviews on Trustpilot.
Main features
In the following part of our Heavy Finance review, we will explain some of the main features of the platform and why they are important for you as an investor.
1. Heavy Finance auto-invest
HeavyFinance has an auto-invest function that allows you to automate your loan investments on the platform.
It is recommended that you set up auto-invest in order to save time on managing your investments.
Do the following to use a HeavyFinance auto-invest tool:
Log in to your account
Create an auto-invest strategy
Using the auto-invest tool, you can define the investment amount, loan duration, interest rate, loan type, risk class, loan-to-value (LTV), and country.
2. Heavy Finance secondary market
Heavy Finance has a secondary market where you can trade loans with other investors. This allows you to exit a loan before maturity.
If you choose to quit the platform or simply want to free up some cash at some point, this feature can be very helpful.
There is a 1% fee for selling on the Heavy Finance secondary market. No fees apply to buyers.
3. Heavy Finance bonus
New investors at Heavy Finance can get a 2% investment bonus. This bonus applies to investors that are referred to the platform with an affiliate link. The bonus is active for 30 days.
In order to get the bonus, can simply click the button below – you won't need a promo or referral code.
What rate of return can you expect?
Your return depends on how you choose to invest on the platform.
The average annual return on Heavy Finance is 12.16%. This means that you can reasonably expect a return in that range.
The return on Heavy Finance is lower than other P2P lending platforms like Swaper, Lendermarket, Esketit, and Bondster.
Who can invest via Heavy Finance?
It is possible for both private individuals and companies to invest via the Heavy Finance marketplace.
Individuals
To create a user as an individual, you must meet the following requirements:
Be a least 18 years old
Have an active bank account
If you meet the above criteria, you can start investing via Heavy Finance. Simply follow the steps below, and you should be up and running in no time:
Add funds to your account
Invest in loans from the loan list
Companies
If you own a business, you can invest with Heavy Finance as well. Both businesses and people must abide by the same rules.
Available countries
Investors from most nations in the world have access to Heavy Finance.
Having a particular focus on Poland, Lithuania, Latvia, Portugal, and Bulgaria, the platform concentrates on borrowers with operations in the European Union.
Do you meet the requirements to sign up as an investor at Heavy Finance? Then press the button below to get to their website. From here you can quickly create a free account and get started investing:
How safe is Heavy Finance?
One of the most important considerations when investing your money online through peer-to-peer lending sites is safety. In the following part of this review, we examined the safety of Heavy Finance. We looked at two things: how safe the investments are and how solid the company is.
How safe are the investments?
The first factor we considered when writing this Heavy Finance review was the security of the investments.
Loan default risk
There is always a chance that the borrower won't be able to pay back the mortgage. Your financial situation is at stake here.
Heavy Finance takes numerous steps to reduce this risk by requiring collateral on loans. Here are the different types of collateral on the platform:
Arable land
Heavy equipment
State guarantee
Personal accountability
You can compare Heavy Finance to some of the best Peer-to-Peer lending sites here.
How solid is the company?
Heavy Finance publishes audited annual reports on its website. Among other things, these annual reports show the platform's financial stability and health.
In its audited annual report for 2021, Heavy Finance had a loss of 617,141 euros. This is quite normal for a new company in its initial growth phase.
Heavy Finance also appears to be reasonably safe as the company is regulated by the Bank of Lithuania.
And since one of the founders was the previous founder of the long-lasting P2P lending platform FinBee, one would expect Heavy Finance to prosper over the long term.
In December 2021, the business additionally received $1 million from venture capitalists.
Best Heavy Finance alternatives
Are you unsure if Heavy Finance is the right platform for you, after reading this Heavy Finance review?
There are hundreds of P2P platforms out there, which can make it hard to determine if you have found the best platform or if you should look for other Heavy Finance alternatives.
The main categories for P2P platforms are consumer loans, real estate, and business loans.
Here are the best Heavy Finance alternatives right now:
There are many reasons why you should consider a Heavy Finance alternative.
First and foremost, you might not find that Heavy Finance suits your investment needs. When it comes to P2P lending platforms, every P2P investor has different needs. It's therefore crucial that you understand your main investment criteria and find a platform that matches.
It can also be a good idea to consider Heavy Finance alternatives to simply diversify your investments across more than one platform and reduce your overall platform risk. This can also be done with different types of platforms like the ones you can see above.
Conclusion of our Heavy Finance review
Heavy Finance is one of the best P2B lending platforms for investing in secure agricultural loans.
Heavy Finance provides auto-investing, secondary market, and withdrawal options that can make investing more convenient.
The platform has an annual return of around 12% and is invested in by thousands of investors. This return is much in line with other platforms focusing on agricultural loans like LANDE.
Heavy Finance is regulated by the Bank of Lithuania, and all loans are backed with assets.
The team behind Heavy Finance has a lot of knowledge about the P2P lending industry with loads of previous experience.
The expected default rate is around 5%, but since the loans are backed by assets, Heavy Finance should still be a safe platform to invest with for investors.
Overall, Heavy Finance is a great option for investing in agricultural loans.
Do you want to sign up after reading this Heavy Finance review? Click the button below to visit the website where you can become an investor: