FinBee review 2022
Check out our FinBee review, and see if the platform is for you.
FinBee
FinBee review summary:
FinBee is excellent for P2P lending. They have above-average skin in the game and offer above-average interest rates. It is also easy to try them out with a low minimum deposit of only €5. However, most of the loans on the platform are not secured, which is why we don't recommend FinBee for beginners. Consider a platform like Lendermarket or Swaper instead.
It's 100% free to open an account
Last updated: November 6, 2022
Introduction to our FinBee review
FinBee is probably not the first platform that is mentioned in a conversation about Peer-to-Peer lending – let's just admit that it's more likely to be Mintos (check out our review of Mintos here). However, FinBee is actually fairly big in size and offers a return on investment that most platforms can't keep up with. But even though FinBee offers some staggering returns, is it really worth using their platform? We decided to investigate.
So if you are considering investing through the platform, we recommend that you read this FinBee review first. Because here we take a look at whether or not it's worth using them. We promise you will get a better feel for the platform through our review.
Our FinBee review ended up being a bit long. You can, therefore, choose to use the navigation below to find exactly what you are looking for. Of course, you are also more than welcome to read the entire review. However, we will make you aware that the review only expresses our own opinion. Therefore, do not consider the content of this FinBee review as financial advice.
Learn about the following in our FinBee review:
What is FinBee?
FinBee is a Peer-to-Peer lending platform that allows investors to invest in both consumer and business loans. Some of the loans are covered by different guarantees, which will be explained later in this review.
FinBee was launched in Lithuania in 2015. Since then, the number of loans funded on the platform has kept increasing: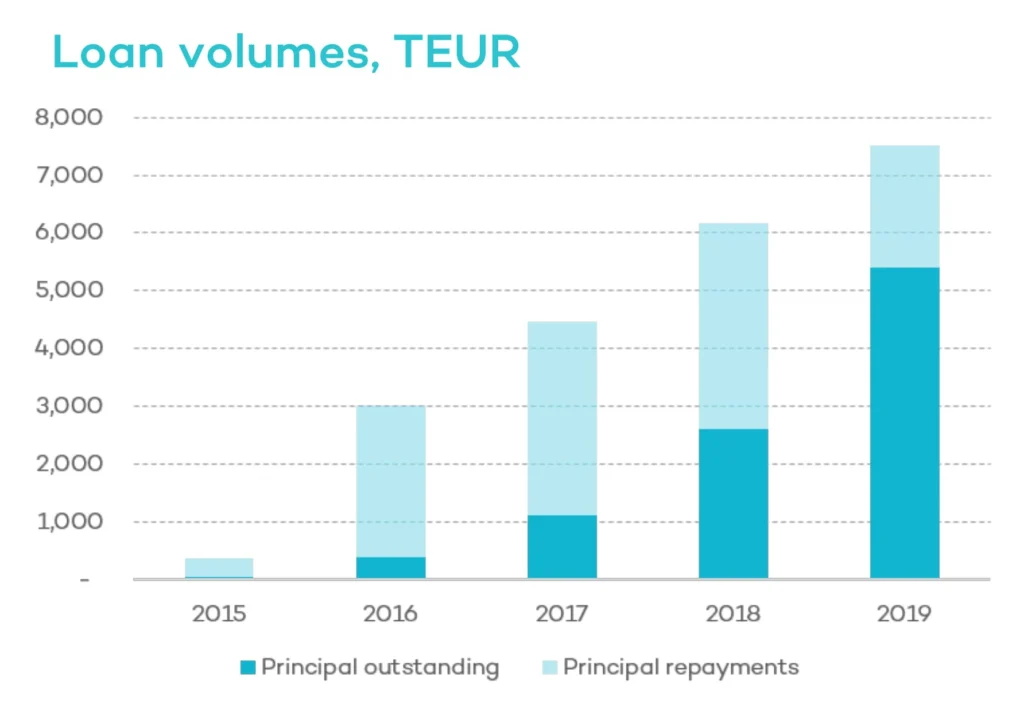 To make this increase in loan volumes possible, FinBee has attracted a substantial amount of investors to the platform. At the time of writing, there are a staggering 22,000 active investors on the platform.
Besides FAST INVEST, Finbee is also one of the platforms that require the least amount of capital to get started on their platform. With as little as €5, you can open an investment account.
FinBee statistics:
| | |
| --- | --- |
| Launched: | 2015 |
| Investors: | 22,000 + |
| Interest rate: | 10 – 26 % |
| Loan period: | 12 – 60 months |
| Loan type: | Consumer |
| Loans funded: | € 47,000,000 + |
| Min. investment: | € 5 |
| Max. investment: | Unlimited |
FinBee FAQ:
Main features
In the following part of our FinBee review, we will explain some of the main features of the platform, and why they are important for you as an investor.
1. FinBee secondary market
The first feature we want to mention in this FinBee review is the secondary market. This is a place where you can trade with other investors.
So let's say that you want to buy some loans, you can actually go to the secondary market to buy them from other investors.
You can also use the FinBee secondary market to sell investments to other investors. This is especially useful if you want to exit your investments. However, be aware that there is a 1% fee involved with any selling.
2. Collateral
On FinBee's platform, most loans are not covered by any collateral or guarantees. However, you will be able to find it on some of the loans. In the following, you can see a selection of the loans on the marketplace: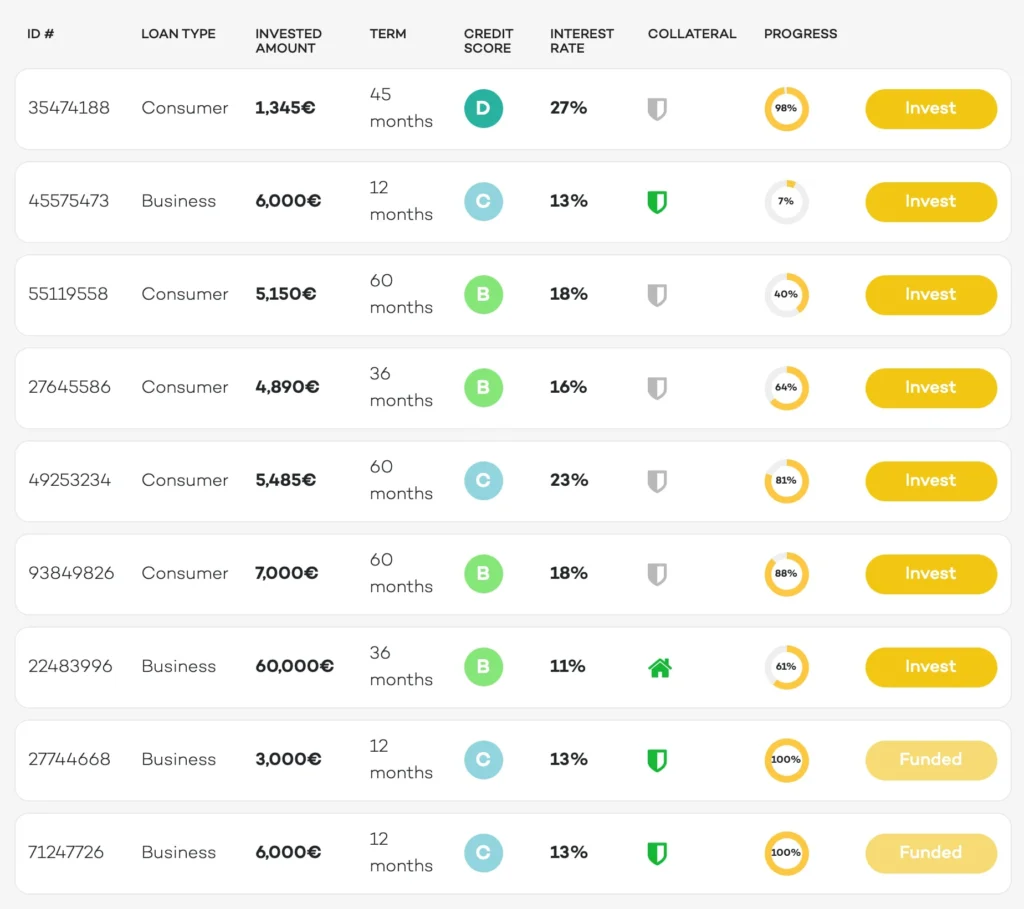 In the collateral column, you will be able to see if a loan is covered by any form of collateral. Most loans aren't covered by any guarantees.
Grey shield = no guarantee
Green shield = some guarantee
Green house = real estate collateral
Due to the fact that there is no collateral on most loans on FinBee, it might be a good idea for beginner investors to consider other P2P lending platforms that offer more guarantees. But if you are comfortable with the fact that some of your investments will default, FinBee might still be a viable option for you.
3. Borrower ratings
In order to give you an idea of the safety of a particular loan on the platform, FinBee provides borrower ratings for all loans. It is crucial that you understand these before you invest.
The ratings go from A to D, where A involves the least risk, and D involves the most risk. In the following, you can see the default rates by category for business loans: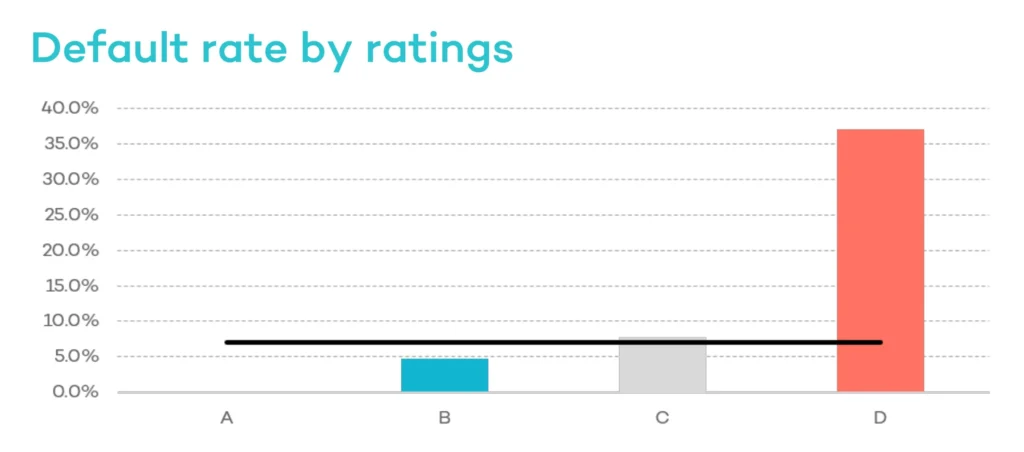 As you can see, there is a substantial difference between loans with an A-rating (with around 0% defaults) and a loan with a D-rating (with over 35% defaults) when it comes to risk. So even though it on the surface can seem like a good idea to invest in loans with a D-rating when you look at the loan list on the website, it will involve a lot of defaults.
But even though a lot of investments with a D-rating will face default, the team at FinBee actually manages to recover quite a bit of these, as shown in the recovery rates below: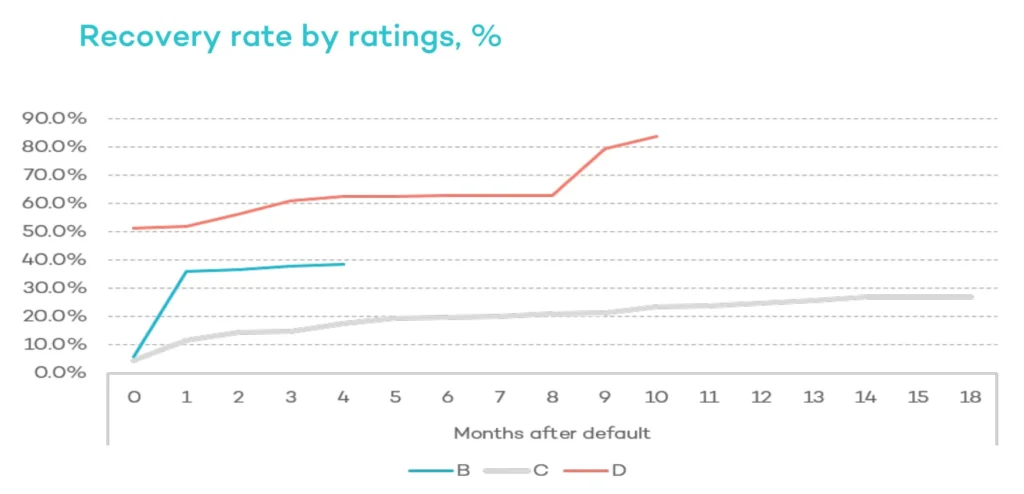 But even though there are a lot of loans that are recovered after the default, you simply need to consider the default rates by rating before you invest on the platform.
Please keep in mind that all the above examples only are for business loans. You can learn more about the numbers for consumer loans here.
4. FinBee auto-invest
An auto-invest feature is more or less expected and can be found on most P2P platforms these days. On FinBee, you will also be able to find such a feature.
Using the auto-invest feature on the platform allows you to put your investments on autopilot which means that you can invest without having to select new loans to invest in every time one of your existing loan investments expires.
In order to use the FinBee auto-invest feature, you can follow the steps below:
Make sure you are logged in
Go to the auto-invest settings
From here, you can set up an auto-invest strategy that suits your investment goals.
Among other things, you can decide which types of loans you want to invest in, what the borrower rating should at least be, and what interest rate you are interested in.
Do you want to know more about FinBee auto-invest? Then check out their website for more information.
What rate of return can you expect?
On FinBee, the average interest rate on consumer loans is around 18,5%, while the average interest rate on business loans is around 14,7%.
But even though the interest rate is that high, it is expected that there will be some defaults that are not recovered. Of the loans from 2016, the percentage of defaults that have been recovered is around 89%.
This means that your return will probably be less than the interest rate announced by the platform.
The return is similar to other high-yield platforms like Bondster and Esketit.
Who can invest via FinBee?
In order to invest via FinBee you must meet the following requirements:
Be a least 18 years old
Have a European bank account in your name
Have a valid ID
If you meet the above requirements, it is easy to get started at FinBee. Simply follow the steps below, and then you should rather quickly be able to invest:
Answer the KYC (Know-Your-Customer) questionnaire
Validate your identity
Add funds to your account
Invest in loans from the loan list
Do you meet the requirements to sign up as an investor at FinBee? Then press the button below to get to their website. From here you can quickly create yourself a free account and get started investing:
How safe is FinBee?
One of the most important things when investing your money online through Peer-to-Peer investment sites is that security is in order. Therefore, in this FinBee review, we have taken a look at the safety of their platform.
Loan risk
Most of the loans are not secured in any way, as only a few loans on the platform are secured with collateral. Therefore, investors rely heavily on the loan due diligence process conducted by FinBee.
Skin in the game
FinBee is keeping a stake of at least 15% in all consumer loans on the platform. The fact that they have skin in the game with the investors is a positive signal, as it is then in their best interest to provide maximum safety and return for themselves and the investors. It shows that they have confidence in their own loans.
The 15% skin in the game is quite high compared to other platforms where it is usually around 5-10%. However, if you'd like a higher amount of skin in the game, you should check out our Iuvo Group review. On that platform, loan originators have 30% skin in the game, but the return is also lower.
Best FinBee alternatives
Are you unsure if FinBee is the right platform for you, after reading this VIAINVEST review?
There are hundreds of P2P platforms out there, which can make it hard to determine if you have found the best platform or if you should look for other FinBee alternatives.
The main categories for P2P platforms are consumer loans, real estate, and business loans.
Here are the best FinBee alternatives right now:
There are many reasons why you should consider a FinBee alternative.
First and foremost, you might not find that FinBee suits your investment needs. When it comes to P2P lending platforms, every P2P investor has different needs. It's therefore crucial that you understand your main investment criteria and find a platform that matches.
It can also be a good idea to consider FinBee alternatives to simply diversify your investments across more than one platform and reduce your overall platform risk. This can also be done with different types of platforms like the ones you can see above.
Conclusion of our FinBee review
FinBee is an overall great platform for experienced P2P investors.
We don't think that it suits beginners well as a lot of the loans will default on the platform. This makes it important to be able to make your own risk strategy, which is easier if you have tried out another platform first.
If you are a beginner and want a more easy-to-use platform, you might want to check out PeerBerry, Ekassa, or Robocash.
Of the positives, FinBee offers above-average interest rates and above-average skin in the game.
They do also have a secondary market and auto-invest set in place, which makes it easy to invest on their platform.
Did you enjoy our FinBee review? Then consider signing up with FinBee. You can do so by pressing the button below. From here, you will be taken directly to FinBee's website, where you can sign up as an investor: