PROFITUS review 2023
Check out our PROFITUS review, and see if the platform is for you.
PROFITUS
PROFITUS review summary:
PROFITUS is with its fast growth an interesting challenger to the existing real estate crowdfunding platforms on the market and has recently become the leader of the crowdfunding market in Lithuania. And even though the return you can get at PROFITUS is slightly lower than on other real estate platforms like ReInvest24, EstateGuru, and Bulkestate, we still like the PROFITUS platform a lot.
It's 100% free to open an account
Introduction to our PROFITUS review
PROFITUS is a very unknown P2P real estate investment platform. Therefore, you will also find only a few PROFITUS reviews around the web. That's why we decided to take a closer look at the platform.
In this PROFITUS P2P review, you can learn more about what the platform is all about, how it differs from competitors, and whether it is safe to use at all.
Please note that everything you read on this site only covers our own experiences and opinions on PROFITUS. These opinions are only made available to provide information about the platform. Therefore, it is also important that you do not consider the things in this PROFITUS review as investment advice.
Learn about the following in our PROFITUS review:
What is PROFITUS?
PROFITUS is a fast-growing real estate crowdfunding platform. They specialize in property-backed investments in the Baltic region.
The company helps in raising money for real estate projects. This money is raised through investors on the PROFITUS crowdfunding platform. In return, a mortgage is required as collateral for the investors.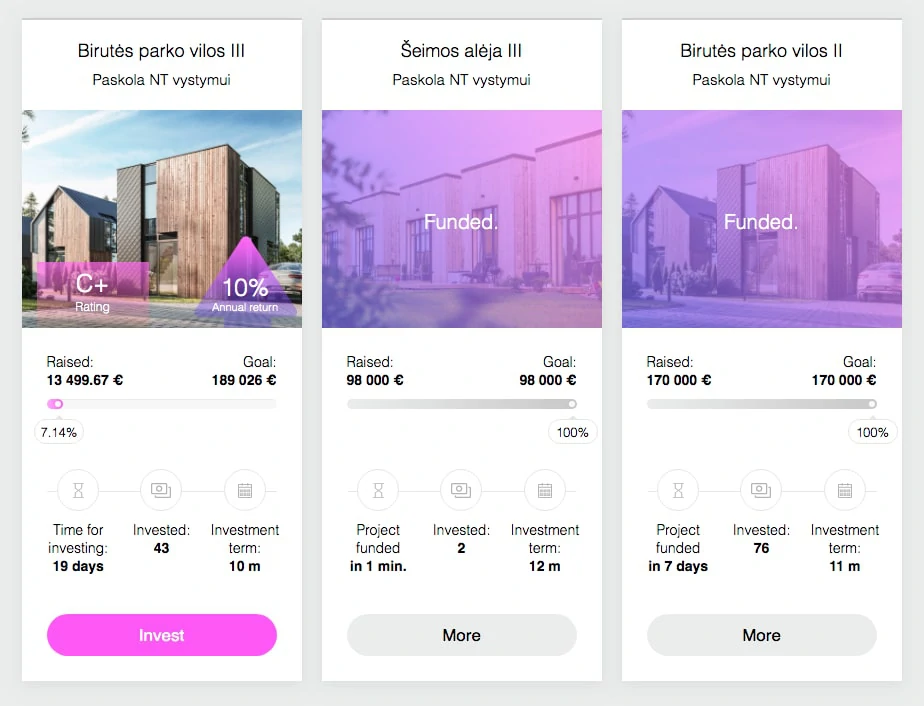 PROFITUS is located in Vilnius, Lithuania. The company was founded by Viktorija Vanagė in December 2017 and started its operations in 2018. The P2P platform is licensed and supervised by the Bank of Lithuania as a crowdfunding platform operator.
Compared to other real estate crowdfunding platforms, PROFITUS is still a smaller one. At the time of this writing, there are just over 6,000 investors on the platform. However, this does not stop projects from being fully funded quickly. For one of the projects, it took just one minute. But typically, it takes over a week for the projects to be fully funded.
With as little as €100, you can start investing in real estate via https://www.profitus.com/.
PROFITUS statistics:
| | |
| --- | --- |
| Launched: | 2018 |
| Investors: | 6,000 + |
| Interest rate: | 7 – 14 % |
| Loan period: | 3 – 36 months |
| Loan type: | Real estate |
| Loans funded: | € 89,000,000 + |
| Min. investment: | € 100 |
| Max. investment: | Unlimited |
PROFITUS FAQ:
PROFITUS Trustpilot reviews:
PROFITUS has received a lot of great Trustpilot reviews and has an excellent score of 4.3/5 based on 174 reviews.
This is one of the top-rated platforms in the industry.
With an excellent rating, PROFITUS might be worth checking out:
Main features
In the following part of our Profitus review, we will explain some of the main features of the platform, and why they are great for you as an investor.
1. PROFITUS secondary market
Profitus has a secondary market where users of the platform can trade investments with each other.
On the Profitus secondary market, both active and past-due loans may be traded.
You should be aware that you can only sell the investments you have purchased on the primary market once the mortgage agreement has been signed. This means that there might be a brief period during which you cannot sell.
2% of the final selling price is the commission for selling loans on Profitus' secondary market. Buyers are not charged any fees.
What rate of return can you expect?
At PROFITUS, investors currently earn an average interest rate of around 9.88%.
The return you will be able to achieve on the platform will depend greatly on what you choose to invest in. But you can probably expect something close to the average return.
The return you can earn on PROFITUS is slightly lower than what you can earn on some of the high-yielding P2P lending platforms such as Nibble Finance, Esketit, and Bondster. But the focus of platforms with a higher yield is typically not focused on real estate but on consumer loans instead.
Who can invest via PROFITUS?
PROFITUS accepts most investors from all of Europe and most other countries. Both individuals and legal entities can invest via the platform.
To invest at PROFITUS, you must be over 18 years old and be able to prove your identity to comply with the KYC procedures of the company.
If you meet these requirements, you can register with PROFITUS using the following procedure:
Add money with Paysera
Start investing
Earn monthly interest
If you are an investor, who is looking to invest €50,000 or more, you can become a PROFITUS Nominal Investor. As a Nominal Investor, you will be able to earn even more, and you will even be able to attend special meetings.
Would you like to invest with PROFITUS? Press the button below to register. This is clearly the fastest way to go from reading this PROFITUS review to investing:
Is PROFITUS safe to use?
One of the most important things, when investing your money, is how safe your funds will be at a certain platform. In the following part of this PROFITUS review, we have therefore looked into how safety is handled by PROFITUS.
Credit rating of real estate projects
Before a project is listed on the platform, PROFITUS ensures that it is a safe project. They do this through a risk assessment of the project and the project owner based on information from CREDITINFO. The project will then either be approved or rejected.
If you look at the statistics on the platform's website, many of the applications are not listed on PROFITUS. This indicates that PROFITUS is very serious about what projects they add to their platform.
The projects that are possible to invest in at PROFITUS have a credit rating from A + being the best to D being the worst.
The credit ratings seem to work, and at the time of writing, only 1 loan has ever been delayed.
Investments secured by collateral
In addition to credit ratings, PROFITUS also requires that all projects are secured by collateral. While real estate is typically a reasonably safe investment, things can take an unexpected turn. Here, the collateral is in place to secure you as an investor.
Protection of your funds
PROFITUS has also got the protection of your funds covered. Since they only act as a mediator, the law requires that the funds remain the property of the investor. So if PROFITUS's business collapses, your money will not be considered part of PROFITUS's assets.
Best PROFITUS alternatives
Are you unsure if PROFITUS is the right platform for you, after reading this PROFITUS review?
There are hundreds of P2P platforms out there, which can make it hard to determine if you have found the best platform or if you should look for other PROFITUS alternatives.
The main categories for P2P platforms are consumer loans, real estate, and business loans.
Here are the best PROFITUS alternatives right now:
There are many reasons why you should consider a PROFITUS alternative.
First and foremost, you might not find that PROFITUS suits your investment needs. When it comes to Peer-to-Peer lending companies, every P2P investor has different needs. It's therefore crucial that you understand your main investment criteria and find a platform that matches.
It can also be a good idea to consider PROFITUS alternatives to simply diversify your investments across more than one platform and reduce your overall platform risk. This can also be done with different types of platforms like the ones you can see above.
Conclusion of our PROFITUS review
Although PROFITUS is a new platform, it seems like a very serious player in the market.
Through the easy-to-use website, even less experienced investors can easily get started with real estate investing.
When it comes to returns, however, PROFITUS is beaten by many of the existing players in the real estate segment. At both EstateGuru, Crowdestate, ReInvest24, and Bulkestate you will be able to find a higher average interest rate.
On Trustpilot, most investors seem very satisfied with PROFITUS and it is one of the top-rated platforms in the industry.
Would you like to invest through the real estate crowdfunding platform after reading our PROFITUS review? Click on the button to get to their website. Here you can easily and safely get started investing in real estate for even smaller amounts of money: