FAST INVEST review 2023
Check out our FAST INVEST review, and see if the platform is for you.
FAST INVEST
FAST INVEST review summary:
FAST INVEST is one of the most beginner-friendly P2P investing platforms on the market. They make it possible to start investing with only 1 euro. If you regret any investments, you can sell your loans to other investors using the FAST INVEST secondary market. But since the start of the Covid-19 crisis, the platform has had huge delays in paying back investors and has not been very open about what is going on. For these reasons, the platform isn't recommended at this time. Consider Swaper or NEO Finance instead.
It's 100% free to open an account
Introduction to our FAST INVEST review
The P2P investment platform FAST INVEST has over the past years gained a fair amount of interest from investors across Europe. We decided to take a closer look at the platform.
Are you considering investing through the platform? Then we recommend that you read this FAST INVEST review in order to get a better feel for their company and P2P lending platform.
Before you dive into reading this review, we will quickly point out that it is only an expression of our own opinion. You should not consider anything in this FAST INVEST review as financial advice.
Our FASTINVEST.com review ended up being a bit long. Therefore, you can advantageously use the navigation below to find exactly what you want to know more about. Of course, you can also read the review from one end to the other.
Learn about the following in our FAST INVEST review:
What is FAST INVEST?
FAST INVEST is a visionary European company that wants to make it easier for private investors to invest.
Through the crowdlending branch of the company, they focus primarily on consumer-based loans with a loan duration of up to 2 years.
FAST INVEST is a UK-registered company. But the company has its back office in Lithuania.
The company and the platform launched in 2015, and have since then achieved phenomenal growth within the FinTech area.
Compared to other crowdlending platforms in Europe, FAST INVEST has a reasonably large investor base with over 41,000 investors.
With as little as the minimum investment of €1 (the lowest on the market), you can join the platform and start investing at https://www.fastinvest.com/.
FAST INVEST statistics:
| | |
| --- | --- |
| Launched: | 2015 |
| Investors: | 41,500 + |
| Interest rate: | 9 – 18 % |
| Loan period: | 1 – 18 months |
| Loan type: | Consumer |
| Loans funded: | € 67,800,000 + |
| Min. investment: | € 1 |
| Max. investment: | Unlimited |
FAST INVEST FAQ:
FAST INVEST Trustpilot rating:
Over 1,000 investors have shared their FAST INVEST experience on Trustpilot. This has resulted in very bad ratings.
Previously, the rating had been a lot higher. But during Covid-19, a lot of the withdrawals were delayed. This has resulted in a lower rating.
If you search for a platform with better Trustpilot ratings, you should check out Robocash instead.
Main features
In the following part of this FAST INVEST P2P review, you can learn about the different features of the platform:
1. FAST INVEST BuyBack guarantee
Most loans on the platform are protected with the FAST INVEST BuyBack guarantee.
The BuyBack guarantee is useful in case a borrower cannot repay his loan. If the loan is delayed for three or more days, the guarantee will cover the difference. The loans with the BuyBack guarantee are marked in the loan list.
2. FAST INVEST auto-invest
One of the best things about FAST INVEST is the possibility of setting up an auto-invest strategy. The auto investing function gives you the opportunity to invest in loans, without having to spend time cherry-picking loans on an ongoing basis.
Our advice: In our opinion, an investor's time is better spent elsewhere than by selecting loans on a daily basis. Therefore, we recommend that you set up an auto-invest strategy.
If you want to use auto-invest, you can either choose one of FAST INVEST's predefined strategies or make your very own. You can choose between beginner, professional, expert, or custom portfolio.
Create an auto-invest strategy:
It is obviously easiest to choose one of the predefined strategies. But if you do, please be aware of how much you invest in a single loan via the strategy you choose. Whether your investment portfolio is small or large, it is important to diversify properly. So make sure to check if you will get enough loans in your portfolio, based on the strategy you choose.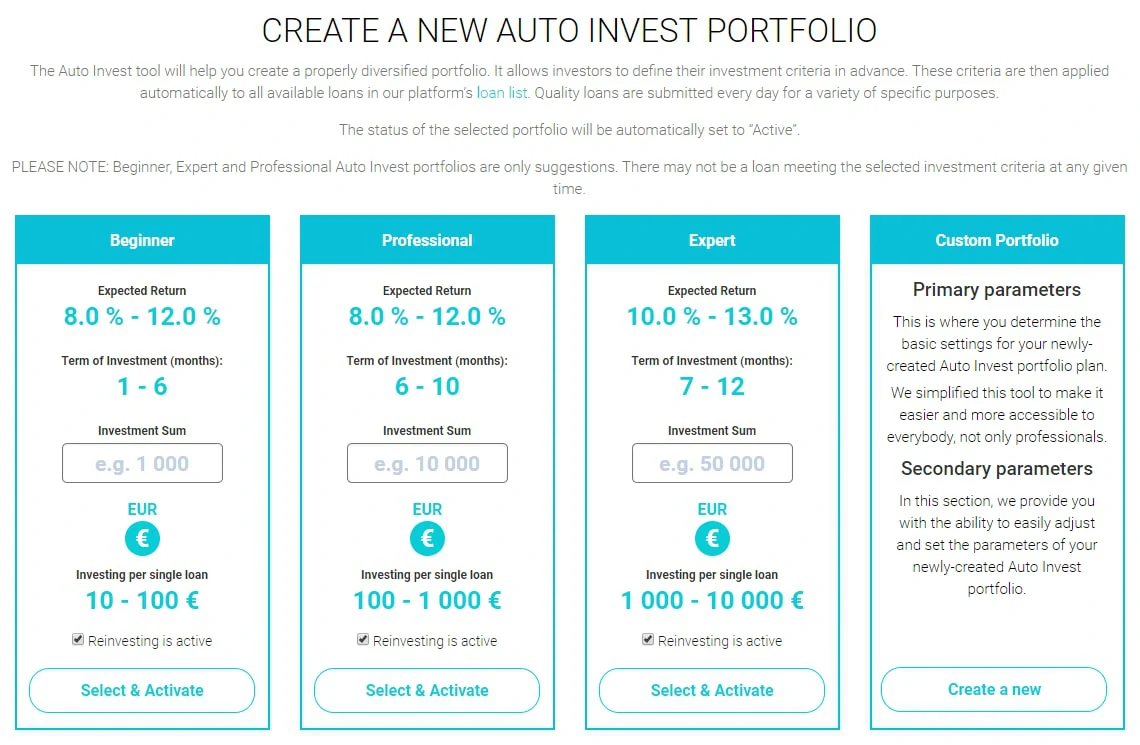 You can also choose to make your very own investment strategy at FAST INVEST. In fact, we recommend that you do so. Just choose to make a Custom Portfolio. That way, you get full control of how you invest your money. Below, you can see an overview of how to make your custom portfolio: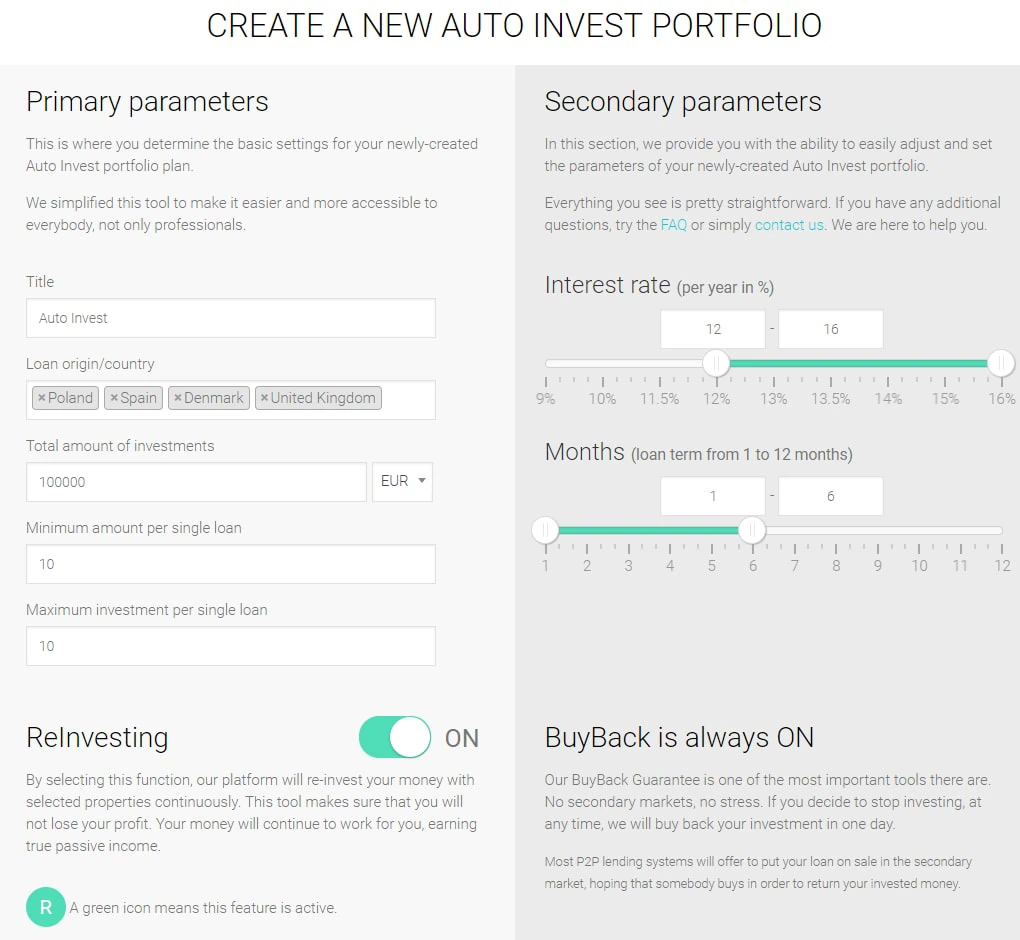 Whether you choose a predefined auto-invest strategy or make your own, it is clearly advised that you do one of those things. This way you can automatically reinvest the interest you receive on your account. Thus, you can best take advantage of the compound interest effect, and see your investments grow even faster.
Do you want to know more about FAST INVEST auto-invest? Then check out their website.
3. FAST INVEST secondary market
On the platform, you will find the FAST INVEST secondary market. This place makes it easy for you to sell your investments and make an early exit.
Rules of the secondary market:
0.5% will be deducted from the initial value of the loan when selling on the secondary market.
If you set a higher discount on your loan, it will appear at a higher position in the secondary market loan list. This will increase your chances of selling faster.
The minimum valid discount on loans is 2%.
What rate of return can you expect?
On FAST INVEST's platform, it is possible to get a return of 9-18%, depending on which loans you choose to invest in.
Currently, the average return on the FAST INVEST is 13.98%.
But as there is a great difference between the lowest and the highest return on the platform, the return you get will depend on the loans you select – either manually or with auto-invest.
The advertised return on FAST INVEST is similar to that of platforms like Lendermarket, Esketit, and Nibble Finance.
FAST INVEST profit calculator
If you want to see how much the return will be for the amount of money you intend to invest, you should try out the FAST INVEST interest calculator: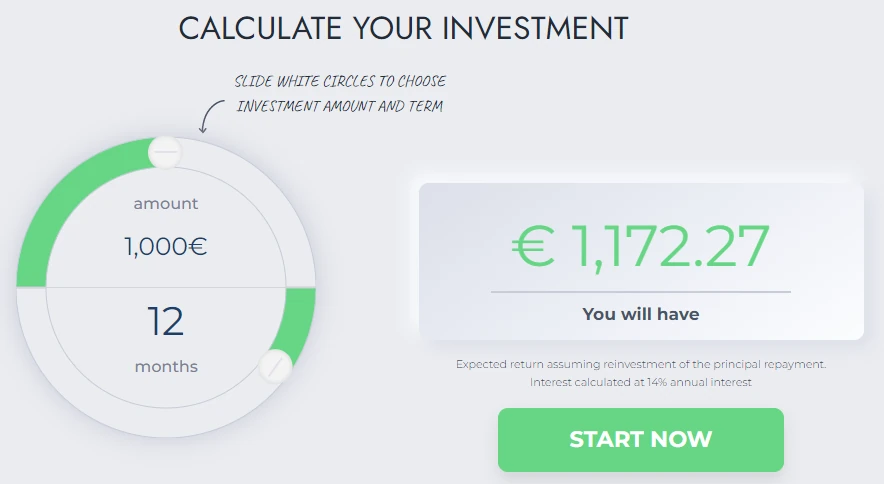 You can access the investment calculator by clicking the button below:
Who can invest via FAST INVEST?
Both individuals and companies can invest their money through FAST INVEST.
Individuals
If you want to become an investor on FAST INVEST, you must meet these few requirements:
Being at least 18 years old
Having a valid email address
Having a bank account in your name within the EU
Being verified with a national identification card or passport
If you meet the requirements above, it is possible for you to invest via FAST INVEST. To get started investing, just do the following:
Register on the platform
Add funds to your investment account
Choose a loan from the loan list and invest
In order to withdraw your funds, you will have to verify your identity with either a national identification card or your passport.
Companies
If you want to invest with a company, it is possible on the FAST INVEST platform. When you register a business, you must, of course, comply with the requirements of ordinary investors.
Would you like to sign up as an investor at FAST INVEST? Then press the button below. From here, you will be taken directly to their platform, where you can create your investment account. It only takes a few moments to sign up:
How safe is FAST INVEST?
The security of FAST INVEST primarily depends mainly on 4 things; how safe the investments are, how trustworthy the loan originators are, how secure the platform is and how solid the company is. In the following, we, therefore, take a look at these things one by one.
How safe are the investments?
As the first safety-related thing, we have taken a look at how safe the investments you can make on the platform are. We will, therefore, take a look below at what measures the company has taken to secure the investments on its platform.
Loan originator risk
On FAST INVEST's platform, you can find different loans to invest in. These loans come from several different loan originators. It is therefore important to know how safe these loan originators are.
Unfortunately, there is currently little information about the loan originators.
The only two active loan originators we know about at this moment are the Russian Kviku and Polish Capital Service.
Kviku is a darling among P2P lending companies. Among others, they have been available at Mintos, Iuvo Group, and Viventor. At Mintos, Kviku has a B-rating, which is considered as:
"A company with business standing described by one or more of the following: stable but somewhat weaker financials, an average market position, adequate debt collection procedures, shorter asset quality track record, led by a management team with relevant experience, operating in a less regulated and/or uncertain environment." – Mintos' website
But as we don't know all of the company's loan originators, in our overall assessment of FAST INVEST, we have assumed that the loan originator risk is greater than it may actually be.
FAST INVEST has promised that there will be more transparency in this area in the future. At present, however, it is not changed for all loan originators, as it will require a re-negotiation with the respective lending companies. But when the existing contracts expire, new contracts are made with full disclosure.
Skin in the game
All loans at FAST INVEST are 100% pre-funded by the loan originators. In order to align loan originator and investor incentives, it is required that the loan originators retain at least a 5% stake in the loans. This means that if a loan originator has a €1,000 loan, they must keep at least €50 of the loan themselves. The rest of the loan can then be open for you to invest in.
This ensures that the loan originators have skin in the game, and thereby only underwrite good loans.
How secure is the platform?
As part of our FASTINVEST.com review, we have also taken a look at how secure the platform is. Here, FAST INVEST has made some great security measures.
Two-factor authentication
One of the most important things, when you have an investment account online, is that it is properly protected. One does not want strangers to have access to their account, and thereby abuse one's money.
Here two-factor authentication probably is the best way possible to protect you from extraneous login attempts to your account. Therefore, we took a look at whether it is possible to make use of it for account login, or not.
Here we found that it is possible to use two-factor authentication for account login on FAST INVEST.
Additional security
In addition to two-factor authentication, a number of additional security measures have been taken on the platform.
Among other things, users can only send money to and from bank accounts in their own names.
In addition, FAST INVEST also has an automatic system that checks its users' activity logs. If situations arise with suspicious behavior then a specialized team of selected security experts in the company investigates the situation. If fraud is suspected, the account is deactivated.
Last but not least, customer service will also contact their users to verify transactions if a transaction exceeds a specific amount of money.
All in all, a lot of security measures have been made on the platform to protect you as an investor.
How solid is FAST INVEST LTD?
Over the years, there has been some controversy with FAST INVEST as a company. That's why we, in this FAST INVEST review, have taken a look at how solid the company behind the platform really is.
First and foremost, it's important to mention the fact that FAST INVEST LTD, which is registered in the UK, has been profitable over the past few years. Therefore, it's unlikely that things like the company going into bankruptcy could damage investors anytime soon.
Through a conversation with a representative from the company, we also found that necessary measures had been set up to protect investors' money in the event that FAST INVEST goes bankrupt. Here the company will distribute all loans and investments to appropriate authorities.
Therefore, investors at FAST INVEST should still receive the repayments from the loan originators since the mentioned situation does not free the borrower or the loan originator from the obligations to investors at FAST INVEST.
What you can do to invest safely
FAST INVEST has done a lot to make it safe for its investors to invest through its platform. Of course, there are some things that could be better. This is almost always the case with relatively new FinTech companies. But to make it more secure to invest via FAST INVEST, there are actually some things you can do yourself:
Invest in loans with a buyback guarantee
Ensure that you diversify between more than just a few loans
Invest in loans from more than one loan originator
It is a great idea to invest in buyback guarantee loans. This way, you ensure that your funds are secured if a borrower cannot repay.
In addition, it is super important that you invest in more than just a few loans. Because even if you invest in a buyback guarantee loan, keep in mind that a guarantee is only as secure as the one behind it.
Last but not least, we also believe that it is a good idea to invest in loans from several loan originators. If something goes wrong with one of the loan originators, you do not have all your eggs in a basket.
It may seem like a lot to concentrate on at once. However, here you can advantageously use FAST INVEST's auto-invest function. It makes it easy to invest more safely.
So, how you use the platform actually influences how secure an investment experience you will get.
Best FAST INVEST alternatives
Are you unsure if FAST INVEST is the right platform for you, after reading this FAST INVEST review?
There are hundreds of P2P platforms out there, which can make it hard to determine if you have found the best platform or if you should look for other FAST INVEST alternatives.
The main categories for P2P platforms are consumer loans, real estate, and business loans.
Here are the best FAST INVEST alternatives right now:
There are many reasons why you should consider a FAST INVEST alternative.
First and foremost, you might not find that FAST INVEST suits your investment needs. When it comes to P2P lending sites, every P2P investor has different needs. It's therefore crucial that you understand your main investment criteria and find a platform that matches.
It can also be a good idea to consider FAST INVEST alternatives to simply diversify your investments across more than one platform and reduce your overall platform risk. This can also be done with different types of platforms, like the ones you can see above.
Conclusion of our FAST INVEST review
We currently don't believe that FAST INVEST is a secure platform for investing your money, as the platform has a lot of late withdrawals and lags in transparency.
For example, a P2P investment platform like FAST INVEST should disclose which loan originators you take over the loans from, as is seen from, among others, Mintos and Bondster.
Unfortunately, they do not do so at the time of writing. Therefore, this also resulted in a reduction of our overall rating for FAST INVEST.
Besides the lack of transparency about who the loan originators are, the platform does also have a lot of late withdrawals, which is also a huge red flag.
Currently, the only real good thing about the platform is the auto investment features on the platform, as well as the good user interface.
Do you feel that the platform is for you after reading our FAST INVEST review? Then click on the button below to be taken directly to their website. Here you can open an investment account in order to start investing at FAST INVEST: