Iuvo Group review 2023
Check out our Iuvo Group review, and see if the platform is for you.
Iuvo Group
Iuvo Group review summary:
Iuvo Group is one of the most safety-oriented P2P lending platforms on the market. For example, it is required for loan originators on the platform to keep 30% of their loans themselves. On other platforms, this number is around 5-10%. Iuvo is one of the best platforms for more conservative investors who want to do P2P investing.
It's 100% free to open an account
Introduction to our Iuvo Group review
If you had asked investors in the P2P community to name the first P2P platform that came to their minds in the past few years, Iuvo Group would probably not be the first one to get mentioned.
However, as investors are increasingly looking for more conservative platforms, Iuvo has actually gained A LOT of traction over the past years. But is it really worth using their platform? We decided to investigate.
So if you are considering investing through the platform, we recommend that you read this Iuvo review first. Because here we take a look at whether or not it's worth using Iuvo Group. We promise you will get a better feel for the platform through our review.
Our Iuvo Group review ended up being a bit long. You can, therefore, choose to use the navigation below to find exactly what you are looking for. Of course, you are also welcome to read the entire review. However, don't consider the content of this Iuvo Group review as financial advice. Everything mentioned in this review is only an expression of our own opinion.
Learn about the following in our Iuvo Group review:
What is Iuvo Group?
Iuvo Group is a Peer-to-Peer investing platform, where investors can invest in loans coming from multiple lending companies across Europe.
All loans are covered by a buyback guarantee, which will be explained later in this review (here).
Iuvo Group was launched in 2016 and is based in Tallinn, Estonia. Since the launch, an ever-increasing number of loans have been funded on the platform.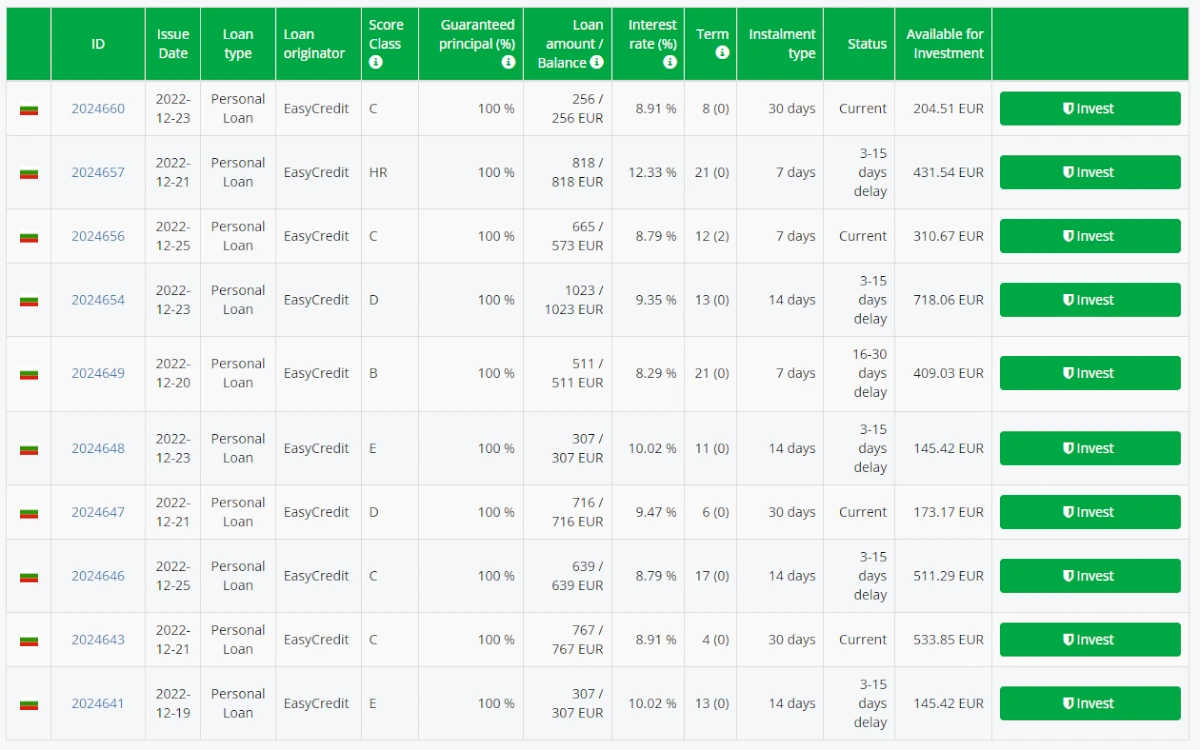 The platform has also been able to attract a substantial amount of investors. At present, you will be able to find north of 34,500 investors on Iuvo.
It doesn't require a lot of capital to be able to join the other investors on the platform. With as little as the minimum investment of €10, it is actually possible to start investing in the primary market.
Iuvo Group statistics:
| | |
| --- | --- |
| Launched: | 2016 |
| Investors: | 34,500 + |
| Interest rate: | 5 – 15 % |
| Loan period: | 1 – 60 months |
| Loan type: | Consumer |
| Loans funded: | € 649,000,000 + |
| Min. investment: | € 10 |
| Max. investment: | Unlimited |
Iuvo Group FAQ:
Iuvo Group Trustpilot reviews:
A lot of investors have left an Iuvo-Group.com review on Trustpilot. Iuvo is doing okay on Trustpilot. Currently, the platform is rated at 3.7/5 stars on Trustpilot.
Compared to some of the best P2P lending sites, Iuvo's rating on Trustpilot is a bit low.
Some of the bad Iuvo reviews are due to investors due to many delayed loans and many loan defaults on the platforms.
If this is a concern to you, it might be worth checking out PeerBerry instead. This platform has very few late loans. Learn more in our PeerBerry review.
With an average rating based on 510 reviews, Iuvo Group could still be worth considering.
Main features
In the following part of our Iuvo Group review, we will explain some of the main features of the platform, and why they are important for you as an investor.
1. Buyback guarantee
There is a buyback guarantee on all loans on the platform. The buyback guarantee will come into play if a loan is more than 60 days overdue. This means that the buyback guarantee is activated on day 61 from the date of the first unpaid installment.
Here, the lending company will have to buy back the loan from you as an investor. This only includes the invested principal. So any accrued interest will not be paid.
This feature is especially beneficial to you since it is expected that some short-term loans will default. So in your day-to-day investing, you won't have to take those losses.
However, in the case that the lending company behind a buyback guarantee goes bankrupt, the guarantee itself gets useless as there is no one to cover the loan anymore. Therefore, you must remember that a buyback guarantee is only as solid as the one behind it.
But if you look at the loan originators at Iuvo Group, they are all actually pretty solid, and most of the loan originators have been profitable for multiple years.
2. Iuvo secondary market
The second feature we want to mention in this Iuvo Group review is the secondary market. A secondary market is a place where investors can trade with each other. So whether you are interested in buying or selling loans, this feature might be useful to you.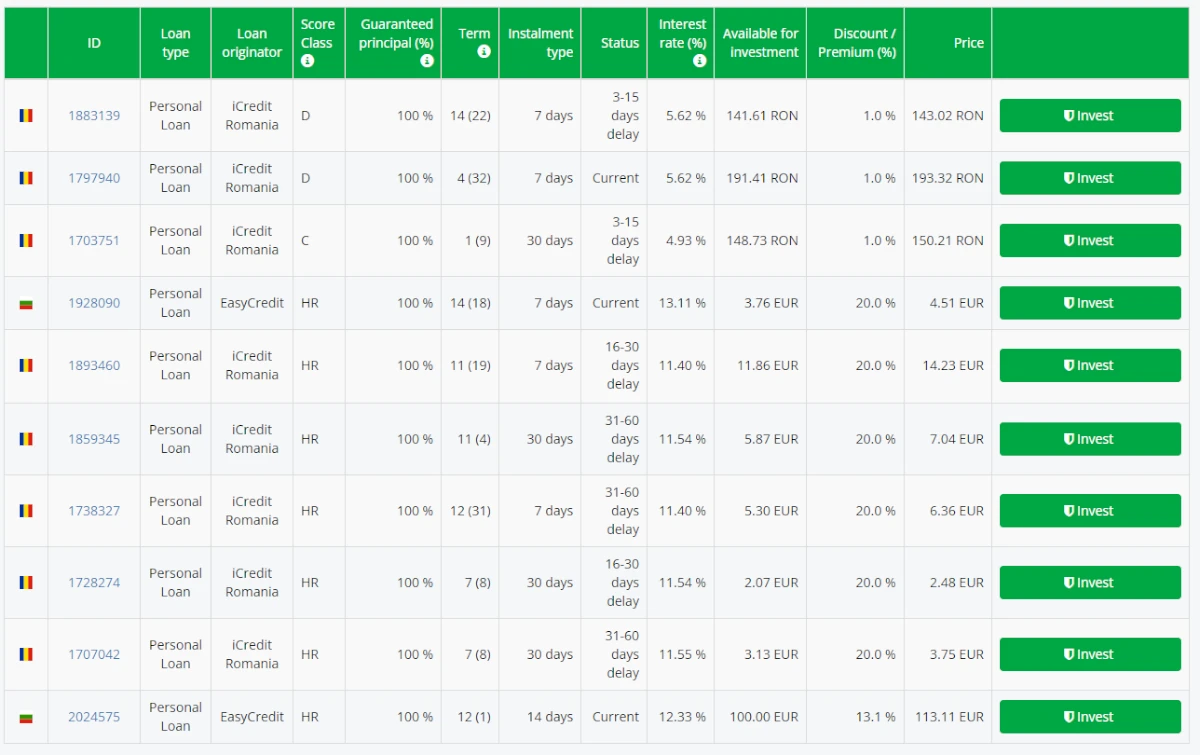 The primary reason people use a secondary market is to sell their loans ahead of maturity. So if you for any reason are going to need your money before your investments are fully paid back, you can choose to sell them on the secondary market.
If you decide to sell your investments on the secondary market, you can do so both by adding a premium or a discount to what you initially invested in your loan. However, keep in mind that there is a fee of 1% of the announced price for selling loans on Iuvo.
If you want, you can also use the secondary market to scoop up some discounted loans and thereby increase your overall return. Unfortunately, this is not possible to do with auto-invest, so you will actually have to go to the secondary market yourself to do so.
3. Iuvo Group auto-invest
Another of the many good things about Iuvo Group is the auto-invest feature you will be able to find on the platform. This feature allows you to put your investments on autopilot, which means that you can invest without having to select new loans to invest in every time one of your existing loan investments expires.
In order to use the Iuvo auto-invest feature, you can follow the steps below:
Make sure you are logged in
Click "Auto Invest"
Click "Create new Auto Invest portfolio"
From here, you can set up an auto-invest strategy that suits your investment goals.
Among other things, you can decide how much you maximally want to invest in each loan as well as what interest rate you expect to see from your investments.
You can also select which loan originators you are interested in – which is great if you only have faith in some of them. Later in this Iuvo review, we will go more in-depth with the loan originators and the quality of these.
Do you want to know more about Iuvo auto-invest? Then check out the website for more information.
What rate of return can you expect?
On Iuvo, the interest rate ranges from 5% to 15% depending on which loan originators and which loans you choose to invest in. However, on average investors receive a 9.20% annual return.
But if you want two-digit returns, you can simply adjust auto-invest to only invest in loans with high interest rates. If you do this, it's more than possible to achieve returns in the range of 10–12% even if you get some loan defaults. However, only investing in high-interest rate loans will also increase your overall risk.
The return on Iuvo Group is a bit lower than what can be found on high-yielding platforms like Lendermarket, Swaper, and Esketit.
Who can invest via Iuvo Group?
It is possible for both private individuals and companies to invest via the Iuvo platform.
Individuals
To create an account as an individual, you must meet the following requirements:
Be a least 18 years old
Have a bank account in the EU or in countries that have AML/CFT systems equivalent to those in the EU.
If you meet the above requirements, it is easy to get started at Iuvo Group. Simply follow the steps below, and then you should soon be able to invest:
Add funds to your account
Invest in loans from the loan list
Companies
It is also possible for companies to invest via Iuvo. After having clicked "register" on their website, simply select "company" instead of "individual" in the signup form. This will give you a slightly different registration form. But from here, the user creation process is straightforward.
Available countries
Iuvo Group has investors from 166 countries, which are marked in green on the image below: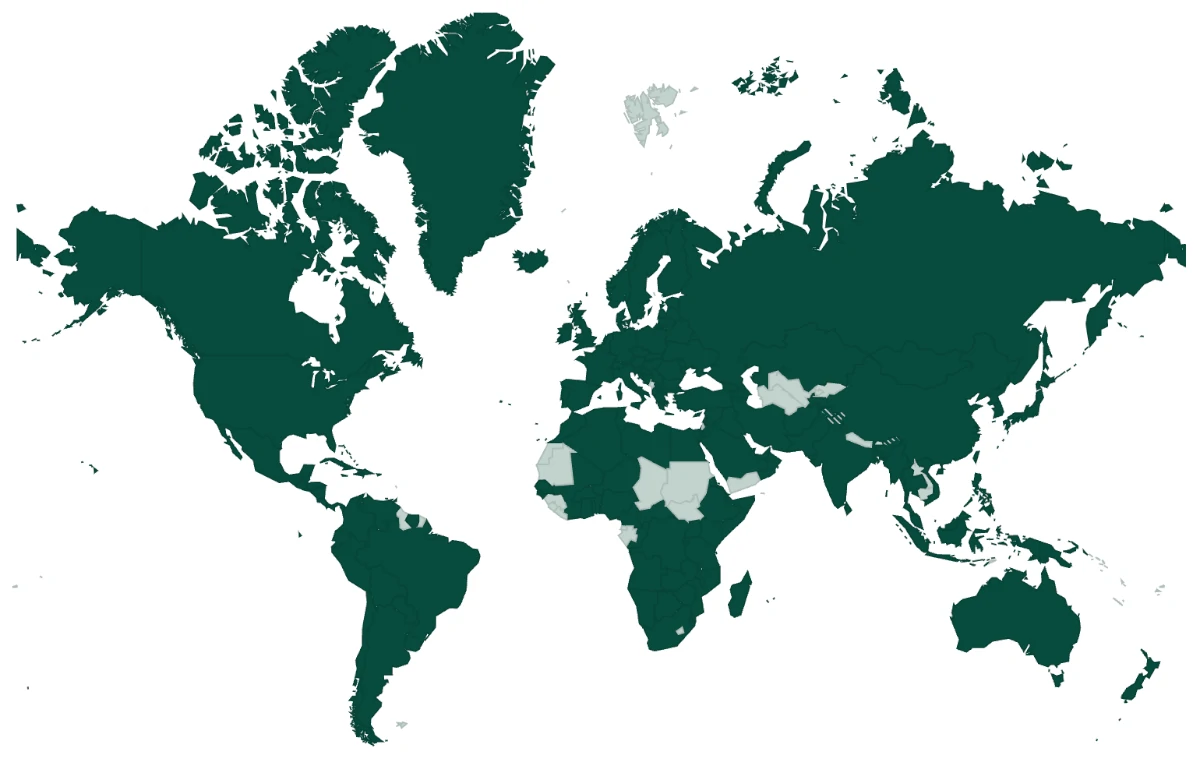 If you are from one of these countries, you should be able to invest via the platform.
However, if you are from outside of the EU, you might have to use electronic money services like Transferwise, Paysera, or Revolut to deposit money into your account.
If you are in doubt with regard to how you can invest, we recommend that you contact Iuvo Group. You can find the contact information on the website.
Do you meet the requirements to sign up as an investor at Iuvo Group? Then press the button below to get to their website. From here you can quickly create yourself a free account and get started investing:
How safe is Iuvo Group?
One of the most important things when investing your money online through Peer-to-Peer investment sites is that security is in order. Therefore, in this Iuvo Group review, we have taken a look at the security on their platform. We have looked at the following 2 areas; how safe the investments are, and how solid the company is.
How safe are the investments?
The first thing we looked into when creating this Iuvo review, is how secure the investments are.
Loan originators
On Iuvo's platform, you will be able to find quite a few loan originators: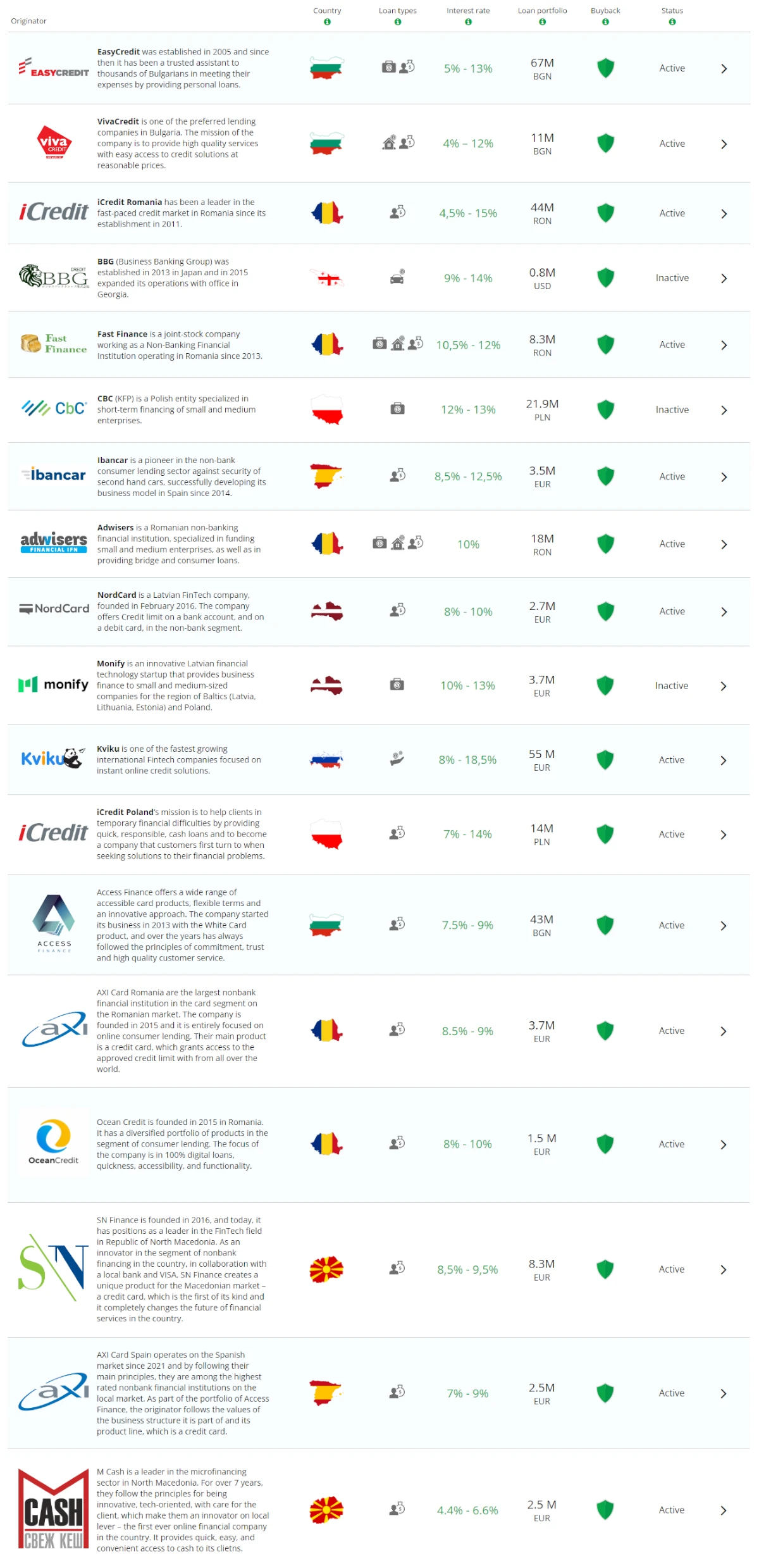 All these loan originators have both been profitable for extended periods of time. They are also regulated by relevant regulators.
Compared to a lot of other P2P platforms, the loan originators on Iuvo are required to keep a larger stake in their loans to themselves. This stake is also referred to as "skin in the game". On Iuvo Group's platform, loan originators are usually required to have 30% skin in the game, while other platforms usually only require about 5-10%. The large stake the lending companies are required to keep to themselves is a great sign for investors. This makes the interests of both the lending companies and the investors very aligned.
If you go to Iuvo's website, you will be able to find these loan originators and have a closer look at them yourself. Here you can find an overview of the company, what they offer in the marketplace, as well as check out the financial reports of each loan originator.
The following example is from Easy Credit, which is the first and largest loan originator on Iuvo: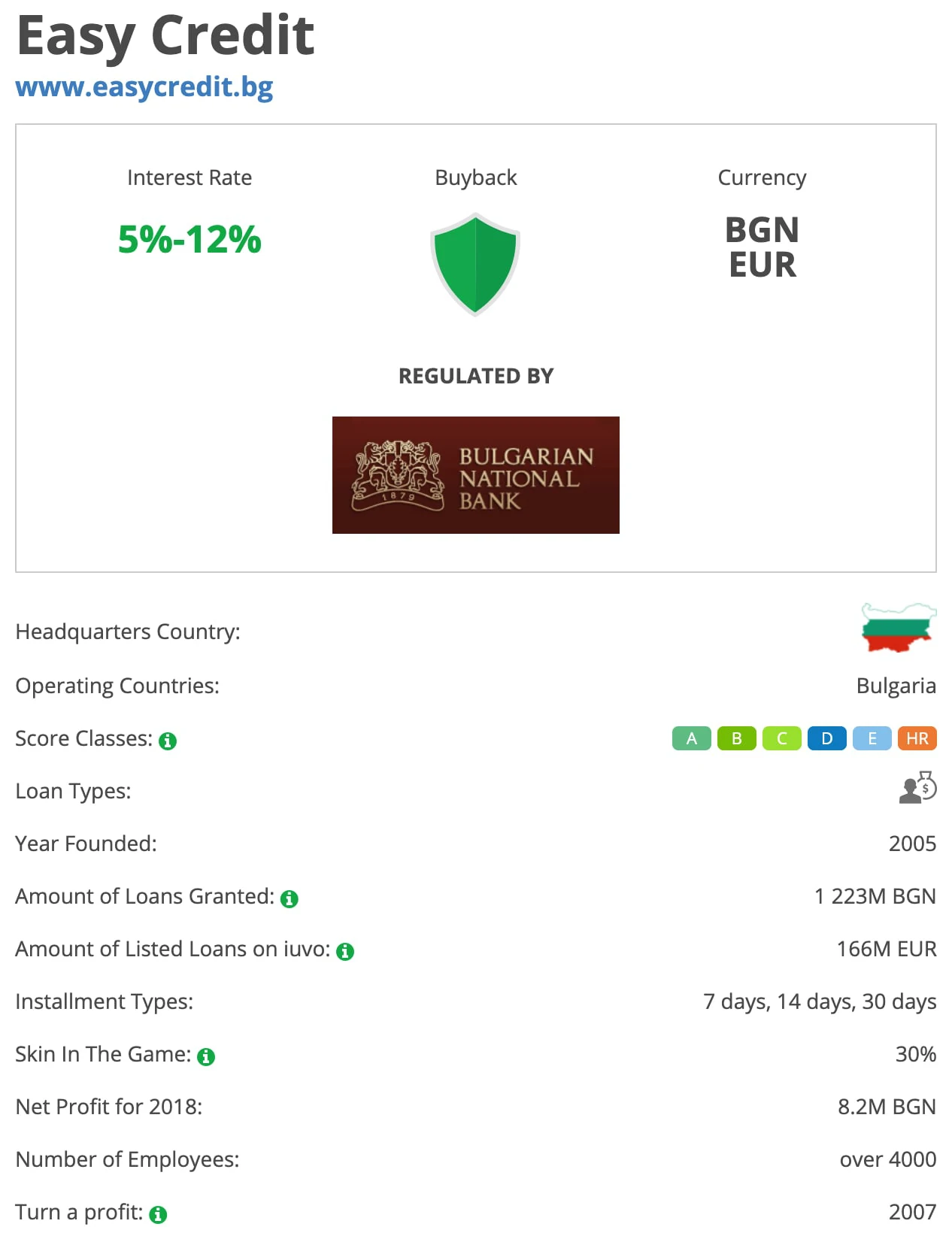 This loan originator has existed since 2005 and managed to turn in a profit in 2007. As of 2018, they are still profitable. If you look at some of the other loan originators you will get a similar picture.
Overall we think that Iuvo is very good at selecting loan originators and also handles the loan originator risk very well. The fact that they are very selective has meant that they do have not a huge amount of loan originators like the popular and well-known platform Mintos – which you can learn more about in our Mintos review. However, even though they have many more originators on Mintos, they are not all profitable as in the case of Iuvo Group.
You can learn more about the loan originators on the platform by visiting Iuvo's website.
Buyback guarantee
On Iuvo, all loans are covered by a buyback guarantee. This means that your investments will be bought back by the loan originators if the borrower doesn't repay before the loan is over 60 days overdue.
As previously mentioned in this Iuvo review, a buyback guarantee is only as solid as the one behind it. But if you look at the loan originators at Iuvo Group, they are all pretty solid, and most of them have been profitable for multiple years. We believe that the chance of a loan originator going bust on Iuvo, and you thereby losing your buyback guarantee, is much smaller than on some competing platforms – but this is only our opinion.
How solid is Iuvo Group OÜ?
Iuvo Group OÜ is a part of Management Financial Group, which employs over 8,300 people.
The fact that the company is a part of an experienced and large company gives us confidence that Iuvo is in a very solid position as a company.
Best Iuvo Group alternatives
Are you unsure if Iuvo Group is the right platform for you, after reading this Iuvo Group review?
There are hundreds of P2P platforms out there, which can make it hard to determine if you have found the best platform or if you should look for other Iuvo Group alternatives.
The main categories for P2P platforms are consumer loans, real estate, and business loans.
Here are the best Iuvo Group alternatives right now:
There are many reasons why you should consider an Iuvo Group alternative.
First and foremost, you might not find that Iuvo Group suits your investment needs. When it comes to P2P lending platforms, every P2P investor has different needs. It's therefore crucial that you understand your main investment criteria and find a platform that matches.
It can also be a good idea to consider Iuvo Group alternatives to simply diversify your investments across more than one platform and reduce your overall platform risk. This can also be done with different types of platforms like the ones you can see above.
Conclusion of our Iuvo Group review
It is our opinion that Iuvo Group is one of the P2P platforms that is pickiest when it comes to selecting loan originators. This is due to the fact that all of the loan originators on the platform have shown great performance and are all profitable.
This contributes to making the investments safer on the Iuvo than at most other competitors as there is more substance behind the buyback guarantees.
It is possible to achieve a two-digit return on the platform, but the more conservative approach to selecting loan originators is overall a bit at the cost of the return. If you seek a higher return, it might be worth checking out EstateGuru or Mintos instead.
It is also great that it's possible to invest on the platform from across the world, and that you can automatically invest using auto-invest. The secondary market is also great but has a 1% selling fee.
Did you enjoy our Iuvo Group review? Then consider signing up on the platform. You can do so by pressing the button below. From here, you will be taken directly to Iuvo's website, where you can sign up as an investor: