Lendermarket review 2023
Read this in-depth Lendermarket review to assess if using the P2P lending platform aligns with your financial goals and preferences. See an overview of our analysis of Lendermarket just below:
Lendermarket
Lendermarket review summary:
Lendermarket is a good platform that offers investors an average annual return of 14.30%. Compared to other platforms there are only a few other places investors can achieve similar high returns. The platforms seem quite safe as it is managed by a profitable finance group. Investors on Trustpilot have reviewed Lendermarket as one of the best-performing platforms even though there is a large part share of late loans on the platform.
It's 100% free to open an account
Introduction to our Lendermarket review
Lendermarket has recently gained traction in the P2P investment community. But is it really worth using their platform? We decided to investigate.
So if you are considering investing through the platform, we recommend that you read this Lendermarket review first. Because here we take a look at whether or not it's worth using them. We promise you will get a better feel for the platform through our review.
Our Lendermarket review ended up being a bit long. You can, therefore, choose to use the navigation below to find exactly what you are looking for. Of course, you should also be welcome to read the entire review. However, we will make you aware that the review only expresses our own opinion. Therefore, do not consider the content of this Lendermarket review as financial advice.
Learn about the following in our Lendermarket review:
What is Lendermarket?
Lendermarket is a P2P lending marketplace where investors can invest in consumer loans issued in Europe. The loans are covered by a buyback guarantee, which is a feature that will be explained later in this Lendermarket review.
Lendermarket was established in 2019 and is the sister company of Creditstar. The company behind Lendermarket is registered in Ireland.
In 2022, Lendermarket became a multi-lender. They went from only featuring loans from Creditstar to also including loans from Credory.
The loans on Lendermarket are already issued to the borrower. This means that you are in practice providing the loan originators with more liquidity when you invest in loans on Lendermarket.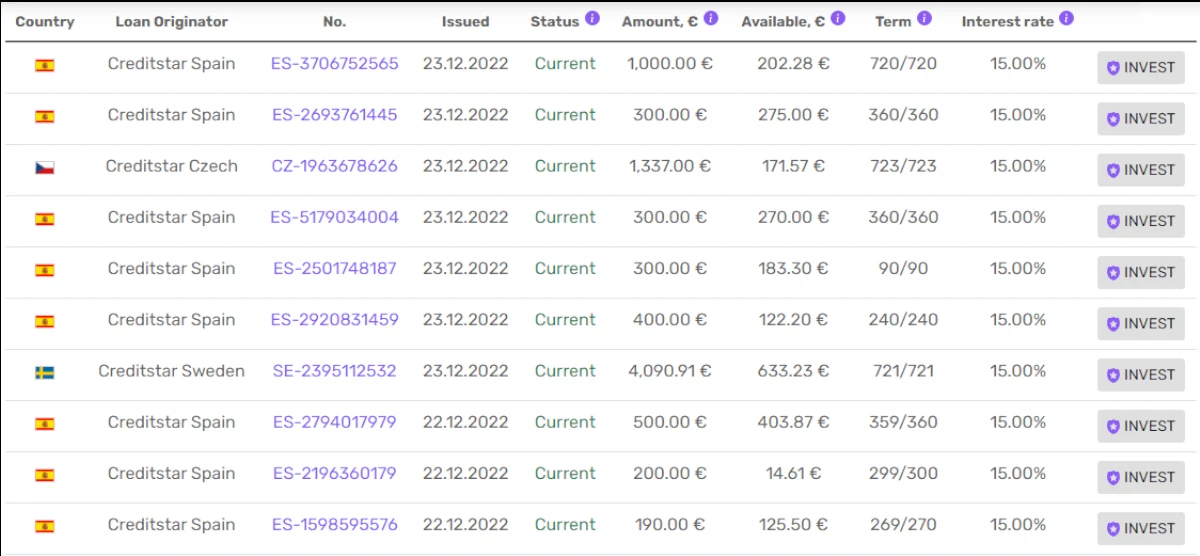 Since 2016, loans from Creditstar have been available on Mintos – another P2P platform you can learn more about in our Mintos review.
But Lendermarket was seemingly created to diversify the funding of Creditstar and expand the finance group's business operations.
There might be a chance that the popular Creditstar loans will be discontinued on other platforms as Lendermarket grows in size.
Lendermarket statistics:
| | |
| --- | --- |
| Launched: | 2019 |
| Investors: | 12,000 + |
| Interest rate: | 12 – 15 % |
| Loan period: | 1 – 80 months |
| Loan type: | Consumer |
| Loans funded: | € 300,000,000 + |
| Min. investment: | € 10 |
| Max. investment: | Unlimited |
Lendermarket FAQ:
Lendermarket Trustpilot reviews:
Lendermarket is one of the top-rated P2P lending platforms on Trustpilot. Currently, the platform is rated at 4/5 stars on Trustpilot.
Compared to other P2P lending platforms, Lendermarket's rating on Trustpilot is very high.
Many investors confirm high returns on the platform and mention it as one of the best-performing platforms. Lendermarket is endorsed for being on time with withdrawals – a thing some other platforms have struggled with. Of the bad reviews, investors worry about a large share of late loans, even though these are protected by the buyback guarantee.
With over 30 great reviews, Lendermarket could be worth considering.
Main features
In the following part of our Lendermarket review, we will explain some of the main features of the platform, and why they are important for you as an investor.
1. Lendermarket buyback guarantee
There is a buyback guarantee on all loans on the platform. The Lendermarket buyback guarantee will come into play if a loan is more than 60 days overdue. Here, the lending company will have to buy back the loan from you as an investor. This includes the invested principal as well as the accrued interest.
This feature is especially beneficial to you since it is expected that some short-term loans will default. So in your day-to-day investing, you won't have to take those losses.
However, in the case that the lending company behind a buyback guarantee goes bankrupt, the guarantee itself gets useless as there is no one to cover the loan anymore. Therefore, you must remember that a buyback guarantee is only as solid as the one behind it.
2. Lendermarket auto-invest
One of the many good things about Lendermarket is its auto-invest feature. This feature allows you to put your investments on autopilot which means that you can invest without having to select new loans to invest in every time one of your existing loan investments expires.
In order to use the Lendermarket auto-invest feature, you can follow the steps below:
Make sure you are logged in
Click "Auto Invest"
Click "Create New"
From here, you can set up an auto-invest strategy that suits your investment goals: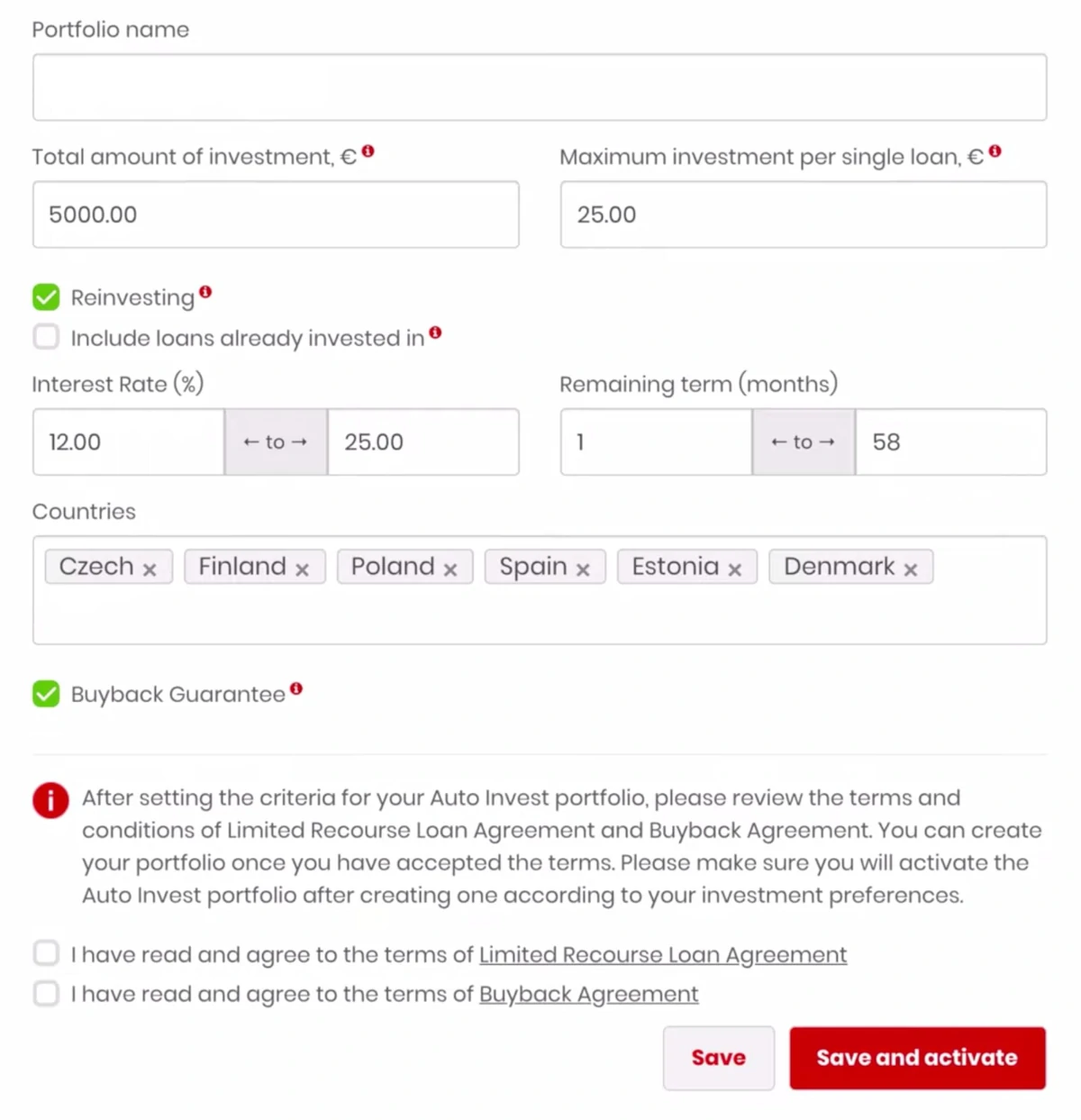 When using the Lendermarket auto-invest tool, you must first and foremost choose a name for your particular auto-invest settings.
Then, you must provide the total amount of investments you want the particular auto-invest setting to invest for you, as well as how much it must maximum invested in each loan.
We recommend that you select reinvesting, as your funds will then be reinvested automatically. However, usually, it is best to just leave "include loans already invested in" off.
You must also determine what interest rate you are going for in regard to the loans, as well as what remaining term (in months) you are looking for.
With regard to "remaining term", we have experienced getting some loans with under one month, when we have put one month as a minimum. Therefore, we also recommend that you try to apply your auto-invest settings with a small amount of your portfolio to see if everything is working as you want it to before you invest all of your funds through auto-invest. You can always make changes later.
The countries are self-explanatory, but we recommend that you invest with loans with a buyback guarantee.
To start using your Lendermarket auto-invest settings, you must check the two boxes at the bottom and click "save and activate".
Do you want to know more about Lendermarket auto-invest? Then check out their website for more information.
3. Get a 1% Lendermarket referral bonus
Lendermarket offers a 1% bonus for 60 days to all new investors that get referred to the platform.
In order to get the Lendermarket referral bonus, you can simply use the affiliate link we have received from the platform.
You can activate the 1% Lendermarket cashback bonus by clicking the button below:
4. Get up to 3% Lendermarket cashback
For a limited time only, Lendermarket offers up to 3% cashback bonus on top of the usual 14.30% to all investors.
You must deposit at least €1,000 by January 3, 2023 and keep the funds invested until March 3, 2023.
Now is a great time to Lendermarket! Click on the button below:
What rate of return can you expect?
On Lendermarket, you will usually be able to get an average return of around 14.30% on loans.
Sometimes Lendermarket offers campaigns that will give you a higher yield. For example, they had a +2% interest campaign when we initially wrote this Lendermarket review.
Compared to other popular P2P platforms like VIAINVEST, NEO Finance, and EstateGuru, the return on Lendermarket is much higher.
Previously, it has been possible to sometimes get higher returns on the popular Creditstar loans using other platforms than Lendermarket. But this changed in 2021 when Lendermarket announced that they would from now on both offers the highest returns and the biggest variety of Creditstar loans among all the P2P platforms.
Who can invest via Lendermarket?
It is possible for both private individuals and companies to invest on the Lendermarket platform.
Individuals
To create a user as an individual, you must meet the following requirements:
Be a least 18 years old
Having a bank account in the European Economic Area, UK or Switzerland
and have their identity successfully verified by the Lendermarket team
If you meet the above requirements, it is easy to get started at Lendermarket. Just follow the steps below, and then you should quickly be up and running:
Add funds to your account
Invest in loans from the loan list
Companies
It is also possible for companies to invest via Lendermarket. When you sign up on their website, simply select "company" instead of "individual" in the signup form. This will give you a slightly different registration form. But from here, the user creation process is straightforward.
Available countries
While it is not everyone that can use Lendermarket, it is quite easy to find out whether or not the platform is available in your country. If you go to Lendermarket's website, you can simply click "register" and then, under "country of residence", you can search for your country. If it shows up, you can invest. You won't have to provide any information like your email, so if you are unsure if you can invest, we recommend that you investigate this before you spend more time reading this review.
Do you meet the requirements to sign up as an investor at Lendermarket? Then press the button below to get to their website. From here you can quickly create a free account and get started investing:
How safe is Lendermarket?
One of the most important things when investing your money online through Peer-to-Peer lending sites is that security is in order. Therefore, in this Lendermarket review, we have taken a look at the security on their platform. We have looked at the following 2 areas; how safe the investments are, and how solid the company is.
How safe are the investments?
The first thing we looked into when creating this Lendermarket review, is how secure the investments are.
Loan originator risk
All loans on Lendermarket come from the lending companies Creditstar and Credory.
So when you are investing in loans on Lendermarket, you are exposed to risk from two different loan originators.
Creditstar has existed since before the financial crisis in 2008 and has been profitable for many years.
Credory is an Estonian SME-financing company specializing in real estate-backed loans. This means that the loans are secured with collateral.
You can compare Lendermarket to other Peer-to-Peer lending sites here.
Buyback guarantee
On Lendermarket, you will be able to get your loans covered by a buyback guarantee. This means that your investments will be bought back if the borrower doesn't repay the loan and it is 60 days overdue.
But as previously mentioned in this Lendermarket review, a buyback guarantee is only as solid as the one behind it – which in this case is Creditstar. Risks associated with Creditstar can materialize and affect your investments.
How solid is the company?
Lendermarket Limited is a very new company that started operating in May 2019. Therefore, it is also difficult to come up with a complete assessment of how solid the company really is. However, they are a part of a big profitable finance group which is a huge plus.
We, therefore, believe that Lendermarket has good conditions for becoming a large P2P platform.
Best Lendermarket alternatives
Are you unsure if Lendermarket is the right platform for you, after reading this Lendermarket review?
There are hundreds of P2P platforms out there, which can make it hard to determine if you have found the best platform or if you should look for other Lendermarket alternatives.
The main categories for P2P platforms are consumer loans, real estate, and business loans.
Here are the best Lendermarket alternatives right now:
There are many reasons why you should consider a Lendermarket alternative.
First and foremost, you might not find that Lendermarket suits your investment needs. When it comes to P2P lending platforms, every P2P investor has different needs. It's therefore crucial that you understand your main investment criteria and find a platform that matches.
It can also be a good idea to consider Lendermarket alternatives to simply diversify your investments across more than one platform and reduce your overall platform risk. This can also be done with different types of platforms like the ones you can see above.
Conclusion of our Lendermarket review
Lendermarket is a good platform that offers investors an average annual return of 14.30%. Compared to other platforms there are only a few other places investors can achieve similar high returns.
Lendermarket is managed by a profitable finance group and seems like a safe platform.
Lendermarket has a great rating on Trustpilot with 4/5 stars. This TrustScore is high compared to a lot of other P2P lending platforms.
Judging by Trustpilot reviews from investors, Lendermarket is a great performing platform with a high ROI. But some investors on Trustpilot favor PeerBerry and Robocash over Lendermarket as they have more liquidity and fewer late loans.
The late loans will be bought back by the loan originators due to the buyback guarantee. But too many late loans can still pose a risk for investors. You should consider this point carefully before investing via Lendermarket.
With that said, Lendermarket is one of the best P2P lending sites right now for short-term lending. The return is staggering.
Do you want to sign up after reading this Lendermarket review? Click the button below to visit the website where you can become an investor: