NEO Finance review 2023
Read our NEO Finance review, and learn if the platform fits you.
NEO Finance
NEO Finance review summary:
NEO Finance is one of the best P2P lending platforms in Europe for investing in consumer loans. The platform with a lot of pros and very few cons. One of the limitations of NEO Finance is the fact that you can only invest in loans from Paskolų Klubas on the platform. Compared to other P2P lending platforms, NEO Finance is much more transparent about its operations. Overall, we were extremely pleasantly surprised by NEO Finance, and it is our opinion that the platform is very underrated for European P2P investors.
It's 100% free to open an account
Introduction to our NEO Finance review
NEO Finance has been one of the least-mentioned P2P platforms in Europe. And with just a few NEO Finance reviews, we decided to take a closer look at the platform.
In this NEO Finance review, you can learn more about what the platform is, how it differs from other platforms, and whether NEO Finance is at all safe to use.
Before you embark on reading about our experiences, we will draw your attention to the fact that this NEO Finance review only expresses our opinion and experience. Therefore, nothing you read on this page should be interpreted as financial advice.
Learn about the following in our NEO Finance review:
What is NEO Finance?
NEO Finance, also known as Paskolų klubas, is the largest P2P lending platform in Lithuania. Through the platform, you can invest in consumer loans for Lithuanian consumers with as little as €20.
The average loan amount for borrowers on NEO Finance is €3,438; the average loan term is 63 months.
The platform has been around since 2015, and since then there has been a constant increase in granted loans: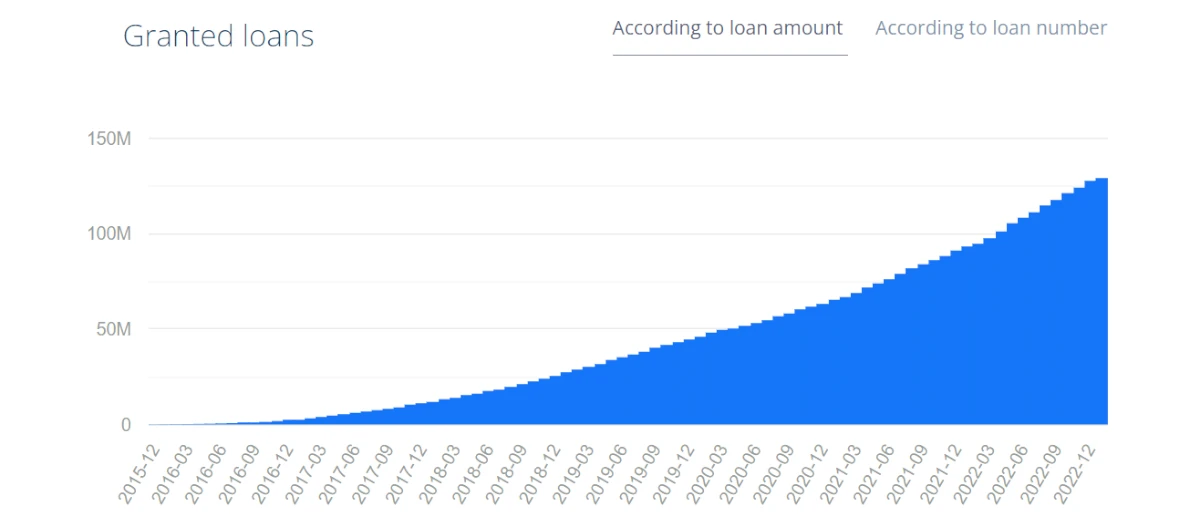 At present, NEO Finance has over 14,100 active investors on its platform. And every day, new investors are joining. NEO Finance is thus a platform in rapid development.
NEO Finance held a successful IPO from May 15 to June 4, 2019. It sold 192,907 shares, raising a total of €605,728. Today, the stock is traded on Nasdaq Vilnius. You can see the current share price here.
The fact that the crowdlending company is now publicly traded gives it a lot of credibility.
NEO Finance statistics:
| | |
| --- | --- |
| Launched: | 2015 |
| Investors: | 14,000 + |
| Interest rate: | 5 – 27 % |
| Loan period: | 1 – 120 months |
| Loan type: | Consumer |
| Loans funded: | € 129,400,000 + |
| Min. investment: | € 20 |
| Max. investment: | € 500 |
A loan originator itself
NEO Finance differs from platforms such as Mintos, FAST INVEST, and PeerBerry by not being a marketplace, but actually being a loan originator itself.
This means that there are fewer intermediaries, which theoretically should give you a higher return.
At the same time, you will also find that you get much more control on the platform.
Among other things, there is more insight into who the borrowers are than what you get at P2P marketplaces.
Thus, you can also be incredibly specific with whom you would want to lend.
NEO Finance FAQ:
NEO Finance Trustpilot reviews:
A decent chunk of investors has shared their experience with NEO Finance on Trustpilot.
The company has ended up with an average rating:
This rating is lower than what some of the other platforms like Debitum and VIAINVEST have managed to achieve.
Yet we think that the platform is worth taking a further look at:
Main features
In the following part of this NEO Finance review, you can learn more about the different features of the platform.
1. NEO Finance buyback guarantee
All loans rated A+ are 100% covered by the NEO Finance buyback guarantee.
This means that 100% of a loan is repurchased by NEO Finance if the loan defaults.
If you invest in loans rated A-C, your investments are only partially covered by the buyback guarantee. How each loan is covered depends on the credit rating and the offer expiration date.
If you want your loans fully covered in the event of a loan default, you must invest in loans rated A+.
2. NEO Finance auto-invest
On NEO Finance you can invest automatically with the auto-invest feature. The platform has one of the most extensive auto-invest builders in the market. NEO Finance makes it possible to choose from more than just the most standard things, such as the return you want and the creditworthiness of the borrower.
In fact, you can choose to go so specifically that you only invest in loans offered to married women with a master's degree wishing to take out a loan for real estate purchase.
Setting up an auto-invest strategy:
The setup of an auto-invest strategy takes place in three steps:
Step 1: Entry of the proposal
First of all, you need to set up your auto-invest strategy. As a starting point you can make use of the following criteria: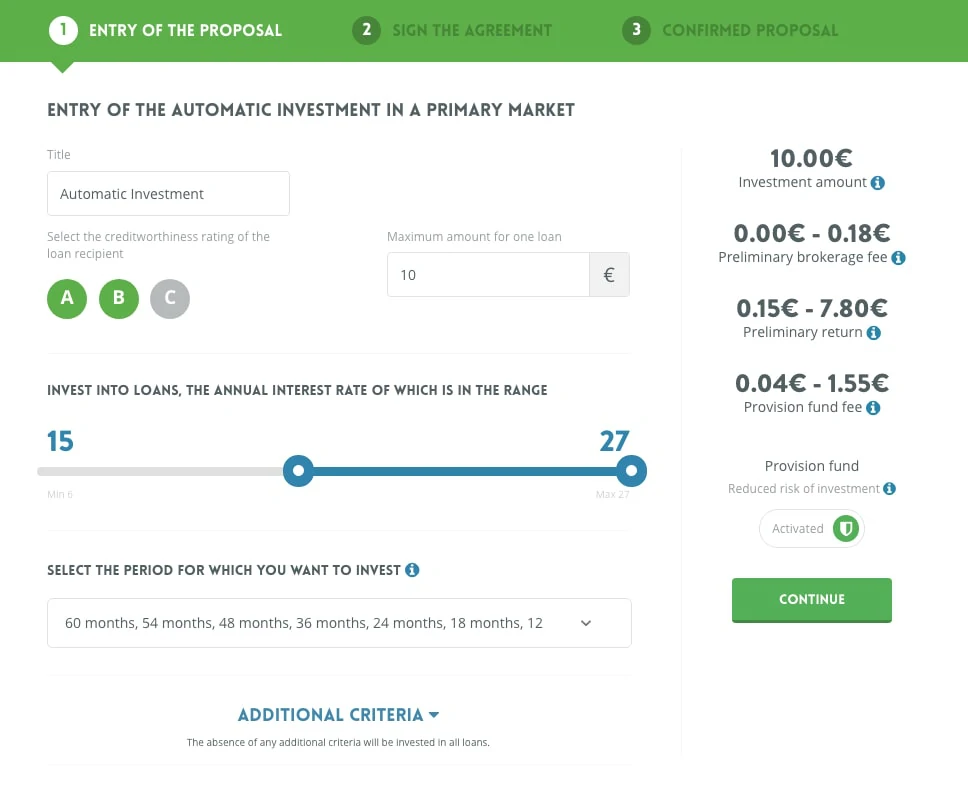 If you want to make a more specific automatic investment strategy, then you can tap on "additional criteria" to become very specific with who you want to borrow money.
Click "continue" when you are satisfied with your automatic investment strategy.
Step 2: Sign the agreement
Then you must sign the agreement. There is quite a lot of legal text to read here. If you are one of those people who want to be absolutely sure of what you sign, then set aside 15-30 minutes to review the agreement.
The content of the agreement basically means that NEO Finance disclaims the responsibility in case your investments do not go as planned.

You sign the agreement using a code that you receive as a text message.
Step 3: Confirmed proposal
Once the agreement is signed you will be met by this screen: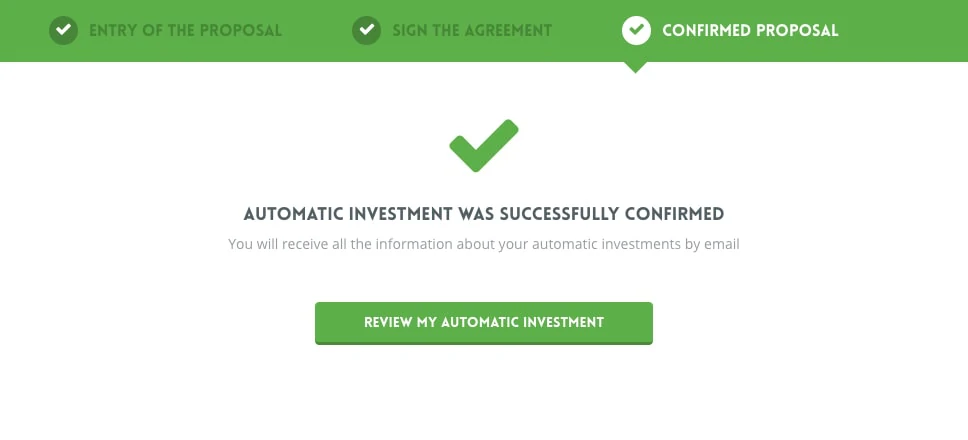 Your auto-invest strategy is now ready and confirmed.
3. NEO Finance secondary market
If you wish to withdraw your funds from NEO Finance, you must first sell the loans on the secondary market.
The NEO Finance secondary market is a place where you can trade your investments with other investments.
This allows you to make an early exit and withdraw your funds from the platform before your loans mature.
What rate of return can you expect?
At NEO Finance, it is possible to invest in loans with a total interest rate of 5-27%.
With that said, investors on the platform achieve an average return of around 12%. As this is only the average, it is, of course, possible to achieve both a much lower or higher return on the platform.
Here you can see the historical distribution return for investors based on the XIRR: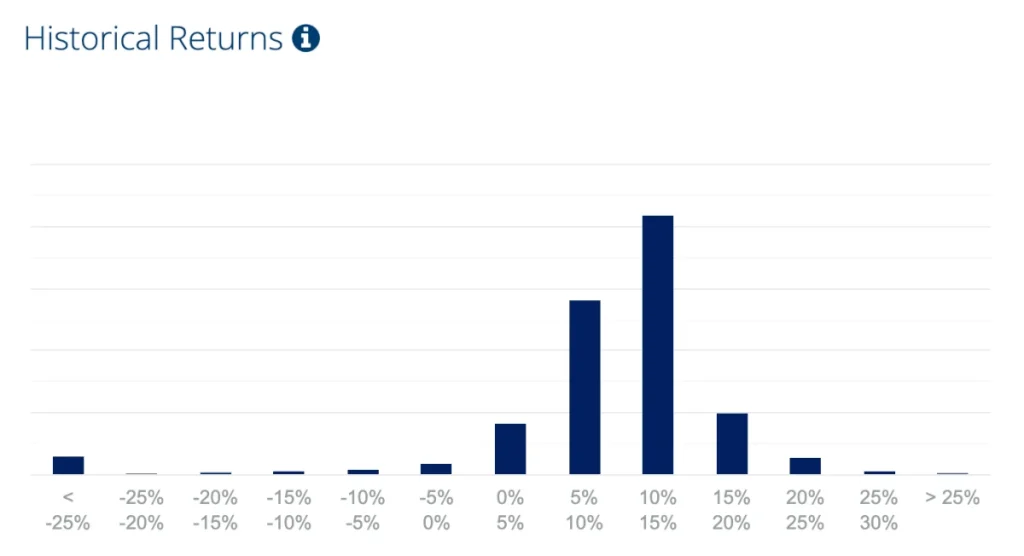 If you choose to invest exclusively in loans with an A rating, your return will naturally be lower. However, if you only choose loans with a C rating, then your return will be higher.
So, what return you end up getting depends on your risk appetite.
In recent years, the trend in the average interest rate on the individual credit ratings has been as follows: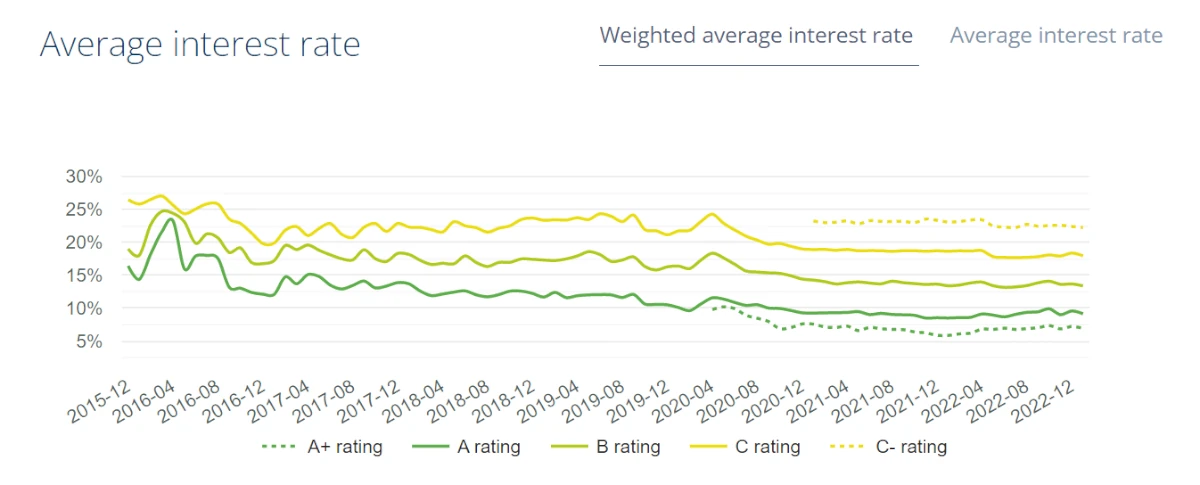 The return on NEO Finance is a bit lower than what can be found on high-yield platforms like Bondster, Lendermarket, and Swaper.
Who can invest via NEO Finance?
To be able to invest with NEO Finance, it is a requirement that you are a citizen of the European Union, or any country in the European Economic Area, with a valid passport, ID card, or mobile signature.
In order to invest at NEO Finance, you also have to be at least 18 years old or have the investments made on your behalf by a parent.
If you meet the requirements, then it should be very straightforward to sign up as an investor. Simply follow this process:
Perform an identity verification
Open an e-money account
Deposit funds
Start investing
As you can see, there are very few barriers to starting investing with NEO Finance.
Would you like to become a NEO Finance investor and do you live in one of the many countries in the entire European Union? Then press the button below and sign up. It's probably the fastest way to go from reading this NEO Finance P2P review to investing yourself:
Is NEO Finance safe to use?
A very important thing for any Peer-to-Peer lending platform is safety. In this NEO Finance review, we have, therefore, taken a look at what the company has done in that regard.
NEO Finance buyback guarantee
NEO Finance offers a buyback guarantee on their loans. However, it is slightly different from what you will find on other platforms.
Depending on the credit rating of the NEO Finance loan, the buyback guarantee covers 50-100% of the face value in case of loan default.
If you want to be fully covered in case of a loan going into default, you should only invest in loans rated A+.
NEO Finance financials
Since the buyback guarantee depends a lot on the company's solvency, we have taken a look at the latest financial reports of the company.
We have done this to find out if NEO Finance is actually profitable and whether they actually have the cash to exercise the buyback guarantees on loans if the number of defaults suddenly skyrockets.
Profitable company
In the latest annual report from 2021, NEO Finance made a net profit before tax of 179,054 EUR with an EBITDA margin of 12%.
This means that NEO Finance is a profitable company, which is a good sign for P2P investors looking to invest on a platform.
Downturn resistant platform
Although the platform is not yet profitable, NEO Finance's annual voluntary "stress test" shows that the platform will be able to get through an economic downturn with positive cash flow.
You can see more about which assumptions were made for the stress test here (Q1 2019).
NEO Finance regulation and licenses
In addition to the financial progress of NEO Finance, the platform is also at the forefront of the field when it comes to living up to regulations.
As part of this NEO Finance review, we have taken a look at what licenses the company has and what regulations it meets – and it's not a few.
Among other things, NEO Finance has:
The Electronic Money Institution (EMI) license was granted by the Bank of Lithuania.
Furthermore, the company is:
Included in the public list of consumer credit providers.
The first to be included in the public list of P2P lending platform operators.
Supervised by the Bank of Lithuania
Can I get a NEO Finance promo code?
Unfortunately, it is not possible to get a NEO Finance promo code at the moment.
How we decided to invest
We are still in the testing phase of NEO Finance. Therefore, we do not yet have any investment results to show.
We will keep you posted about our own investments.
Best NEO Finance alternatives
Are you unsure if NEO Finance is the right platform for you, after reading this NEO Finance review?
There are hundreds of P2P platforms out there, which can make it hard to determine if you have found the best platform or if you should look for other NEO Finance alternatives.
The main categories for P2P platforms are consumer loans, real estate, and business loans.
Here are the best NEO Finance alternatives right now:
There are many reasons why you should consider a NEO Finance alternative.
First and foremost, you might not find that NEO Finance suits your investment needs. When it comes to P2P lending platforms, every P2P investor has different needs. It's therefore crucial that you understand your main investment criteria and find a platform that matches.
It can also be a good idea to consider NEO Finance alternatives to simply diversify your investments across more than one platform and reduce your overall platform risk. This can also be done with different types of platforms like the ones you can see above.
Conclusion of our NEO Finance review
We have been very impressed with the NEO Finance P2P lending platform. Everything from auto-invest to the secondary market works extremely well on the platform.
Compared to other P2P lending platforms, the transparency of NEO Finance is among the best of the best. After taking a look at NEO Finance's annual reports, we also feel confident about having money on the platform, as NEO Finance is a fast-growing and profitable company.
If you are looking for a serious and trustworthy platform with a high return for investors, we believe that NEO Finance is one of the very best P2P lending platforms in Europe at the moment.
The platform is suitable for investors who are looking for higher returns than what is offered by traditional financial institutions.
NEO Finance does have some cons for investors to be aware of, including the fact that the platform is only available in Europe and that it has a relatively high minimum investment amount.
Overall, NEO Finance is a solid P2P lending platform that is suitable for investors who are looking for higher returns and who are willing to take on some additional risk.
Would you like to invest in the platform after reading this NEO Finance review? Then just click on the button below. This will take you directly to NEO Finance's site where you can sign up as an investor.