Esketit review 2023
In this Esketit review, you will get an extensive breakdown of the P2P lending platform's features, pros, and cons. You can see a summary just below or read our full analysis to help you decide if the Esketit platform is the right fit for you.
Esketit
Esketit review summary:
Esketit is one of the best P2P lending platforms in Europe for short-term lending. The platform offers investors a high average return of 13.30%. Compared to other platforms this return is extraordinary. With a Buyback guarantee and a group guarantee on loans, Esketit is quite safe. But keep in mind that not all loans are covered by the group guarantee. Investors on Trustpilot have reviewed Esketit as one of the best-performing platforms.
It's 100% free to open an account
Introduction to our Esketit review
Esketit has recently gained a lot of popularity among P2P investors. But is using the P2P lending platform truly worthwhile?
This Esketit review was created to assist investors in deciding if Esketit is the best option for them.
You should not regard any of the content of this Esketit.com review as financial advice. The review is only an expression of our opinion on the platform.
An outline of the topics covered in this Esketit review can be seen below. Simply click the links below to get to the topic you want to learn more about.
Learn about the following in our Esketit review:
What is Esketit?
Esketit is a peer-to-peer lending platform that enables investors across Europe to invest in short-term consumer loans. Esketit is owned by Creamfinance and launched in 2020.
The loans come from loan originators controlled by Creamfinance. The loans are secured by a BuyBack obligation. In certain situations, a group guarantee also applies to the loans. You can learn about these two features later in this review.
Since its launch, Esketit has become one of the fastest-growing P2P lending platforms in Europe. Today the platform has over 7,000 investors and generates an average yearly return of 13.30%.
On esketit.com, you can register an account and begin investing with as little as €10.
Esketit statistics:
| | |
| --- | --- |
| Launched: | 2020 |
| Investors: | 7,000 + |
| Interest rate: | 12 – 14 % |
| Loan period: | 1 – 3 months |
| Loan type: | Consumer |
| Loans funded: | € 137,700,000 + |
| Min. investment: | € 10 |
| Max. investment: | Unlimited |
Esketit FAQ:
Esketit Trustpilot reviews:
Esketit is one of the top-rated P2P lending platforms on Trustpilot. Currently, the platform is rated at 4.5/5 stars on Trustpilot.
Compared to other P2P lending platforms, Esketit's rating on Trustpilot is extremely high.
Many investors confirm high returns on the platform and mention it as one of the best-performing platforms. Esketit is endorsed for having great user-friendliness as well as fast withdrawals and deposits. Of the bad reviews, investors mention the high requirements for the Esketit loyalty program.
With over 97 great reviews, Esketit is worth considering for investing in P2P loans.
Main features
In the following part of our Esketit review, you can learn about the main features of the platform, and why they are important for you as an investor.
1. Esketit buyback guarantee
On the platform, every loan has a buyback guarantee. If a loan is late by more than 60 days, the Esketit buyback guarantee will kick in. In this situation, the lending firm will need to purchase the loan from you as the investor. The buyback guarantee covers both the invested principle and the accumulated interest.
Given that it is anticipated that some short-term loans would default, this feature is very advantageous to you. Therefore, you won't have to accept those losses in your regular investing.
A buyback guarantee is not risk-free. If the lender backing a buyback guarantee files for bankruptcy, the guarantee itself becomes ineffective because there is no longer a lender to cover the loan.
2. Esketit group guarantee
Esketit has put in place a group guarantee to further safeguard investors due to the possibility of loan originators going out of business and being unable to fulfill their buyback obligation.
When a group guarantee is in place for a loan and the loan originator declares bankruptcy, the Creamfinance Group is essentially required to step in and satisfy the BuyBack obligation.
The group guarantee does not apply to Jordanian loans made on the Esketit marketplace.
3. Esketit secondary market
Esketit has a secondary market where loans can be bought and sold.
If you wish to leave the platform and make an investment somewhere else, the secondary market is quite helpful.
The investors decide the price at which they want to sell their loans. This implies that loans can be sold at either a premium or a discount.
The fact that loans can be bought at a discount, allows buyers to take advantage of discounted loans on the secondary market.
On Esketit, there are no costs for using the secondary market, in contrast to many other Peer-to-Peer lending sites.
4. Esketit auto-invest
The Esketit auto-invest tool is only one of the many positive things about the platform.
With the help of the Esketit auto-invest feature, you can set your investments to run automatically, allowing you to make investments without having to choose new loans to invest in, each time one of your current loan investments matures.
In order to use the Esketit auto-invest tool, you can follow the steps below:
Make sure you are logged in
Click "Auto-Invest" in the navigation
Decide how you want to invest
You can automate your investments on the platform by using one of the Esketit strategies or by developing a custom auto-invest strategy.
Esketit strategies
Esketit has made some predefined auto-invest strategies. These are useful if you just want to get started with investing quickly.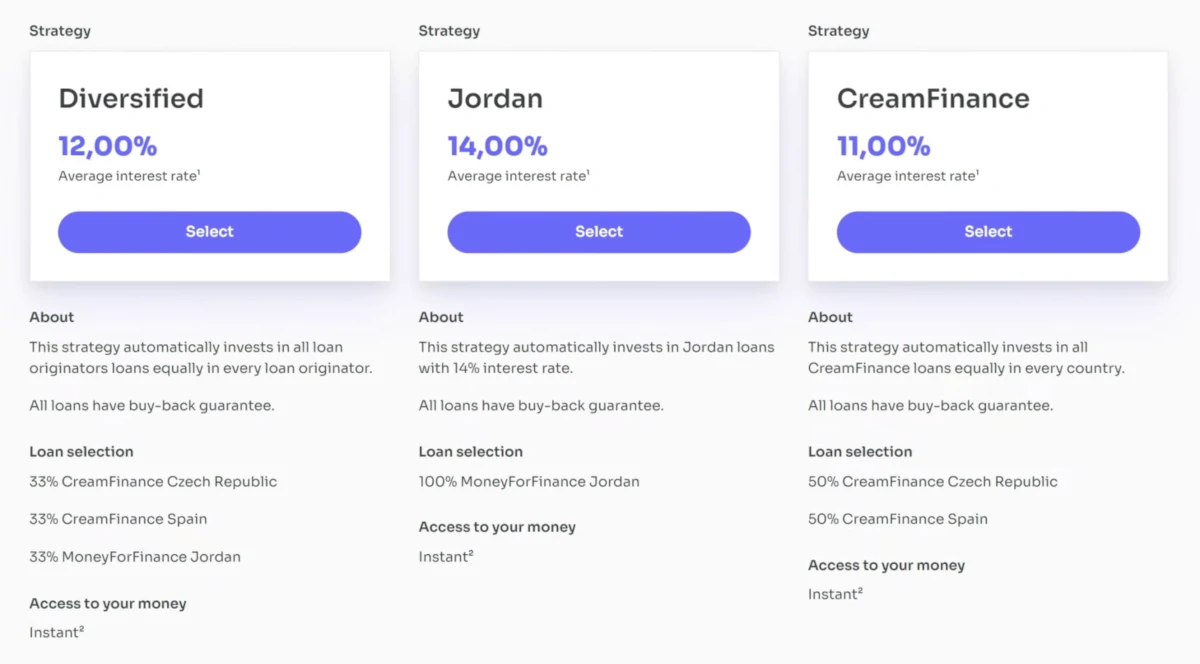 Custom auto-invest strategy
You can also make your own custom auto-invest strategy on Esketit. This is the best option if you want the most control of your investments.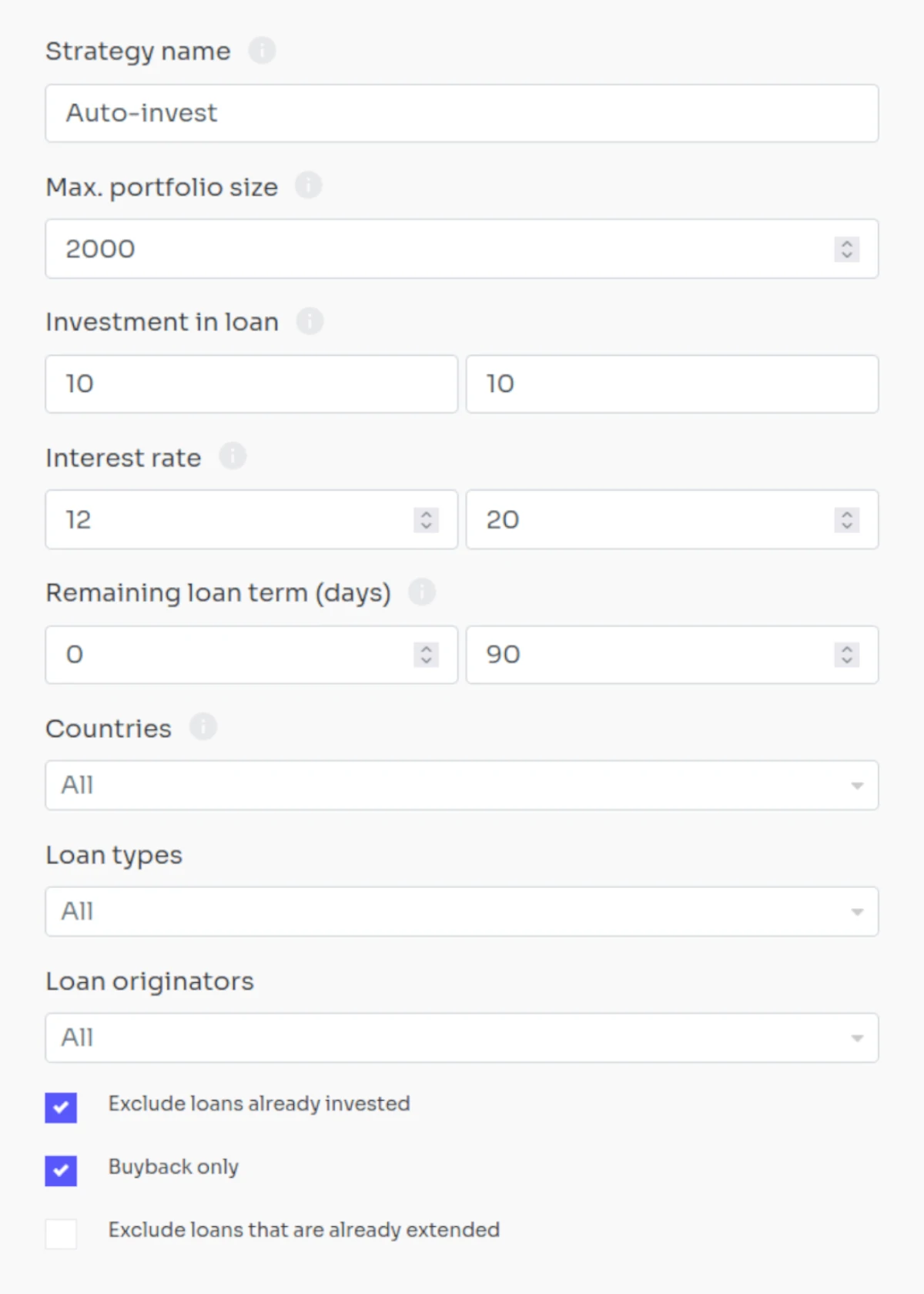 5. Esketit loyalty program
Esketit has a loyalty program for large investors. The Esketit loyalty program makes it possible to earn a higher interest depending on the loyalty status:
Gold investor status: Invest more than 25,000 EUR and get an additional +0.5% interest on loans.
Platinum investor status: Invest more than 50,000 EUR and get an additional +1% interest on loans.
It is worth noting that the loyalty bonus only applies to investments in loans from Jordan.
6. Get a 1% Esketit cashback bonus
For the first 90 days, Esketit gives new investors who are referred by its affiliates a cashback bonus of 1%.
We have included our affiliate links in this Esketit review. This means that you can click any button that goes to Esketit to activate the cashback bonus.
There is no need for a referral or promotion code to receive the 1% Esketit bonus; just click the button below:
What rate of return can you expect?
Your return depends on how you choose to invest on the platform.
The average annual return on Esketit is 13.30%. This means that you can reasonably expect a return in that range.
The return on Esketit is much higher than platforms like NEO Finance, VIAINVEST, and Mintos.
Who can invest via Esketit?
It is possible for both private individuals and companies to invest on the Esketit platform.
Individuals
To create a user as an individual, you must meet the following requirements:
Be a least 18 years old
Live in the EU
If you match the aforementioned qualifications, getting started with Esketit is simple. Simply follow the steps below, and you should be up and running in no time:
Sign up at https://esketit.com/
Add funds to your account
Invest in loans manually or create an auto-invest strategy
Companies
You can use your company, if you own one, to make investments through Esketit.
Instead of signing up as an individual, you must simply select "Company / Legal / Institutional" when creating an account.
Available countries
Esketit is available to investors in the European Economic Area (European Union, Iceland, Liechtenstein, and Norway).
If you are looking for other platforms that are available outside of Europe, you should check out Bondster or Lendermarket instead.
Do you meet the requirements to sign up as an investor at Esketit? Then press the button below to get to their website. From here you can quickly create a free account and get started investing:
How safe is Esketit?
Security is one of the most crucial factors to consider while investing money online through peer-to-peer lending websites. As a result, we have examined the platform's security in our Esketit review.
The two areas that we examined are the safety of the investments and the company's stability.
How safe are the investments?
The first thing we looked into when creating this Esketit review, is how secure the investments are.
Loan originator risk
All loans on Esketit come from lending companies owned by Creamfinance Group.
Creditair
LendOn
Money for Finance
Creditosi
The few loan originators on the platform can make it hard to achieve proper diversification and lower your loan originator risk. If this is a concern to you, it can be a good idea to also use other platforms together with Esketit.
Buyback guarantee
On Esketit, the loans are covered by a buyback guarantee. This means that your investments will be bought back if the borrower doesn't repay before the loan is 60 days overdue.
But as previously mentioned in this Esketit review, a buyback guarantee is only as solid as the one behind it. You should never rely solely on the buyback guarantee when you invest via Esketit.
How solid is the company?
Esketit is owned by Creamfinance – a highly experienced lending company with over 10 years of experience.
CreamFinance reported a €3.4 million net profit in 2021. The company behind Esketit is one of the safer when you compare it to other platforms. But still, the company can be a risk factor worth considering if you are looking to invest in P2P loans on Esketit.
Best Esketit alternatives
Are you unsure if Esketit is the right platform for you, after reading this Esketit review?
There are hundreds of P2P platforms out there, which can make it hard to determine if you have found the best platform or if you should look for other Esketit alternatives.
The main categories for P2P platforms are consumer loans, real estate, and business loans.
Here are the best Esketit alternatives right now:
There are many reasons why you should consider an Esketit alternative.
First and foremost, you might not find that Esketit suits your investment needs. When it comes to P2P lending platforms, every P2P investor has different needs. It's therefore crucial that you understand your main investment criteria and find a platform that matches.
It can also be a good idea to consider Esketit alternatives to simply diversify your investments across more than one platform and reduce your overall platform risk. This can also be done with different types of platforms like the ones you can see above.
Conclusion of our Esketit review
Esketit is a good platform that offers investors an average annual return of 13.30%. Compared to other platforms there are only a few other places investors can achieve similar high returns.
The platform is incredibly user-friendly and offers all the essential features, like auto-invest for automating your investments and a secondary market for an early exit.
With a group guarantee and a buyback guarantee, investing in loans via Esketit is quite safe. But not all loans are covered by the group guarantee. For instance, if you invest in loans from Jordan, the group guarantee does not apply to you. In order to make up for the increased risk, these loans have higher interest rates.
Esketit is managed by Creamfinance which is a highly experienced lending group with +10 years of experience and seems like a safe platform.
Esketit has an excellent rating on Trustpilot with 4.5/5 stars. This TrustScore is high compared to a lot of other P2P lending platforms.
Overall, Esketit is a very good P2P lending platform for investing in short-term loans.
Do you want to sign up after reading this Esketit review? Click the button below to visit the website where you can become an investor: