Bulkestate review 2023
Check out our Bulkestate review, and see if the platform is for you.
Bulkestate
Bulkestate review summary:
Bulkestate has come up with a magnificent platform for real estate crowdlending. In many areas, it is among the best and most simple platforms for investors interested in real estate investment. Their Group Buying allows you to invest directly in real estate. And with an average return of 14.10%, the platform is also in line with many of its competitors in terms of returns.
It's 100% free to open an account
Introduction to our Bulkestate review
With thousands of investors, Bulkestate is an interesting and notable real estate crowdfunding platform. But how secure is the platform really? We decided to take a closer look.
So if you are considering investing through the platform then our clear recommendation is that you spend some time reading this Bulkestate review. In the review, we come up with our take on how safe Bulkestate is.
Our Bulkestate review ended up being a bit long. So if you want to know something specific about the platform, then you can advantageously use the navigation below to find exactly what you are looking for. But while reading our review, we would like to point out that it expresses our opinion only. Therefore, nothing on this page should be considered investment advice. On that note; enjoy!
Learn about the following in our Bulkestate review:
What is Bulkestate?
Bulkestate is a real estate crowdfunding and group-buying platform. The platform allows private investors to invest in real estate and buy properties for only €50, with an average loan term of around 12 months. This makes the platform an obvious choice for private investors who want to invest in real estate in an easy, safe, and transparent way.
Bulkestate was founded and started its operations in late 2016. Since then, investors have earned over €1,923,000 from real estate projects on their platform.
Currently, Bulkestate is located in Estonia and is therefore subject to the law of both Estonia and the European Union. Therefore, Bulkestate has also obtained a financial institution license in Estonia.
Bulkestate statistics:
| | |
| --- | --- |
| Launched: | 2016 |
| Investors: | 12,800 + |
| Interest rate: | 10 – 18 % |
| Loan period: | 12 – 24 months |
| Loan type: | Real estate |
| Loans funded: | € 10,000,000 + |
| Min. investment: | € 50 |
| Max. investment: | Unlimited |
How Bulkestate differentiates from competitors
First of all, their platform differs from other real estate crowdfunding platforms by offering both lending and group buying services. This makes it possible both to lend to real estate projects, but also to buy the projects jointly with other investors.
Secondly, a large portion of the people behind Bulkestate are experts in their field. Among other things, they have extensive experience with due diligence and approval processes.
Last but not least, Bulkestate also has the capacity to take over projects that do not go as planned. Thus, they can also help to get the projects back on track, if needed.
Bulkestate team: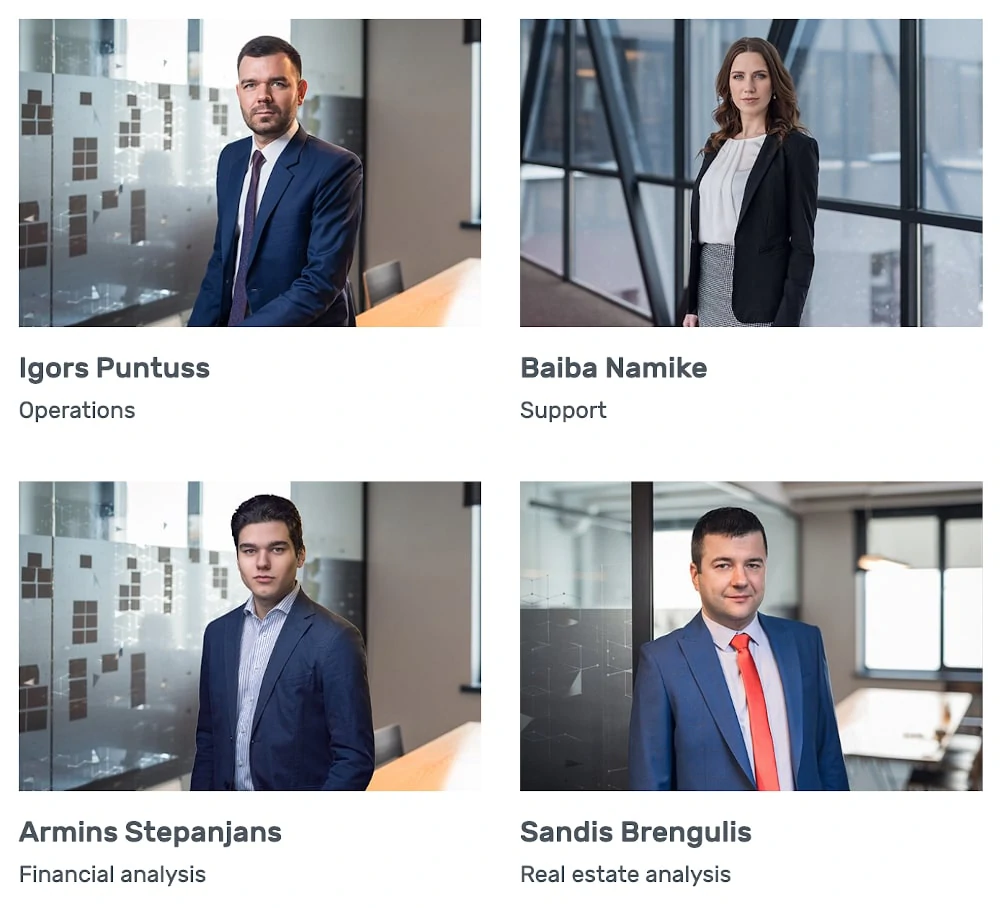 Even though the team at Bulkestate is quite small, they have a nice chunk of experience in the real estate industry.
Bulkestate FAQ:
Bulkestate Trustpilot reviews:
Bulkestate is doing okay on Trustpilot. Currently, the platform is rated at 2.9/5 stars on Trustpilot.
Compared to some of the best P2P lending sites, Bulkestate's rating on Trustpilot is a bit low.
The negative Trustpilot reviews about Bulkestate mention:
Cash drag
Low loan volume
Lag of secondary market
Lag of communication
If this is a concern to you, it might be worth checking out EstateGuru or ReInvest24 instead.
With an average rating based on 66 reviews, Bulkestate could still be worth considering.
Main features
In the following part of this Bulkestate review, you can learn more about the features you can find on the platform:
1. Bulkestate auto-invest
Since April 2018, it has been possible to use auto-invest on Bulkestate's platform. The feature makes it easy for you to invest passively in various real estate projects. So if you want a minimal-effort approach to your investments, you should definitely get started with the Bulkestate auto-invest feature.
Setting up auto-invest is really easy. Just go to your profile. From here, you can easily configure the Bulkestate auto-invest feature to invest according to your criteria: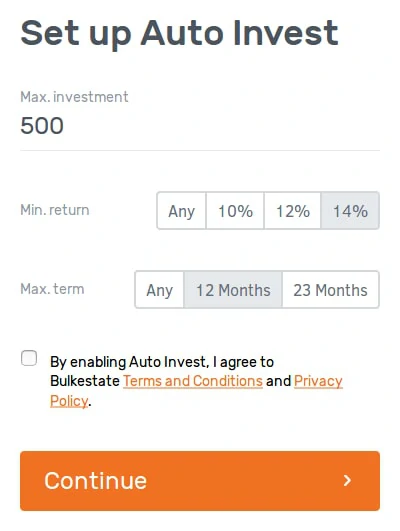 2. Bulkestate Group Buying
With the Bulkestate Group Buying feature, you can invest directly in properties in buildings, as you can see below: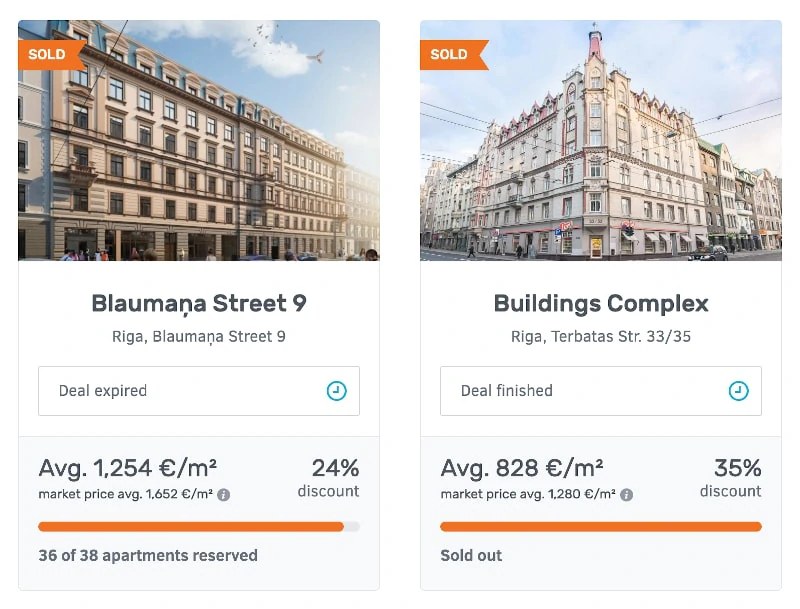 This feature makes it possible for you to get great deals on apartments as you go together with other investors to buy a whole building at once.
To participate in Group Buying, you simply reserve an apartment. When all apartments are reserved, the building is bought and you get an apartment for the bulk price.
What rate of return can you expect?
The average annual return for investors on Bulkestate is around 14.10%. Since this is the average return for investors, you can reasonably expect the same.
But in fact, it is not difficult to achieve a slightly higher return than the average at Bulkestate. On the platform, you can choose which projects you want to invest in yourself. If you have a little patience in getting all your money invested, then you can relatively easily achieve a higher return by cherry-picking investments.
The average return on Bulkestate is higher than similar platforms like Rendity, Crowdestate, and Max Crowdfund.
Who can invest via Bulkestate?
According to Bulkestate's answers in their FAQ, it is possible for any business or any person over the age of 18 to invest on their platform.
If you live up to the simple requirement, you can start getting started by following the steps below:
Add funds to your account
Invest in some projects
Enjoy the profit
As you can see, there are very few requirements to get started investing, and it is even quick and safe.
Would you like to try to invest in real estate on the Bulkestate platform? Then press the button below to get to their website. Here you can create a user and get started:
Is Bulkestate safe to use?
The single most important thing to consider when choosing between even the best crowdlending platforms is whether the platform you are going to use is actually secure. Therefore, the focal point of this Bulkestate review is also focused on this. In the following you can see what we found out in our safety-related investigations of Bulkestate:
How safe are the investments?
To evaluate the projects that come on BulkState's platform, they have made a clear process. Among other things, the projects are assessed by an investment committee consisting of investment and real estate experts.
Loans are only issued for projects that this committee thinks have a future value that justifies a safe exit for investors in case the borrower does not adhere to the loan repayment schedule.
Each loan is secured with a real estate mortgage. Bulkestate keeps these mortgages and can execute them if the loan defaults.
Unlike other platforms like Debitum Network, you will not get a buyback guarantee on the investments you make on BulkState's platform.
What happens in case of a payment delay?
If payment is delayed by more than 15 days, Bulkestate contacts the borrower on behalf of the investors. In this way, they can quickly find out what is behind the delay.
The borrower deliberately delay
In the event that the borrower deliberately deviates from the terms of the agreement, Bulkestate can terminate the loan contract and demand immediate payment of the loan.
However, this will be done with the help of FORT, which legal bureau also used by other reputable P2P sites like Mintos.
The borrower is unable to repay
In case the borrower is unable to repay the loan, Bulkestate will sell the mortgage. This can sometimes be a time-consuming process, which may mean that your final return on investment ends up being lower than planned.
What happens if Bulkestate OÜ folds?
Like most other Peer-to-Peer lending sites, Bulkestate has also secured your investments in the event of their own bankruptcy. They have done this by having their assets separated from yours. If you want to know more about the process, you can read more about it on their website.
Best Bulkestate alternatives
Are you unsure if Bulkestate is the right platform for you, after reading this Bulkestate review?
There are hundreds of P2P platforms out there, which can make it hard to determine if you have found the best platform or if you should look for other Bulkestate alternatives.
The main categories for P2P platforms are consumer loans, real estate, and business loans.
Here are the best Bulkestate alternatives right now:
There are many reasons why you should consider a Bulkestate alternative.
First and foremost, you might not find that Bulkestate suits your investment needs. When it comes to P2P lending platforms, every P2P investor has different needs. It's therefore crucial that you understand your main investment criteria and find a platform that matches.
It can also be a good idea to consider Bulkestate alternatives to simply diversify your investments across more than one platform and reduce your overall platform risk. This can also be done with different types of platforms like the ones you can see above.
Conclusion of our Bulkestate review
Bulkestate is very transparent and open about the safety of its platform. They have set up various procedures in case of almost any possible negative event for their investors. That way, you and your investments are well-secured on their platform.
The company is definitely among the most transparent in the market, and with an average return of 14.10%, we understand that the platform is popular among many P2P investors – even though no Bulkestate bonus is offered upon signup.
Would you like to invest through the real estate crowdfunding platform after reading our Bulkestate opinion? Then click on the button below. It will take you directly to their website. From here you can quickly and safely create a user and get started investing in real estate: