Robocash review 2023
Read this Robocash review to learn if you should use the platform.
Robocash
Robocash review summary:
Robocash is one of the best P2P lending platforms right now for short-term lending. The platform offers investors a great average annual return of 10.00%. Compared to a lot of other platforms, Robocash has far better customer satisfaction, which is shown in the many excellent reviews on Trustpilot. The security of the platform is great. We had hoped to see a few more loans on the platform. But with investments starting at just €10, Robocash is a platform that is interesting for most investors seeking a high return.
It's 100% free to open an account
Introduction to our Robocash review
Robocash is a newer P2P lending platform on the market. And since the platform does not have a long history, we decided to investigate how safe the investors are on Robocash's platform.
Since you are currently reading this Robocash review, we assume that you are actually considering investing through their platform. And if you are, we encourage you to read the review carefully. We explain in depth both the benefits of Robocash, but also the drawbacks. In addition, we also find out which alternatives you can consider.
If you just want to find information about a specific thing in our Robocash review, please use the navigation below. You can of course also choose to read the entire review. However, while you read, please be aware that the review only expresses our own opinion and investigation. You should therefore not consider anything in this Robocash review as financial advice.
Learn about the following in our Robocash review:
What is Robocash?
Robocash is a P2P lending site that specializes in short-term payday loans. Robocash is part of the Russian Robocash Group which has existed since 2013.
The Robocash platform was introduced in February 2017. Since then, the platform has just grown bigger and bigger.
As the name suggests, Robocash works much like a robot. At Robocash you can invest in P2P loans with their auto-invest function. This means that the platform itself invests in new loans when there is excess money in your account. This way, you can run your investments on autopilot.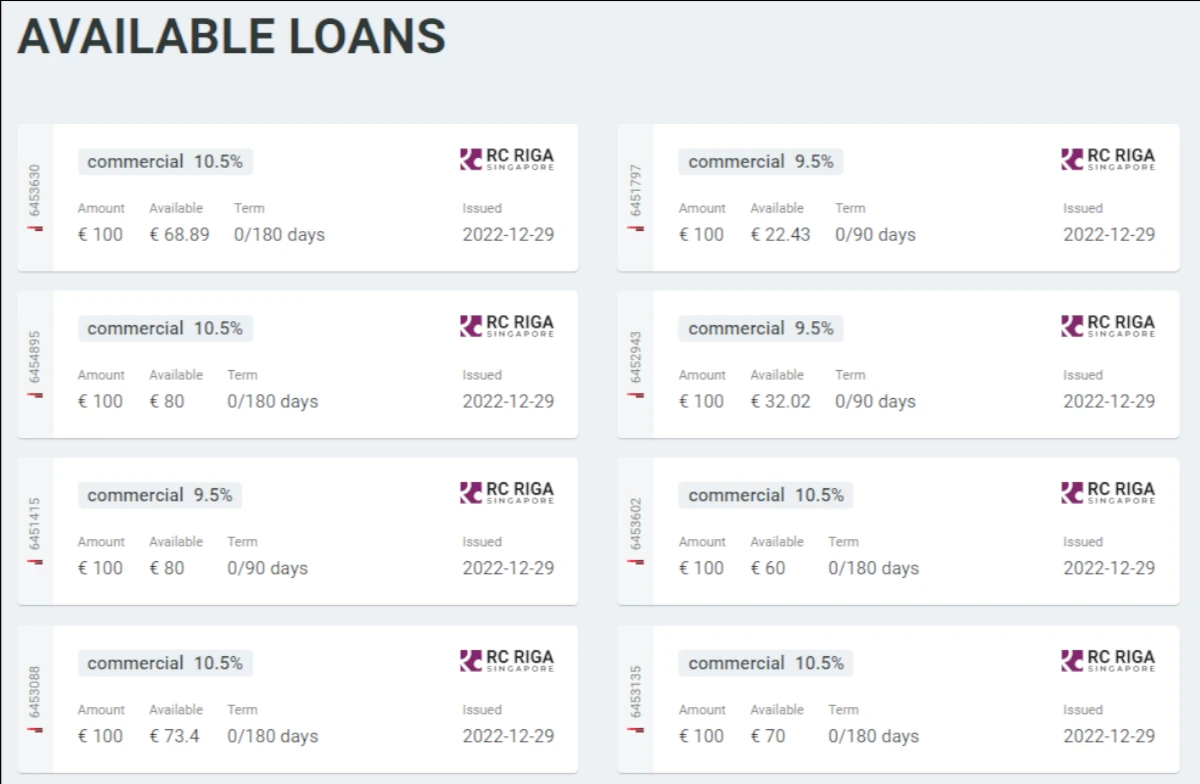 The loans have a buyback guarantee, which means that Robocash must repurchase the loans if the borrower cannot repay the loan. The guarantee is valid unless the loan originator that has to honor the guarantee goes bankrupt. But on the basis of their company figures, it does not appear to be preliminary.
Robocash is registered in Croatia, but the loan comes from loan originators in Spain, Kazakhstan, Sri Lanka, Singapore, and the Philippines.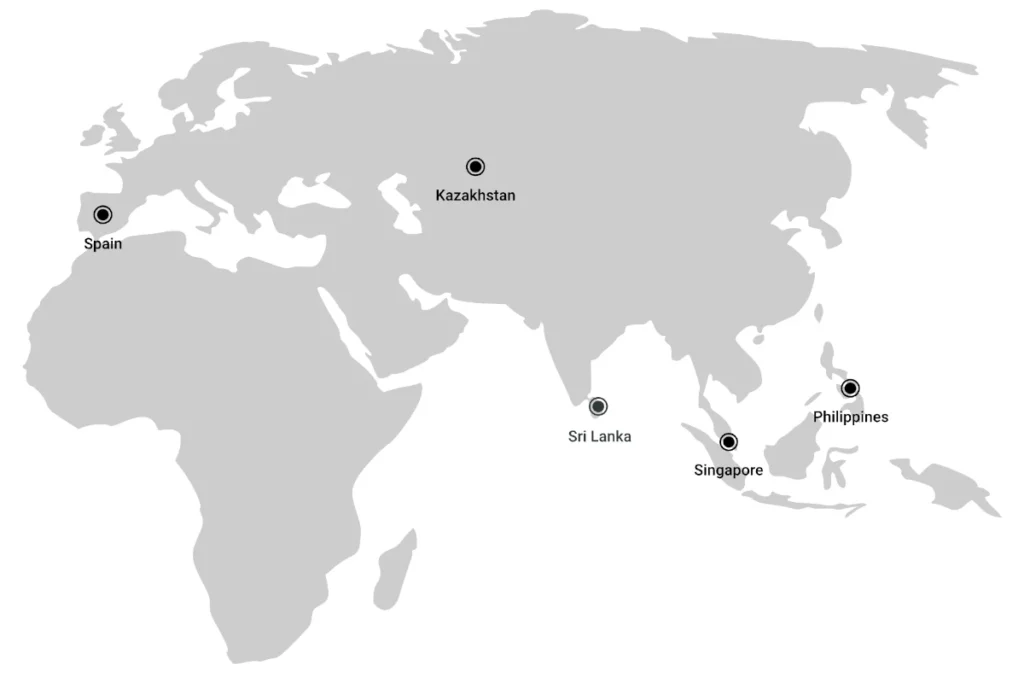 Robocash statistics:
| | |
| --- | --- |
| Launched: | 2017 |
| Investors: | 26,000 + |
| Interest rate: | 8 – 12 % |
| Loan period: | 1 – 12 months |
| Loan type: | Consumer |
| Loans funded: | € 440,000,000 + |
| Min. investment: | € 10 |
| Max. investment: | € 25,000 / month |
Robocash FAQ:
Robocash Trustpilot reviews:
Robocash is one of the top-rated P2P lending platforms on Trustpilot. Currently, the platform is rated at 4.6/5 stars on Trustpilot.
Compared to other P2P lending platforms, Robocash's rating on Trustpilot is very high.
Many of the investors that have left a Robocash review on Trustpilot comment that everything is as advertised and that they experience payment on time with no delays or issues with withdrawing money.
With over 100 excellent reviews, the platform is definitely worth considering.
Main features
In the following part of this Robocash review, you can learn about some of the main features of the platform.
1. Robocash auto-invest
If you want to invest via Robocash, you can set up an auto-invest strategy. To do so, you must first create an account. Also, make sure there are funds in the account.
Once you've done that, just log in to your account, and go to "Invest". From here, you can set up your very own auto-invest strategy: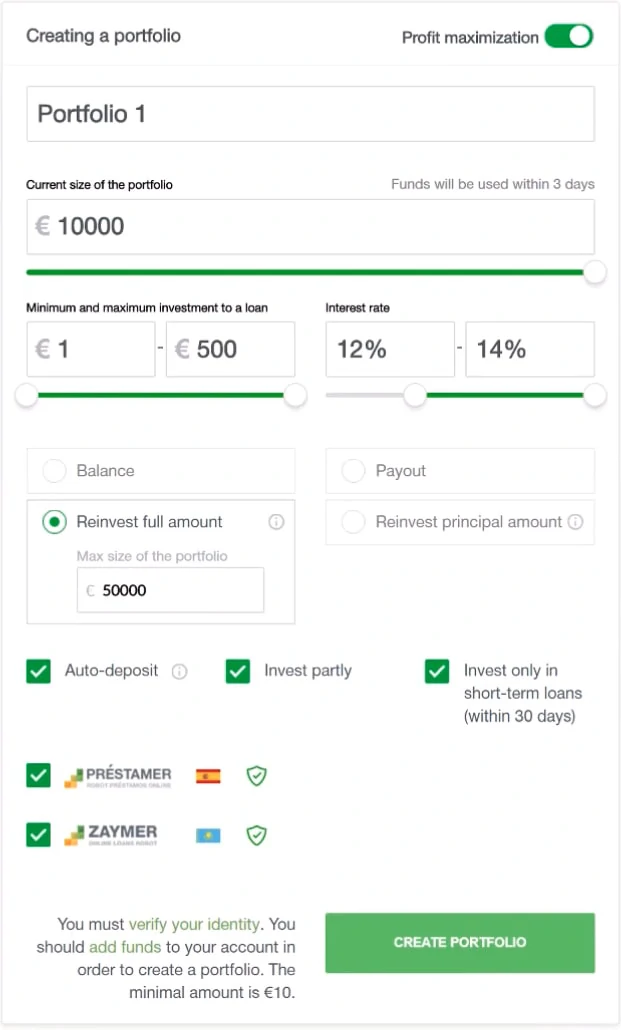 In your auto-invest strategy, you need to specify what it should be called, and how much you want to invest.
Then there are a number of parameters you can adjust. For example, you can decide how much you want to invest in a single loan, as well as what interest rate you want.
In addition, you can decide for yourself how you want the money invested. Should the return be minimized? Do you want to reinvest the full amount? Want to invest only in 30-day loans? Is there a loan originator you want to be deselected?
All this, and much more, is possible in Robocash's auto-invest. So, even though it is only possible to invest with an auto-invest, you get an auto-invest that can get the job done.
2. Robocash income options
Robocash offers a unique feature that allows you to define what should happen with your earnings on the platform. Here you have 4 different options: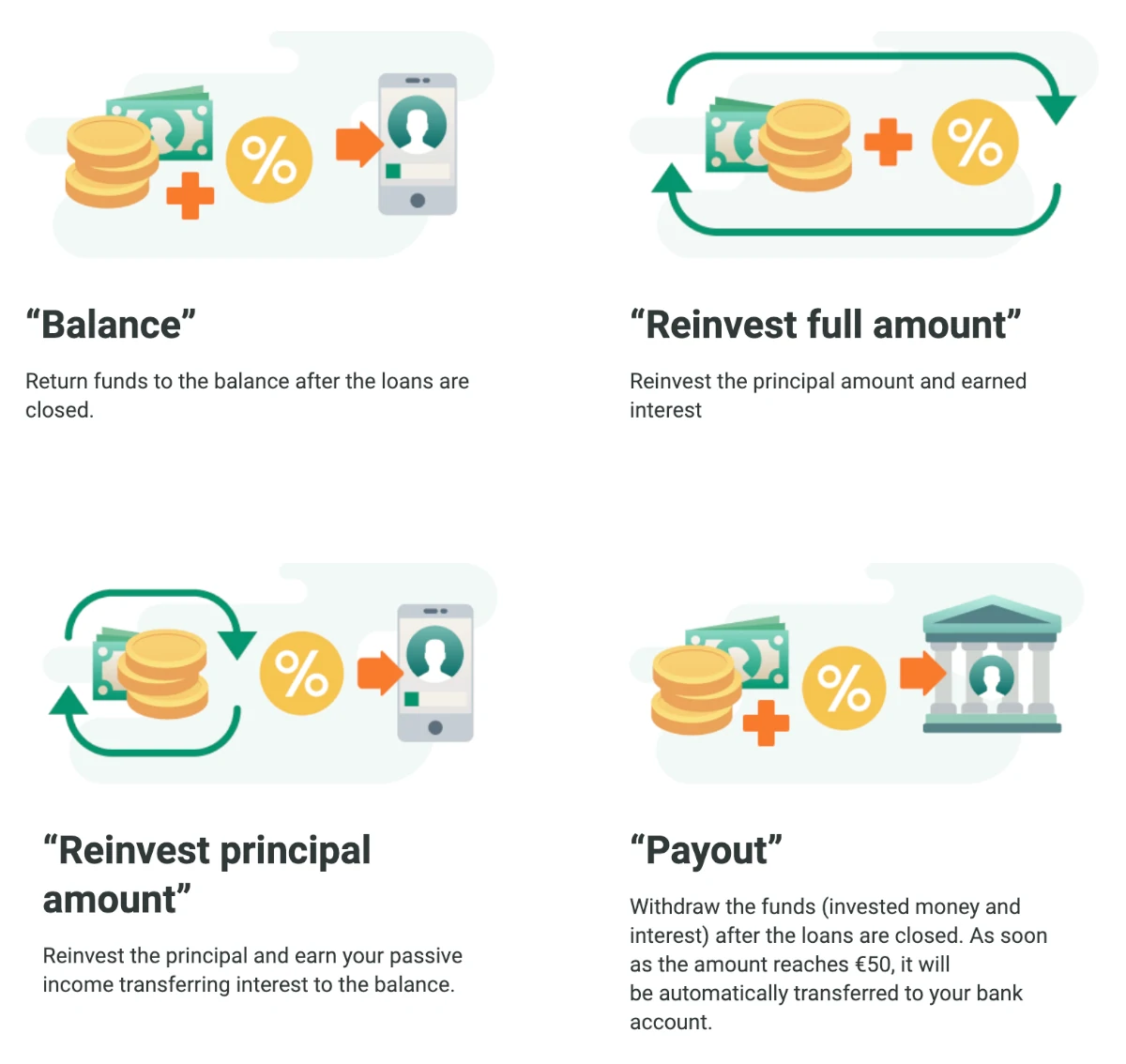 What payment option you should choose depends on your investment goals on Robocash.
Balance: The balance option returns your funds to your account when the investment is complete which makes it a good option if you only want to invest once.
Reinvest the full amount: Choose this option if you want to maximize your investments and reinvest both your principal amount and your earned interest.
Reinvest principal amount: You can choose to invest the principal amount if you don't want your earned interest to be reinvested.
Payout: The payout option is unique to Robocash and allows you to slowly withdraw money from the platform when investments are closed.
For investors seeking to maximize their returns on Robocash, it is recommended to use the "Reinvest full amount" income option.
3. Robocash secondary market
A secondary market was launched on the platform in 2020. This feature allows investors to sell long-term loans and withdraw money earlier than planned.
It is possible to both buy and sell loans with a maturity of at least one year without any additional fees for either the buyer or seller.
In order to sell a loan on the Robocash secondary market, it's required that you have at least owned it for 6 months.
If nobody purchases your loan within 14 days on the secondary market, Robocash will buy it from you on day 15.
4. Robocash buyback guarantee
Robocash protects its investors with a 30-day buyback guarantee. If a loan is more than 30 days delayed, the loan originator has to buy back the loan from the investor.
The investor is both compensated for the initial investment and accrued interest.
The Robocash buyback guarantee is not 100% safe. In case the loan originator becomes unable to repurchase the investments, the buyback guarantee is worthless.
This means that it is important that you review the financial situation of the loan originators you choose to invest in via Robocash.
5. Robocash loyalty bonus program
Robocash has a loyalty program to incentivize investors to invest more. The loyalty program launched in 2020 and runs until further notice.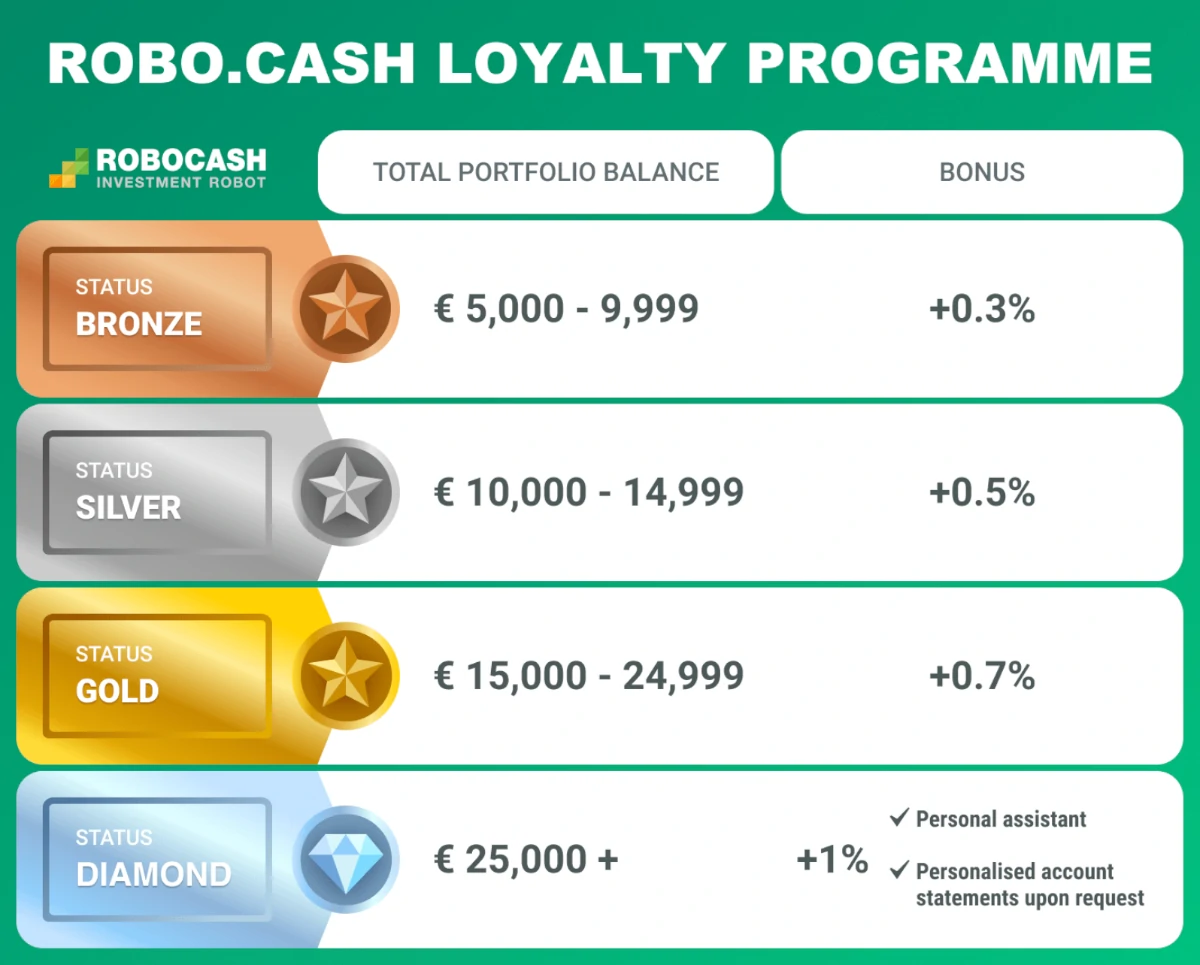 By participating in the Robocash loyalty program investors can earn more depending on how much they invest.
Bronze: Invest €5,000 on Robocash and get a 0.3% bonus on investments.
Silver: Invest €10,000 on Robocash and get a 0.5% bonus on investments.
Gold: Invest €15,000 on Robocash and get a 0.7% bonus on investments.
Diamond: Invest €25,000 on Robocash and get a 1.0% bonus on investments.
Platinum: Invest €50,000 on Robocash and get a 1.3% bonus on investments.
You can also earn more money by referring friends to the platform. When signing up, you can find a Robocash referral code that you can send to your friends.
What rate of return can you expect?
At Robocash you can expect a return of around 12.00%. It is the average return for investors on their platform.
The return is very similar to what you can find on other similar platforms like Mintos, PeerBerry, and FAST INVEST.
If you are looking for an even higher return, you could instead turn to more business and real estate focused platforms like EstateGuru, Flender, or ReInvest24. But keep in mind that a greater risk typically follows a greater reward.
Who can invest via Robocash?
At the time of writing, it is possible to invest via Robocash in countries in the European Union and Switzerland. Currently, you will find investors from the following countries: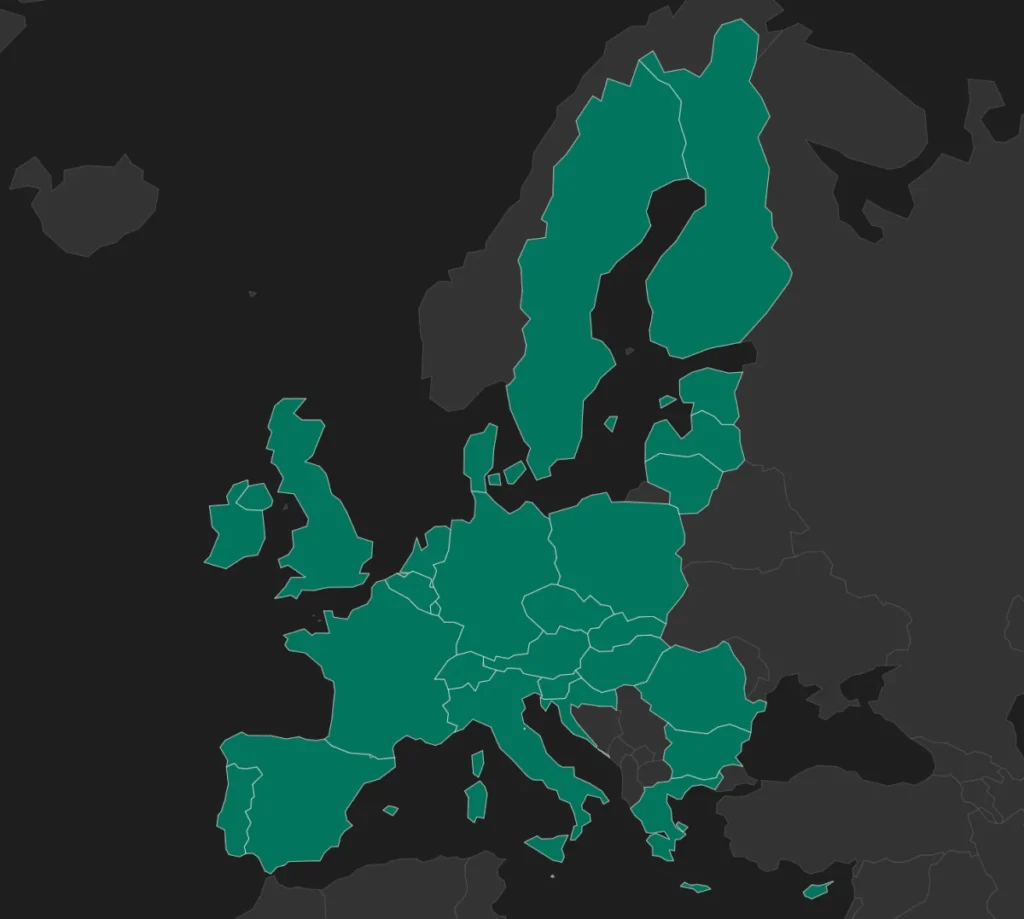 If you live in one of the countries listed above, you can invest as an individual.
At present, Robocash is not allowing legal entities or companies to invest.
The requirements for investing on the Robocash platform are:
Being at least 18 years old
Having a bank account in the EU
Verified identity
If you meet all of the requirements above, it's possible for you to invest through Robocash.
Would you like to invest through Robocash? Then press the button below. It will lead you directly to the Robocash website. From here you can learn more about the platform, and also create yourself an account. That way, also you can enjoy the high return loans with buyback guarantees on their platform:
How safe is Robocash?
Security is a very important thing when investing your money through online platforms. In this Robocash review, we have therefore taken a look at what the company offers of security to its users.
Buyback guarantee
When dealing with loans, there is always a likelihood that the borrower will not repay. Here Robocash offers a so-called buyback guarantee.
The Buyback guarantee helps secure your funds. Because if the borrower's payments are delayed more than 30 days, then Robocash will have to buy your share of this loan. In addition, Robocash must even pay you the interest you would otherwise have received from the borrower.
But keep in mind that a buyback guarantee is only as secure as the one offering it. So let's take a closer look at how robust Robocash is.
How solid is the company
Robocash is a part of Robocash Group. This is a group of companies that operates in the financial sector.
According to the latest financial statements, the Robocash Group has been profitable for many years.
The fact that the Robocash platform is a part of a group of companies both has pros and cons.
The main advantage is that the Robocash platform itself doesn't have to be profitable in order to survive.
But on the downside, it can have consequences for the Robocash platform if other assets in the group become unprofitable.
What happens if Robocash folds?
In case Robocash has to throw the towel in the ring, a procedure has been made for this.
Here, investors will get all the information about which transactions have taken place on the platform. A liquidator or administrator will then ensure that the necessary information is handed over to a suitable controller.
Generally speaking, it is very much in line with the security that is also offered on other platforms to secure your investments in the event of bankruptcy.
Best Robocash alternatives
Are you unsure if Robocash is the right platform for you, after reading this Robocash review?
There are hundreds of P2P platforms out there, which can make it hard to determine if you have found the best platform or if you should look for other Robocash alternatives.
The main categories for P2P platforms are consumer loans, real estate, and business loans.
Here are the best Robocash alternatives right now:
There are many reasons why you should consider a Robocash alternative.
First and foremost, you might not find that Robocash suits your investment needs. When it comes to P2P lending platforms, every P2P investor has different needs. It's therefore crucial that you understand your main investment criteria and find a platform that matches.
It can also be a good idea to consider Robocash alternatives to simply diversify your investments across more than one platform and reduce your overall platform risk. This can also be done with different types of platforms like the ones you can see above.
Conclusion of our Robocash review
Robocash is a solid P2P lending platform that offers investors stable returns of around 10.00% per year. The platform is one of the top-rated P2P lending platforms on Trustpilot, with loads of great reviews from satisfied investors.
The platform is a part of a profitable finance group and investing via Robocash is quite safe as your investments are protected by a 30-day buyback guarantee. This means that any delayed loans will be repurchased on day 31.
The usability of the Robocash website is very good and offers all the necessary features, such as auto-invest and a secondary market. Unfortunately, there is no Robocash app yet.
Robocash is suitable for investors who are looking for high returns and are willing to accept the risks associated with short-term lending.
The main downside of Robocash is that there is a limit to the amount of money each investor can invest on the platform, which can make it less attractive for larger investors.
Overall, Robocash is a good option for experienced investors who are comfortable with the risks of short-term lending.
Would you like to try the platform after reading our Robocash review? Click the button below to go to the website where you can create an account: