Bondster review 2022
Read this Bondster review to learn if you should use the platform.
Bondster
Bondster review summary:
Bondster is an excellent P2P platform that makes it possible to invest in consumer and business loans. The platform has all the great features that are to be expected by a P2P lending platform of its size, including auto-invest for passive investing and a secondary market for an early exit. The platform is available worldwide and has over 15,000 investors.
It's 100% free to open an account
Last updated: November 6, 2022
Introduction to our Bondster review
Bondster has over the past few years gained traction in the P2P investment community. But is it really worth using their platform? We decided to investigate.
If you are considering investing through the platform, we recommend that you read this Bondster review first.
Here we take a look at whether or not it's worth using them. We promise you will get a better feel for the platform through our review.
This Bondster review ended up being a bit long. You can, therefore, choose to use the navigation below to find exactly what you are looking for. Of course, you should also be welcome to read the entire review.
The review expresses our own opinion only. Do not consider the content of this Bondster review as financial advice.
Learn about the following in our Bondster review:
What is Bondster?
Bondster is a Czech FinTech start-up that enables investors to invest in loans.
The loans are mainly personal loans. But you will also be able to find real estate loans, business loans, and other types of loans as well.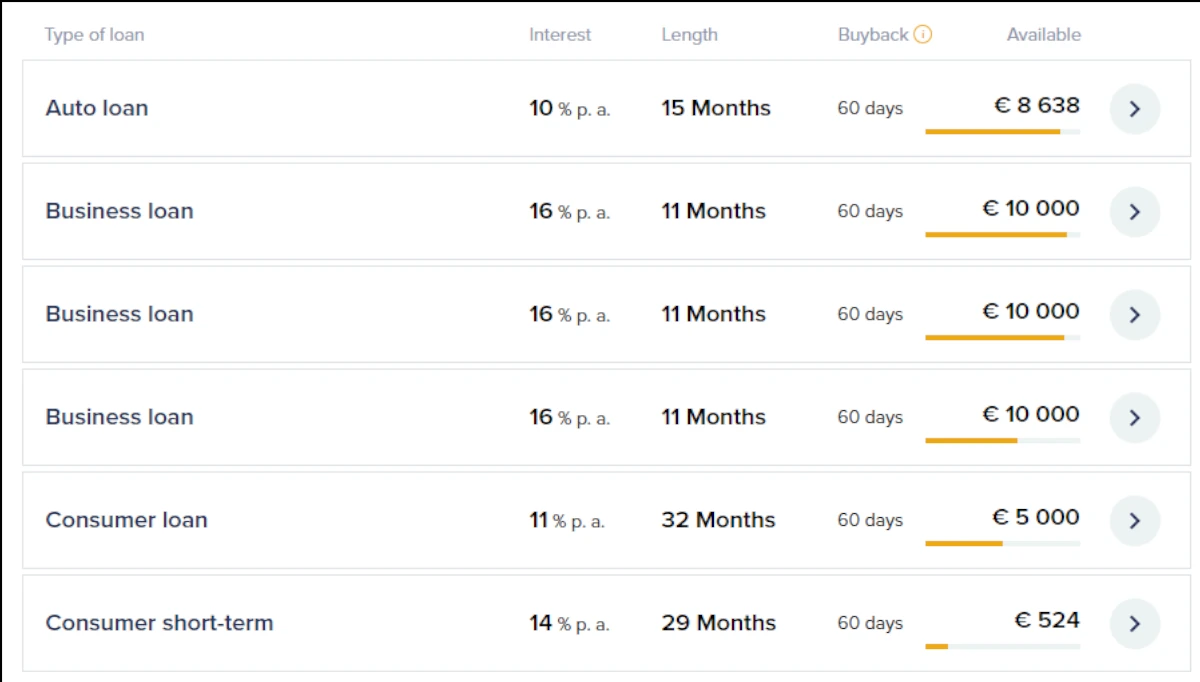 Bondster was launched in 2017 with the vision "to be #1 in the European online loan marketplace". Since then, an increasing number of loans have been funded on the platform:

The loans are invested in by over 15,800 investors on Bondster.
If you would like to join the other investors, it doesn't require a lot of capital. With a minimum investment of €5, it is actually possible to create an account and start investing.
Bondster statistics:
| | |
| --- | --- |
| Launched: | 2017 |
| Investors: | 15,000 + |
| Interest rate: | 8 – 17 % |
| Loan period: | 1 – 12 months |
| Loan type: | Consumer |
| Loans funded: | € 120,000,000 + |
| Min. investment: | € 5 |
| Max. investment: | Unlimited |
Bondster fees:
Bondster has no investment fees on the platform. Here is the fee overview from Bondster's website: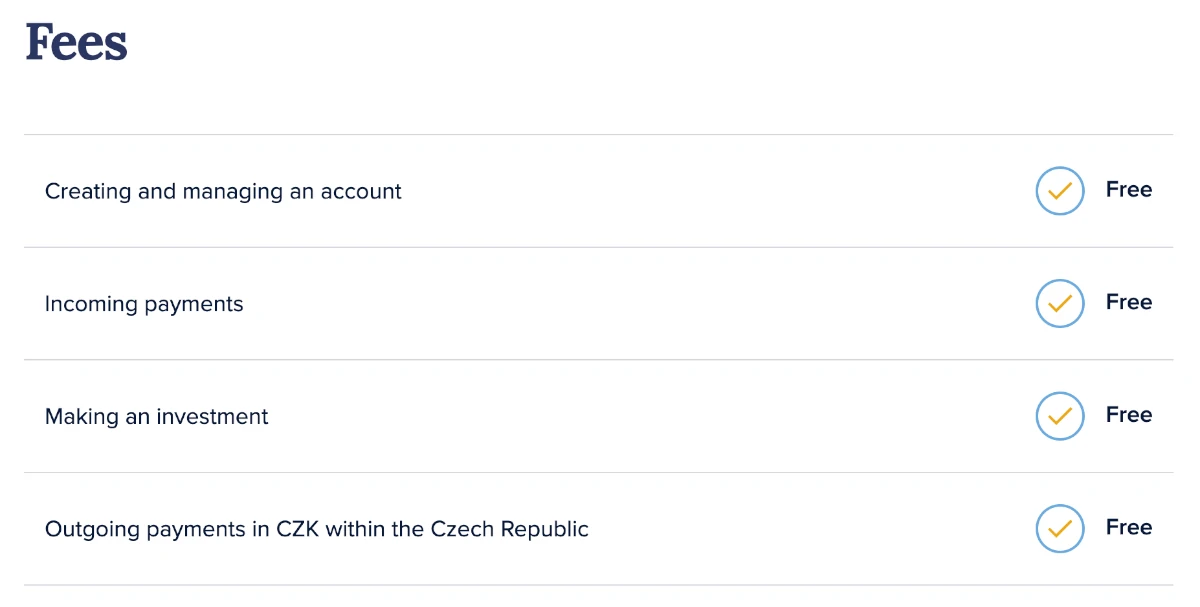 Even though it seems like there are no fees, there is actually a 0.5% fee for selling loans on the secondary market.
How Bondster works
Below, you can see an illustration of how Bondster works:
A bit oversimplified, the process works in this way:
First, the debtor applies for a loan from the loan provider. If the application is accepted the loan is granted.
Secondly, the loan provider then gets the loan published in the Bondster marketplace.
Last but not least, the loan is then made available for investment on Bondster's website.
From here, you can invest in the loan. When the debtor then pays back the loan, you earn interest on your money.
CEO Pavel Klema
Since November 2020, the Chief Executive Officer of Bondster has been Pavel Klema. He took over the role from the previous CEO Jana Mücková.
Before being the CEO, Pavel Klema worked in various companies in the financial services industry. According to his LinkedIn profile, he has experience with risk management, customer service, banking, financial planning, and customer relationship management.
All this combined makes up for a seemingly excellent CEO to lead Bondster towards its vision.
Bondster FAQ:
Bondster Trustpilot rating
Bondster is doing okay on Trustpilot. Currently, the platform is rated at 3.0/5 stars on Trustpilot.
Compared to some of the best P2P lending platforms in Europe, Bondster's rating on Trustpilot is a bit low.
Some of the bad Bondster reviews are due to problems with the website, long response time from customer support, and delayed loans.
With an average rating based on 36 reviews, Bondster could still be worth considering.
Main features
In the following part of our Bondster review, we will explain some of the main features on the platform, and why they are important for you as an investor.
1. Buyback guarantee
Bondster offers a buyback guarantee of 30 or 60 days for unsecured personal loans. This buyback guarantee is provided by the loan provider and covers the invested amount as well as the accrued interest.
A 7-day protection period is applied before getting your money back from the defaulted investments. This is due to the payments handover process.
The buyback feature is especially beneficial to you since it is expected that some short-term loans will default. So in your day-to-day investing, you won't have to take those losses.
However, in the case that the lending company behind a buyback guarantee goes bankrupt, the guarantee itself gets useless as there is no one to cover the loan anymore.
Therefore, you must remember that a buyback guarantee is only as solid as the one behind it. More on safety here.
2. Bondster auto-invest
Bondster has an excellent auto-invest feature. You can use this feature to put your investments on auto-pilot, so you don't have to pick loans manually.
When setting up an auto-invest strategy, you can choose between different pre-defined investment strategies or create your own custom strategy.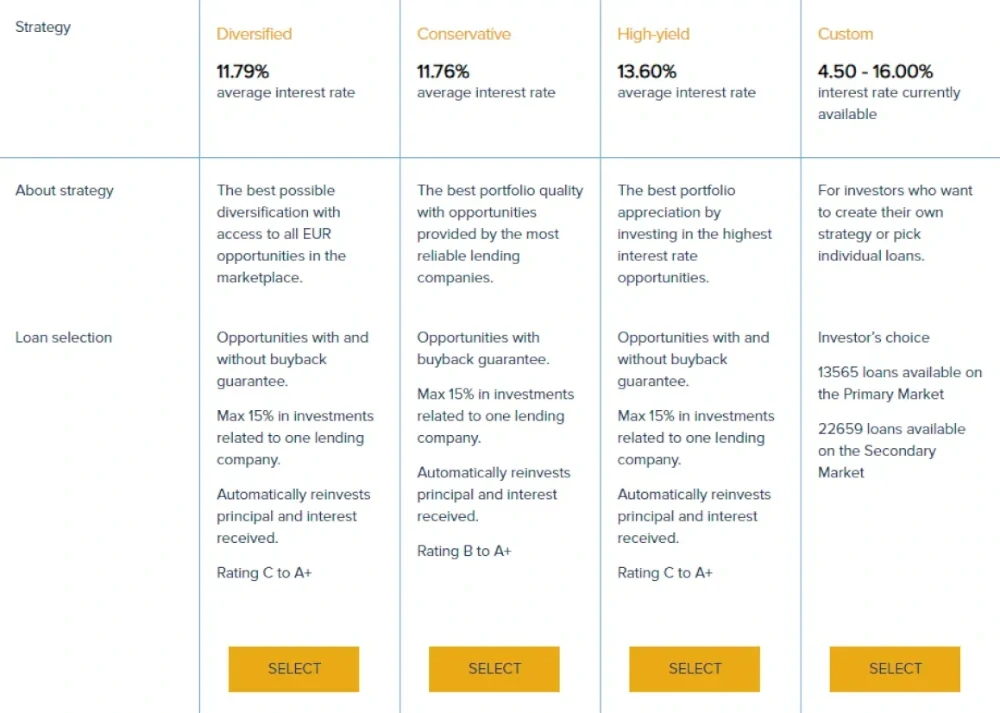 The auto-invest feature found on Bondster is very good.
An option you won't find on many other platforms is the option to change the diversification settings. This allows you to adjust how many percent of your total investments you want to invest with each loan provider on Bondster.
Do you want to know more about Bondster auto-invest? Then go to the FAQ on the website to learn more.
3. Bondster secondary market
In 2021, the Bondster secondary market launched. On the secondary market, investors can trade loans with each other.
Investors looking to sell have to pay a small fee of 0.5% after the loans are sold, while it's free for buyers to use the secondary market.
4. Bondster risk ratings
The loans on Bondster come with risk ratings. Here you can get an overview of what each rating means: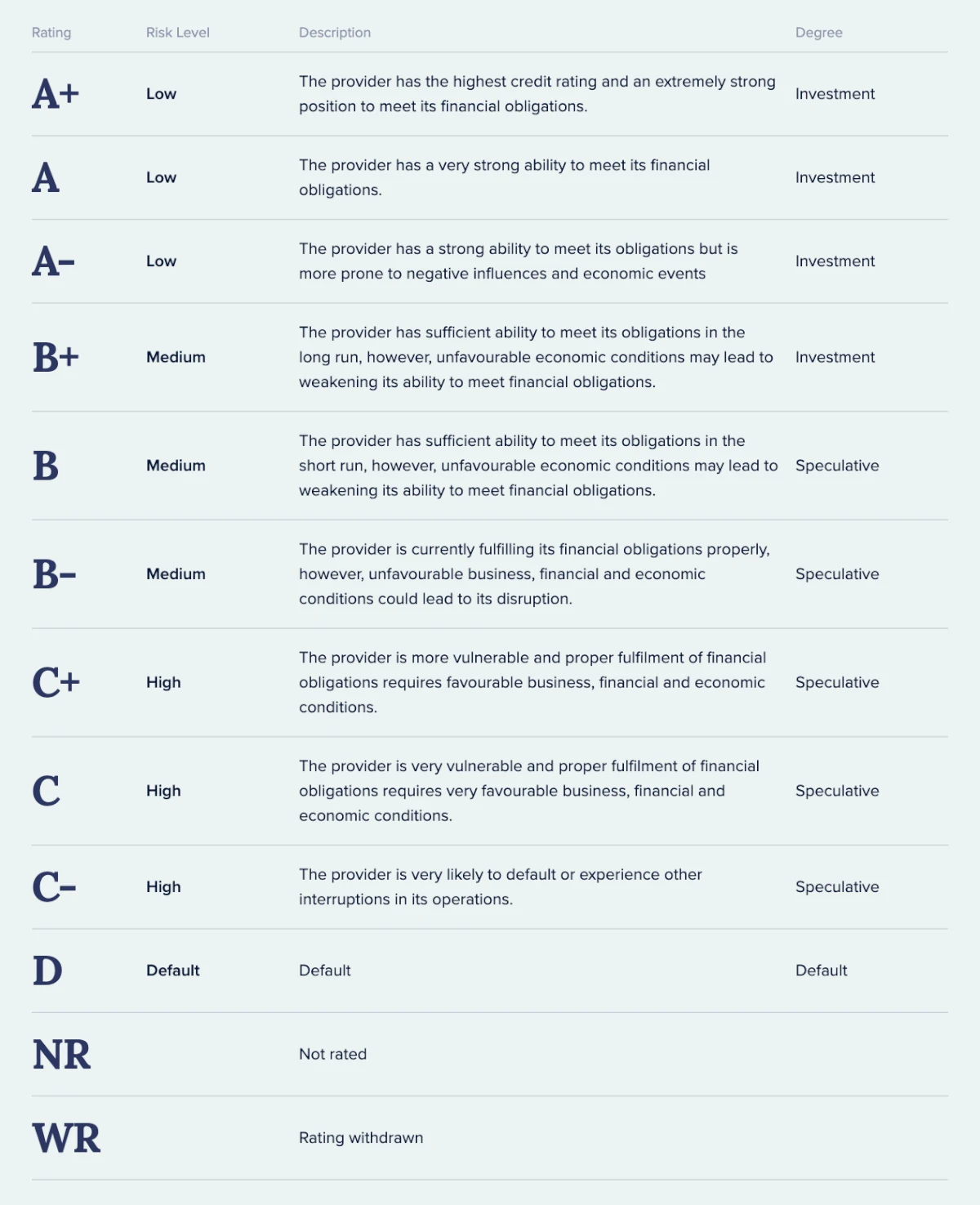 Keep in mind that the ratings are based on Bondster's own risk rating methodology.
5. Bondster cashback bonus of 1%
Bondster offers a bonus for new investors that gets referred to the platform by other investors.
With the bonus, you will get a 1% cashback bonus on the investments you make on Bondster during the first 90 days.
To get the promotion bonus all you have to do is to click the button below and register. The link in the button is an affiliate link that automatically activates the Bondster bonus (No promo code needed):
What rate of return can you expect?
On Bondster, the average annual return for investments in euros is 13.70%.
This return is quite high compared to other P2P lending platforms like Robocash, NEO Finance, and VIAINVEST.
Depending on how you choose to invest, the return you achieve might vary. This is mainly due to yield differences, which are dependent on whether you invest in loans in Czech Koruna (CZK) or Euro (EUR).
In the following, you can see a distribution of how investors have invested in loans on Bondster: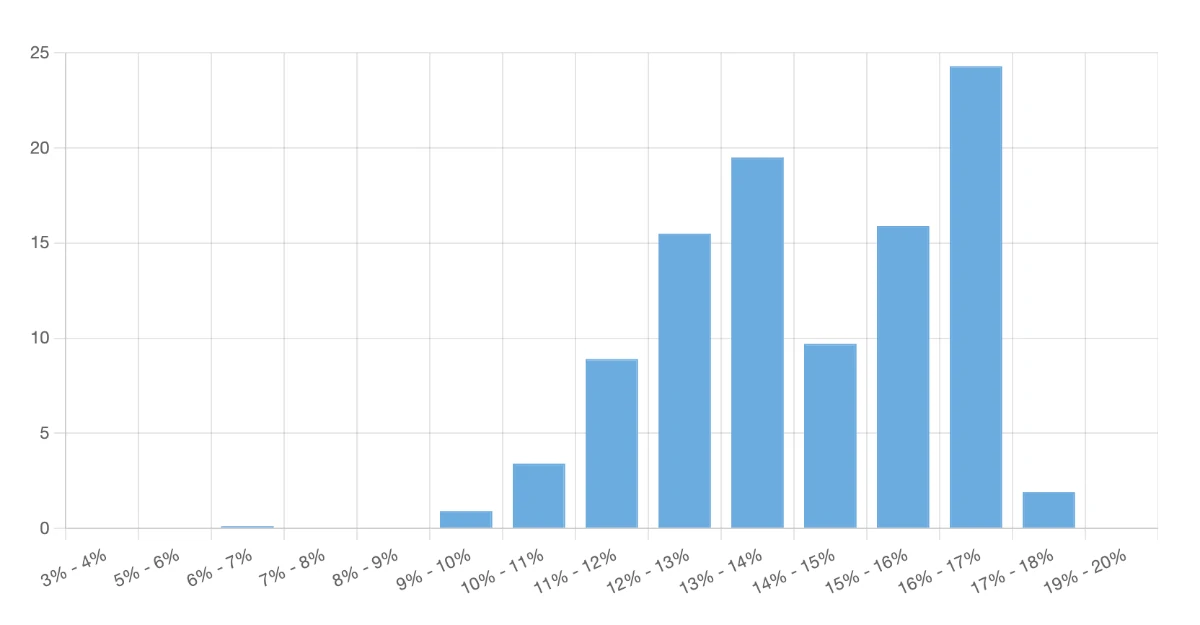 You can see more statistics about the return on the statistics page on Bondster's website.
Who can invest via Bondster?
It is possible for both private individuals and companies to invest via the Bondster P2P platform.
Individuals
To create an account as an individual, you must meet the following requirements:
Be a least 18 years old
Have a bank account in the European Union
If you meet the above requirements, it is easy to get started at Bondster. Simply follow the steps below, and then you should rather quickly be able to invest:
Add funds to your account
Invest in loans from the loan list
Companies
It is also possible for companies to invest via Bondster. After having clicked "register" on the website, simply select "legal entity" instead of "individual" in the signup form. This will give you a slightly different registration form. But from here, the user creation process is straightforward.
Available countries
According to the FAQ on Bondster's website, it is possible for any citizen of any country as well as legal entities to invest via the platform.
If you are in doubt in regard to how you can invest, we recommend that you contact Bondster. You can find the contact information on their website.
Do you meet the requirements to sign up as an investor at Bondster? Then press the button below to get to their website. Here you can quickly create a free account and get started investing:
How safe is Bondster?
One of the most important things when investing your money online through Peer-to-Peer investment sites is that security is in order. Therefore, in this Bondster review, we have taken a look at the security of their platform. We have looked at the following 2 areas; how safe the investments are, and how solid the company is.
How safe are the investments?
The first thing we looked into when creating this Bondster review, is how secure the investments are.
Loan provider risk
On Bondster's platform you will be able to find quite a few loan providers:
Interestingly, some of these loan providers are also to be found on other respected P2P platforms like Mintos and Iuvo Group.
KVIKU HOLDINGS LTD (Kviku) is one of these providers, and it accounts for around 36% of the loan volume on Bondster. Kviku has been profitable since 2015, and according to its Mintos rating, this company is in the "moderate risk" category with a B-rating.
Apart from the "shared" loan providers, a lot of the loan originators on Bondster are from the Czech Republic, but you will also be able to find loan providers from the Philippines, Mexico, Kazakhstan, South Africa, and more.
Before the loan providers are accepted on the platform, they have to pass the due diligence methodology created by the risk department of Bondster. This methodology consists of two steps:
Quantitative analysis
Qualitative analysis
In the quantitative analysis, financial analysis of the company and the quality of its credit portfolio is conducted. If the loan provider doesn't live up to the requirements of the quantitative analysis, it will simply be rejected. Otherwise, the risk department moves on to qualitative analysis.
To make the qualitative analysis, the risk department takes a closer look at numerous factors including:
Country of operation
How risk is managed
How the scoring model works
Structure of the company
Business plan
Based on these factors, an internal rating is assigned to the loan provider.
Most emphasis is put on the quality of the loan providers' credit portfolio.
In order to make sure that the loan providers are continuously going to serve the investors on the platform, the risk department at Bondster is performing quarterly checks of each loan originator. Here, they assess the credit portfolio and the financial health of the loan providers.
Furthermore, Bondster is also monitoring changes in regulation, court proceedings, developments in the political and economic scene, and much more.
Based on all the factors stated above (and probably even more), Bondster is adjusting the exposure to each particular loan provider on its platform. If a loan provider is deemed unfavorable for Bondster and its investors, it will be discontinued.
You can learn more about the loan providers on the platform by visiting Bondster's website. Here you can see templates of the loan agreements, financial statements, and more.
Buyback guarantee
On Bondster, some of the loans are covered by a buyback guarantee. This means that your investments will be repurchased by the loan provider if the borrower doesn't repay the loan.
The terms of the buyback guarantee are dependent on which loan originator the particular loan is from. Usually, it takes 30 or 60 days as well as a 7-day protection period which is applied due to the payments handover process.
You can see the loans that include a buyback guarantee with the "buyback" icon in the Investment Offer list.
As previously mentioned in this Bondster review, you must remember that a buyback guarantee is only as solid as the one behind it ie. the loan provider.
How solid is the company?
Bondster Marketplace s.r.o. is owned by CEP Invest Private Equity SE – a larger investment company with over 5 companies in its portfolio.
The fact that Bondster is a part of an experienced investment company gives us confidence that they are in a very solid position as a company.
But even though it seems like a great company, unforeseen risks can still materialize.
Best Bondster alternatives
Are you unsure if Bondster is the right platform for you, after reading this Bondster review?
There are hundreds of P2P platforms out there, which can make it hard to determine if you have found the best platform or if you should look for other Bondster alternatives.
The main categories for P2P platforms are consumer loans, real estate, and business loans.
Here are the best Bondster alternatives right now:
There are many reasons why you should consider a Bondster alternative.
First and foremost, you might not find that Bondster suits your investment needs. When it comes to P2P lending platforms, every P2P investor has different needs. It's therefore crucial that you understand your main investment criteria and find a platform that matches.
It can also be a good idea to consider Bondster alternatives to simply diversify your investments across more than one platform and reduce your overall platform risk. This can also be done with different types of platforms like the ones you can see above.
Conclusion of our Bondster review
Bondster is a good P2P platform with a fine track record. And in a market where most platforms are born in the Baltics, Bondster makes it possible to diversify some of your P2P investment portfolio into the Czech Republic.
While the return is not very high if you invest with Czech Koruna, the projected return is on par with other platforms if you invest in loans with Euro.
Bondster has a high level of seriousness when it comes to selecting loan providers. All the loan originators are carefully selected and monitored as previously outlined in this review.
When it comes to the auto-invest feature, you actually have some really great options that make Bondster stand out from most of the crowd.
It is easy to both make a deposit and a withdrawal on the Bondster.
Did you enjoy our Bondster review? Then consider signing up with Bondster. You can do so by pressing the button below. From here, you will be taken directly to Bondster's website, where you can create an account: