EstateGuru review 2023
Read this EstateGuru review, and learn if the platform is for you.
EstateGuru
EstateGuru review summary:
EstateGuru is one of the best real estate focused P2P investment platforms in 2023. Compared to other alternatives, they offer a slightly lower return. But as EstateGuru focuses on getting a lot more loans on their platform, it is easier to diversify your investments and invest a lot of money. EstateGuru has some of the best Trustpilot ratings and reviews in the industry.
It's 100% free to open an account
Introduction to our EstateGuru review
In this EstateGuru review, you can learn what EstateGuru is, some of its main features, and a bit about the safety of the platform, which you can use in your own assessment of the platform.
Note: We have made an agreement with EstateGuru, which means you can get a 0.5% bonus on the investments you make in the first 3 months. All you need to do to get the bonus is sign up on their platform through one of the EstateGuru affiliate links in this review. If you create a user through our site, you'll at the same time support our website.
Before you dive into our review, we would also like to remind you that this EstateGuru.co review is only an expression of our opinion on the platform and the company behind it. Nothing you read should be considered financial advice.
You can use the navigation below to find out more about what you are looking for. Enjoy!
Learn about the following in our EstateGuru review:
What is EstateGuru?
EstateGuru is a real estate loan marketplace that specializes in short-term, property-backed loans.
EstateGuru was launched in 2014 and is located in Tallinn, Estonia.
Since then, over 153,000 investors from 106 countries have used the platform. These investors are ready to invest in the many loans added to EstateGuru's platform.
The loans vary in type and are relatively short-term with a typical loan duration of 12-18 months. You can, among others, find development, refinancing, construction, and bridge loans on their platform.
By primary loan category, the loans on the platform have historically been distributed as follows: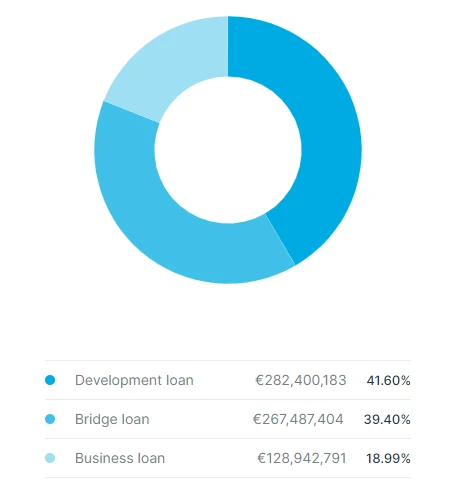 The average loan-to-value (LTV) ratio on EstateGuru is around 60.03%. This is slightly higher than what can be found, for example, on a similar competing P2P marketplace like Bulkestate, which also has a higher return. But it is easier to get all your money invested with EstateGuru, as they have a lot more loans on their platform.
Since the platform is based in Estonia, the loans on the platform are also primarily issued to borrowers in the Baltic countries. However, a small percentage of the loans are issued to borrowers from other countries: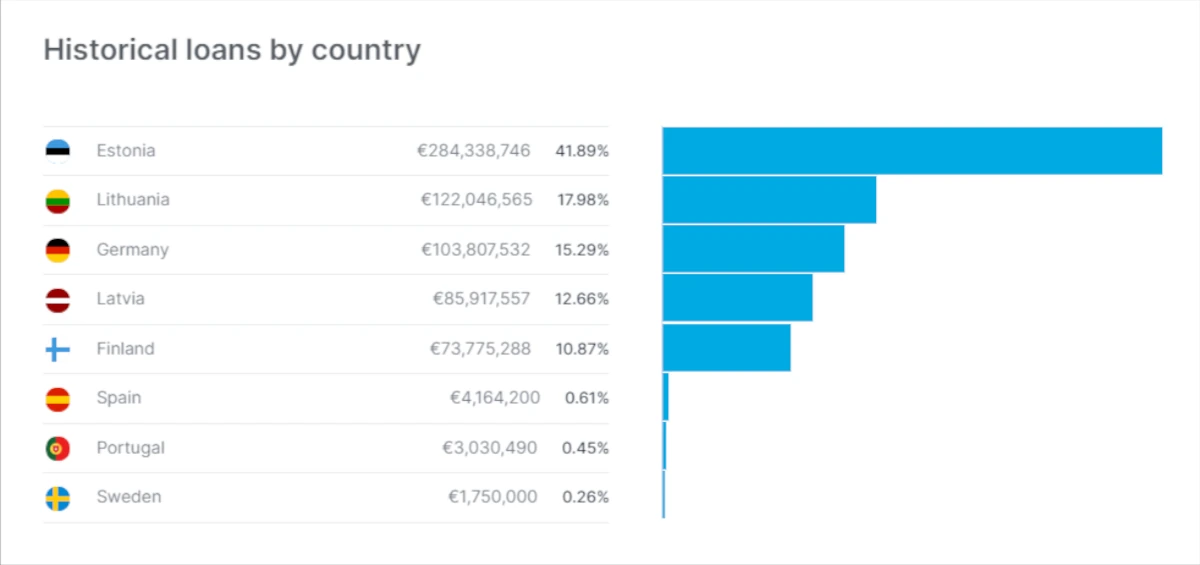 The EstateGuru minimum investment amount is only €50, which allows nearly everyone to start investing in property at https://estateguru.co/.
EstateGuru statistics:
| | |
| --- | --- |
| Launched: | 2014 |
| Investors: | 153,000 + |
| Interest rate: | 7 – 13 % |
| Loan period: | 9 – 24 months |
| Loan type: | Real estate |
| Loans funded: | € 678,830,000 + |
| Min. investment: | € 50 |
| Max. investment: | Unlimited |
How EstateGuru works:
EstateGuru works by being a platform that connects investors and real estate project owners.
The project owners can go to EstateGuru and apply for funding: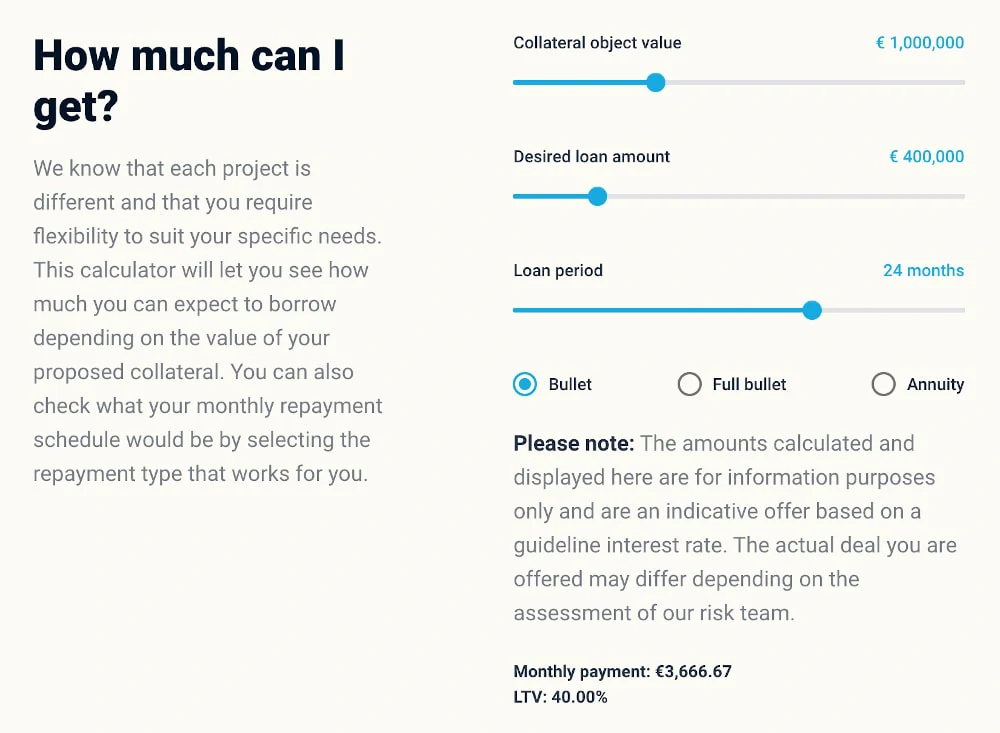 The project owners benefit from being able to get funding up to five times faster and 50% cheaper than with traditional lending institutions. It is actually possible for borrowers to get funding in just a few days. The loan types are bullet, full bullet, and annuity.
When investors invest via the platform they benefit from above-average returns.
This creates a win-win situation for both the project owners and investors.
EstateGuru primarily earns its money by charging the borrower fees regarding the loan application.
EstateGuru management team
EstateGuru has a very experienced management team when it comes to real estate and finance. Many of the members had loads of experience in the field before joining EstateGuru, which is very positive.
The management is led by Marek Pärtel, co-founder and CEO of EstateGuru. He has been involved in the real estate industry since 2002 and has carried out development and investment projects in several European markets.
EstateGuru crowdfunding campaign on Seedrs:
In 2020, the management came out with the news on its blog and newsletter, that EstateGuru was doing an equity fundraising campaign on Seedrs.
With the crowdfunding campaign, EstateGuru managed to raise €925,734 at a valuation of €28,824,215.
1,093 investors invested in the crowdfunding campaign got overfunded by 261%. The fact that EstateGuru was able to raise so much money goes to show that EstateGuru is a very legitimate business.
EstateGuru FAQ:
EstateGuru Trustpilot rating
EstateGuru is one of the top-rated real estate investment platforms on Trustpilot. Currently, the platform is rated at 4.2/5 stars on Trustpilot.
Compared to other P2P lending platforms, EstateGuru's reviews on Trustpilot are much better.
Many investors confirm that they are experiencing great returns as advertised by EstateGuru. The platform is also endorsed for being reliable and transparent. A lot of investors state that EstateGuru is their favorite platform.
With over 500 great reviews, EstateGuru is definitely worth considering.
Main features
In the following part of our EstateGuru review, we will explain some of the main features of the platform and why they are important for you as an investor.
1. EstateGuru secondary market
On EstateGuru, you will be able to find a secondary market. This feature is great if you want to make an early exit from your investments. Then you can put your investments up for sale on the EstateGuru secondary market. It is up to the seller to decide the price at which the investment is put up for sale.
As a buyer, you might also benefit from the secondary market. Here, you will be able to find investments much like on the primary market. But due to the fact that the seller can decide the price, you might be able to find some really discounted investments – if another investor needs liquidity quickly.
There are some things to be aware of if you consider selling your investments in the secondary market. First and foremost, it is only possible to sell any investment after 30 days after the purchase. Furthermore, you will have to pay a 2% selling fee when your investments are sold. For buyers, no fee applies.
2. EstateGuru Premium
An awesome feature for larger investors was introduced in September 2018. This feature is called EstateGuru Premium and allows you to get some special benefits if you invest over €100,000 on the platform. Some of the benefits include:
Getting notified about new loans prior to other investors
Mark your interest in loans before they are published on EstateGuru
Get bonus offers for larger investments
Get invitations to special EstateGuru events
Get a personal EstateGuru contact
Free Trustly deposits
You will get an offer to become a part of EstateGuru Premium as soon as you are eligible for it. The requirement is that you have at least €100,000 invested in EstateGuru, which you must add to your account after you sign up on the platform.
3. Estateguru auto-invest
At EstateGuru, it is possible to set up an auto-invest strategy. It can be a great advantage for you as an investor. If you set up an EstateGuru auto-invest strategy, you can invest your money without actively choosing new investment projects all the time. Instead, you can invest passively and get the same return out of your portfolio.
It is not even difficult to set it up. First, go to their website and ensure you have signed up and logged into your account. Through your profile, go to "auto-invest". Here, you can set up an auto-invest strategy that invests in the way you want it to: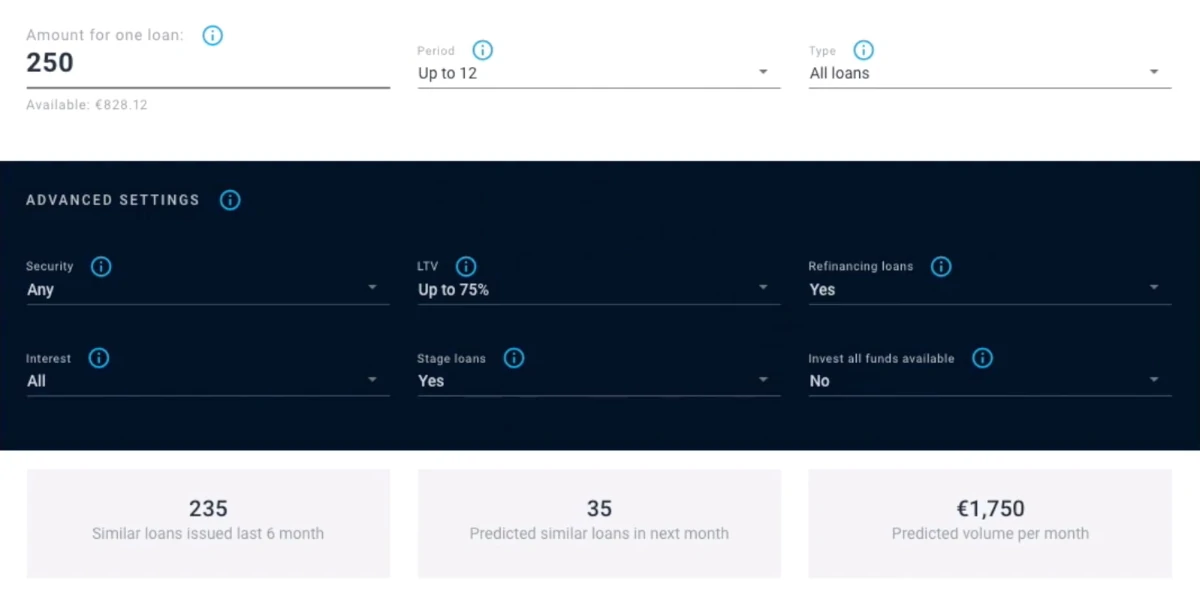 A thing to be aware of is the fact that you must invest at least €250 per loan to be able to unlock the advanced settings. So if you are a smaller investor, this can hurt your diversification possibilities on the platform a bit.
The advanced settings limit was lowered from €500 to €250 in 2018, so it could potentially also be lowered further in the future – only time will tell.
4. EstateGuru tax report
EstateGuru does not deduct taxes from your investments. This means that you will have to file your own taxes with your local tax authorities.
To file your taxes, you can get an EstateGuru tax report that contains your transaction data. Your transaction data can be downloaded as a PDF, Excel, or CSV file.
What rate of return can you expect?
The average historic return for investors at EstateGuru is around 10.85%. Since this is an average return, you can reasonably achieve the same return.
If you intend to selectively choose loans, then it is probably also possible to get a slightly higher return.
Do you seek a higher return? By choosing a different platform, you can actually achieve that. If you, for example, compare EstateGuru vs ReInvest24, then you will be able to get a higher return at ReInvest24. There are tradeoffs, such as fewer projects and a different investment structure.
You can also go for high-yielding consumer platforms like Esketit, Lendermarket, or Bondster.
Who can invest via EstateGuru?
To be able to invest via EstateGuru, you must comply with the following requirements:
Requirements:
Being at least 18 years old
Have a bank account in EEA member states or Switzerland (Transferwise works for global investors)
Fill in the appropriateness questionnaire
Comply with KYC checks
If you meet the few requirements, you can start investing through EstateGuru.
Available countries:
At the time of writing this EstateGuru review, the platform has investors from the following 106 countries marked in blue: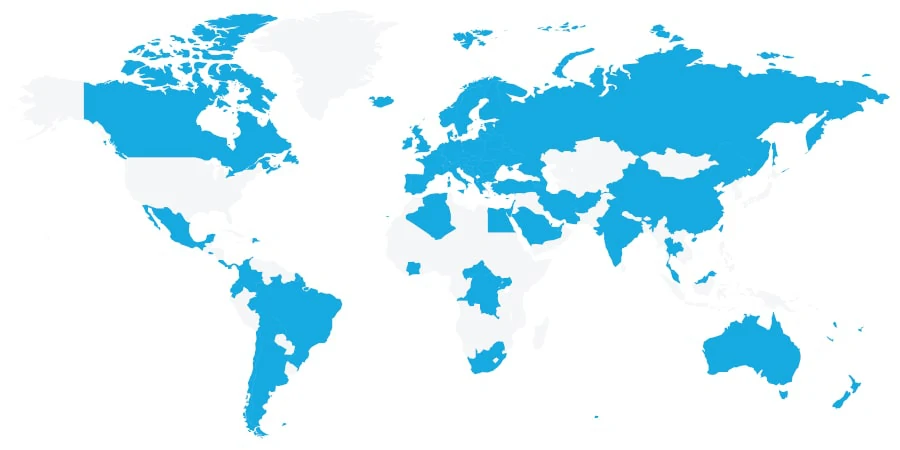 If you are from one of these countries, it should be fairly easy to open an account and start investing.
Opening an account:
To open an EstateGuru account and get started with investing on the platform, simply follow this process:
Add funds to your account
Pick loans and start investing
Would you like to invest in real estate loans through EstateGuru? Then press the button below to sign up. You even get 0.5% on top of the investments you make during the first 3 months:
How safe is EstateGuru?
One of the most important aspects of choosing the best P2P lending platforms is that security is top-notch. Of course, we have therefore also taken a look at how secure EstateGuru is in this EstateGuru review. So if you have an interest in knowing more about how safe you are on the platform, then just keep reading.
How safe are the investments?
What has been done to secure your investments is a good way to assess how secure a platform really is. And here EstateGuru doesn't fall short.
Among other things, EstateGuru conducts thorough due diligence on each loan. However, they not only assess the borrowers on the basis of a credit rating. Instead, they also ensure collateral in the event that the borrower is unable to repay the loan. This happens through a mortgage.
If the borrower does not meet the requirements of EstateGuru, no loans are issued.
Although EstateGuru goes through this process, they do not offer a buyback guarantee. However, this is because their loans consist of secured loans. But this has not been a problem so far.
Below you can see how the development of the loans on the platform has been historical: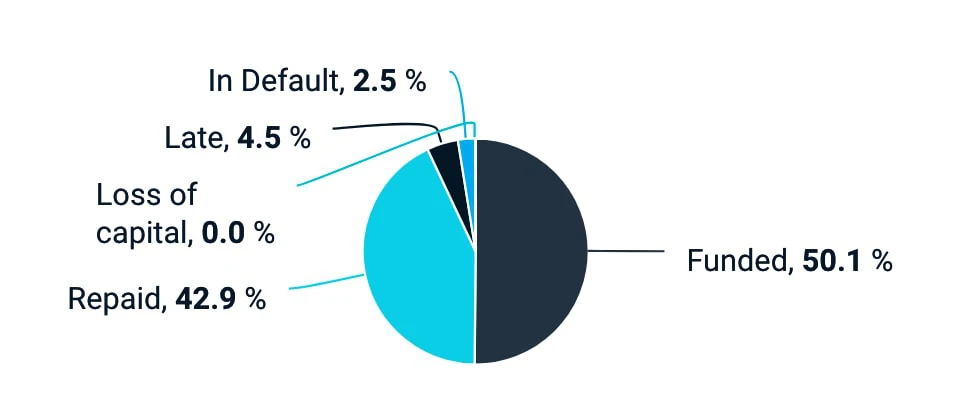 As you can see, there is a low default rate on EstateGuru, and there have been no cases of loss of capital. This does not mean that it cannot happen in the future.
What happens if EstateGuru OÜ goes out of business?
From a legal point of view, EstateGuru OÜ is not a finance provider. Instead, they are a facilitator. This means that they are also regulated as a facilitator. So if they happen to throw in the towel they will be treated as such.
As EstateGuru OÜ is a facilitator, asset management is not something they do. Instead, all the loan contracts are written between the borrower and the investors.
In addition to that, all investors' money is also separated from EstateGuru's funds. EstateGuru's clients' money is stored in a separate client bank account. If EstateGuru were to go bankrupt, then the investors' money does not smoke in the fall, and you can still withdraw your money from the platform.
In the event of bankruptcy, a contractual entity will also take over the management of the investments, which makes EstateGuru pretty safe for investors.
Can I get an EstateGuru promo code?
At the moment, we cannot seem to find an EstateGuru promo code. Instead, we have made an agreement with EstateGuru which gives you an extra 0.5% bonus on your investments in the first 3 months. It only requires you to sign up with them via this review. That way you can still get an EstateGuru bonus here on our site.
After you register on the platform, you will get your own EstateGuru referral code. You can use this to invite your friends and receive rewards like a free hoodie, unlocking advanced auto-invest settings at €50, an invitation to join EstateGuru Premium, and more.
Would you like to claim the EstateGuru bonus? Press the button below, or any other link on here in this review, to claim your cashback. Remember that you get a 0.5% extra for a full 3 months by doing so:
Best EstateGuru alternatives
Are you unsure if EstateGuru is the right platform for you, after reading this EstateGuru review?
There are hundreds of P2P platforms out there, which can make it hard to determine if you have found the best platform or if you should look for other EstateGuru alternatives.
The main categories for P2P platforms are consumer loans, real estate, and business loans.
Here are the best EstateGuru alternatives right now:
There are many reasons why you should consider an EstateGuru alternative.
First and foremost, you might not find that EstateGuru suits your investment needs. When it comes to P2P lending platforms, every P2P investor has different needs. It's therefore crucial that you understand your main investment criteria and find a platform that matches.
It can also be a good idea to consider EstateGuru alternatives to simply diversify your investments across more than one platform and reduce your overall platform risk. This can also be done with different types of platforms like the ones you can see above.
Conclusion of our EstateGuru review
EstateGuru is a legit European P2P lending company. And having a longer track record than most real estate crowdfunding platforms, EstateGuru also proves to be fairly safe for its investors.
At EstateGuru there is higher liquidity of loans compared to many other property-focused platforms, but it also has the price that the return is lower. However, it is typically easier to get all your money invested at EstateGuru.
So whether you should choose EstateGuru depends very much on the size of your overall portfolio.
If your overall portfolio is large and you still want a higher return, then you also have the opportunity to diversify your portfolio beyond just one platform.
The biggest reason for choosing EstateGuru is the long track record and the large loan liquidity. If this is what you want, the platform is definitely a good choice.
If you'd rather go for an alternative with a higher return (which usually involves even more risk), you can take a closer look at competitors like ReInvest24, Bulkestate, and/or HeavyFinance.
Would you like to sign up as an investor on the platform after reading about our EstateGuru experience? Press the button below to get started. Remember that you get a 0.5% EstateGuru referral bonus if you sign up through our site: