Nibble Finance review 2023
Read this Nibble Finance review to discover the ins and outs of the P2P lending platform. You will get a detailed assessment of the platform, its features, and any potential drawbacks. Get a quick overview of our analysis of Nibble below:
Nibble Finance
Nibble Finance review summary:
Nibble Finance is a new P2P lending platform that focuses on consumer loans. The platform itself is very user-friendly, and simple to navigate and the platform allows you to invest passively with one of the auto-invest strategies. One of the major downsides of Nibble Finance is the fact that the platform charges a high fee for an early exit from the platform if you want to sell your loans if you find better investment opportunities elsewhere. Nibble Finance is owned by IT Smart Finance which is a profitable loan business. All the loans on the platform come from Joymoney, a loan brand also owned by IT Smart Finance, which means that it can be hard to get proper diversification using only this platform. Based on the current Trustpilot reviews, investors seem to only have good experiences with Nibble Finance.
It's 100% free to open an account
Introduction to our Nibble Finance review
There is a generous amount of Nibble Finance reviews available on the internet. Still, we decided to research the platform and share our opinion about it. You can read the results of our investigations in this Nibble Finance review.
If you are currently considering investing through Nibble Finance, we encourage you to read the review carefully. We explain in-depth both the benefits and drawbacks of Nibble. In addition, we also share other alternatives that could be worth considering.
If you just want to find information about a specific topic, please use the navigation below. You can of course also choose to read the entire review.
Please be aware that the review only expresses our own opinion and investigations. You should not consider anything in this Nibble Finance review as financial advice.
Learn about the following in our Nibble Finance review:
What is Nibble Finance?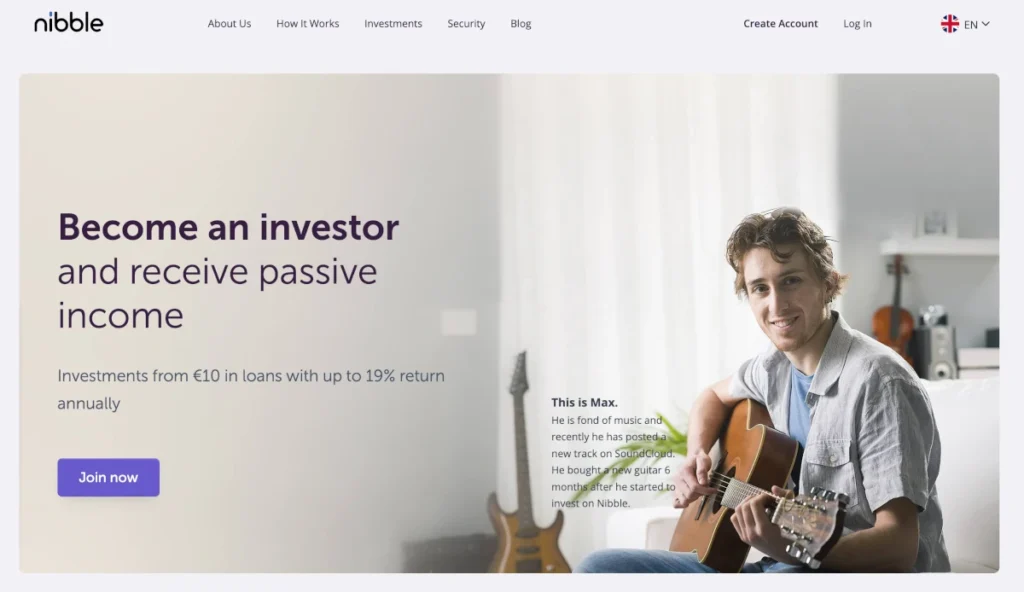 Nibble Finance is a P2P lending platform that enables you to invest in pre-funded consumer loans from Russia and Spain.
The loans you can invest in on the platform originate from Joymoney, which is a loan brand owned by IT Smart Finance.
The platform was launched in early 2020 in Spain. Since then, over €2,050,000 has been invested on the platform by over 8,500 investors.
If you want to try out the platform, it doesn't require much capital. With just €100, you can join the other investors and start investing on the platform over at https://nibble.finance/.
Nibble Finance statistics:
| | |
| --- | --- |
| Launched: | 2020 |
| Investors: | 8,500 + |
| Interest rate: | 9.7-19 % |
| Loan period: | 1 – 60 months |
| Loan type: | Consumer |
| Loans funded: | € 2,050,000 + |
| Min. investment: | € 100 |
| Max. investment: | Unlimited |
Nibble Finance FAQ:
Nibble Finance Trustpilot reviews:
Even though Nibble Finance doesn't have a lot of users compared to some of the bigger platforms, the users are still satisfied. On Trustpilot, Nibble has only received excellent and great ratings from investors.
You should be aware that this is only based on very few reviews. But with such a good Trustpilot rating to back up its platform, Nibble Finance is definitely a P2P platform that is worth taking a closer look at:
Main features
In the following part of this Nibble Finance review, we will go over some of the most important features, and why they are important to you as an investor
1. Nibble Finance auto-invest strategies
A great thing about Nibble Finance is its easy-to-use auto-invest strategies.
By using this function, you can easily get started investing in loans, without having to spend time cherry-picking loans on an ongoing basis.
To set up an auto-invest strategy at Nibble Finance, follow the steps below:
Add funds to your account
Choose your auto-invest strategy
You can choose between the following 3 strategies:
Classic Strategy (used by 22% of investors)
Balanced Strategy (used by 65% of investors)
Legal Strategy (used by 13% of investors)
You can see what the three strategies look like below:
Classic Strategy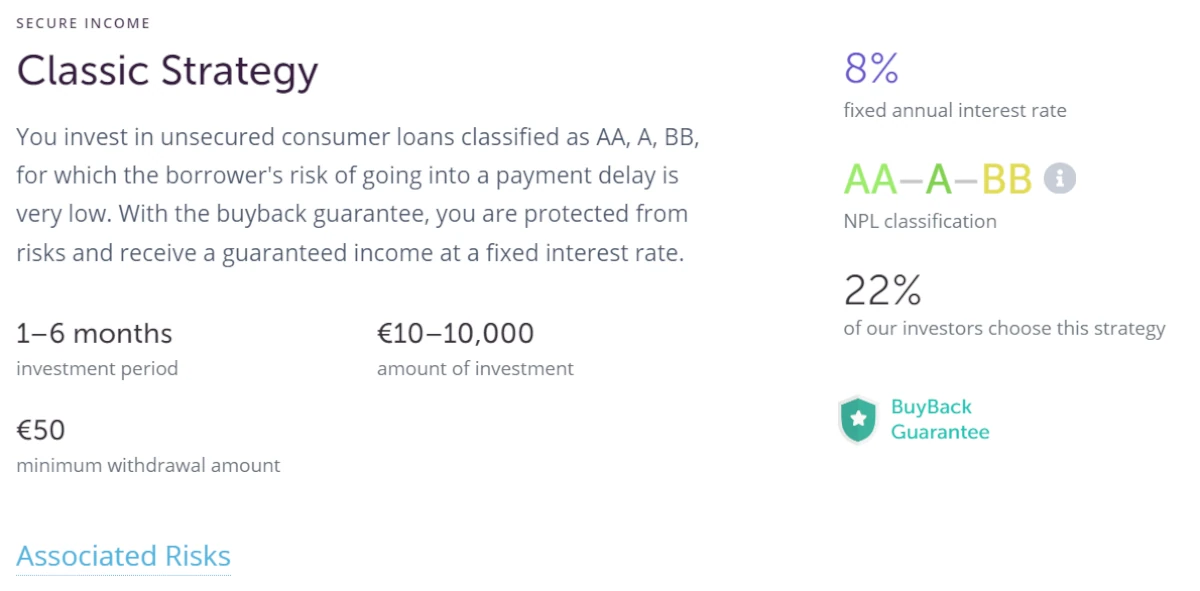 The Classic Strategy is the strategy at Nibble that carries the least risk, assessed based on the classification of the loans.
When investing with the Classic Strategy, your loans are covered by a BuyBack Guarantee, meaning that the loan originator will have to buy back your loans plus accrued interest, if the borrower is unable to fulfill their obligations.
Balanced Strategy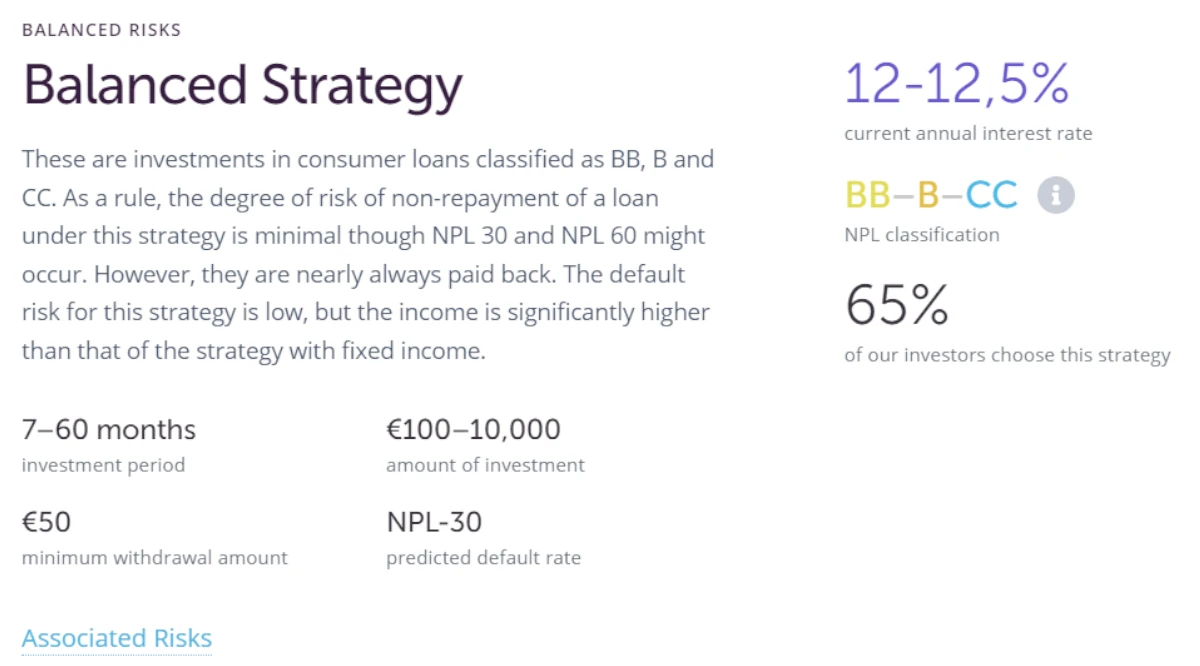 The Balanced Strategy is the most popular investment strategy on Nibble and around 65% of all investors on the platform choose to invest this way. This strategy has slightly more risk but also comes with a higher rate of return.
Legal Strategy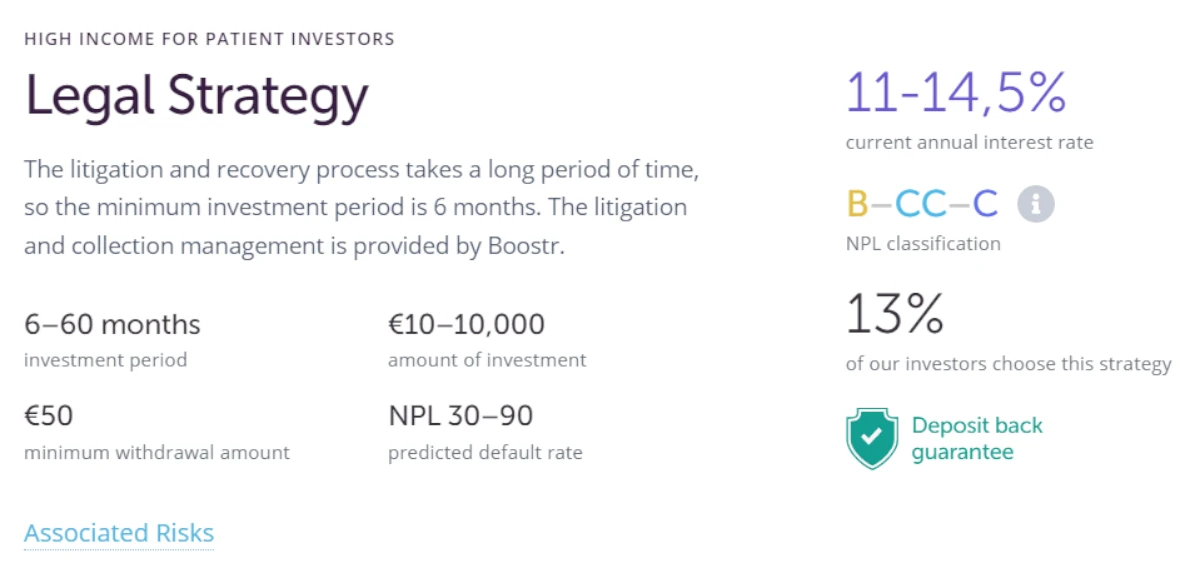 With Legal Strategy, you buy into a loan portfolio of overdue debt. This significantly increases your risk, but you also have the opportunity to achieve a high return, as risk and return typically go hand in hand. The return potential is up to 14.5% per year.
The loans that are up for collection are administered through Boostr, which is an experienced debt collection company. They buy overdue loans at a discount of 85% and automate the recovery process, including extrajudicial and legal procedures.
You should keep in mind that there are risks associated with investing in overdue loans, such as long recovery processes and uncertainties. The investment strategy also has a minimum investment period of 6 to 12 months.
According to Nibble, you are guaranteed a minimum return of 8% per year, but investors should be aware that situations may still arise where the guarantee cannot be met, for example, if the issuer of the guarantee defaults.
2. Nibble Finance BuyBack guarantee
The loans in the Classic Strategy on Nibble Finance come with a 60-day buyback guarantee.
This is basically the lender's obligation to buy back the loan from the investor if the loan is not repaid or has been extended for more than 60 days.
3. Cashback for new investors on Nibble Finance
Nibble Finance offers a 1% cashback bonus for the first 90 days for new investors joining the platform.
All you have to do to get the 1% cashback is click the button below:
What rate of return can you expect?
The average return on Nibble Finance is 12%.
But as the interest rate on the loans on Nibble Finance varies greatly, the return you will get depends on how you choose to invest.
Nibble Finance has 3 different auto-invest strategies that have different expected returns. Your expected return will depend on which you choose:
Classic strategy: 8% fixed annual interest rate
Balanced strategy: 12-12,5% annual interest rate
Legal strategy: 11-14,5% annual interest rate
You should be aware that the risk varies greatly depending on which strategy you choose to follow.
The return on Nibble Finance is quite high compared to other popular platforms such as Robocash and VIAINVEST.
Who can invest via Nibble Finance?
To be able to invest with Nibble Finance, you must at least be 18 years old, have a bank account in a European bank, or have an EAA (EU, Switzerland, Norway, and Liechtenstein) residence/citizenship, and be able to pass the identity verification process on the platform.
If you don't have a bank account in the Eurozone, it is often possible to sign up with a few extra steps, as this will require an additional personal AML check, where each case is considered individually. You can find the contact info for this at https://nibble.finance/.
Would you like to invest through Nibble Finance? Then press the button below. It will lead you directly to the Nibble website. From here you can learn more about the platform, and also create an account:
How safe is Nibble Finance?
Security is a very important thing when investing your money through online platforms. In this Nibble Finance review, we have therefore taken a look at what the platform offers to its users in terms of security.
No external loan originators
Nibble Finance only offers loans that come from Joymoney which like Nibble Finance is an IT Smart Finance company. In this way, IT Smart Finance has full insight into the loans that are on the platform which can make it easier for the company to manage the risks.
Nibble Finance seems to have no plans to offer loans from other loan originators – something that other platforms like PeerBerry, Mintos, and FAST INVEST do.
Buyback guarantee
There is always a risk of loan defaults with consumer loans. To meet this risk, Nibble Finance has a buyback guarantee on some of its loans.
This means that in the event that the borrowers are over 60 days late, Nibble Finance repurchases the loan from the investor. The platform compensates for both the invested principal and the accrued interest.
You must always keep in mind that a buyback guarantee is only as secure as the one offering it. So let's take a closer look at how robust the company behind Nibble is.
How solid is the company?
Nibble Finance is a platform owned by IT Smart Finance. This company has been profitable for multiple years in a row which indicates that the company is fairly solid.
You can find the annual reports here.
Best Nibble Finance alternatives
Are you unsure if Nibble Finance is the right platform for you, after reading this Nibble Finance review?
There are hundreds of P2P platforms out there, which can make it hard to determine if you have found the best platform or if you should look for other Nibble Finance alternatives.
The main categories for P2P platforms are consumer loans, real estate, and business loans.
Here are the best Nibble Finance alternatives right now:
There are many reasons why you should consider a Nibble Finance alternative.
First and foremost, you might not find that Nibble Finance suits your investment needs. When it comes to P2P lending platforms, every P2P investor has different needs. It's therefore crucial that you understand your main investment criteria and find a platform that matches.
It can also be a good idea to consider Nibble Finance alternatives to simply diversify your investments across more than one platform and reduce your overall platform risk. This can also be done with different types of platforms like the ones you can see above.
Conclusion of our Nibble Finance review
Nibble Finance is a well-designed and easy-to-use platform that makes investing really simple.
The platform is owned by IT Smart Finance, which is a profitable lending group. This indicates that the platform is a lot safer than many of the unprofitable platforms on the market.
Some of the positives about Nibble Finance include the auto-investing strategies, buyback guarantee on a lot of loans, and zero fees.