AxiaFunder review 2023
Read this AxiaFunder review to determine if you should use this litigation crowdfunding platform for investing. Go in-depth with a full analysis of AxiaFunder further down the page or see a summary with the pros and cons here:
AxiaFunder
AxiaFunder review summary:
AxiaFunder is one of the best platforms for investing in litigation crowdfunding. On the site, you can invest in cases with a target investor return of 20-30%. AxiaFunder has a secondary market that allows investors to trade with each other, and a portfolio product that makes it easier to achieve proper diversification. The main benefit of using AxiaFunder is that the assets you are investing in are uncorrelated to the general market. This makes AxiaFunder an interesting opportunity for diversifying your investment portfolio.
It's 100% free to open an account
Introduction to our AxiaFunder review
AxiaFunder has recently gained a lot of popularity among investors seeking alternative investment opportunities. But is using the litigation crowdfunding platform truly worthwhile?
This AxiaFunder review was created to assist investors in deciding if AxiaFunder investments are great for their portfolios.
You should not regard any of the content of this AxiaFunder.com review as financial advice. The review is only an expression of our opinion on the platform.
An outline of the topics covered in this AxiaFunder review can be seen below. Simply click the links below to get to the topic you want to learn more about.
Learn about the following in our AxiaFunder review:
What is AxiaFunder?
AxiaFunder is a litigation crowdfunding platform that allows individuals to invest in legal cases with the possibility of a large return. The platform is from the UK and was launched in 2019.
AxiaFunder aims to provide access to justice for those who might not otherwise be able to afford it, as well as offer investors the opportunity to profit from successful cases. The platform is led by CEO Cormac Leech.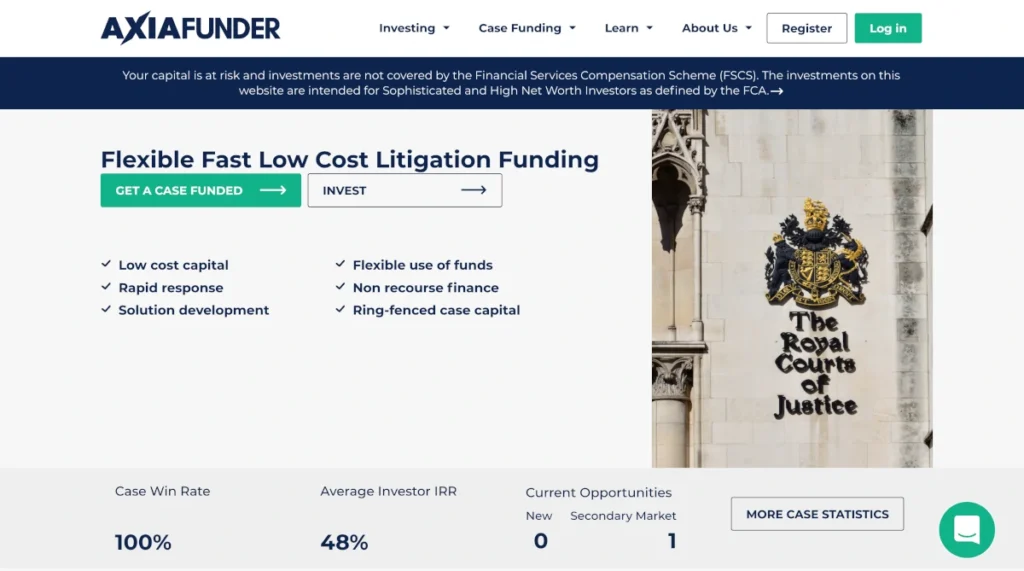 One of the advantages of investing through AxiaFunder is that the platform offers a degree of diversification, as investors can spread their money across multiple cases.
Another key selling point is the high expected returns, which can reach up to 20-30% per case. As of May 17, 2023, the generated return for investors was -23% to 175%. It should be noted that investing in legal cases carries a high degree of risk, and investors could lose all or part of their investment.
Since its launch, AxiaFunder has become one of the fastest-growing litigation crowdfunding platforms in Europe. Today, the platform has over 1,900 investors. The average annual return earned by these investors is fairly high, but this could potentially change in the future.
On https://www.axiafunder.com/, you can register an account and begin investing if you have over £1,000 to invest.
AxiaFunder statistics:
| | |
| --- | --- |
| Launched: | 2019 |
| Investors: | 1,900 + |
| Target investor return: | 20 – 30% |
| Investment period: | 2 – 36 months |
| Investment type: | Partnership shares |
| Investments funded: | £ 4,700,000 + |
| Min. investment: | £ 1,000 |
| Max. investment: | Unlimited |
AxiaFunder FAQ:
AxiaFunder Trustpilot reviews:
AxiaFunder is one of the top-rated litigation crowdfunding platforms on Trustpilot. Currently, the platform is rated at 4.0/5 stars on Trustpilot.
Compared to other alternative investment platforms, AxiaFunder's rating on Trustpilot is quite high.
Many users of the platform compliment the team for being great communicators and more professional than competitors.
With over 3 excellent reviews, AxiaFunder is worth considering for investing in litigation crowdfunding.
Main features
In the following part of our AxiaFunder review, you can learn about the main features of the litigation crowdfunding platform and why they are important for investors.
1. AxiaFunder investors' insurance
Only cases with an After-the-Event (ATE) policy protecting its investors from the downside risk of having to pay an unfavorable costs order if the funded case is unsuccessful are funded by AxiaFunder.
In some situations, there will be additional coverage for the claimant's legal costs (that have been funded by investors on AxiaFunder), which means that some or the majority of the investors' capital will be covered. (i.e., the protection is only partial because this insurance cover excludes AxiaFunder's fees).
One possible value for partial capital protection could be 85%. Thus, you would only be taking a 15% risk because the other 85% is covered by investor insurance.
2. AxiaFunder secondary market
The AxiaFunder secondary market is one of the most important features of the litigation crowdfunding platform, as it allows investors to trade with each other. The feature came out in September 2021.
You can sell your partnership shares in a case to other litigation financing investors on the AxiaFunder secondary market before the case is resolved. When you need the money for other investments, this is extremely helpful. or if you just want to do a cash withdrawal.
You can follow this procedure to sell your partnership interests in a case on the secondary market:
Go to axiafunder.com
Register with your account
In the navigation, click "Secondary Market"
Choose "Add a listing"
Now you can choose what you want to sell
Simply visit the available holdings page and choose the partnership shares in a specific offer if you want to purchase on the secondary market. You must have the seller's approval.
A fee of 2.5% of the purchase price will be charged to secondary market sellers. Buyers pay a fee of 3%.
On the AxiaFunder secondary market, a transaction must be at least £1,000 in value.
3. AxiaFunder portfolio product
AxiaFunder introduced a new portfolio product in May 2022. With the use of this product, investors may efficiently diversify their platform investments among various different claims. The expected return on the portfolio product is around 28%.
What rate of return can you expect?
Your return depends on how you choose to invest on the platform, as there are only a few cases on AxiaFunder at a time.
The return on AxiaFunder is advertised to be around 20%–30% on the website. This means that you might expect a return in that range. As of May 17, 2023, AxiaFunder reported a -23% to 175% generated return for its investors. But the returns are not guaranteed. Returns like these are never without risk, and the platform is not for beginners or risk-averse investors.
The expected return on AxiaFunder is much higher than what you can find on normal high-yielding P2P lending platforms like Robocash, VIAINVEST, and Lendermarket.
Who can invest via AxiaFunder?
It is possible for both private individuals and companies to invest via the AxiaFunder platform.
Individuals
To create a user as an individual, you must meet the following requirements:
Be a least 18 years old
Not live in the USA or Canada
Be categorized as a sophisticated or high net-worth individual (or equivalent)
If you match the aforementioned qualifications, getting started with AxiaFunder is simple. Simply follow the steps below, and you should be up and running in no time:
Sign up at https://www.axiafunder.com/
Complete investors suitability test
Select "individual" as your investor type
Comply with KYC

Add funds to your account

Invest in lawsuits
Companies
You can use your company, if you own one, to make investments through AxiaFunder.
After completing the suitability test on the platform, you must select an institution as your investor type.
Available countries
AxiaFunder is available to qualifying investors from most countries in the world. Investors that are not from the European Economic Area (European Union, Iceland, Liechtenstein, and Norway) are generally eligible to invest, subject to some additional approvals.
Do you have what it takes to register with AxiaFunder as an investor? To access their website, click the button below. You may immediately register for a free account here and begin investing:
How safe is AxiaFunder?
When making an online investment through alternative investment platforms, security is one of the most important considerations to take into account. As a result, in our AxiaFunder review, we looked into the platform's security.
The stability of the company and the security of its investments are the two aspects that we looked at.
How safe are the investments?
The first thing we looked into when creating this AxiaFunder review is how secure the investments are.
Case loss
When you invest with AxiaFunder, the greatest risk you take is that the case will be lost. You will ultimately lose some or all of the money you invested in this situation. On this platform, this is expected to place.
AxiaFunder has a skilled case assessment team that thoroughly evaluates each claim in light of a number of critical factors, including but not limited to legal merit, legal team, ATE insurance, economics, and enforceability, in order to reduce this risk.
AxiaFunder expects to fund one case out of every 20 that are reviewed by the team.
AxiaFunder advises people to diversify their lawsuit investment among at least 5–10 cases in order to assist lessen the risk of an unfavorable result.
If you are unsure how to get proper diversification, you can use the AxiaFunder portfolio product to achieve decent diversification.
How solid is the company?
AxiaFunder did not turn a profit in 2020 and ended up with a net loss of £384,786.
This contrasts with losses of £143,039 in 2018 and £227,917 in 2019.
According to P2P Finance News, this is due to the fact that the company has aggressively invested in growth. AxiaFunder is expected to turn into a profitable company in 2022.
Best AxiaFunder alternatives
Are you unsure if AxiaFunder is the right platform for you, after reading this AxiaFunder review?
There are hundreds of P2P platforms out there, which can make it hard to determine if you have found the best platform or if you should look for other AxiaFunder alternatives.
The main categories for P2P platforms are consumer loans, real estate, and business loans.
Here are the best AxiaFunder alternatives right now:
There are many reasons why you should consider an AxiaFunder alternative.
First and foremost, you might not find that AxiaFunder suits your investment needs. When it comes to crowdfunding platforms, every investor has different needs. It's therefore crucial that you understand your main investment criteria and find a platform that matches them.
It can also be a good idea to consider AxiaFunder alternatives to simply diversify your investments across more than one platform and reduce your overall platform risk. This can also be done with different types of P2P lending sites, like the ones you can see above.
Conclusion of our AxiaFunder review
AxiaFunder is a great litigation crowdfunding platform that offers a target investor return of 20–30%. Compared to other platforms, there are only a few other places investors can achieve similar high returns.
The platform is incredibly user-friendly and offers most of the essential features, like a secondary market for trading investments with other investors. But the platform could use an auto-invest feature.
AxiaFunder has a great rating on Trustpilot with 4.0/5 stars. This TrustScore is high compared to a lot of other alternative investment platforms.
Overall, AxiaFunder is suitable for investors who are willing to take on a high level of risk in pursuit of potentially high returns. The platform also has the potential to be of great benefit to those who might not otherwise be able to access justice.
Do you want to sign up after reading this AxiaFunder review? Click the button below to visit the website where you can become an investor: