Hive5 review 2023
Read this Hive5 review to discover the pros and cons of the P2P lending platform. You will get a detailed assessment of the platform, its features, and any potential drawbacks. See a quick overview of our analysis of Hive5 just below:
Hive5
Hive5 review summary:
Hive5 is a highly credible P2P lending platform for short-term and BNPL loans, with strong ties to the GPS tracking company Ruptela. It offers a high average return of 15.35%, buyback protection on all loans, and collateral on Ruptela loans. While lacking an early exit option, its main focus on short-term loans doesn't necessarily make this a dealbreaker. Hive5's registration process is quick and efficient. Despite being a new platform, Hive5 has a growing positive reputation on Trustpilot.
It's 100% free to open an account
Read the in-depth Hive5 review
In the full review, we provide an in-depth analysis of Hive5 and how the platform compares to the +30 other P2P lending platforms we have tested and reviewed since 2019.
If you are considering investing via Hive5, you might benefit from reading the entire Hive5 review to get valuable insight into the advantages and potential drawbacks of using the platform – and what you can do to mitigate risks.
We examine Hive5's features, their implications for investors, and what you might be missing out on if you opt for this platform. You can also learn about the risks involved and the safety measures implemented to protect investors.
Please note that the content in this hive5.co review is not intended as financial advice but merely reflects our opinion of the platform.
Learn about the following in our Hive5 review:
What is Hive5?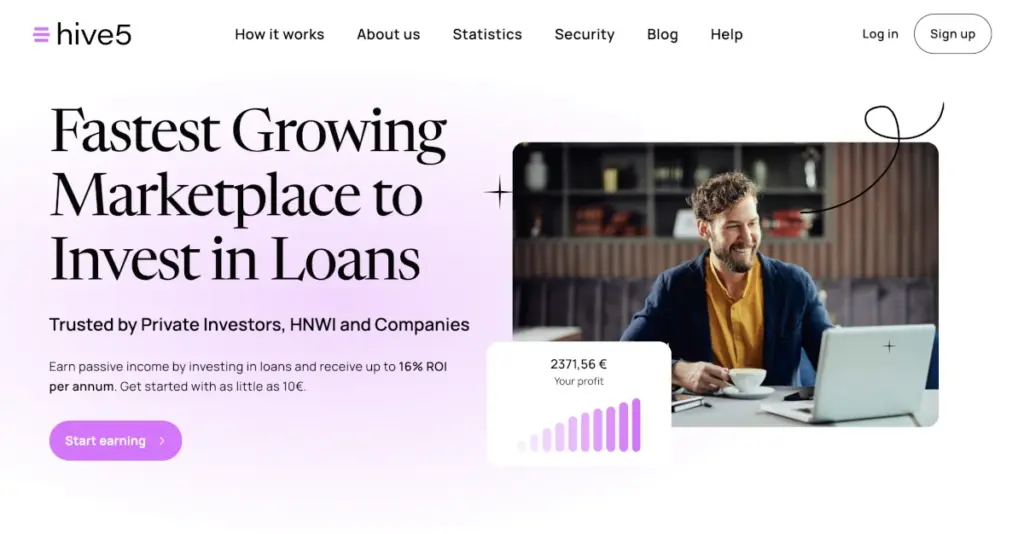 Hive5 is a P2P lending marketplace that allows investors to invest in various types of loans, including Buy Now Pay Later (BNPL), business, and short-term loans. It is incorporated in Croatia and was launched by the Hive Finance group in 2022.
The platform has rapidly gained popularity among private investors, high-net-worth individuals, and companies from all over Europe as a reliable investment marketplace.
Hive5 offers an average annual return of 15.35% for investors, making it one of the higher-yielding P2P lending platforms in the market.
The platform's credibility is backed by its shareholders, Ričardas Vandzinskas and Andrius Rupšys, who have extensive experience in corporate governance, risk management, and international business.
To mitigate default risk, Hive5 provides a buyback obligation on loans. This means that if a borrower's payments are more than 60 days late, the loan originator is responsible for buying back the loan plus accrued interest.
Since its launch, Hive5 has become one of the fastest-growing P2P lending platforms in Europe. Today the platform has over 1,500 users.
On hive5.co, you can register an account and begin investing with as little as €10.
Hive5 statistics:
| | |
| --- | --- |
| Launched: | 2022 |
| Investors: | 1,500 + |
| Interest rate: | 12 – 16 % |
| Loan period: | 0 – 21 months |
| Loan type: | Short-term and BNPL |
| Loans funded: | € 7,700,000 + |
| Min. investment: | € 10 |
| Max. investment: | Unlimited |
Hive5 FAQ:
Hive5 Trustpilot reviews:
Hive5 has great ratings on Trustpilot when you take into account that many financial companies don't fare well on Trustpilot. Currently, Hive5 is rated at 4.0/5 stars on Trustpilot.
Compared to other P2P lending platforms, Hive5's rating on Trustpilot is quite good.
Hive5 is endorsed for having high returns and no cash drag. Of the bad reviews, investors mentions problems with bank transfers and the lag of features typically found on bigger platforms.
With over 15 positive reviews, Hive5 is worth considering for investing in P2P loans.
Main features
In the following part of our Hive5 review, you can learn about the main features of the platform, and why they are important for you as an investor.
1. Hive5 buyback obligation
The Hive5 buyback obligation is a security feature implemented in the platform to safeguard the interests of investors in the event of borrowers' payments being delayed.
Essentially, this means that if a loan payment is overdue by more than 60 days, the loan originator is required to buy back the loan in full, including the accrued interest. This mitigates the risk for investors and provides them with a safety net in case of defaults or late repayments.
For investors, the buyback obligation acts as a layer of protection and offers them increased confidence in the platform. It demonstrates that the loan originator is willing to share the risk and assures that their investments are less vulnerable to losses caused by delays in repayments. As a result, this may lead to a potentially higher level of trust and credibility in the platform.
But investors should be aware that the buyback guarantee is only as good as the financial stability of the loan originator. Therefore, it is vital for investors to do their due diligence and thoroughly research the companies backing the loans to ensure that they have the financial strength to honor the buyback obligation when necessary.
Investors must be cautious not to solely rely on this guarantee, as market conditions may change, and the risk of default can still vary depending on the borrower's financial circumstances.
2. Hive5 double shield protection
The Hive5 double shield protection creates a more secure and attractive investment opportunity for investors, as it minimizes the risks involved in some of the loans on Hive5.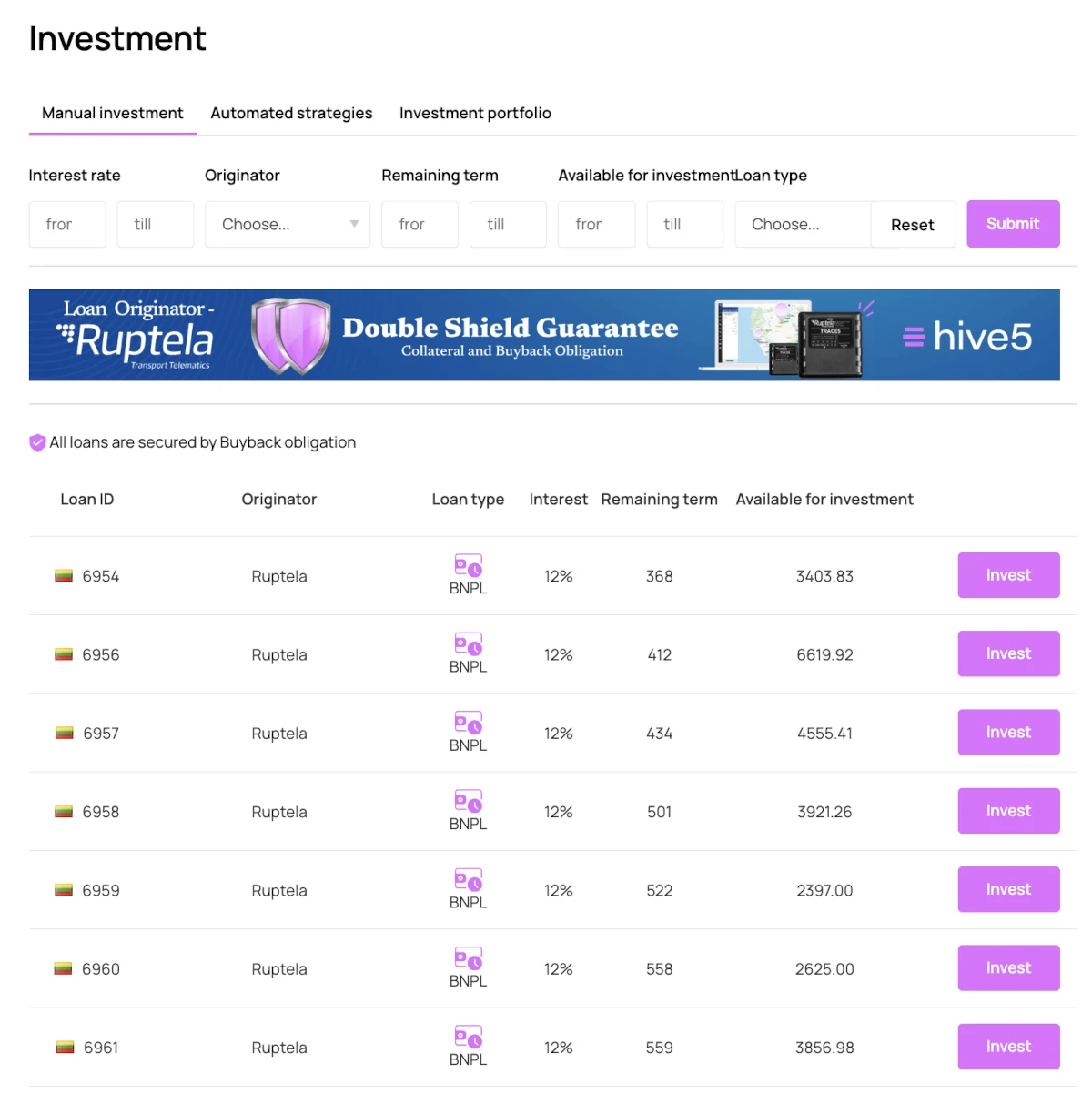 The Hive5 double shield protection is a unique safety feature offered by Ruptela on its BNPL (Buy Now, Pay Later) loans, which provides an added layer of security for investors. This double shield protection comprises two significant components:
Buyback guarantee.
Collateral in the form of GPS Fleet tracking devices.
For investors, this means that their investments have a higher level of security compared to other platforms that typically provide only a single layer of protection, either buyback or collateral.
In case of any delays or defaults in loan repayments, the GPS tracking devices pledged as collateral can be immediately ceased, acting as an effective debt-collection tool. The devices have a higher value than the loan amount, ensuring that investors are well-protected.
3. Hive5 auto-invest
You can both invest manually and automatically on Hive5. The auto-invest tool is a popular tool among P2P investors, as it streamlines the investment process and can make it 100% passive.
In order to use the Hive5 auto-invest tool, you can follow the steps below:
Make sure you are logged in
Click "Investment" in the navigation
Click "Automated strategies"
Decide how you want to invest
Click "Create investment portfolio"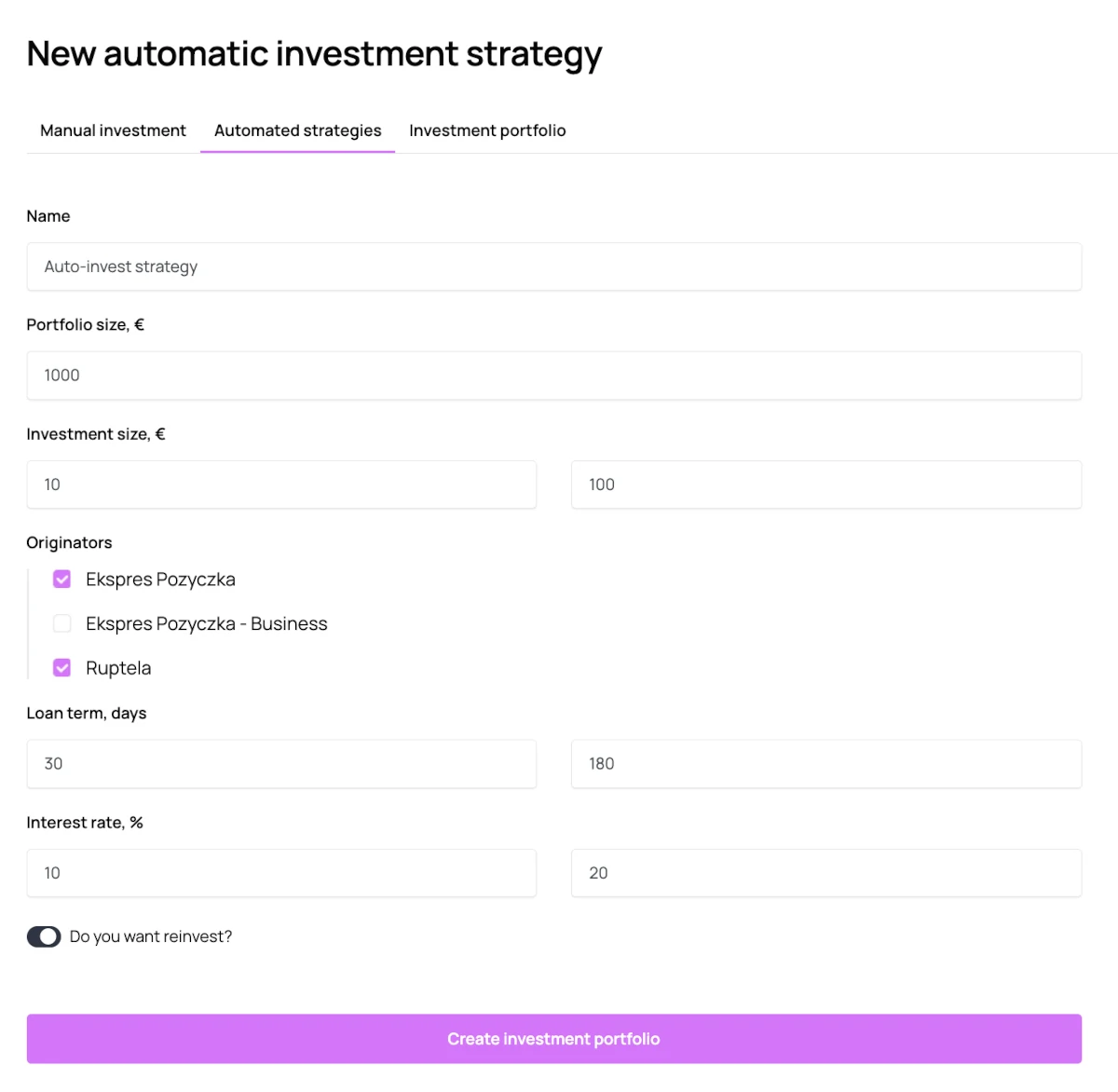 The Hive5 auto-invest tool does the job the way it should. There is just the right amount of configurations available to do what it should do.
With the automatic investment strategy, you can configure portfolio size, and investment per loan, choose between loan originators, be specific about the loan term, select your interest rate, and decide if you want to enable automatic reinvesting.
We recommend reinvesting as it allows you to invest more passively. This is especially true as many of the loans are short-term loans on the marketplace.
4. Get a 0,5% Hive5 cashback bonus
Hive5 has teamed up with us to offer new investors a 0.5% cashback bonus when they join the platform through our referral link.
By using our exclusive refer-a-friend link, you can take advantage of this 0.5% bonus for your first 3 months.
To secure your Hive5 cashback, just click the button below to activate the bonus (no referral code or promo code required):
What rate of return can you expect?
On average, investors in Hive5 can expect an annual return of approximately 15.35%, according to data reported by hive5.co itself. This figure takes into account a diverse selection of loans, each with different interest rates based on factors such as loan type and risk. Individual returns on the platform may vary depending on an investor's specific strategy.
Your return on the platform can vary from this number depending on how you choose to invest.
Compared to other well-known P2P lending platforms like Esketit, VIAINVEST, and PeerBerry, Hive5's average return rate of 15.35% is quite competitive. Additionally, since there are no fees for investors on Hive5, this figure represents net returns rather than gross returns.
Past performance does not necessarily guarantee future returns. The P2P lending market's performance can be influenced by overarching economic conditions in the countries where the platform operates. Factors such as increased borrower defaults, reduced loan origination volumes, and tighter lending requirements could arise during economic downturns – all of which could impact the returns on investment.
It's important to note that higher returns typically correlate with increased risk. As such, investors should carefully assess their risk tolerance and select loans accordingly.
Before making an investment decision, it is crucial to analyze historical and projected returns on various P2P platforms in order to make informed comparisons.
Who can invest via Hive5?
It is possible for both private individuals and companies to invest via the Hive5 platform.
Individuals
To create a user as an individual, you must meet the following requirements:
Be a least 18 years old
Have a bank account in the EU
If you match the aforementioned qualifications, getting started with Hive5 is simple. Simply follow the steps below, and you should be up and running in no time:
Sign up at https://hive5.co/
Add funds to your account
Invest in loans manually or create an auto-invest strategy
Companies
You can use your company, if you own one, to make investments through Hive5.
Instead of signing up as an individual, you must simply select "Company" in the second step when creating an account.
Available countries
Hive5 is available to all investors except investors from high-risk third countries.
Do you meet the requirements to sign up as an investor at Hive5? Then press the button below to get to their website. From here you can quickly create a free account and get started investing:
How safe is Hive5?
Security is one of the most crucial factors to consider while investing money online through peer-to-peer lending websites. As a result, we have examined the platform's security in our Hive5 review.
The two areas that we examined are the safety of the investments and the company's stability.
How safe are the investments?
The first thing we looked into when creating this Hive5 review, is how secure the investments are.
Loan originator risk
The loans on Hive5 originates from different lending companies throughout Europe. The main loan originator on Hive5 is Ruptela, which is owned by one of the owners of the platform.

The few loan originators on the platform can make it hard to achieve proper diversification and lower your loan originator risk. If this is a concern to you, it can be a good idea to also use other platforms together with Hive5.
Buyback guarantee
On Hive5, the loans are covered by a buyback guarantee. This means that your investments will be bought back if the borrower doesn't repay before the loan is 60 days overdue.
But as previously mentioned in this Hive5 review, a buyback guarantee is only as solid as the one behind it. You should never rely solely on the buyback guarantee when you invest via Hive5.
How solid is the company?
Hive5 is a new P2P lending platform from 2022, and there is not much financial data on the company yet. Therefore, it is hard to assess how solid the company is at the moment.
Best Hive5 alternatives
Are you unsure if Hive5 is the right platform for you, after reading this Hive5 review?
There are hundreds of P2P platforms out there, which can make it hard to determine if you have found the best platform or if you should look for other Hive5 alternatives.
The main categories for P2P platforms are consumer loans, real estate, and business loans.
Here are the best Hive5 alternatives right now:
There are many reasons why you should consider an Hive5 alternative.
First and foremost, you might not find that Hive5 suits your investment needs. When it comes to P2P lending platforms, every P2P investor has different needs. It's therefore crucial that you understand your main investment criteria and find a platform that matches.
It can also be a good idea to consider Hive5 alternatives to simply diversify your investments across more than one platform and reduce your overall platform risk. This can also be done with different types of platforms like the ones you can see above.
Conclusion of our Hive5 review
In conclusion, Hive5 has proven itself as an emerging P2P lending platform with significant potential for investors seeking to diversify their portfolios and achieve high returns.
Its experienced management, user-friendly features, and increasing positive reputation bode well for Hive5's prospects in the competitive P2P lending space.
While it does have a short track record and limited loan originators, its focus on short-term loans somewhat mitigates the need for a secondary market.
Overall, Hive5 is certainly worth considering for investors who value both accessibility and growth potential in their P2P lending endeavors.
Do you want to sign up after reading this Hive5 review? Click the button below to visit the website where you can become an investor: