Monefit SmartSaver review 2023
Read this Monefit SmartSaver review to learn the pros and cons of the P2P platform. You will get a detailed analysis of the platform, its features, and any potential drawbacks. See a quick overview of our assessment of Monefit here:
Monefit SmartSaver
Monefit review summary: 
Monefit SmartSaver is one of the easiest-to-use P2P investment products on the market. But the platform doesn't provide the same level of transparency into which loans you are investing in as you normally get on P2P lending platforms like Lendermarket. The return is also slightly lower at 7.25%, which probably is due to lower risk and more similarities with savings accounts. You can invest automatically and withdraw at any time. Monefit also has a great reputation on Trustpilot.
It's 100% free to open an account
Read the in-depth Monefit review
In the full review, we provide an in-depth analysis of Monefit and how the investment platform stacks up against the +30 other P2P lending platforms we have tested and reviewed since 2019.
If you are considering investing with Monefit SmartSaver, you might benefit from reading the entire Monefit review to get valuable insight into the advantages and potential drawbacks of using this platform – and what you can do to mitigate risks.
We examine Monefit's features, their implications for investors, and what you might be missing out on if you choose this platform. You can also learn about the risks involved and the safety measures implemented to protect investors.
Please note that the content in this monefit.com review is not intended as financial advice but only reflects our opinion of the platform.
Learn about the following in our Monefit review:
What is Monefit?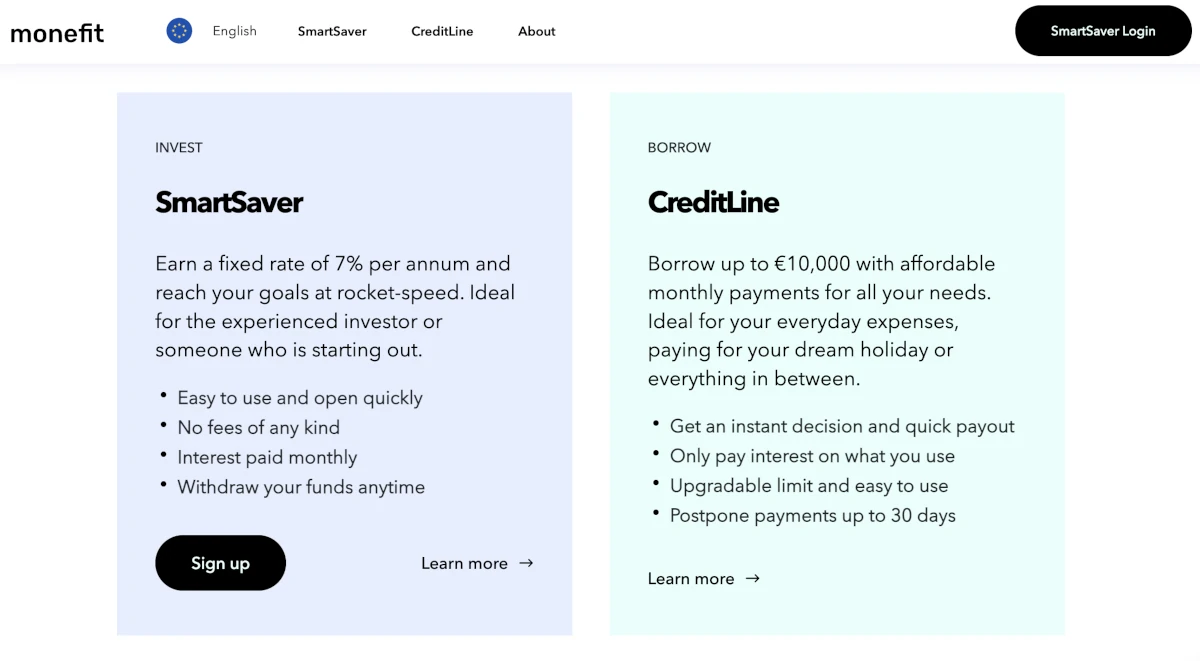 Monefit is a brand launched by Creditstar Group, a prominent European lending group.
Monefit offers a product called Monefit SmartSaver, which is designed to help individuals reach their financial goals by providing a 7% annual interest rate on invested savings. This product is aimed at those looking for a high-interest-rate alternative to traditional savings accounts.
Monefit SmartSaver is backed by the Creditstar Group, which has been in the fintech market since 2006 and has provided over 83 million in interest returns.
Creditstar is also behind the popular P2P lending platform Lendermarket, where you can invest in loans with a higher interest rate and more control over which loans you are investing in compared to Monefit.
On monefit.com, you can register an account and begin investing with as little as €10.
Monefit statistics:
| | |
| --- | --- |
| Launched: | 2022 |
| Investors: | Unknown |
| Interest rate: | 7.25 % |
| Loan period: | Unknown |
| Loan type: | Unknown |
| Loans funded: | Unknown |
| Min. investment: | € 10 |
| Max. investment: | € 50,000 |
Monefit FAQ:
Monefit Trustpilot reviews:
Monefit has a great rating on Trustpilot. The platform has more than 50 reviews and is rated at 4.2/5 stars.
Compared to other P2P lending platforms, Monefit's rating on Trustpilot is quite good.
The positive reviews mention decent returns and great customer service. Some of the only negative reviews are from investors based in countries that are not allowed on the platform due to regulations, a missing app, and poor design elements.
With over 50 positive reviews, Monefit is worth considering as an alternative to a savings account.
Main features
In the following part of our Monefit review, you can learn about the main features of the platform, and why they are important for you as an investor.
1. Monefit auto-invest
The auto-invest feature on Monefit is called SmartSaver. It is a tool designed to automate the investment process for users, allowing them to earn passive income without having to manually choose and invest in individual loans.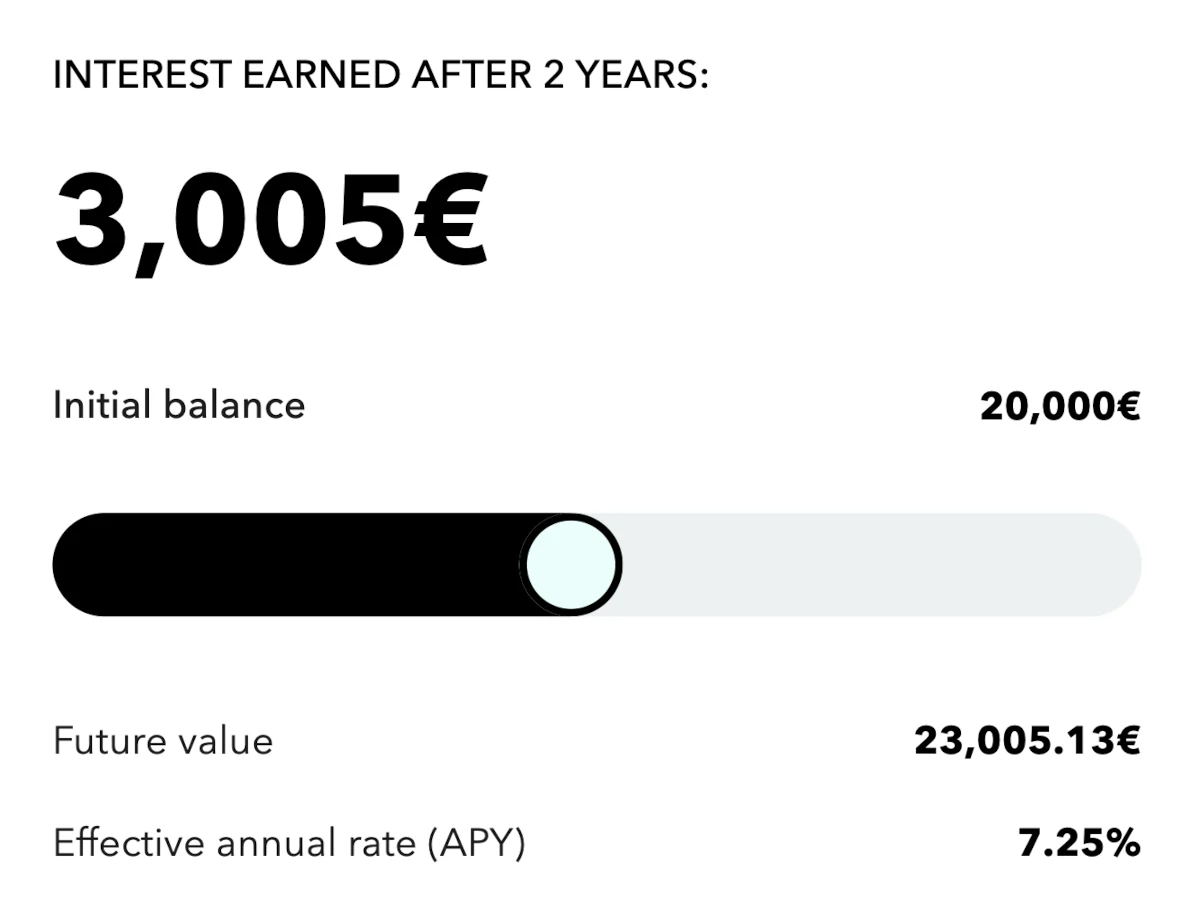 With Monefit investors do not have visibility into the specific loans their money is invested in. The platform handles the allocation of funds, with the expectation that it will act responsibly and optimize returns for investors.
2. Monefit withdrawal
Monefit doesn't have a secondary market for selling your loans but provides a withdrawal option.
Withdrawals from your SmartSaver account are not instant; however, the platform promises to process them within 10 days.
Please remember that there is a minimum withdrawal limit of €50 in place and all transfers between you and the platform should be made in Euros.
3. Cashback of 2% for 60 days
Monefit offers a 2% cashback for new investors based on the net deposits made in the first 60 days.
To get this cashback bonus, you must click the button below, which contains a link that activates the bonus for you.
Please be aware that the bonus you get from affiliates is not shown separately in your account. If you are in doubt about whether or not you have gotten the bonus, you can contact support.
What rate of return can you expect?
According to Monefit, the average return is 7.25%.
Compared to other well-known P2P lending platforms like Esketit, VIAINVEST, and PeerBerry, Monefit's average return rate of 7.25% is very small. But compared to a savings account the return is quite high but you are also taking more risk.
While Monefit is advertising a 7% return on investment on their product, this return can fluctuate as stated in the terms and conditions of the platform. This is probably due to the fact that market conditions can impact the returns and profits of the company.
Who can invest via Monefit?
It is possible for both private individuals and companies to invest via the Monefit platform.
Individuals
To create a user as an individual, you must meet the following requirements:
Be a least 18 years old
Have a bank account in the SEPA zone
Have your identity verified by Monefit
If you match the aforementioned qualifications, getting started with Monefit is simple. Simply follow the steps below, and you should be up and running in no time:
Sign up at https://monefit.com/
Add funds to your account
Start investing
Companies
If you want a corporate account you can open one at Monefit when signing up and creating an account. Simply indicate that you are making an account for a company and upload the required documents.
Available countries
Monefit is available to investors from Austria, Belgium, Bulgaria, Croatia, Cyprus, Czech Republic, Denmark, Estonia, Finland, France, Germany, Greece, Hungary, Iceland, Italy, Latvia, Liechtenstein, Lithuania, Luxembourg, Malta, Netherlands, Norway, Poland, Portugal, Romania, Slovakia, Slovenia, Spain, Sweden, Switzerland, and the United Kingdom.
Do you meet the requirements to sign up as an investor at Monefit? Then press the button below to get to their website. From here you can quickly create a free account and get started investing:
How safe is Monefit?
Security is one of the most crucial factors to consider while investing money online through peer-to-peer lending websites. As a result, we have examined the platform's security in our Monefit review.
The two areas that we examined are the safety of the investments and the company's stability.
How safe are the investments?
The first thing we looked into when creating this Monefit review, is how secure the investments are.
Loan originator risk
When you are investing your money with Monefit, you are essentially lending out your money. Here, the loan originator poses a risk for you as an investor. If they are not in control of their finances or business processes, your money is at stake.
How solid is the company?
Monefit is a new P2P lending platform from 2022, and there is not much financial data on the company yet. Therefore, it is hard to assess how solid the platform is at the moment.
But since Monefit is owned by Creditstar Group – a profitable lending group founded in 2006, there is at least some credibility behind the platform.
Best Monefit alternatives
Are you unsure if Monefit is the right platform for you, after reading this Monefit review?
There are hundreds of P2P platforms out there, which can make it hard to determine if you have found the best platform or if you should look for other Monefit alternatives.
The main categories for P2P platforms are consumer loans, real estate, and business loans.
Here are the best Monefit alternatives right now:
There are many reasons why you should consider a Monefit alternative.
First and foremost, you might not find that Monefit suits your investment needs. When it comes to P2P lending platforms, every P2P investor has different needs. It's therefore crucial that you understand your main investment criteria and find a platform that matches.
It can also be a good idea to consider Monefit alternatives to simply diversify your investments across more than one platform and reduce your overall platform risk. This can also be done with different types of platforms like the ones you can see above.
Conclusion of our Monefit SmartSaver review
Monefit SmartSaver presents an appealing option for individuals seeking a user-friendly and accessible P2P investment product. Its simplified approach to investing, coupled with the potential for one of the highest annual returns in Europe at 7.25%, sets it apart from traditional savings accounts.
The platform's automatic investment feature and no lock-in period for withdrawals further enhance its appeal for those who want flexibility in managing their investments.
However, it's essential to consider the trade-offs that come with this simplified investment model. Monefit SmartSaver's lack of transparency regarding the loans being invested in may cause concerns for those who prefer a more hands-on approach and greater control over their investment choices.
While the lower return rate might be indicative of a less risky investment approach, it may not be as attractive for seasoned P2P investors who seek higher returns.
Even though Monefit enjoys a strong reputation on Trustpilot, its close ties with Creditstar Group must be considered. According to other bloggers and investors Creditstar has previously been inconsistent in honoring its buyback guarantees on other platforms like Mintos and Lendermarket.
Potential investors must factor in these past incidents when making an informed decision about investing in Monefit SmartSaver.
Do you want to sign up after reading this Monefit review? Click the button below to visit the website where you can become an investor: