EvoEstate review 2023
Check out our EvoEstate review, and see if the platform is for you.
EvoEstate
EvoEstate review summary:
If you invest your money on EvoEstate, you will be able to get better diversification than on any other real estate crowdfunding platform. You can use auto-invest to make investing rather passive, and their secondary market makes it possible to sell your investments again – if you find better opportunities elsewhere. If you are in doubt about what real estate platform you should use, could be a good place to start.
It's 100% free to open an account
Introduction to our EvoEstate review
EvoEstate offers a new and innovative way to diversify investments on real estate crowdfunding platforms. But is it really worth using their platform? We decided to investigate.
So if you are considering investing through the platform, we recommend that you read this EvoEstate review first. Because here we take a look at whether or not it's worth using them. We promise you will get a better feel for the platform through our review.
Note: We have made an agreement with EvoEstate, which means you can get a 0.5% cashback on the investments you make in the first 6 months. All you need to do to get the bonus is sign up on their platform through one of the EvoEstate affiliate links in this review. If you create a user through our site, you'll at the same time support our website.
Our EvoEstate review ended up being a bit long. You can, therefore, choose to use the navigation below to find exactly what you are looking for. Of course, you are also more than welcome to read the entire review. However, we will make you aware that the review only expresses our own opinion. Therefore, do not consider the content of this EvoEstate review as financial advice.
Learn about the following in our EvoEstate review:
What is EvoEstate?
EvoEstate is a real estate investment platform. They aggregate and source deals from some of the major European real estate crowdfunding platforms. By using EvoEstate, you will basically have access to deals from over 16 platforms with just one account.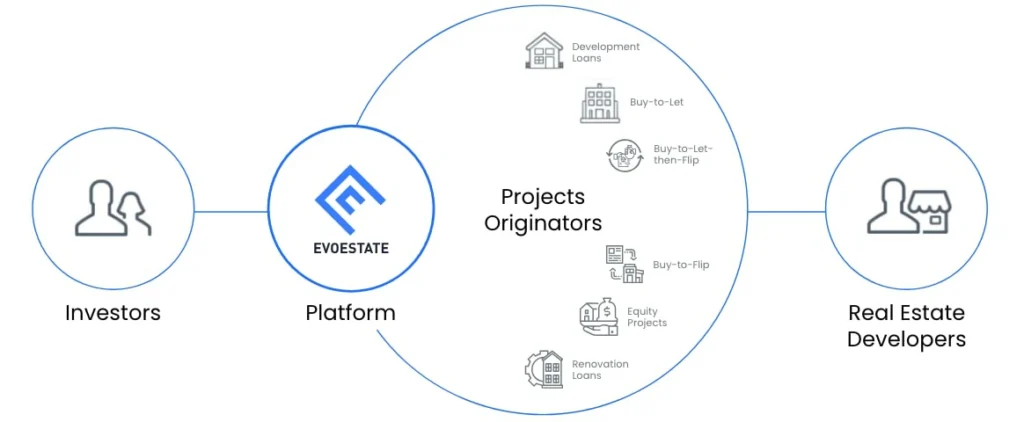 Some of the project originators you can find on EvoEstate include Rendity, Heavy Finance, ReInvest24, and PROFITUS.
Due to the fact that EvoEstate is a layer on top of the other platforms, they are also able to offer features like a secondary market which some of the platforms you originally don't have. You can learn more about these later in this review.
EvoEstate was launched in February 2019 and is located in Tallinn, Estonia. The platform has received venture capital from Startup Wiseguys and Business Angels Fund. This is a strong quality indicator.
The co-founders of the company Gustas Germanavičius and Audrius Visniauskas invest along with the other investors on the platform. They currently have around €196,621 invested.
With as little as €100, it is possible for you to open an investment account on their platform.
EvoEstate statistics:
| | |
| --- | --- |
| Launched: | 2019 |
| Investors: | 12,000 + |
| Interest rate: | 5 – 15 % |
| Loan period: | 6 – 120 months |
| Loan type: | Real estate |
| Loans funded: | € 4,000,000 + |
| Min. investment: | € 100 |
| Max. investment: | Unlimited |
EvoEstate FAQ:
EvoEstate Trustpilot reviews:
A lot of investors have shared their EvoEstate experience on Trustpilot. At the time of writing, this has resulted in the average rating for EvoEstate:
With an average rating, it could be worth exploring platforms with better reviews such as ReInvest24 or EstateGuru.
Main features
In the following part of our EvoEstate review, we will explain some of the main features of the platform, and why they are important for you as an investor.
1. EvoEstate secondary market
The first feature we want to mention in this EvoEstate review is the secondary market. This is a place where you can trade investments with other investors on the platform.
While it is not possible to sell your investments on a secondary market at a lot of the project originators, EvoEstate has made this possible. So if it is a criterion for you that there is a secondary market on a platform, you can actually benefit from using EvoEstate instead of the project originators themselves – all while investing in the same deals.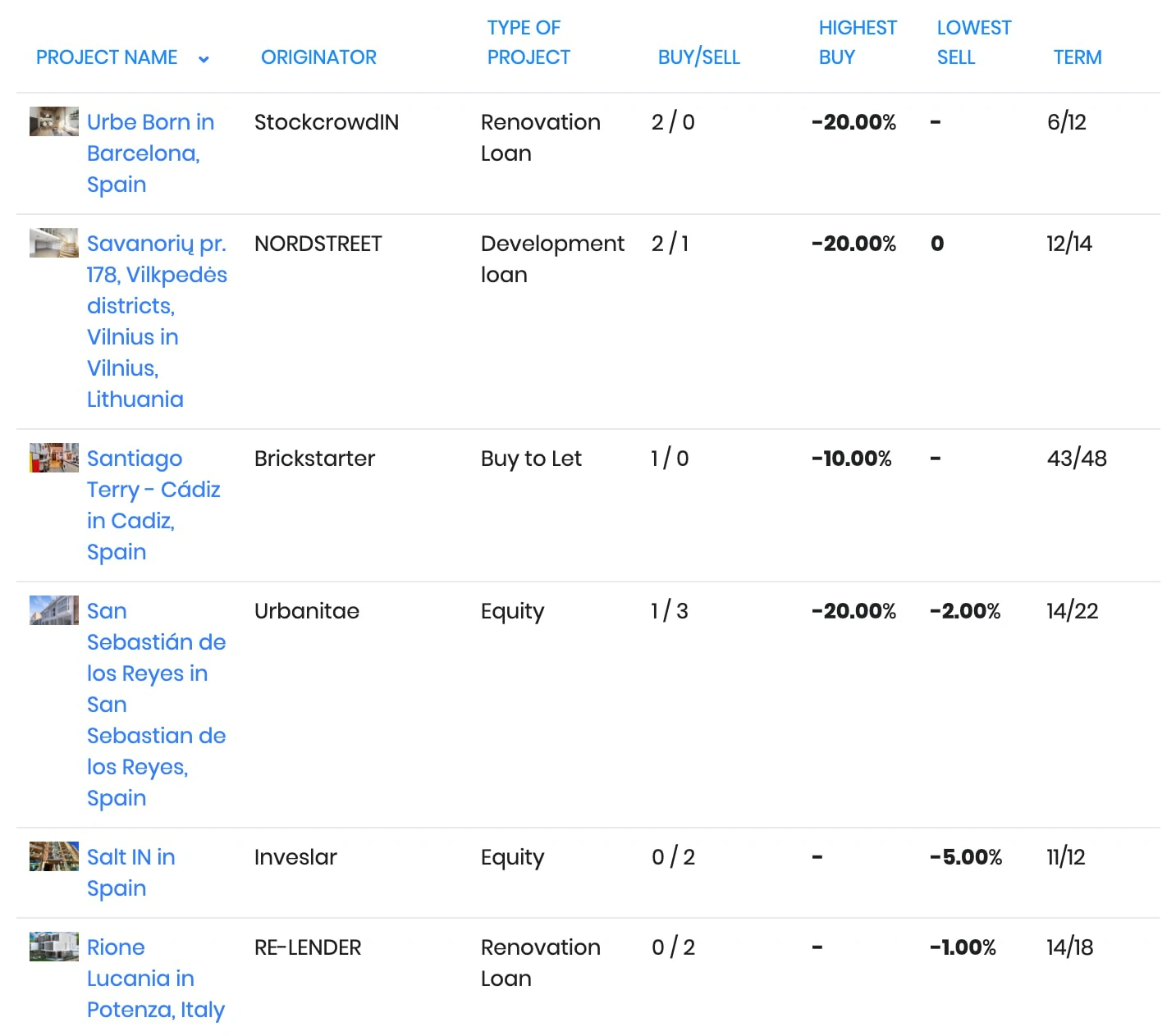 The secondary market can be useful both if you want to buy investments and if you want to sell investments.
A secondary market is mostly used for investors that want to cash out on their investments. The investments can be sold both at a discount or at a premium – this is up to the seller. But usually, if you give a discount, you will quickly be able to sell your investments.
If you are just starting out on EvoEstate, you can benefit from some of the discounted investments to hopefully receive a higher annualized return. Before buying investments in the primary market, we recommend that you take a look at the secondary market to see if there are any exciting opportunities available.
You can check out the EvoEstate secondary marketplace on their website here.
2. Easy taxes on EvoEstate
EvoEstate doesn't withhold taxes on your investments. Instead, you will have to handle the taxes with your local tax authorities yourself.
On the platform, this is fairly simple with the EvoEstate tax report. First, you must go to your account. Then you can generate a tax report in PDF format. Lastly, you will have to use this report to file your EvoEstate taxes with your local tax authorities.
3. EvoEstate auto-invest
An auto-invest feature is more or less expected and can be found on most of the best P2P lending platforms in Europe these days. On EvoEstate, you will also be able to find such a feature.
Using the auto-invest feature on the platform allows you to put your investments on autopilot which means that you can invest without having to select new loans to invest in every time one of your existing loan investments expires.
In order to use the EvoEstate auto-invest feature, you can follow the steps below:
Make sure you are logged in
Go to the auto-invest settings
From here, you can set up an auto-invest strategy that suits your investment goals.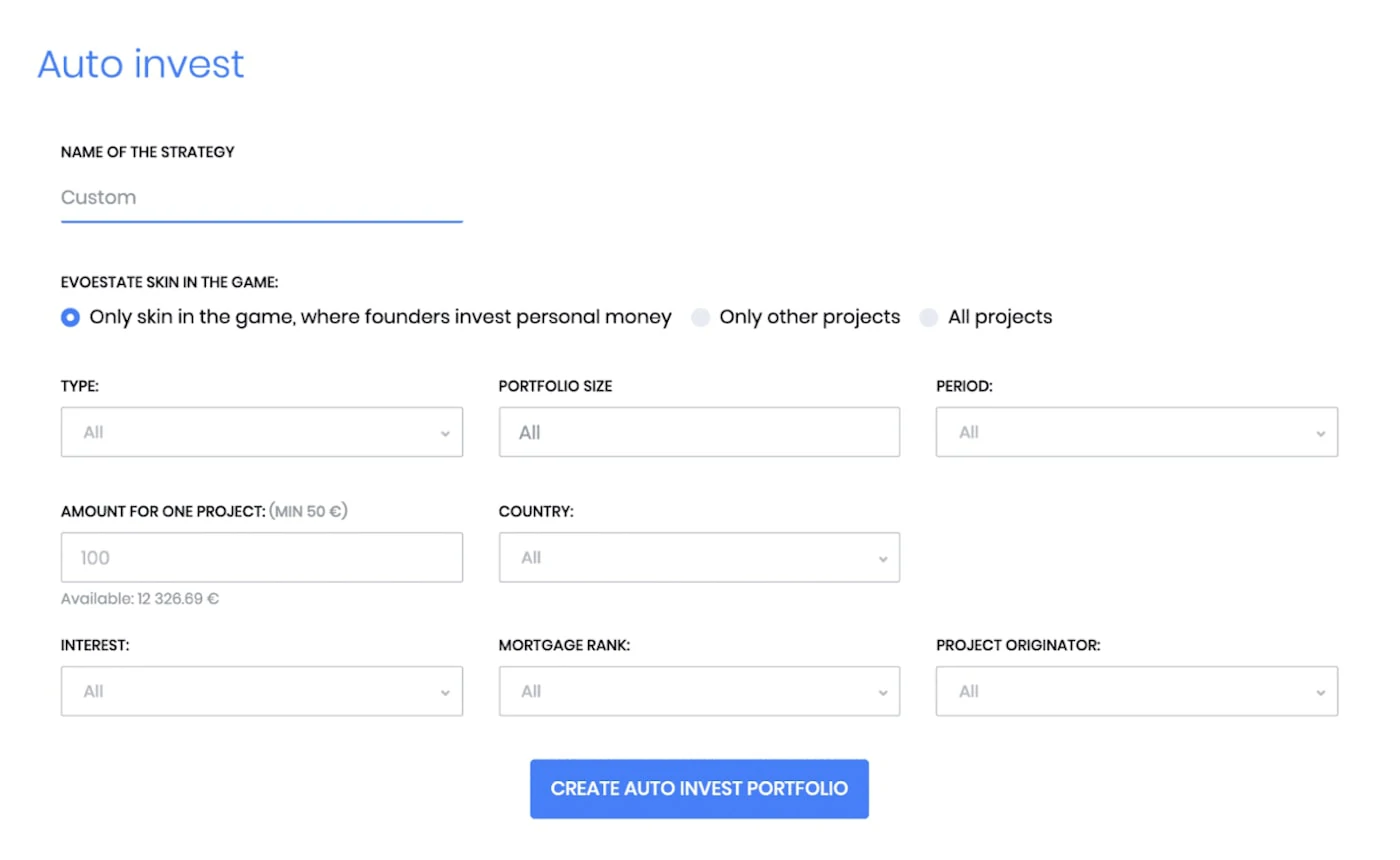 Among other things, you can decide which types of investments you want, how big your portfolio should be, and what kind of interest you are looking for.
You can also include and exclude different project originators which allows you to be very selective.
Last but not least, you can actually choose to only invest in investments where the founders invest their personal money – this could be a good start if you are just starting out with real estate investing.
Do you want to know more about EvoEstate auto-invest? Then check out their website for more information.
4. EvoEstate referral bonus
On EvoEstate you can get a +0.5% referral bonus for 6 months. All it requires is that you sign up using a link or promo code from an investor affiliated with the platform.
We have included our EvoEstate referral code in the link below. So in order to activate the bonus, all you have to do is click the blue button below:
What rate of return can you expect?
The return you will get on EvoEstate depends on many factors including which project originators you choose as well as what types of projects you invest in.
The return on EvoEstate is much lower than high-yielding alternatives such as Bulkestate, Esketit, and Swaper.
Rent
If you invest your money in rent, you are practically owning small bits of property. This is the lowest risk investment on the platform, and according to EvoEstate, you can expect somewhere around 3-6% in annual returns as well as capital appreciation.
Fixed-interest loans
If you invest in fixed-interest loans, you are practically providing financing for real estate development companies. These loans are typically secured by real estate as collateral and have a projected interest of around 8-13%.
Equity
If you want a high risk and possibly also a high reward, you can invest in equity. Here, you can potentially earn around 14-30% annually. But with this type of investment, there is also a much higher likelihood of a 100% loss.
Who can invest via EvoEstate?
In order to invest via EvoEstate you must meet the following requirements:
Be a least 18 years old
Have a valid bank account
Not being from the USA
If you meet the above requirements, it is easy to get started at EvoEstate. Simply follow the steps below, and then you should rather quickly be able to invest:
Add funds to your account
Invest in real estate on the platform
Would you like to invest in real estate through EvoEstate? Then press the button below to sign up. You even get a 0.5% cashback on investments you make during the first 6 months:
How safe is EvoEstate?
One of the most important things when investing your money online through Peer-to-Peer investment sites is that security is in order. Therefore, in this EvoEstate review, we have taken a look at the safety of their platform.
How safe are the investments?
The safety of the investments varies a lot depending on the type. Some investments are secured with collateral, which means that if the project goes south, you will probably still get some of your invested principal back.
Project originator risk
On EvoEstate, you depend a lot on the individual project originator to do thorough due diligence. Therefore, we recommend that you do some due diligence on each project originator you decide to invest in. This will give you a much better understanding of the risks of investments from a particular originator.
What happens if EvoEstate OÜ goes out of business?
EvoEstate OÜ is a facilitator of real estate transactions. They do not actually manage assets. Therefore, the contracts are signed between EvoEstate's investors and the borrowers. This also means that investors' funds are separated from those of EvoEstate.
Should EvoEstate OÜ go bankrupt, you should, therefore, still be able to access your funds, and your investments should not be included in the bankruptcy.
Best EvoEstate alternatives
Are you unsure if EvoEstate is the right platform for you, after reading this EvoEstate review?
There are hundreds of P2P platforms out there, which can make it hard to determine if you have found the best platform or if you should look for other EvoEstate alternatives.
The main categories for P2P platforms are consumer loans, real estate, and business loans.
Here are the best EvoEstate alternatives right now:
There are many reasons why you should consider an EvoEstate alternative.
First and foremost, you might not find that EvoEstate suits your investment needs. When it comes to P2P lending platforms, every P2P investor has different needs. It's therefore crucial that you understand your main investment criteria and find a platform that matches.
It can also be a good idea to consider EvoEstate alternatives to simply diversify your investments across more than one platform and reduce your overall platform risk. This can also be done with different types of platforms like the ones you can see above.
Conclusion of our EvoEstate review
If we could only invest in one real estate crowdfunding platform, EvoEstate would definitely be our top choice. They have made it possible to invest in over 16 real estate platforms with only one account. This makes it simpler and more convenient than ever to make proper diversifications with real estate crowdfunding.
Cleverly, they have also enabled investors to make early exits with their secondary market – something that not all the project originators on their platform offer.
We also like the fact that the founders are actually investing their own funds along with the other investors on the platform.
Would you like to sign up as an investor on the platform after reading about our EvoEstate review? Press the button below to get started. Remember that you get a 0.5% cashback for 6 months if you sign up through our site: