Debitum Network review 2022
Read our Debitum Network review, and decide if the platform is for you.
Overview of Debitum Network
We find the return compared to the safety favorable.
The Debitum Network platform is beginner-friendly.
Debitum Network has made a lot of safety measures.
Investors get an average return of 9.25%.
Summary: Debitum Network is one of the best P2P lending companies when it comes to small business financing. The platform is very popular among its investors, and it is one of the best-rated P2P lending companies on Trustpilot. Investors interested in lending money to businesses are highly recommended to take a closer look at Debitum Network, as it is one of the leading platforms in business financing.
It's completely free to use the platform
Last updated: April 28, 2022
Introduction to our Debitum Network review
Since Debitum Network is only from 2018, search engines are yet to be flooded with reviews and experiences from users. So due to encouragement from multiple parties, we decided to bring you one of the first in-depth Debitum Network reviews.
In this Debitum Network review, we will take a look at how the platform manages to separate itself from its competitors. Of course, we have also made our best assessment of safety on the platform. Last but not least, we will give you insight into how we chose to invest, and what our opinion about the platform is.
Before you really dive into this Debitum Network review we will remind you that it only depicts our opinion on the platform. Therefore, nothing you read on this page should be considered as investment advice.
If there is something specific you want to know more about, feel free to use the navigation below. Enjoy!
Learn about the following in our Debitum Network review:
What is Debitum Network?
Debitum Network is a P2B platform specializing in small business financing. On the platform, you will be able to invest in pools of asset-backed business loans: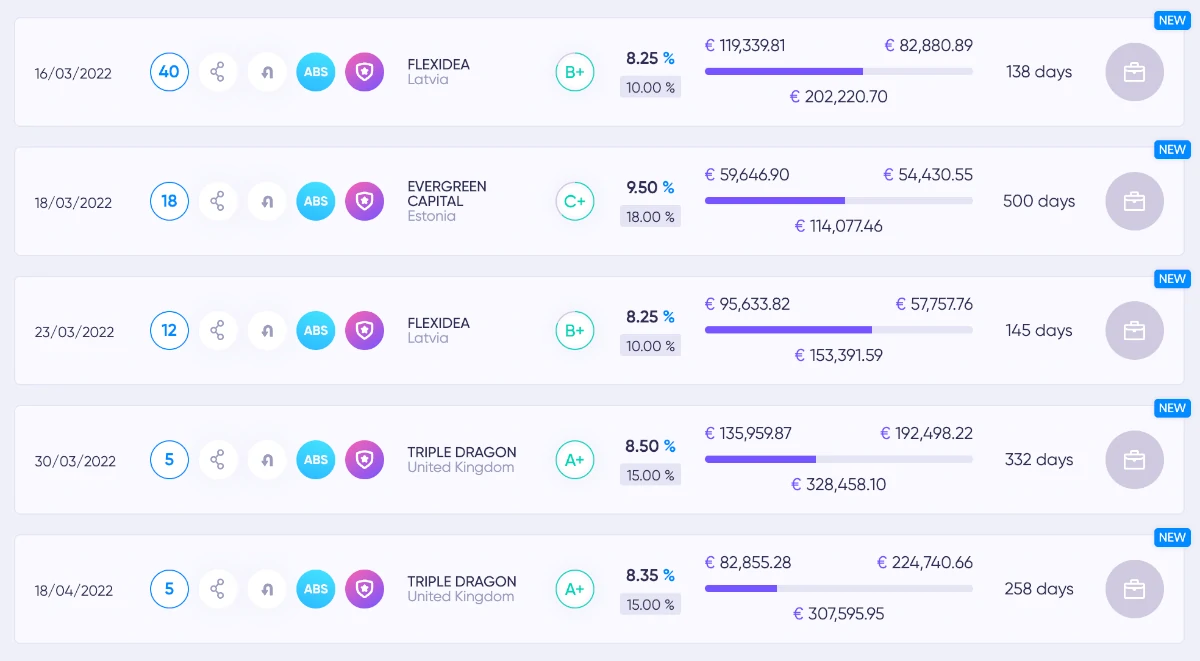 The platform differs a lot from other platforms by aiming to become very decentralized. As of now the rating of the various loans is, for example, made independently of the Debitum Network. The same is true in a number of other areas.
Based in Latvia, Debitum Network was funded in 2018 via an ICO. Since then, the platform has just continued to grow.
Compared to a lot of other P2P lending sites, Debitum Network has a relatively small group of investors connected to their platform. At the time of writing, there are just over 2,900 investors investing at Debitum Network.
Debitum Network statistics:
| | |
| --- | --- |
| Launched: | 2018 |
| Investors: | 2,000 + |
| Interest rate: | 3 – 16 % |
| Loan period: | 1 – 48 months |
| Loan type: | Business |
| Loans funded: | € 50,000,000 + |
| Min. investment: | € 50 |
| Max. investment: | Unlimited |
Debitum Network ICO:
An interesting fact about Debitum Network is the fact that it was funded with an ICO (Initial Coin Offering) in 2018. This basically meant that Debitum issued its own coin (also known as a token).
While you are currently able to find the Debitum Network token on the platform, the company is still in the phase of thinking of how to utilize the blockchain area further on its platform. You should therefore not expect the platform to be very blockchain-focused as of now.
You can see the current price of the Debitum Network token on CoinMarketCap.
Debitum Network FAQ:
No investment is 100% safe. So even though Debitum Network protects your money with buyback guarantees, etc., you still risk losing your invested capital.
You must meet the following requirements to invest with Debitum Network:
Minimum age of 18
Active bank account
Qualify for KYC
If you meet these requirements, you can
sign up here
.
Debitum Network Trustpilot reviews:
Investors have rated Debitum Network on Trustpilot. At the time of writing, nearly all reviews are 5 stars, and there are no negative reviews about Debitum Network.
With an excellent Trustpilot score, Debitum Network is definitely worth considering as a business P2P platform:
Main features
Now that it's established that Debitum is actually a quite popular platform among its investors, let's take a look at some of the main features on the platform:
1. Debitum Network buyback guarantee
Most loans on the platform are secured with the Debitum Network buyback guarantee.
This means that if the repayment of a loan is late for more than an agreed number of days (usually 90 days), then the loan originator is obligated to buy back the loan and cover the remaining principal as well as outstanding interest.
2. Debitum Network auto-invest
If you want to invest passively, you can use the Debitum Network auto-invest feature. This makes the investment experience very seamless.
To set up a Debitum Network auto-invest strategy, use the navigation to select the item called "auto-invest". Here you will be greeted with a screen where you can press "create new plan" in order to create a new Debitum Network auto-invest strategy:
3. Get a €20 Debitum Network sign-up bonus
From May 1, 2022, you can get a €20 Debitum Network sign-up bonus if you sign up with the link below.
When you register on the platform, you can also earn a bonus for referring your friends to Debitum Network. 
You can do this by using your Debitum Network referral code. This code can be found when you log in to your account.
Here you can just click "invite friends" to earn a bonus for each friend that signs up using your referral code, and invest at least €1,000 in the first 90 days from registration.
What rate of return can you expect?
The return you can get on Debitum Network depends on how you choose to invest your money. Currently, Debitum Network has an average return of 9.25%. Since this is the average return you can reasonably expect a similar return.
It is our experience that it is quite easy to achieve such a return by either picking investments manually or even from using their auto-invest function.
The return is a bit lower than what can be found on another business P2P platform like Flender.
Who can invest via Debitum Network?
To be able to invest via Debitum Networks platform, it is a requirement that you are at least 18 years old is. At the same time, it is a requirement that you have the full and unrestricted legal capacity and that you are able to undertake monetary obligations. Of course, one must not be declared insolvent.
In addition, you have to undertake a KYC process and activate your account with two-factor authentication before being able to use your account properly.
Do you meet the above requirements? Then there is a good chance for you to become an investor at Debitum Network. Just follow this process:
Complete the KYC process
Add two-factor authentication
Add funds to your account
Start investing
In case you are unsure whether you can invest with Debitum Network or not, you can always contact their support via phone or e-mail. Please find the contact information at the bottom of this page.
Are you ready to go from reading this Debitum Network review to investing yourself? Then press the button below. By doing so, you will be taken to a page where it is quick to set up an account and start investing:
Is Debitum Network safe to use?
One of the key things we want to address in this Debitum Network review is the safety of the platform. So let's get into what the platform has to offer:
Regulated platform with Asset-Backed Securities (ABS)
Debitum is licensed and regulated by the Financial and Capital Market Commission in Latvia since September 2021. 
In order to meet regulations, Debitum changed the way you invest in loans on their platform. Where you were previously investing in claim rights on the platform, you are now investing in financial instruments called Asset-Backed Securities (ABS).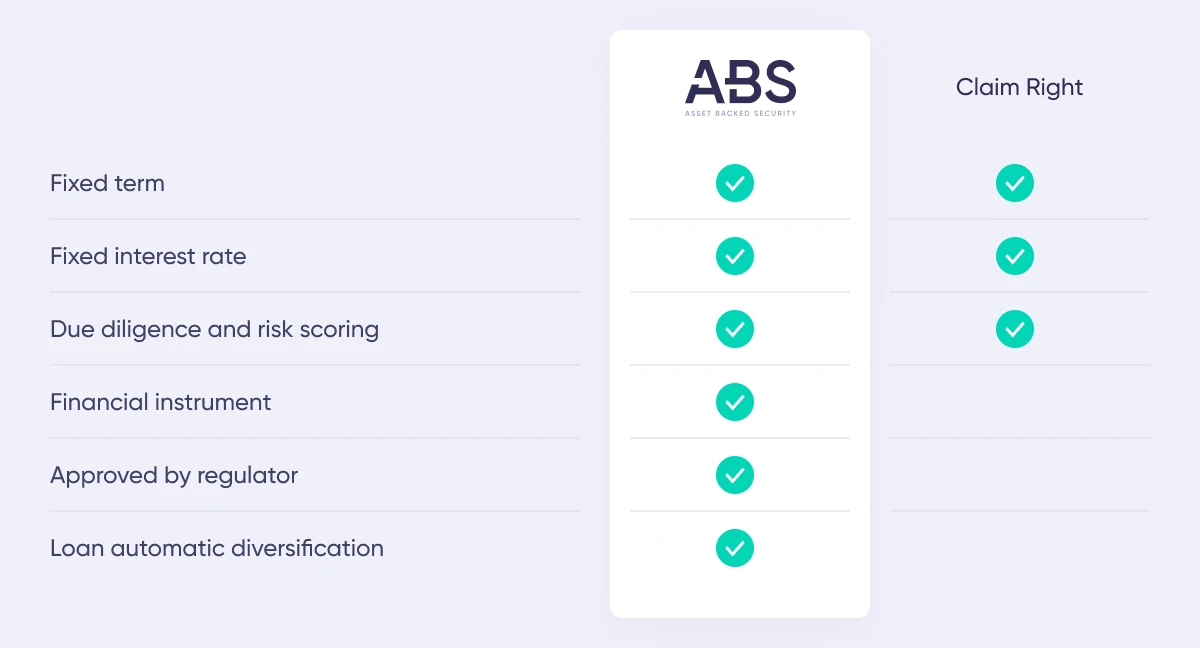 The asset-backed securities are basically derived from a pool of underlying assets (loans). This is illustrated in the following: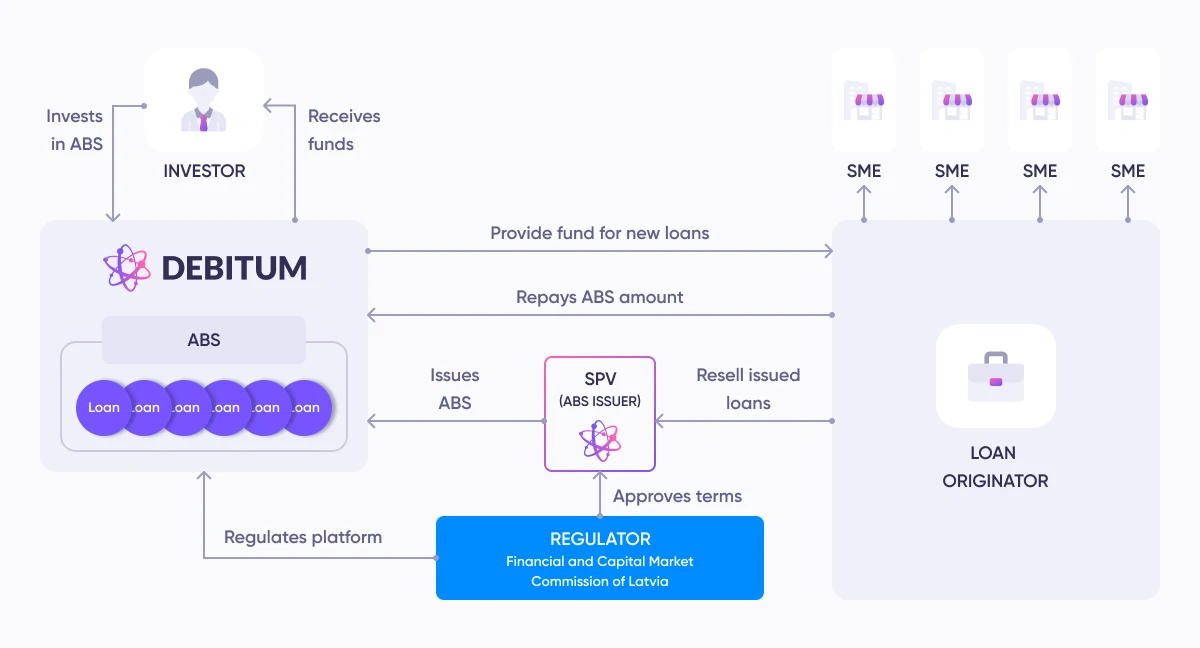 The most profound change of risk by implementing this is that you are no longer investing only in one loan at a time, but in multiple different loans.
Use of independent firms
First of all, it is relevant to mention that Debitum Network has a desire to be very decentralized. They achieve this by using independent service providers for risk assessment, insurance, debt collection, and more.
The use of independent companies makes the credit scores more credible, as they are less likely to be biased.
Platform safety
Another place where safety measures have been made is on the Debitum Network P2P platform itself. Here it is very clear that safety is paramount.
For example, you will quickly find that you are automatically logged out when you are not active on the site. At the same time, there is a requirement that you have two-factor authentication enabled and live up to KYC requirements before you can use certain functions.
If you do not meet some of the specific requirements, you cannot, for example, withdraw funds from the platform.
How we decided to invest
With €500 on our account, we decided to put the platform to a test in order to learn about user-friendliness, transparency, and more.
With help from auto-invest, we chose to invest in loans with a credit score from A+ to C. This gives a probability of default on the loans over the next 12 months of roughly 0.00%-2.42%.
As you set up an auto-invest strategy, please be aware that some of the loan credit scores lead to a very high probability of default. Before you invest we recommend that you read more about credit scoring on the platform.
Already after a few months, we had a good insight into the return on Debitum Network. The following is our investment results after just a few months of using the platform:
Conclusion of our Debitum Network review
Our investment experience on Debitum Network has been very good.
Debitum is regulated and focused on bringing a very secure investment experience to its users, which is very positive.
The platform is very user-friendly and overall nice to use.
Compared to other, maybe more speculative, business-oriented platforms such as Crowdestor, we also believe that Debitum Network is very well-balanced in regards to risk and reward.
All in all, we have been delighted with what Debitum Network has had to offer, and we certainly found it to be a solid P2P platform. Investing your money via this P2B platform is probably not that bad an idea after all.

Would you like to invest via the platform after reading our Debitum Network review? Then press the button below to sign up and get started: