Flender review 2023
Read this Flender review to learn if the platform is worth it.
Flender
Flender review summary:
Flender is a P2B lending platform focused on investments in small-to-medium-sized businesses. The default rates on the platform are very low at just 1.8%, and the average return at 9.30% is fine. As an investor at Flender, you also have the joy of knowing that you are helping make workplaces for the future. But there are a large number of bad Trustpilot reviews about Flender due to the lag of new investment opportunities, losses on investments, and poor communication. Investors should consider alternatives like HeavyFinance and Debitum before settling on Flender.
It's 100% free to open an account
Introduction to our Flender review
Flender is a popular P2P platform in Ireland, but it has yet to receive a lot of attention in the rest of the world. And with only a few Flender reviews on the web, we've decided to take a closer look at the platform.
In this Flender review, you will be able to learn more about what the platform is, how it differs from other platforms, and how Flender has handled the safety of its platform.
Before you really dive into this Flender P2P review, we want to remind you that it only reflects our experience with the platform. Nothing you read on this page should be considered investment advice. However, with that said, we hope you will find the review useful. Enjoy!
Learn about the following in our Flender review:
What is Flender?
Flender is the leading P2P marketplace for Irish SME loans. Through the platform, you can invest in business loans for small and medium-sized Irish businesses for as little as €50.
The loans you find on Flender vary widely by industry. You will, therefore, have ample opportunity to diversify your investments:
Flender Ireland Limited, the company behind the platform, was founded in Ireland in October 2014. The company is fully owned by NKK Finance Limited.
Since then, over €47,700,000 has been lent to smaller Irish companies through the platform. This has resulted in more than 2,000 Irish jobs and increased business growth. All this has been made possible by just over 6,900 investors at Flender.
Flender statistics:
| | |
| --- | --- |
| Launched: | 2015 |
| Investors: | 6,900 + |
| Interest rate: | 5 – 15 % |
| Loan period: | 1 – 60 months |
| Loan type: | Business |
| Loans funded: | € 47,000,000 + |
| Min. investment: | € 50 |
| Max. investment: | Unlimited |
Flender FAQ:
Flender Trustpilot reviews:
A few investors have given Flender a review on Trustpilot. This has resulted in a poor TrustScore of only 2.3 stars.
Unfortunately, most investors don't seem satisfied with the platform, and it might be a good idea to look around for better P2P lending platforms.
What rate of return can you expect?
At the time of writing, investors on Flender earn an average return of 9.30%. Since this is the average return, it is very possible to achieve a similar return.
Compared to more speculative business platforms such as Crowdestor, the return on Flender is considerably lower. But here, you should keep in mind that Flender has a default rate of just 1.8% on its loans. For the more conservative investor, Flender is probably the best pick.
Who can invest via Flender?
According to the Flender FAQ, it's possible for almost anyone to start investing on their platform. To become a lender, you'll have to comply with the following:
Requirements:
Being at least 18 years old
Having a valid passport or driving license
Having a valid bank account
If you comply with the above requirements, it should be straightforward to sign up as a Flender investor. Just follow this process:
Upload identification document
Add funds to the account
Start investing
When you register with Flender, you need to upload a copy of your passport or driver's license. This is used for KYC purposes. Typically, validation of your document will take around 1-2 business days.
Would you like to start investing on Flender.ie? Then press the button below to sign up. It's the quickest way to go from reading this Flender review to investing:
Is Flender safe to use?
One of our main concerns when putting money into Peer-to-Peer lending is always how safe the money will be at a certain platform. In this Flender review, we, therefore, decided to take a look at how safety is handled by Flender.
First and foremost, it is worth mentioning that the default rate on Flender loans is just 1.8%. But how is such a low default rate even achieved?
Traditional credit assessments
At Flender they apply traditional credit assessment procedures to assess their borrowers. They do this to protect the lenders on their platform.
Before a loan is listed on the Flender marketplace, the borrower will first have to go through a credit evaluation. Included in this process are:
Credit checks by Credit Safe
Affordability checks
Creditworthiness checks
Identity checks
At Flender, thorough credit checks are performed by Credit Safe.
This is done to ensure that borrowers are good at managing their finances. At the same time, Flender is also looking into whether the borrower has a very clear repayment plan to ensure that the company can afford the loan. Furthermore, each borrower's identity and creditworthiness are double-checked.
But it does not stop here. Bank statements and audited financial accounts are also validated before a loan can be posted on the Flender marketplace. Many of these data are backed up by data used by the best financial institutions and banks.
Only if all these things seem reasonable will a loan be posted on the Flender marketplace. As a result of all these efforts, Flender's loss rates are currently among the lowest in the industry.
Debt recovery program
Sometimes defaults happen on Flender's platform. But is the money then just lost? Not necessarily. Flender has a debt recovery program with a third-party collections agency. They use this agency to manage the very few defaults that sometimes happen on Flender.
The collections agency tries to recover as much of the money for the lenders as possible.
If the collection agency can't get all the money back, you risk losing a part or the full amount of your initial investment. However, you will not lose more than you have invested in that loan.
Protection of your funds
Flender keeps all available cash in segregated lender's fund accounts. This means that your funds are never mixed with Flender's own assets.
This is the best practice in the P2P industry, and it can also protect your funds in case of a default of Flender.
Can I get a Flender promo code?
At the time being, we do not know about any Flender promo codes.
Set up a Flender auto-invest strategy
At Flender it is possible to set up an auto investment strategy. They call this AutoFlend.
With AutoFlend, you have the opportunity to automatically invest in campaigns in the Flender marketplace.
You can set different investment criteria in advance.
When there is a loan that meets your provided criteria, you are automatically investing in it.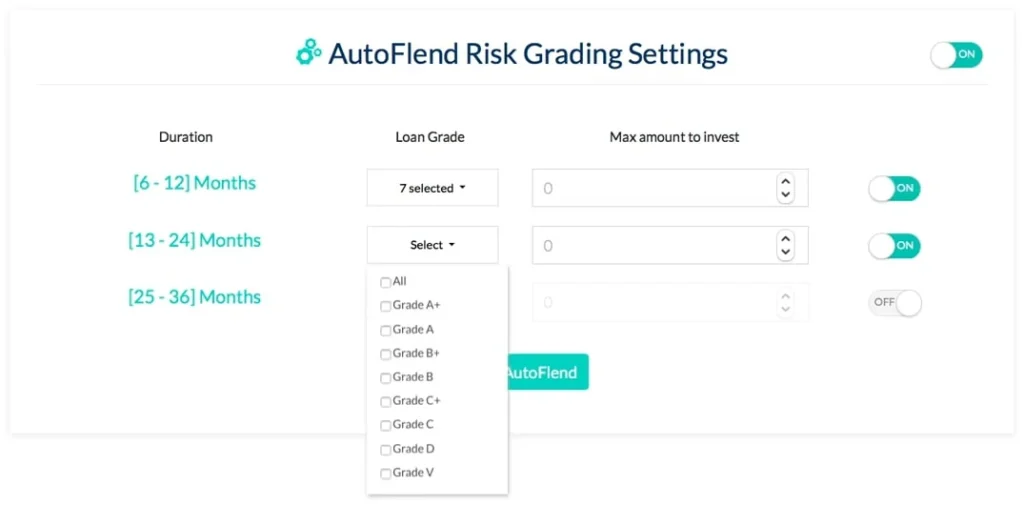 The AutoFlend criteria you can choose from are:
The duration of the loan
How much you want to invest
The loan grade
By using AutoFlend you can save time, but also achieve a better diversification of your portfolio on Flender.
You can set up your own AutoFlender on the website.
Best Flender alternatives
Are you unsure if Flender is the right platform for you, after reading this Flender review?
There are hundreds of P2P platforms out there, which can make it hard to determine if you have found the best platform or if you should look for other Flender alternatives.
The main categories for P2P platforms are consumer loans, real estate, and business loans.
Here are the best Flender alternatives right now:
There are many reasons why you should consider a Flender alternative.
First and foremost, you might not find that Flender suits your investment needs. When it comes to P2P lending platforms, every P2P investor has different needs. It's therefore crucial that you understand your main investment criteria and find a platform that matches.
It can also be a good idea to consider Flender alternatives to simply diversify your investments across more than one platform and reduce your overall platform risk. This can also be done with different types of platforms like the ones you can see above.
Conclusion of our Flender review
On the surface, Flender seems like a decent P2B lending platform.
But you should keep in mind that the platform has a default rate of 1.8%.
This means that it is important that you remember to diversify between multiple loans to minimize your risk. If necessary, use AutoFlend here.
Unfortunately, most of the reviews of Flender on Trustpilot are bad. Some investors have lost a lot of money. A lot of investors are also complaining about the long response time from Flender's customer support.
If you are looking to invest in business loans, Debitum is one of the best-rated platforms right now. It might be worth considering instead.
Are you ready to invest at Flender after reading this Flender review? Click the button below to visit the website and create an account: