Ekassa review 2022
Read our Ekassa review, and decide if you should use them.
Ekassa
Ekassa review summary: 
Ekassa offers an easy way to get started with Peer-to-Peer investing. But compared to other platforms we don't think that the platform is very good. They are not very transparent and we couldn't find any information about the team. Ekassa also charges a high early exit fee if you would want to exit your investments before they mature. So we recommend that you compare Ekassa to its competitors before you jump into investing via the platform (learn more). 
It's 100% free to open an account
Last updated: July 28, 2022
Introduction to our Ekassa review
Ekassa is a somewhat new platform. And with only a few articles and reviews about them on the internet, we decided to take a look at the platform. The result of our findings is this Ekassa review.
In this Ekassa review, you will, amongst other things, find our best assessment of how safe Ekassa really is – as well as how they compare to other platforms (you wouldn't want to miss this part).
So take your time to read through this review, and decide if you should use Ekassa, or if you should rather go with one of the many other Peer-to-Peer lending sites on the market.
We want to remind you that this review only reflects our own opinion about the platform. Nothing that you can find in this review should be considered financial advice.
If you have something specific you want to know more about, feel free to use the navigation below. Enjoy!
Learn about the following in our Ekassa review:
What is Ekassa?
Ekassa is a P2P lending platform focused on different types of consumer loans.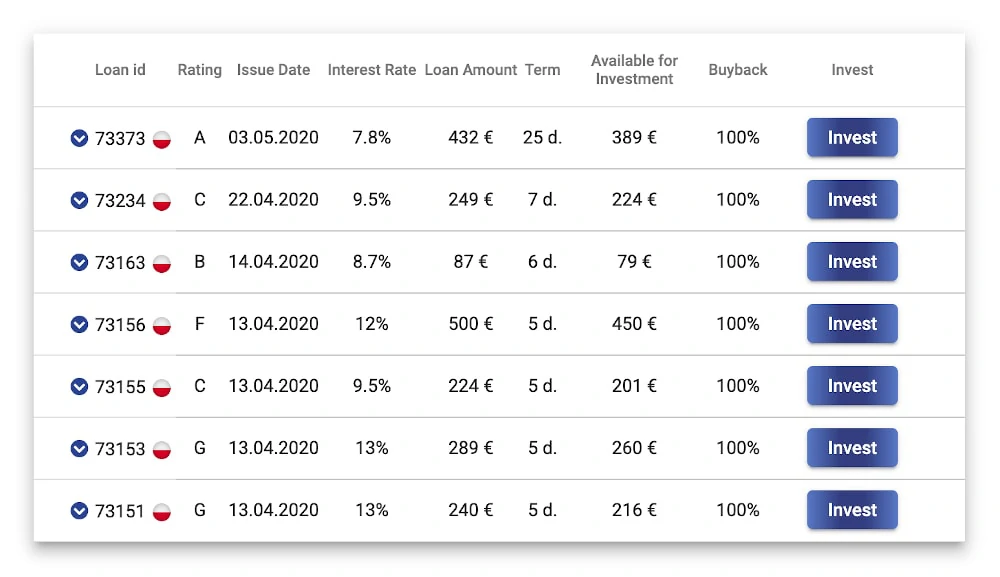 They are allegedly a part of an international finance group, which started its operations back in 2012. However, the Ekassa P2P lending platform was first released in 2018.
The Peer-to-Peer platform tries to differentiate itself from a lot of competitors by having a very simple offering.
They offer a package solution, where you can decide between a few different strategies. This can make the process of getting to investing very easy.
Both the guaranteed and the profitable package relies on Ekassa's auto-invest algorithm, and you can start using it with as little as €10.
Ekassa statistics:
| | |
| --- | --- |
| Launched: | 2018 |
| Investors: | 1,000 + |
| Interest rate: | 7 – 13 % |
| Loan period: | 1 month |
| Loan type: | Consumer |
| Loans funded: | € 40,000,000 + |
| Min. investment: | € 10 |
| Max. investment: | Unlimited |
Ekassa FAQ:
Ekassa Trustpilot reviews:
On Trustpilot, Ekassa has received mixed ratings from investors. Some are satisfied while some have had a poor experience with the platform.
However, as there are only very few Ekassa Trustpilot reviews available, the ratings should probably be taken with a grain of salt.
Main features
In the following, we will take a look at the main features of Ekassa and why they can be useful for you as an investor:
Ekassa auto-invest
The Ekassa P2P lending platform is built around its auto-invest algorithm.
So once you have signed up at their site and transferred money to your account, you will have to choose one of the two Ekassa investment packages. The packages can be adapted to your desired risk/reward level.
The process of setting up your auto-invest strategy looks like this: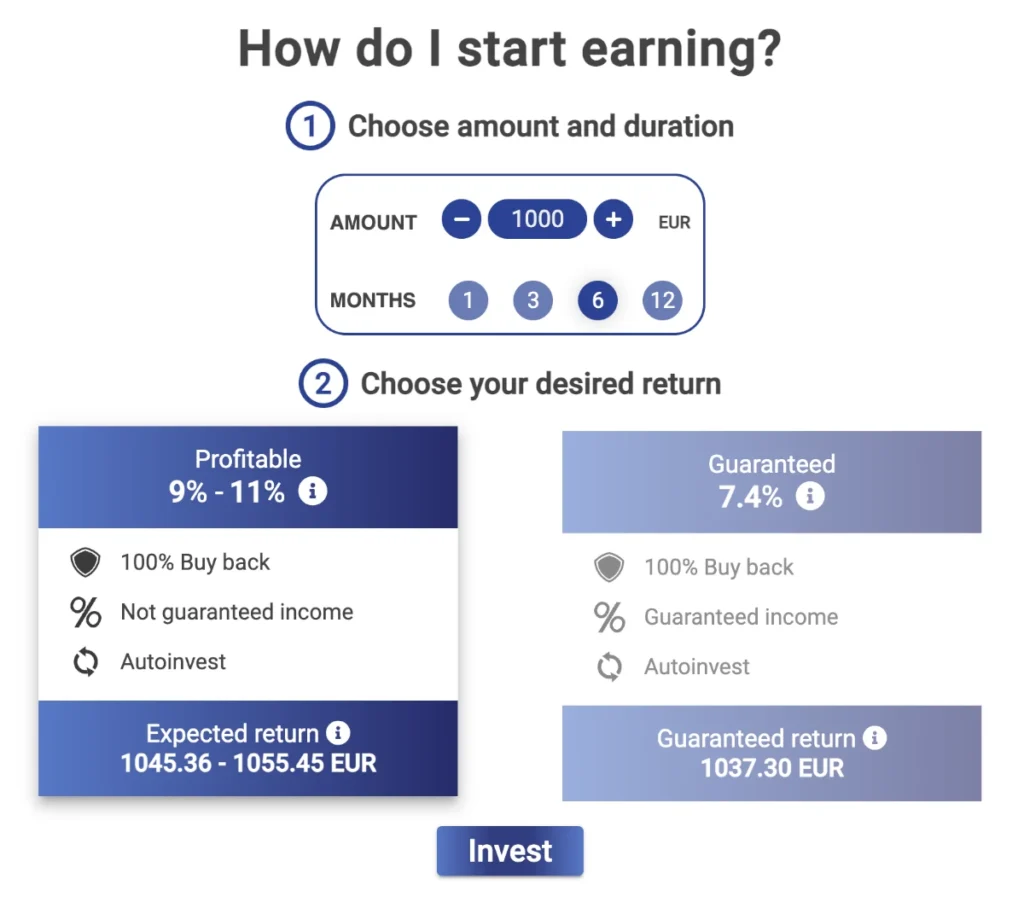 Primarily, you will have to choose between one of their two products:
The main difference between the two products is that one has guaranteed profits, and the other doesn't.
You will have to decide how long you want to invest. The duration of the loans is short, ranging from 1 to 6 months.
Going with 6 months will earn you a higher return, than choosing just 1 month. So if you won't need the money within the 6 months, we recommend picking that one.
What rate of return can you expect?
The rate of return you can expect at Ekassa depends a lot on how you decide to invest. Realistically, you can expect a return somewhere in the range of 7-13%.
Primarily, your return depends on the length you choose to invest your money in. However, which investment package you choose also has an impact on your return.
Of course, if you choose their guaranteed package, then your return will be lower than if you choose the package without. Guarantees are not free.
Compared to other platforms, we don't think the return is great due to the lag of transparency of the platform (more on this here).
Who can invest via Ekassa?
Investing at Ekassa is, at the moment, only an option for European investors. If you want to open an account on the platform, you'll have to comply with the following:
Requirements:
Being at least 18 years old
Having a bank account
Being from Europe
Proving your identity
If you comply with the requirements listed above, it should be fairly easy for you to sign up as an investor at Ekassa. Simply follow the following process:
Add funds (EUR or PLN) to your account
Choose a strategy and start investing
As you can see, there are very few requirements to sign up, and it's really easy to start investing with Ekassa.
Would you like to become an Ekassa investor? Then press the button below in order to sign up. It is the fastest way to get from reading this Ekassa review to actually investing yourself:
Is Ekassa safe to use?
In the following part of this Ekassa review, we'll take a look at some of the safety measures made by the platform and if they are on par with what you can find on other platforms.
Thorough due diligence
The first thing we noticed on their website is that they have informed us about their risk management procedure. Here they have described their due diligence method.
What we mainly noticed is the thoroughness of the assessment of the borrowers. Among other things, more than 50 parameters are used to score them. The credit rating is always carried out by a minimum of 3 credit bureaus.
This is one of the positive signs of Ekassa. However, we would have liked to know
The thorough due diligence itself shows Ekassa's seriousness in this area and helps put them on the map with other large P2P lending platforms.
Skin in the game
In addition to the thorough due diligence of the borrowers, Ekassa also has some requirements for the loan providers.
It is a requirement that the lenders on the platform retain a stake of at least 10% of the total loan. This helps ensure that there are aligned incentives for investors and lenders.
Compared to other platforms, this 10% skin in the game is very normal.
However, if you would like to invest in a platform that requires even more skin in the game, you might want to check out Iuvo Group. On that platform lending companies are required to keep a 30% stake in their loans.
Loan diversification
The platform's spread of risk across individual loans is good. There is a diversification between a number of borrowers, and also loan types. The maximum you will ever have allocated in a single loan is €20.
We would, however, have liked to see a few more types of loans on the platform. However, this can easily be remedied by supplementing Ekassa with a project-oriented platform like Flender or Crowdestor.
Also, be aware that you can never be absolutely sure how secure the loans on a platform are. If all the loans are of questionable quality, then diversification between many questionable loans effectively doesn't matter.
Measures against late payment
Ekassa has also made some procedures for late or non-payment of the loans.
If a borrower fails to repay a loan, the borrower is actively contacted. This helps ensure that a larger proportion of borrowers actually repay their loans.
If you choose Ekassa guaranteed product, the company will also guarantee to buy back the loans from you in case of non-payment. We recommend the use of buyback guarantees in the beginning. Later, you can always experiment with not using it.
Little transparency
With all the things stated above, we found very little transparency from Ekassa. They simply informed us that they use three credit bureaus. But who?
If you want information about the team or who is actually behind the platform, you will also have to look for a long time.
Another thing we weren't able to find much information about is the financials of Ekassa – aka. iaPlatform OÜ.
So compared to other platforms, we definitely believe that Ekassa is lagging behind on transparency.
Conclusion of our Ekassa review
Even though Ekassa offers an easy way to do Peer-to-Peer lending, we don't think that they are nearly as good as other platforms.
Among other things, Ekassa offers very little information about who is actually behind the company and they are generally very faceless. They also have high early exit fees for withdrawing money before the loan matures.
We believe that you would be much better of simply choosing a platform like Swaper. Compared to Ekassa, the return is higher, the platform is easier to use, and they are more transparent towards investors (visit them here).
If you don't mind a bit more complex platform, but just want what we believe is the best of the best in the P2P investing world, you might want to see our Mintos experience. If you compare that platform to Ekassa, you will soon find out why we think they are miles ahead of Ekassa.eu. They publish their financials, show their team, provide better returns, and have hundreds of thousand of investors on their platform (visit them here).
Do you want to invest via Ekassa.eu after reading this Ekassa review? Simply click on the button below. This will take you to their site, where you can sign up and get started: